Girl Gear Review: Aqua Sphere ErgoBelt
Heading out the door? Read this article on the new Outside+ app available now on iOS devices for members! Download the app.
Inside Triathlon assistant editor Susan Grant reviews the Aqua Sphere ErgoBelt ($39.95) in this week's edition of Girl Gear.
Walking out onto the pool deck, I have to admit I felt like one of the elderly women I see doing water aerobics while wearing flowered swim caps and full-faced makeup. Running belts are not sexy. They're not flattering. But seeing as how competitive female athletes seem to develop stress fractures more often than their male counterparts, it is likely that you will experience the joys of deep water running at some point in your triathlon career.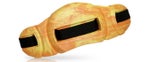 I found myself in the tricky grey area of "is it a stress fracture or not?" last week after a few weeks of higher mileage than normal left the top of my left foot (in the exact metatarsal bone area) sore to the touch. My coach immediately sent me to the pool for a week of deep water running in place of my land runs. After my Masters workout I got out of the pool and put on my Aqua Sphere ErgoBelt ($39.95) and heart rate monitor. I pretended to ignore the chuckles of my swim coach as I walked out and prepared for a 50-minute water jog.
To my surprise, it actually turned out to be a very nice experience. The belt kept me upright and supported my back like a cradle, allowing my feet and arms to pump easily as they would on land. The EVA foam doesn't get water logged and even more importantly, adjusted perfectly around my body so there weren't any surprise chaffing going on halfway through the workout. My heart rate stayed elevated the whole time, turning what I thought would be a waste of a workout into a pretty heavy cardio session. I have friends who take their ErgoBelts out into the open ocean for better scenery during their water runs, which if my foot had continued to hurt past the initial week (thank God it didn't), I definitely would look into as an option. The bottom line is that stress fractures don't have to be a total running buzz kill, just tighten your ErgoBelt and jump in!