The Secret Sun-Cheating Ingredient in Your Tri Clothes
A primer on the secret sun-cheating, performance-enhancing ingredient in your tri clothes.
Heading out the door? Read this article on the new Outside+ app available now on iOS devices for members! Download the app.
A primer on the secret sun-cheating, performance-enhancing ingredient in your tri clothes.
If you've ever leaned against a black car in the summer, you know it can get hot. Really hot. That's why the paint industry has long used heat management techniques, like using metallic pigments to reflect back some of the sun's rays. If it works to control high temperatures for cars and buildings, could it work for people?
That's what Swiss textile company Schoeller wanted to find out when it created Coldblack nearly seven years ago. Coldblack is a dye treatment that keeps dark clothes cool, even in hot summer conditions. It's a completely different technology from paint, says Hans Kohn, Schoeller's COO and head of technology, but that's where the inspiration and idea came from. "Everyone knows black textiles heat up," he says. "But black, or any color, textiles treated with Coldblack heat up far less—while also guaranteeing at least UPF 30 protection."
Kohn can't say specifically how it works. "This is a secret," he says. But, essentially, the Coldblack treatment causes the fabric to reflect back a portion of infrared waves, instead of absorbing them. And since Coldblack was made available for public licensing in 2012, it's become the industry standard for triathlon clothing. "The final result is a noticeable heat management," says Nicolas Letarte, product manager for Louis Garneau, which uses Schoeller's Coldblack technology in its mid- and high-end cycling and triathlon products.
Schoeller's testing data shows a 5- to 12-degree difference between an untreated black shirt and a Coldblack-treated black shirt, depending on the fabrics and conditions. Under Armour, which was one of the first companies to use the technology, has said it's seen a 7- to 10-degree drop in the temperature of a treated versus a comparable untreated shirt. Schoeller now licenses the treatment to more than 100 companies in addition to Under Armour and Louis Garneau, including Zoot, The North Face and Pearl Izumi.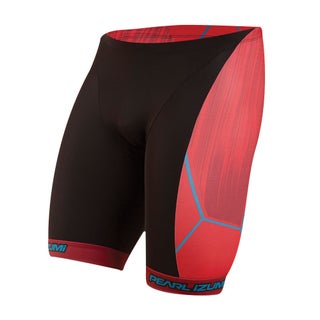 Pearl Izumi started using the technology when the licensing opportunity came available in 2012. According to the company's materials manager, Carol Little, Pearl Izumi buys the chemical treatment directly from Schoeller and it's mixed into the dye before the fabric is dyed. That means it's a permanent treatment, not sprayed or applied on top of the fabric.
At this point, you may be wondering: Why go through all of that trouble to make dark clothing cooler when you can just wear white? The answer: "With triathlon, you don't really want to be wearing white," Little says, primarily because of the opacity issues when white tri suits get wet. And most people don't want white cycling shorts, for obvious reasons: "Everything shows through," she says.
For triathletes who have struggled with heat management at the end of a long race, but also want to limit their exposure to sunburn and harmful UV rays, Coldblack is a lifesaver. "It protects from all the negatives of the sun," says Kohn. Plus, you get to wear rich, crazy colors.
Both the Louis Garneau Women's Course 2 Jersey (above, $160) and the Pearl Izumi Men's In-R-Cool LTD Tri Short (on the right, $90) feature Coldblack material.