What We Don't Know About Carbon-Plated Running Shoes May Be Hurting Us
There is evidence to suggest this popular footwear option might be a contributing factor in bone stress injuries.
Heading out the door? Read this article on the new Outside+ app available now on iOS devices for members! Download the app.
Eliud Kipchoge, arguably the greatest marathoner of all time, ran a 1:59:40 marathon in 2019 wearing custom-made carbon-plated shoes. Since then, carbon-plated shoes seem to be everywhere, from record-breaking efforts in running and triathlon to age-groupers looking for a PR.
It is quite true that in triathlon events, even small tweaks to gear have an impact on final outcome and competition result. Whether the thickness of the neoprene in your wetsuit, the geometry of your bike, or the material used in the soles of your running shoes, we're always looking for an advantage. But when does an advantage become a detriment? Success cannot and should not come at the expense of the athlete's health. But with carbon-plated shoes, there is evidence to suggest this popular footwear option might be a contributing factor in some bone stress injuries.
How carbon-plated shoes work
From a biomechanical standpoint, mechanical energy (or the "spring in your step") dissipates at the metatarsophalangeal joints, where your feet meet your toes. Several research studies have indicated that increasing longitudinal bending stiffness in this joint with carbon fiber plates may reduce energy loss, thus improving the running economy of the person wearing the shoes.
Another mechanism, although not well understood, is how these shoes "store" and "return" energy to the athlete. A "teeter-totter effect" has been proposed by scientists, where the curve of the carbon fiber plates pushes off at the front of the shoe in such a way that it produces a reaction force at the heel, in an upward direction perpendicular to the plate.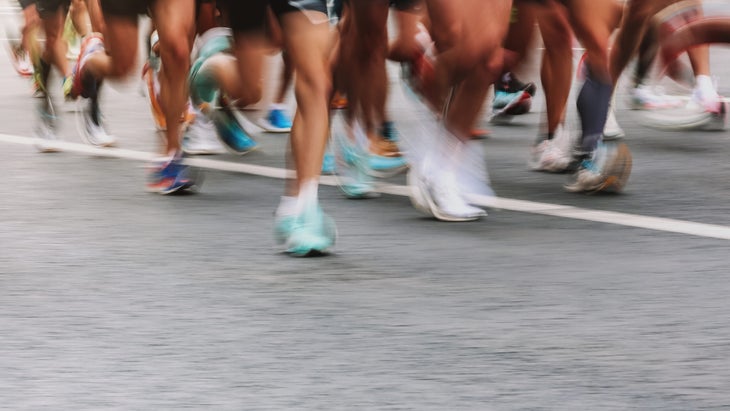 What does this have to do with bone stress injuries?
Bone stress injuries (BSI) occur when repetitive loads (usually excessive), are applied to a certain anatomical region. BSI could range from mild periostitis (inflammation of the periosteum, or the external tissue surrounding bones) to a complete bone fracture. (I strongly recommend reading Anatomy of a Stress Fracture, a very thorough assessment of the definition of a bone stress fracture, general risk factors, and how to diagnose them.)
Bone stress injuries are more common in weight-bearing limbs, which explains why most bone stress injuries and fractures in triathletes are commonly found on the pelvis, femoral neck, tibia, fibula, malleolus, and metatarsals.
Anecdotally, runners and the medical professionals who treat them have noticed a correlation between carbon-fiber shoes and injury. Now researchers have published a paper in Sports Medicine presenting a case series of navicular bone stress injuries in runners using this type of footwear. The navicular bone is one of the tarsal bones in the foot (located on the medial side of the foot) and articulates with other anatomical structures fundamental for standing, walking, and running.
In this paper, all patients presented with some form of foot pain and swelling, and at the time of the injury (and diagnosis of navicular bone stress injury), all were using carbon-plated footwear.
What's interesting about this paper is that the background was quite different for each athlete. One was using the shoes for interval sessions only, while another one had been using them consistently over a period of about 6 months (and 100 kilometers). Another one was wearing the carbon-plated running shoes for the first time.
What's happening here?
It's not fully understood why some people might be more at risk for bone stress injuries while wearing carbon-plated footwear, but there might be a few mechanisms at play:
Too much, too soon
As with all things in running, "too much, too soon" is a recipe for injury. We know from past studies on minimalist footwear that rapidly switching from one model of running shoe to another – especially when there are major differences in the way the two running shoes are designed – puts new types of stress on the foot. If the bone is not given time to habituate to this stress, injury occurs.
The same principle likely applies to carbon fiber plates in running shoes. Transitioning should be done very slowly, very gradually to avoid potential stress injuries in the foot.
Altered biomechanics
In a 2018 study by Wouter Hoogkamer, Shalaya Kipp & Rodger Kram in Sports Medicine, carbon fiber-plated shoes were found to have changes on the gait of the runners wearing them – specifically, decreased cadence, longer steps, and a longer vertical "flight" time. In turn, these changes caused higher ground reaction forces with each step. Differences in ankle and metatarsophalangeal joint mechanics were observed when wearing carbon fiber footwear.
Some scientists have proposed these biomechanical changes from carbon fiber plates in runnings shoes are just that – changes. They may not actually improve running economy after all. One study involving 15 athletes in 4 shoes (that varied in shoe sole bending stiffness, modified by carbon fiber plates) found that a shoe's bending stiffness did not affect overall muscle activity or muscle power. "Adding carbon fiber plates to shoe soles slightly alters whole-body and calf muscle biomechanics but may not improve running economy," the researchers concluded.
It's possible, then, that the carbon plate might not be the technological advantage it claims to be. Perhaps the speed advantage of these shoes comes from other factors in the shoe, such as the curve of the sole or material used for the midsole foam, not the carbon plate itself.
Is it safe to wear carbon-fiber running shoes?
There's not enough evidence to say with certainty what role carbon fiber plates do (or don't) play in injury risk for runners. Therefore, those who wish to wear these shoes should proceed with caution and an intelligent plan.
In triathlon training training, periodization and a thoughtfully-designed workload permits adaptation at the muscle-skeletal level. We should not forget that most bone stress injuries (if not all) are in essence training load injuries, which means at some point there was an error in the workload. The same goes with trying to test that brand new pair of carbon-plated footwear out of the box. Most brands actually suggest a specific model or pair only for "competitions", or only for the "main event" during the season. Not even the pro marathoners use that shiny carbon-plated pair for common training tempo runs during a regular week, or even on their regular Sunday long run.
Triathletes (recreational, age-groupers and pros alike), who display clinical signs and symptoms of a potential bone stress injury should seek out radiological imaging to confirm suspicions and to establish a definitive diagnosis by a health care provider. Do remember that the sooner you're accurately diagnosed, the sooner you can return to the sports and activities you love.
Final thoughts
Though it's certainly an exciting time for new developments in shoe technology, remember that just because something is new doesn't mean it's right for all. As researchers of one 2020 study concluded, "if competitive distance runners went back in time, added carbon fiber plates to their footwear, and re-raced, their performance would likely not change."
With that being said, let's have those words in mind the next time we think about using equipment merely because of the fact that is "popular" or because "it seems to work for the pros."
Dr. Damián Palafox is a board-certified plastic and reconstructive surgeon and researcher in nerve surgery, advanced limb prostheses, and nerve regeneration. He is a member of the American Society of Plastic Surgeons (ASPS) and an enthusiastic amateur triathlete.