The Fastest Shoes at the Men's 2023 Ironman World Championship in Nice
We look at the shoes worn by the top 10 finishers at this year's men's Ironman World Championship in Nice, France.
Photo: Brad Kaminski/Triathlete
Heading out the door? Read this article on the new Outside+ app available now on iOS devices for members! Download the app.
When Sam Laidlow took a massive lead on the bike section of men's Ironman World Championship on Sunday in Nice, France, it immediately sparked a lot of chatter about whether he'd be able to hold on for the win once he put on his running shoes in T2.
Certainly, there was concern based on what happened last year, when he set a bike course record at the 2022 World Championship in Kona-Kailua, Hawaii, only to get caught in the final miles of the run by Norway's Gustav Iden.
This year, after blazing to a big lead on the bike on a climbing-intensive course through the Maritime Alps, Laidlow laced up his shoes and ran a 2:41:46 on the four-lap course along the Mediterranean Sea. This proved to be fast enough to outrun a hard-charging Patrick Lange—who ran the fastest-ever marathon split in an Ironman World Championships (2:32:41).
While we all know these speedy triathletes' legs (and lungs and…) are the key to their fast run splits, we still love to know what they strapped on their feet en route to their IMWC finish.
We present a rundown of the top-10 overall finishers with their Nice run splits and the shoes they wore.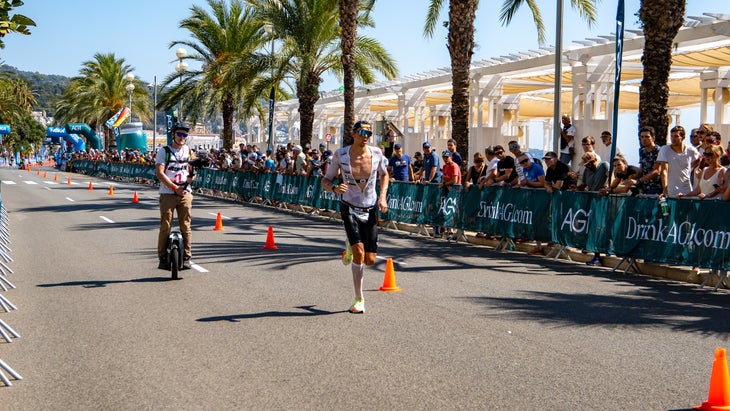 Vive la France! Visit our Nice Central hub for news, analysis, history, photo galleries, and so much more – new stories added daily from our team on the ground at the men's 2023 Ironman World Championship.
1. Sam Laidlow, 24, France, 8:06:22
Run Split: 2:41:46
Shoe: Hoka Rocket X 2 (green/yellow/white)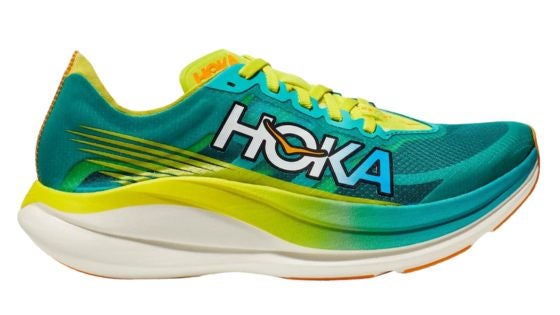 Laidlow was among the lead group that exited the water together. He jumped to a big lead by the second half of the bike leg—and posted the fastest split of the day 4:31:28—then slipped on his shoes knowing that Ditlev, Lange, and Chevalier would be on his heels if he started to fade. He went out fast, running the first nine miles in 53:35 (5:57 pace per mile) and completing the first half in 1:19:16. Although he slowed slightly in the second half (1:22:30), he never gave Lange any real hope of overtaking him.
Although it was on the feet of several pro athletes at the Boston Marathon and the Ironman World Championships in Kona in 2022, the much-anticipated Rocket X 2 was finally released in March with a new formulation of Hoka's super-critical midsole foam that they say produces a high-rebound, "bouncy" sensation. It has 5mm heel-toe offset (40mm stack height in the heel, 35mm in the forefoot) with spec weights of 8.2 ounces for a men's size 9 and 6.7 ounces for a women's size 8.
2. Patrick Lange, 37, Germany, 8:10:17
Run Split: 2:32:41
Shoe: Adidas Adizero Adios Pro 3 (light blue/yellow/white)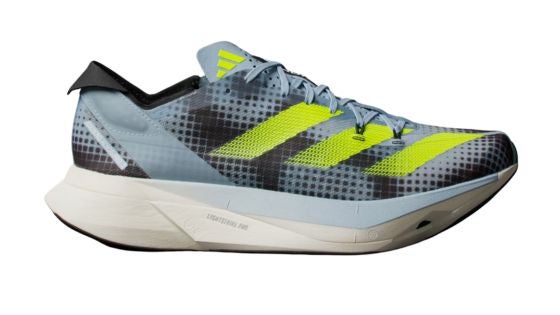 Depending on how you look at it, either Laidlow's 13-minute advantage off the bike was too big or Patrick Lange just ran out of real estate. Although he never really got close enough to make it suspenseful, Lange's 2:32:41 marathon split (run in a pair of Adidas Adizero Adios Pro 3) was still the fastest run of the day, cutting nine minutes into the deficit behind Laidlow while moving up from seventh to second place. It wasn't quite as fast as his 2:30:32 effort at Ironman Israel in 2022, but his performance on Sunday is the fastest marathon ever run in an Ironman World Championship (breaking Gustav Iden's 2022 record of 2:36:15).
Although it's not commonly seen on the feet of triathletes, the Adidas Adizero Adios Pro 3 has been one of the fastest shoes on the Marathon Majors circuit since it was released in 2022. Instead of a carbon-fiber propulsion plate like many supershoes, the Pro 3 incorporates a skeleton of carbon-fiber "Energy Rods" in its midsole to maximize energy return. Those rods were updated in the third edition of this shoe into a more cohesive unit. The Adidas Adizero Adios Pro 3 features a 6mm heel-toe offset (39.5mm in the heel, 33mm in the forefoot) and spec weights of 7.6 ounces for a men's size 9 and 6.5 ounces for a women's size 8.
3. Magnus Ditlev, 25, Denmark, 8:11:43
Run Split: 2:41:07
Shoe: Nike Air Zoom Alphafly Next% (yellow)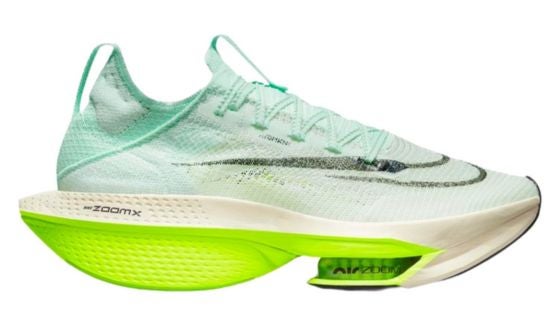 Ditlev rode his bike better than he ran, but he didn't run poorly. He was both chasing Laidlow and being chased, so his first half split was quick (1:18:41), but he tailed off during the second half (1:22:26) as Lange caught him.
Ditlev's has run in a variety of Nike supershoes in recent Ironman championships, including Nike Air Vaporfly Next% 2; he wore Nike Air Zoom Alphafly Next% 2 shoes at the COVID-delayed 2021 World Championship in St. George and the 2022 World Championship in Kona. But for the race in Nice, he switched back to a pair of the original Air Zoom Alphafly Next% shoes.
4. Rudy von Berg, 29, USA, 8:12:57
Run Split: 2:42:44
Shoe: Hoka Rocket X 2 (green/yellow/white)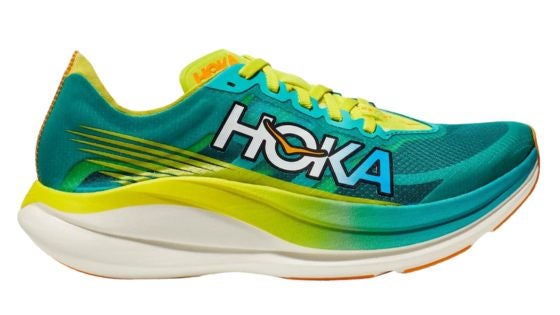 Von Berg was oh-so-close to securing a World Championship podium finish, but Patrick Lange had other plans. Still, it was a breakthrough day for von Berg, who finished 20th in Kona last year after a 3:02:17 marathon split. He entered the Nice championship coming off a win at Ironman Texas (7:44:51), which he closed in what was a career-best 2:45:36. Although he was caught by Lange in the closing miles of the race, von Berg ran even splits (1:20:50, 1:21:54) in his Hoka Rocket X 2's to secure a new personal best Ironman marathon time.
5. Leon Chevalier, 27, France, 8:15:07
Run Split: 2:39:26
Shoe: Hoka Rocket X 2 (green/yellow/white)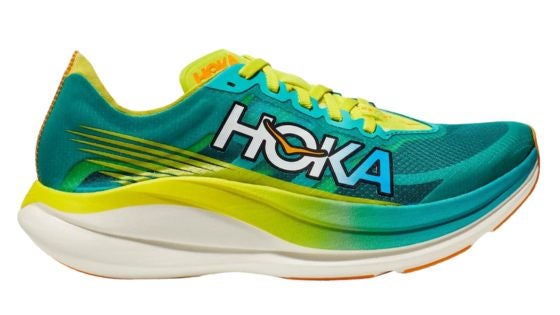 Leon Chevalier scored fashion points for having shoes (green and yellow Hoka Rocket X 2's) that matched his green kit, but he also should get high marks for running the fourth-fastest marathon split (2:39:26) in the pro field. That's faster than he ran at the 2021 Ironman Mallorca win (2:46:54), his sixth-place finish at the 2022 world championship effort in St. George (2:46:23), or in his speedy win (7:11:43) at Ironman South Africa earlier this year (2:46:59). He had an average swim in Nice (51:11), but he made up time with a strong cycling effort (the fifth-fastest split of 4:39:30) and ran very well off the bike.
6. Arthur Horseau, 30, France, 8:18:36
Run Split: 2:37:17
Shoe: Hoka Rocket X 2 (green/yellow/white)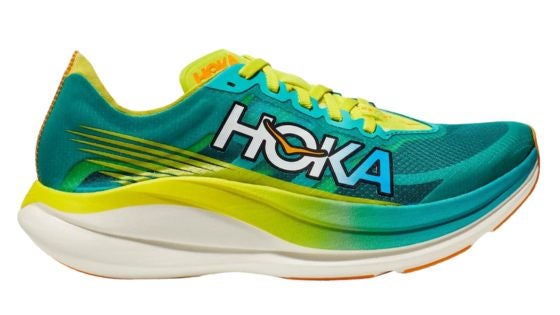 It's been a banner year for Horseau, and he's done it wearing Hoka Rocket X 2's in every race. He won Ironman Lanzarote (8:22:31) in May after Laidlow dropped out midway through the run. Even though he had been chasing Laidlow, Horseau's effort was strong that day (with the top run split of 2:39:20). He also won the Embrunman race in the French Alps in a record-setting 9:14:09, which included a 2:49:11 marathon split. His Nice run split (2:37:17) was the third-fastest among the pros in the race, and it came by way of relatively even splits (1:17:37, 1:19:40).
7. Bradley Weiss, 34, South Africa, 8:20:54
Run Split: 2:43:22
Shoe: Puma FAST-R (yellow/black)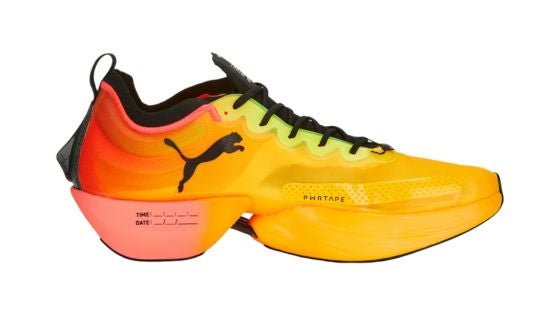 Weiss improved on his 17th-place showing at last year's World Championship in Kona by running a  better marathon. His overall race time was slower by 13 minutes, but his marathon split (wearing Puma FAST-R shoes in Nice) was five minutes faster than last year (2:48:01). It's part of his continued development that started with a background of XTERRA racing.
Puma's Fast-R supershoes feature similar details as most modern long-distance racers: ultralight construction (7.0 ounces for a men's size 9), a high stack of energetic foam (38mm in the heel, 30 mm in the forefoot), and a rigid, curved carbon-fiber plate. But it's avant garde design uses a  decoupled heel with a midsole made soft EVA blend designed to absorb shock and stabilize your stance, avoiding the wobbly landings experienced in many supershoes.
8. Gregory Barnaby, 32, Italy, 8:21:15
Run Split: 2:44:04
Shoe: Saucony Endorphin Elite (white)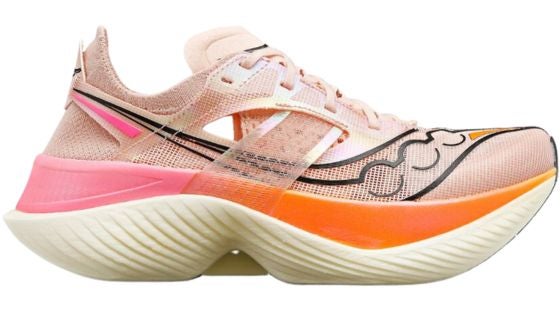 Barnaby, who was one of only a few athletes wearing Saucony's new Endorphin Elite shoes, worked his way into the top 10 in Nice with a solid 2:44:04 run split, but he had been vying for a top-six finish midway through the race. His first half split (1:17:45) was much faster than his second half (1:26:19). His run wound up being the 11th fastest marathon split of the day, but it's not nearly as fast as the 2:35:34 split he clocked at Ironman Israel last year.
Launched earlier this year, the Endorphin Elite shoes are built on the Saucony's new "PWRRUN HG" midsole foam. Unlike Saucony's Endorphin Pro 3, which creates a plush, rolling feeling, the Endorphin Elite creates an abrupt stride turnover sensation, which makes it feel like your foot is falling off an edge just before you reach the toe-off phase of a stride. The forked design of the plate—which is a solid piece under the heel but separates into four long narrow flanges under the forefoot—is meant to allow your foot to move with its own natural dynamic movement patterns instead of being forced into a specific pattern dictated by a solid plate.
9. Robert Wilkowiecki, 29, Poland, 8:21:23
Run Split: 2:43:45
Shoe: Hoka Rocket X 2 (green/yellow/white)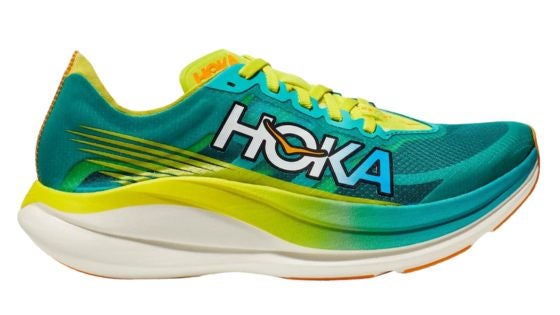 Competing in his fifth Ironman event, Wilkowiecki recorded his second-best marathon split in Nice (2:43:45) wearing Hoka Rocket X 2's and improved greatly on his disastrous result from the 2022 World Championship in Kona. At that race, he had a great swim and a good bike effort, but he had nothing left in the tank and split a 3:23:27 on the run and finished 44th overall. Had he not faded a bit on the second half of his run in Nice—his splits were 1:20:07 and 1:23:38—he might have surpassed the 2:41:59 run effort he notched in his runner-up effort at Ironman Frankfort in 2022.
10. Clement Mignon, 24, France, 8:24:10
Run Split: 2:47:55
Shoe: Hoka Rocket X 2 (yellow/black/pink)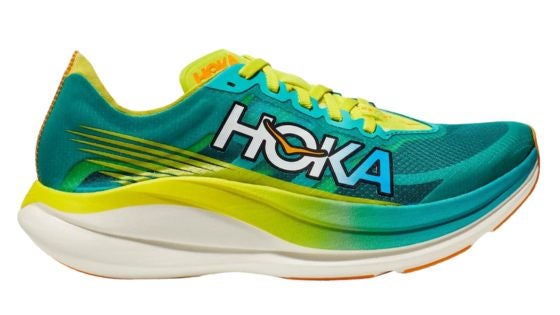 After a good swim (47:59) and a good bike (4:43:03)—both top-10 splits—Mignon was ready to have a breakthrough race if he could turn in an equally good run. He came close, but wound up just short of matching the run split (2:45:04) he recorded when he won Ironman Nice back in June and the split he produced (2:44:38) when he took third at Ironman Frankfurt in 2022.