KIA's Niro Triathlon Concept Car Is Your Future Training Partner
The idea behind the Niro Triathlon concept is that it's a training partner/coach—basically a robot pace car that triathletes can ride behind.
Heading out the door? Read this article on the new Outside+ app available now on iOS devices for members! Download the app.
If you haven't seen it yet, grab a drool bib and cast your eyes on the KIA Niro Triathlon concept car. Unveiled at the SEMA auto show in November, the concept made its rounds online as the ultimate training car for triathletes. This thing not only boasts some amazing tri-specific features, but it also highlights the future of what cars could be.
For anyone who caught a glimpse of the KIA Niro Triathlon concept car on social media or auto websites, your first thought was, "Oh, cool. Another car marketed towards triathletes." Your imagination would conjure up images of the Nissan Xterra or the Honda Element (RIP), but this concept car provides so much more.
First, the obvious stuff: The trunk is chopped and molded to fit a locked bike to the right rear side, while the left rear houses tool drawers, a pump and a place for other lubes and cleaners. The back end is essentially a mechanic's bench. While very cool, it's not earth-shattering. Once inside, however, things get crazy, fast.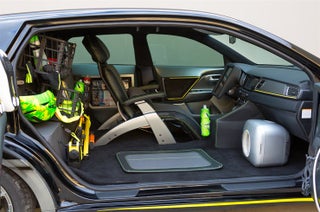 The passenger-side doors flip open outwards (suicide doors) to reveal piles of storage for piles of gear. There's no passenger seat to get in the way (or beam between the doors), so in place is a fridge for your nutrition and a built-in minishower to get fresh and clean.
The driver's side is even wilder as the autonomous (self-driving only!) car needs no steering wheel, pedals or requisite seating to use the aforementioned instruments. In place is a "Human Touch 'zero-gravity' ergonomic reclining chair"—which also gives massage—and a spot for a tablet to analyze stats post-workout or watch Kona coverage. Even if you wanted to drive the car, you couldn't.
Since the car is autonomous, the idea behind the Niro Triathlon concept is that it's a training partner/coach—basically a robot pace car that triathletes can ride behind.
A tablet tucked into the outside trunk displays speed, distance and anything that could be transmitted from onboard the bike to the rider, like a giant bike computer. Trying to hit a certain workout? The car will pace you to that workout. Riding at night? The car lights the way, keeps you safe and even displays a laser lane around you to help guide you along. Setting all the neat stuff like the shower and bike rack aside, the car's autonomy is the whole point.
One of the big brains behind the Niro Triathlon concept car is Skyler Wallace. A triathlete himself (he's finished Ironman Arizona twice and raced in countless shorter distance events), and the former head of marketing at Felt Bikes, Wallace jumped at the chance to work on a project that involved his passion for endurance sports.
"Kia came to us with the idea of autonomous living and wanted to see how any of their vehicles—if we brought them to life in an autonomous way—could benefit different areas of life," says Wallace. His team came up with a list of concepts ranging from a party on wheels that would show up with music and lasers to a vehicle that pampered the passenger like a mobile spa.
They finally hit upon the idea of an autonomous car that would shuttle a mountain biker to the top of a run, then meet down at the bottom to pick him or her up post-ride. "After we showed them that idea, KIA came back and asked, 'What if this car could do more than just shuttle you? What if it helped with your training?'" says Wallace.
From there, Wallace's team worked together with Southern California custom car builder LGE-CTS Motorsports to create something that was less like a car and more like a teammate. "We wanted to incorporate the idea of a truck, but we really wanted the feel of a triathlete," says LGE-CTS Motorsports' Theresa Contreras, whose passion is truck customization. "We thought the truck body look was a good idea, but went for more of a rallycross-type thing with the wheels, tires, hood scoop and lights."
After only two months of challenging work—like repositioning the hybrid battery to make space for the tri-accoutrements—the stock Niro went from sketch to high custom car. While the autonomous-driving technology needed to make the concept car a reality on the open road isn't there yet, the Niro Triathlon concept serves as a sighting buoy for the huge gap between what cars are and what they could be in the near future.
The auto industry is betting on self-driving cars and others are following with their wallets out. At the L.A. auto show in November, Intel's CEO Brian Krzanich announced a $250 million commitment to invest in autonomous auto technology over the next two years. According to a Wall Street Journal article, Qualcomm Inc.—a smartphone semiconductor vendor—agreed to acquire one of the leading providers of automotive chips, NXP Semiconductors NV for $39 billion.
"I believe that there are people who want to ensure that the market is ready for when the tech becomes available," says Wallace. "They want people to get excited about what could be more than just a car that gets you from A to B."
KIA's Niro Triathlon concept is not only a gadget for the triathlete who already has everything, it also opens the door to a spectrum of autonomous automobile applications. You could conceivably do work while the car takes you to a nice place to ride, the car could navigate the route in front of you while you bike, then you could nap or watch TV while the car drives you home. It's a brave new world.