Is Chip-Embedded Triathlon Gear the Future?
NFC is the latest way for people and products to track what you do—even how fast you get there.
Heading out the door? Read this article on the new Outside+ app available now on iOS devices for members! Download the app.
What if how you used some of your triathlon gear—specifically your wetsuit, your
bike, or your running shoes—influenced how a brand made upgrades and new product lines? It could happen sooner than you think. Running shoes with digital chips embedded in the tongue are already in production.
The chips use Near Field Communication (NFC) technology, a short-range wireless connectivity protocol that uses magnetic field induction to enable communication between two devices. It's activated when one NFC device (a smartphone, a race-tracking chip, a personal health monitoring band, etc.) comes within an inch of an NFC receiver to allow a data link.
Some mainstream examples of NFC applications include mobile payment and banking systems (like Apple Pay), retail content marketing programs, and race-timing applications. Adidas is the first to use NFC technology in running shoes as a way to continually pass along original content to consumers through a digital app. Each of Adidas' Speedfactory AM4 line of shoes— which debuted last fall—is built with an NFC chip embedded in the tongue to offer owners content like storytelling videos about products, athletes, and training—as well as targeted offers.
But Adidas also wants to use the technology to receive feedback from runners: By understanding performance data (including the duration, speed, frequency, force impact, and location of a user's runs, for example) and using small-batch production and a shorter production cycle, the brand believes it can more quickly develop and improve shoes for consumers in specific regions, with the end-goal of capturing user-generated feedback to create shoes for specific individuals.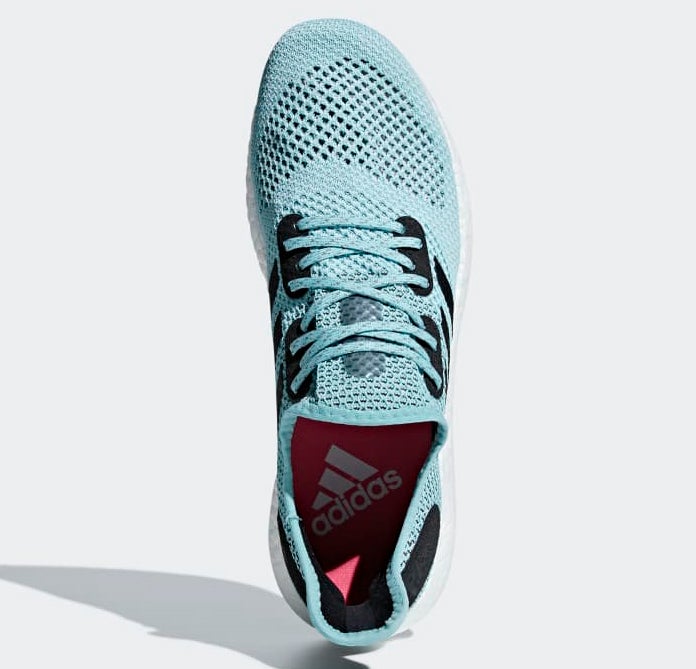 The first prototype running shoe Adidas built with an NFC chip was the Futurecraft MFG (aka "Made for Germany") in 2016, but the brand has subsequently launched specific models for London, Paris, Los Angeles, and New York with the idea of getting feedback from runners in those particular regions to help inform future design updates and entirely new products.
In addition, a small but growing number of triathlons, clubs, and coaches in Europe are using NFC technology systems to time events and workouts. Most chip timing systems use radio-frequency identification (RFID) technology, which utilize electromagnetic fields and radio waves to automatically track an RFID tag with a competitor's electronically stored information.
The downside of NFC technology is that it doesn't lend itself to big events as well as RFID systems because the chips can't be read unless they're extremely close to the reader, says Mark Bockmann, president of Race Rite, a Boulder, Colorado-based company that administers and distributes RFID timing systems. This reduces NFC's effectiveness for situations where multiple competitors are passing through a checkpoint or crossing the finish line in a short period of time. However, NFC technology does have the benefit of being a lot easier to set up, and it's less expensive for race directors, clubs, and coaches, says Vesa Suomalainen, CEO of Webscorer, a registration, timing, and results platform company based near Seattle that offers both RFID and NFC systems to events around the world.
"You can actually use an Android phone or an iPhone as the chip reader," Suomalainen says. "With RFID systems, you have to end up buying basically a separate RFID reader device and have antennas that connect to the reader, which makes it a pretty complicated and involved piece. With an NFC system, if you already have the phones, it's just the cost of the chips. But it is limited in the types of events it can be used for timing."
So what about the future of NFC? Things could get a little sci-fi: "The next level
of iteration could be a shoe that actually sends information without you needing to connect it to a cable or to an NFC reader, utilizing 5G low-frequency technology," says Michael Voegele, chief information officer at Adidas. Knowing you're being watched just means you'll run faster, right?