Is 3D Printing the Future of Triathlon Gear?
Once solely the realm of pros and high-end carbon outfits, 3D printing is changing the way we build (and fit) tri gear.
Photo: Kenny / Getty Images
Heading out the door? Read this article on the new Outside+ app available now on iOS devices for members! Download the app.
Until recently, pretty much everyone outside of the world's top triathletes found themselves bound by mass-produced items including goggles, bikes, shoes, and accessories that were more of a one-size-fits-all situation than a truly dialed fit.
This meant that athletes had to weed through a wide variety of different products until one came along that felt perfect, or as close to perfect as anything in the past, and then hold on to it for dear life (and hope it doesn't break or wear out).
Recent advances in the world of 3D printing, however, stand to upend that long and expensive paradigm with one that is far more tailored and custom. Odds are if a triathlete is looking for a piece of equipment, there is something out there that has been 3D printed that fits the bill.
What is 3D printing?
3D printing involves designing a digital model of an item that can be produced with a printer that adds material in layers until the complete item is finished. 3D printing is everywhere from vehicle manufacturing to the tech world and just about every other industry where things are built.
It's no surprise that the technology would arrive in the triathlon world too.
Most 3D printed items are plastics, but other materials including metals and carbon fiber can also be used. Through this printing process designers can build just about anything, from small accessories like bottle cages and camera mounts, to high-end bike frames and components. In fact, pro cyclist Filipo Ganna used a 3D-printed model of Pinarello's Bolide F HR to break the UCI Hour Record just last year.
Benefits of 3D printing triathlon gear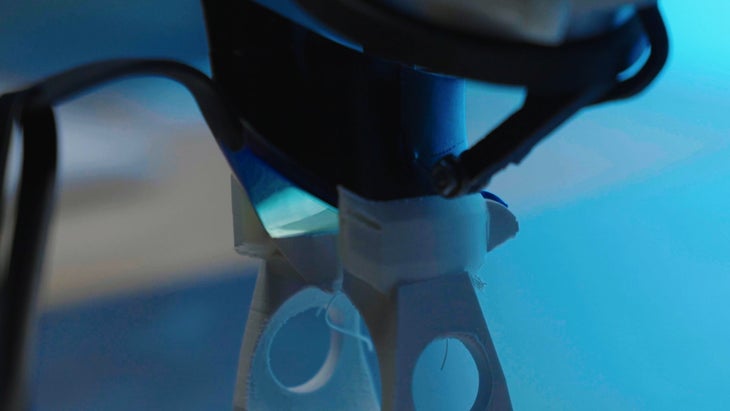 Most entry- and mid-level triathletes probably wouldn't be able to spring for a fully 3D printed frame when so many excellent models from traditional supply chains are widely available—with a wide range of sizes and fit adjustment capabilities—but other triathlon gear that makes a huge difference during a race has proven to be a key venue for this emerging technology. And while instincts put most 3D printed gear in the world of cycling, there's more to it than that.
Rasmus Barfred, partner and co-founder of TheMagic5, which produces custom 3D-printed swimming goggles, was all too familiar with the drudgery of trying to find a diamond in the rough when it came to goggles.
Barfred, a longtime triathlete, says his business partner and friend Bo Haaber approached him while training for an Ironman after becoming incredibly frustrated by uncomfortable goggles. Haaber went out and bought all the goggles he could find, but still had issues finding one that he loved.
"I've done a lot of triathlon races and full Ironman distances, and I think I went through the same (struggle) as other people: you find the goggle that is the 'least worst', then you stick with that one," he says. "We were so frustrated with our goggles that didn't fit that we basically wanted to make a better product," he says.
TheMagic5's goggles are unique in that buyers take a 3D scan of their face, which the company sends to a robot to cut material away from the goggle sockets to create an exact fit to the customer's facial map.
Barfred says 98% of customers have been satisfied with the goggles, including some of the world's top swimmers and triathletes, including three-time Ironman World Champion Jan Frodeno, along with Ben Kanute, Laura Siddall and Lauren Brandon.
Business has been so good that the company is looking to expand, and has entered into a technology partnership with Canyon Bikes for a custom triathlon product. Exactly what that product will be is still hush-hush.
Other 3D printing applications
While Pinarello created a fully 3D printed frame, many other cycling companies are 3D printing items including seats, mounts, and arm rests tailored for a custom fit.
For example, Fi'zi:k uses 3D-printed padding for its Adaptive line of saddles. Fi'zi:k says the padding is created through a process called "Digital Light Synthesis," which uses light projection, oxygen-permeable optic,s and liquid resins to build a saddle that is strong and comfortable.
Shoe companies have also jumped on the 3D train, including industry heavy-hitters Adidas, Nike, and New Balance. Like Fi'zi:k's saddles, all of these shoes bear the tell-tale woven look of a 3D printing project.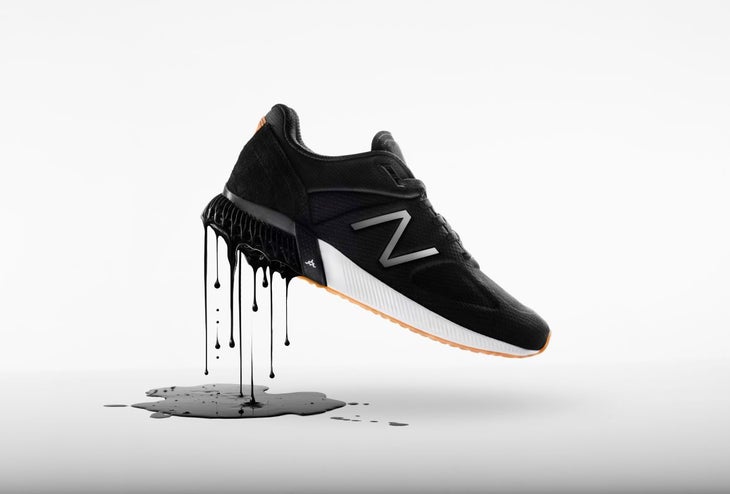 While 3D printed, these products still are mass-produced and widely available. Other companies get much more niche with their 3D-printed gear. Tim Stender, CEO of German-based 4Frames, which creates 3D-printed aerodynamic attachments for triathlon bikes, has spent the last year developing hyper-specific products designed for speed and utility.
4Frames began as a startup after a colleague approached Stender hoping he could create a toolbox similar to one he saw on Jan Frodeno's bike, but couldn't find anywhere. Stender was able to produce the toolkit, and it quickly gained popularity among other local riders, which led to the creation of 4Frames and the development of more attachments, including onboard hydration reservoirs and boxes to help riders carry gear without sacrificing aerodynamic performance.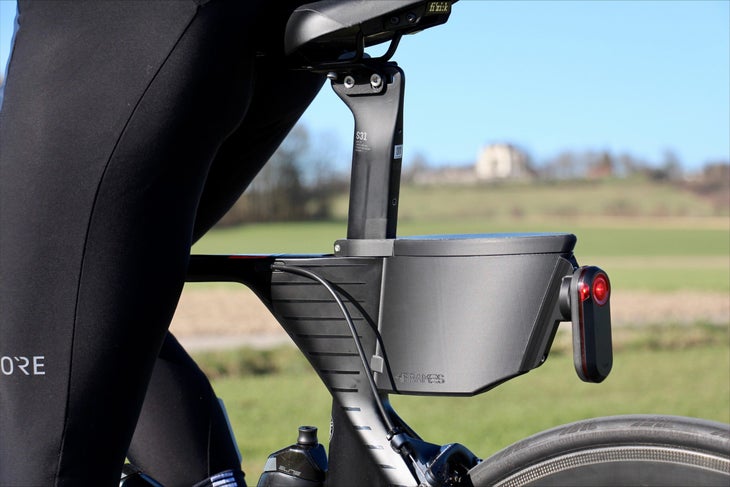 The company has sold hundreds of attachments worldwide, and is looking to expand to fit more popular bikes. Without 3D printing, Stender says that would not have been possible. Using a more traditional injection mold would have cost somewhere in the neighborhood of $11,000 to $13,000, while 3D printing only required him to buy a printer for under $1,000. It was easy to scale up too, since all that is required to increase production is purchasing another printer.
"It makes it so easy to self-design something. What you still need to have is the capability and the will to design something on your own. There are big libraries for 3D printing where you can download something and print it," he says. "So I think the printing part is not (the part that) needs the time or the effort. I think the designing part, the 3D designing on your computer, is the difficult part."
Is 3D printing the future of triathlon?
Jerry Gerlich, a "Steve Hogg Approved" bike fitter and Master Personal Trainer who has worked with Blockhaus Cycling and Bicycle Fit Guru Chris Balser, says he's seen a rising trend in 3D printed products for years. He's seen athletes who love things like 3D-printed saddles, and some who have switched back to off-the-shelf models.
However, he says 3D printing custom components could make a big difference for many people. "The benefits of custom 3D printed products can be huge for athletes with specific anatomical needs or differences, like in the cases of a para-triathlete with nerve issues at the shoulder using a more personalized shape to support the same side forearm," Gerlich says.
The trend of 3D printing clearly already has a place in the triathlon community, and it's sure to expand as technology and access improve. Where before custom goggles, armrests, mounts, and saddles were only available to pros, more athletes than ever will be able to dial the fit of their bikes, swimming gear, and running gear than ever before.
But like so much else in triathlon, much of consumer demand, research, and development will likely fall to the whims of consumers. Many will love the new tech and benefits, while others may stick to their tried and true legacy products.
For Stender, 3D printing is part of a larger landscape, and not an end-all, be-all. "I think 3D printing will find its place next to all of these other methods, but it will never replace injection molding," he says. "If it comes to higher numbers, if it comes to thousands or hundreds of thousands of parts per day or even a week, there will be no way around injection molding. And it's the same with all these other manufacturing methods."
Any racers out there who have had problems finding the right fit in the past, however, should definitely consider the new 3D printing frontier.