Can Tri Gear Be Cool? We Put a Hollywood Stylist to the Test
Who knew neoprene and spandex could be so fashionable?
Photo: Hannah DeWitt/Triathlete
Heading out the door? Read this article on the new Outside+ app available now on iOS devices for members! Download the app.
Tri style has certainly evolved over the years (for proof, check out the OG Triathlete Magazine covers) but few would ever accuse a triathlete of being fashionable. Even with the recent surge in athleisure trends and Hoka's must-have status among the Hollywood set, society has yet to reach the point where wearing a neon tri suit to a dinner party would be considered sane, much less a style choice.
But recently, "Jennifer Lopez Wears a Wetsuit-Inspired Dress on the Red Carpet" was an actual headline in fashion bible Vogue. We'd like to think Lopez – who is one of us, having raced the Malibu Triathlon – is secretly leading a style revolution to help make spandex and neoprene cool. (Stars! They're just like us!)
But most of us are not red-carpet regulars. Can tri gear actually be fashionable for mere mortals? We put Hollywood stylist Rae Allen to the test by giving her seven pieces of gear and a challenge: transform these workout staples into actual outfits to wear in non-tri settings this summer. Allen, who is also an Ironman triathlete with a run streak of over 3,000 days, was up for the task. Scroll on for her style guide (and shopping notes, should you want to bag a few new looks for your wardrobe).
Section divider
Tri-Style Challenge #1: A Run to Brunch Ensemble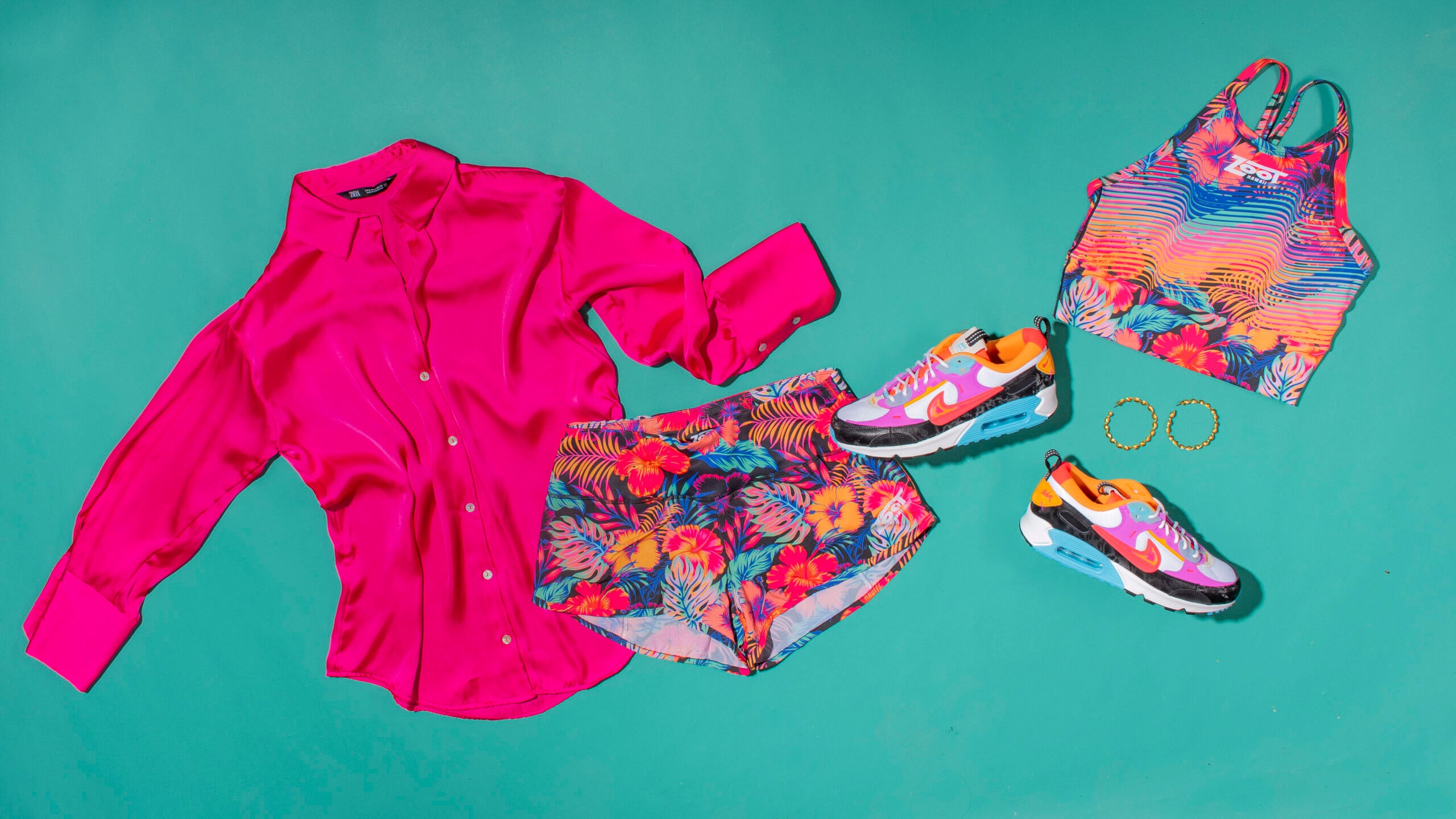 Stylist notes:
Run shorts can make a statement while remaining functional for your training. Adding a bold sneaker, simple jewelry, and button-up shirt can transform this look from training to brunch. Wear the button-up shirt open with a tank or crop, and you've got a look that can go anywhere, anytime.
Shopping list:
Section divider
Tri-Style Challenge #2: Your Finisher's Shirt, but Fancier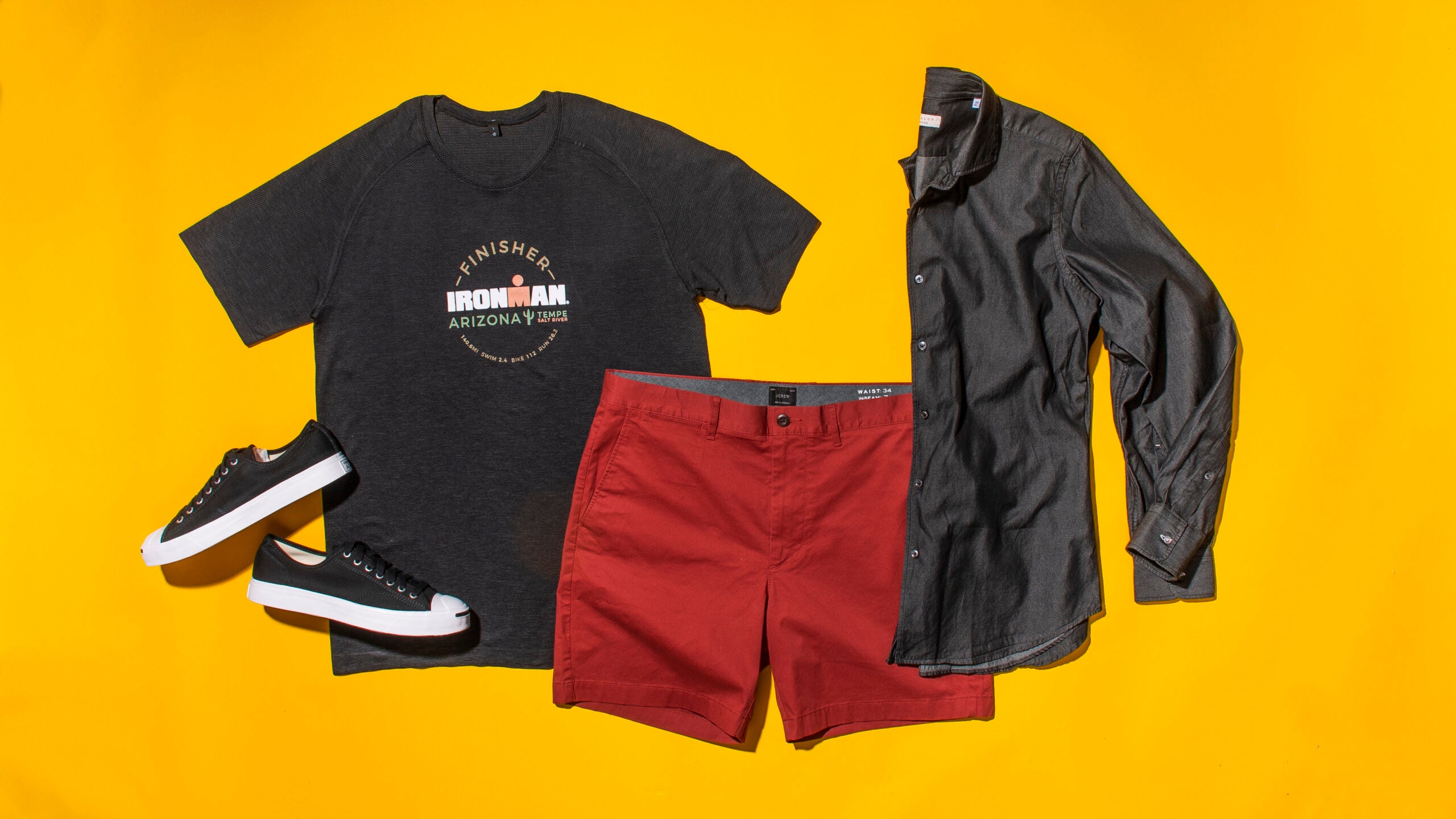 Stylist notes:
You worked hard for this – so rep your finisher tee with confidence. The key to effortless style is adding a chino short or relaxed chino pants with a smart sneaker. Take this look from Medal Monday to dinner. Add a lightweight layer like a dark chambray shirt or denim jacket, if needed.
Shopping list:
Section divider
A pop of color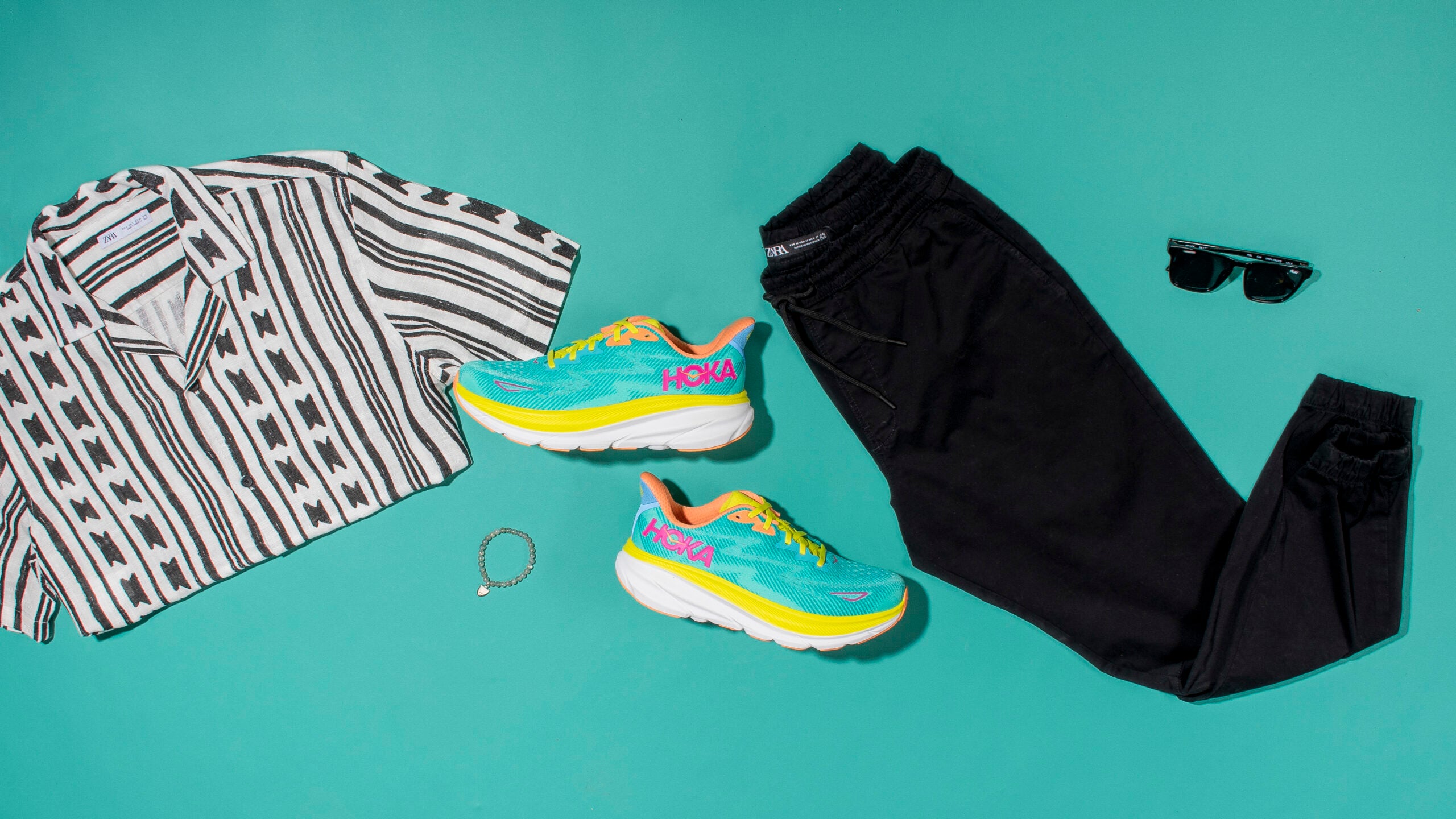 Stylist notes:
After you hit the pavement, you can keep rocking your running shoes for an all-day modern look. Bring some personality to your outfit with a bold color running shoe and a relaxed print shirt. Keep it simple on the bottom with a solid color pant or short.
Shopping list:
Section divider
Tri-Style Challenge #3: Running Shoes for the Runway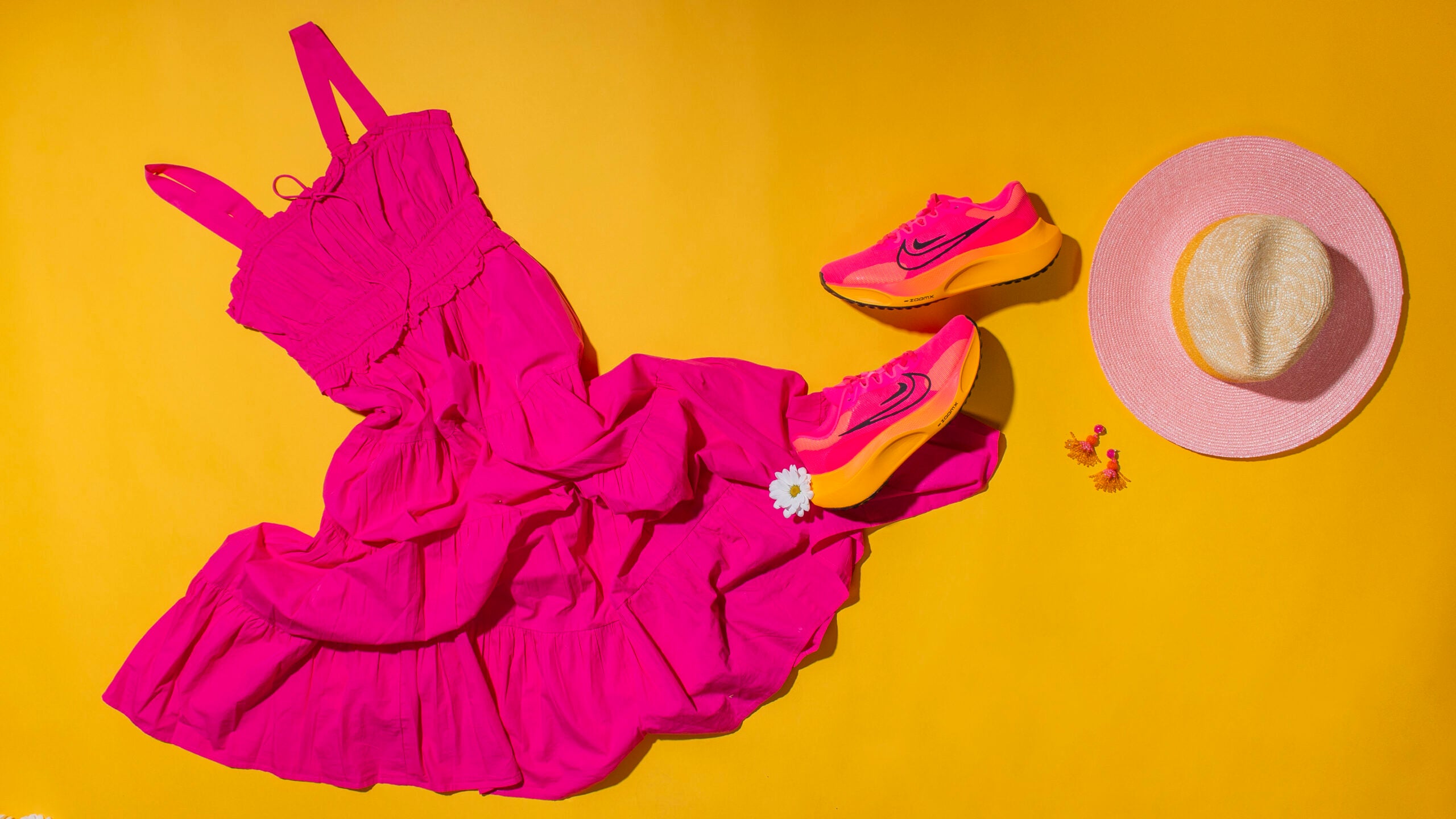 Stylist notes:
Sneakers have become a style staple – and running shoes are the perfect option! Don't overthink this: add running shoes to dresses, skirts, and jumpsuits. For all-day style that can go anywhere from the farmer's market to a dinner party, pick a midi-length for dresses and skirts.
Shopping list:
Section divider
Style Challenge #5: Suiting Up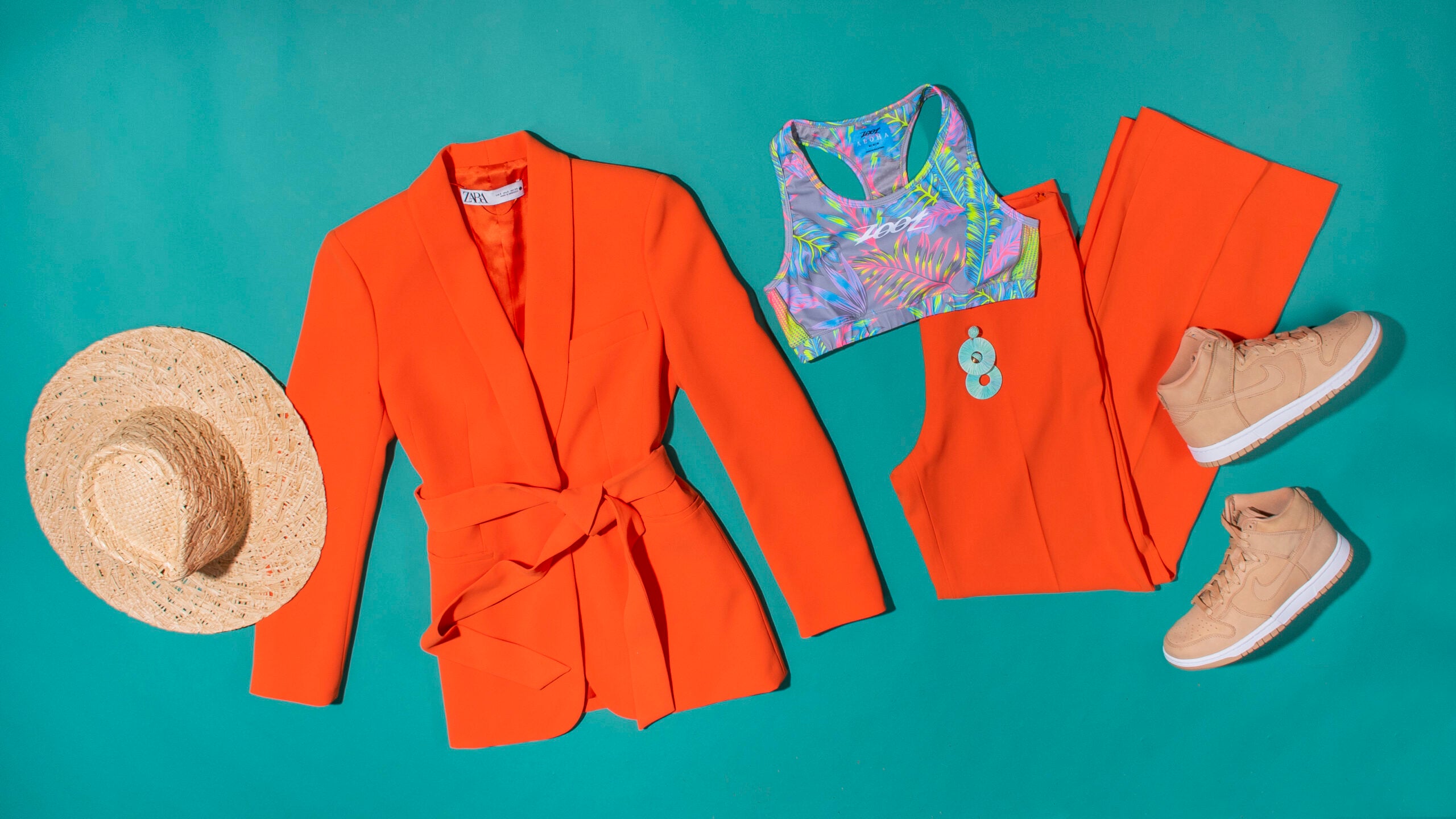 Stylist notes:
Sports bras have become the elevated crop top. Grab your sports bra and pair with a suit or coordinated set to add a pop of color. Play with colors aiming for complimentary colors (opposite on the color wheel). This look will take you from day to night. When it's time to train, just swap out for your bike shorts.
Shopping list:
Section divider
Tri-Style Challenge #7: Double-Duty Tri Suit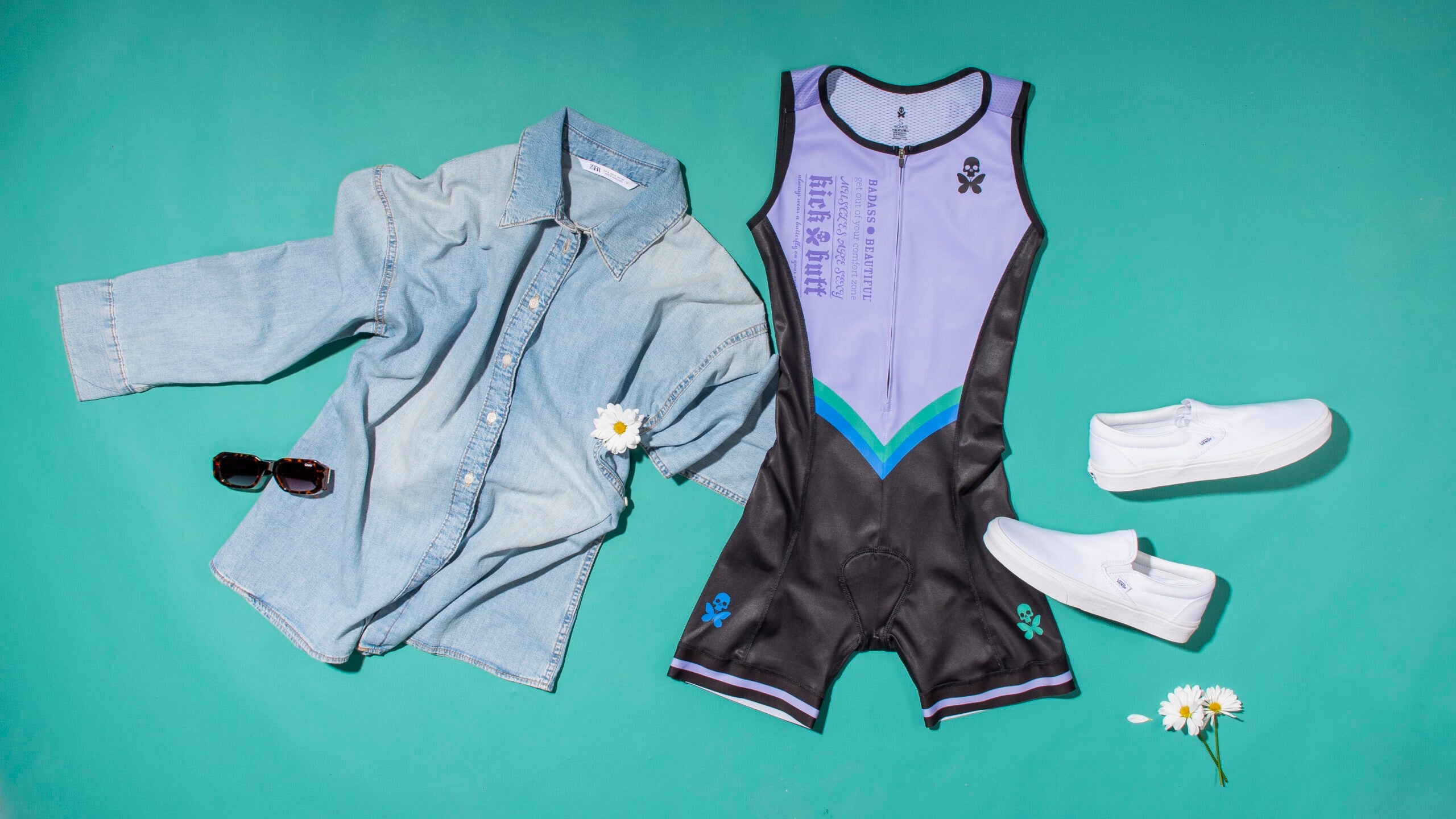 Stylist notes:
The tri suit is a staple of your race-day wardrobe, but don't let that stop you from rocking it once race is over. Adding a chambray shirt or denim jacket will make this look elevated casual. Style tip: Keep your layers loose for supreme comfort.
Shopping list:
Section divider
Tri-Style Challenge #4: A Put-Together Post-Gym Look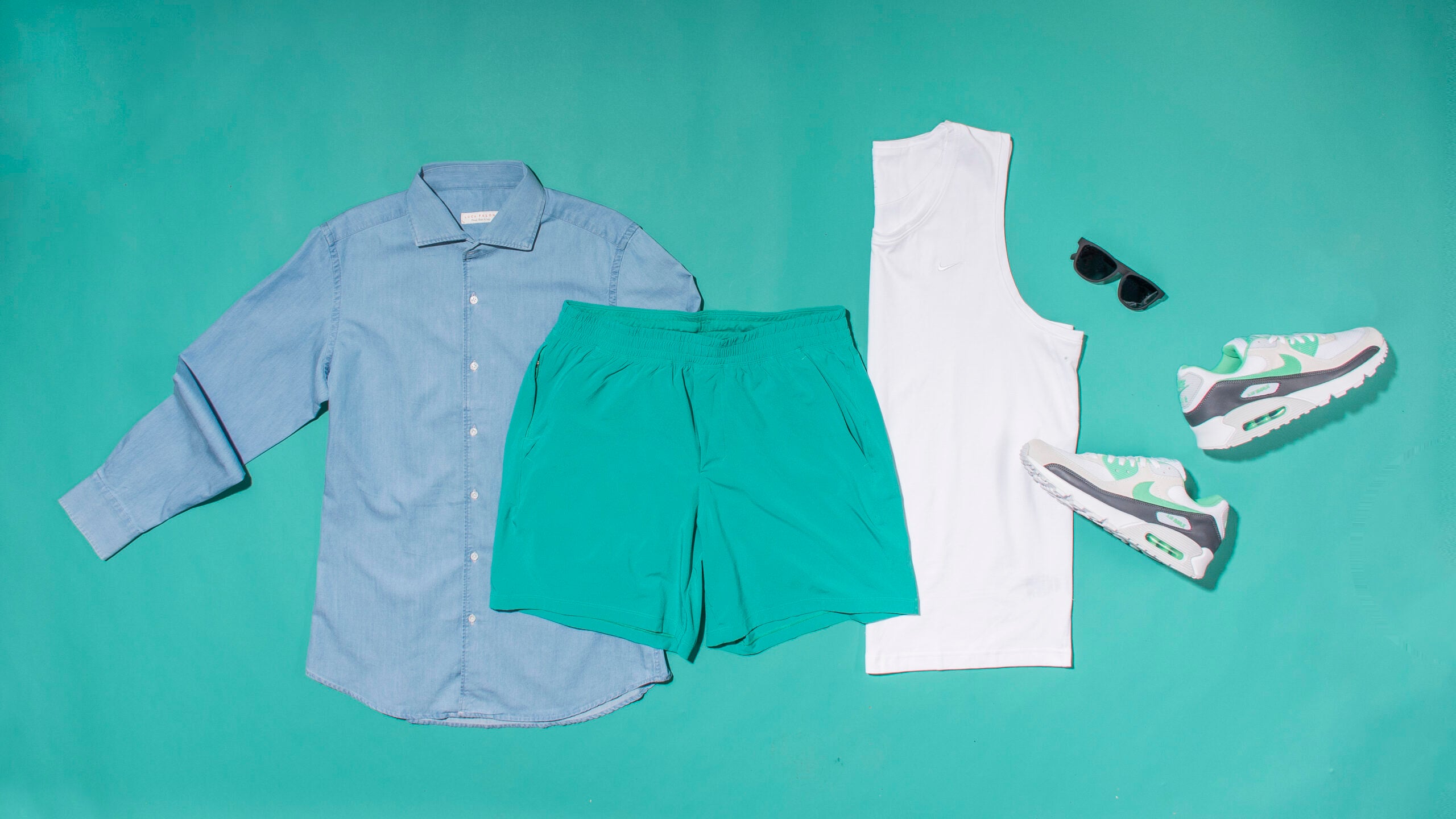 Stylist notes:
Run shorts offer versatility to wear anywhere and everywhere, from group runs to happy hour. The athletic fit creates a laid-back look, so choose a colorful short paired with neutral layers. After your run, add a classic sneaker to compliment this outfit.
Shopping list: