What's Old Is New Again: The Return of Beam Bikes
Tri bike designers are steering away from traditional frame shapes to bring back designs from three decades ago—with some important improvements.
Heading out the door? Read this article on the new Outside+ app available now on iOS devices for members! Download the app.
Tri bike designers are steering away from traditional frame shapes to bring back designs from three decades ago—with some important improvements.
Acid wash jeans. Full House. GhostBusters. These days, what's old is new again. In the triathlon world, that is certainly true of bike designs. The trend toward new frame configurations (beam bikes and bikes without downtubes) and shapes (added fairings) is hitting full stride again. And it's not just new companies trying to differentiate themselves with radical bikes; the bigger bike brands are also starting to step away from the traditional double-diamond shape in the perennial search for the fastest, coolest aero rig.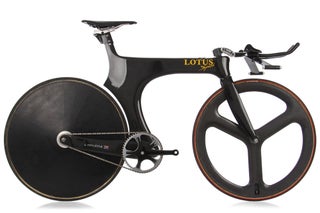 In the '90s, manufacturers were not held back by rules of UCI regulations. Brands like LOOK, Cheetah, SoftRide, Lotus and others pushed the boundaries of what a bike looked like, eliminating the downtube, having wheels of different sizes, and using massive fairings were all fair game. Then cycling's international governing body, the UCI enacted regulations in 1999, citing safety and leveling the playing field as reasons for the crackdown. Manufacturers had to pull back and stay with the double-diamond frame with additional limitations on tube shapes, tube width and even restrictions on saddle position. The rules banned integrated hydration, set limits on the size of a water bottle, and even went so far as to limit how far forward the saddle could be.
While the UCI has since relaxed some of its regulations, many are still in place. But UCI regulations don't apply to triathlon anyway (except for the draft-legal ITU series), so what brought back the radical bike design trend today? The fact that the triathlon market is now large enough to support brands whose sole focus is building bikes around the needs of triathletes. Brands couldn't afford to continue making those funky bikes in the '80s without a big consumer base. Now they've got one—about 2.5 million roadie triathletes in the U.S. alone*—and smaller and larger brands from Dimond, TriRig and Ventum to Diamondback and Cervélo are putting their time and resources into bikes specifically for triathletes that do not meet UCI regulations.
The most intriguing part of this evolution is that sheer speed is no longer the only goal. Designers now take storage and hydration into account from the very beginning. That is a far cry from the previous process of simply making a "fast" bike and adding on bottles later.
"Adding storage to these frames has a large impact on aerodynamic performance," says Mat Steinmetz, the founder of 51 Speedshop who consulted with Cervélo as the director of human/bike interaction (actual title) to help create the newly launched P5X. "The way forward is designing a system and not just a frame. How can you accommodate the needs of athletes, in a practical way, with the least impact on aerodynamic performance?"
To build the P5X, Cervélo designers took more than 14,500 pictures at 70.3 and Ironman events over the span of two years to see what triathletes use and need. Then they set about designing the bike. "After running the topology optimization program, which tells the design team where you actually need material to construct a bike, the frame was designed around storage," Steinmetz says.
Moving into 2017 and beyond, more manufacturers are likely to jump on board this new process and veer from the traditional double-diamond shape. The most exciting part will be to see how each company tries to solve these issues. Some manufacturers have removed a lot of the bike (see the Ventum One and the TriRig Omni) while others have added to it (see the Diamondback Andean). With the P5X, Cervélo seems to have split the difference by adding material in some areas and removing it in others.
For triathletes, this is a great step in the right direction. As more buyers gravitate toward these new bikes, more manufacturers will jump on board. If the past is any indication, all it takes is a few bike brands to change the course of bike design.
*Source: Sports & Fitness Industry Association 2016 Participation Report
This Lotus Sport 110 was made in 1995 but looks as radical as any bike on the market today.