What Do You Get For $17,000? Our Hands-On Review of the New Felt IA 2.0
Surprises abound with the latest (and very, very pricey) new superbike from Felt, the IA 2.0.
---
Basics
A superbike in every sense of the word: built-in hydration storage, deep aero (non-UCI legal) carbon tubes, integrated front end, light weight, and a smooth ride with excellent straight-line tracking—even with an aggressive setup.
---
Pros
Super slippery aero shape
Ultra smooth ride
Great handling—both in straight line and around curves
Light weight
Great built-in hydration/nutrition/toolkit storage
Cons
Not as snappy as we'd expect
Price
Price
Did we mention the price?
Pulls in crosswinds
---
---
Heading out the door? Read this article on the new Outside+ app available now on iOS devices for members! Download the app.
Let's start with this: I've tested and reviewed a lot of bikes on a lot of rides – probably more than almost anyone in the sport. I've ridden tri bikes that cost $1,000, and I've ridden tri bikes that cost $15,000. But the Felt IA 2.0 could be the first bike I've reviewed — without some weird custom paint job or fully custom build—a stock bike, in other words, that retails for $17,000.
When I saw the price, I literally couldn't believe it. Especially from a brand like Felt, which has traditionally led with budget and mid-range offerings and rarely gets into the $10k+ realm. Typically you don't find production bikes above $12,000 unless they have something super weird. $17,000 is on another level. So what hath Felt wrought with the new IA 2.0?
RELATED: Why Is Triathlon So Expensive?
Section divider
Felt IA 2.0 Review: The Basics
Price aside (for the moment), Felt has created a very classic, complete superbike in the long-awaited IA 2.0. It remains a double-diamond design (not a beam bike), but it's also a tri bike through and through, with no pretense of being UCI legal (thanks to the depth of the tubes).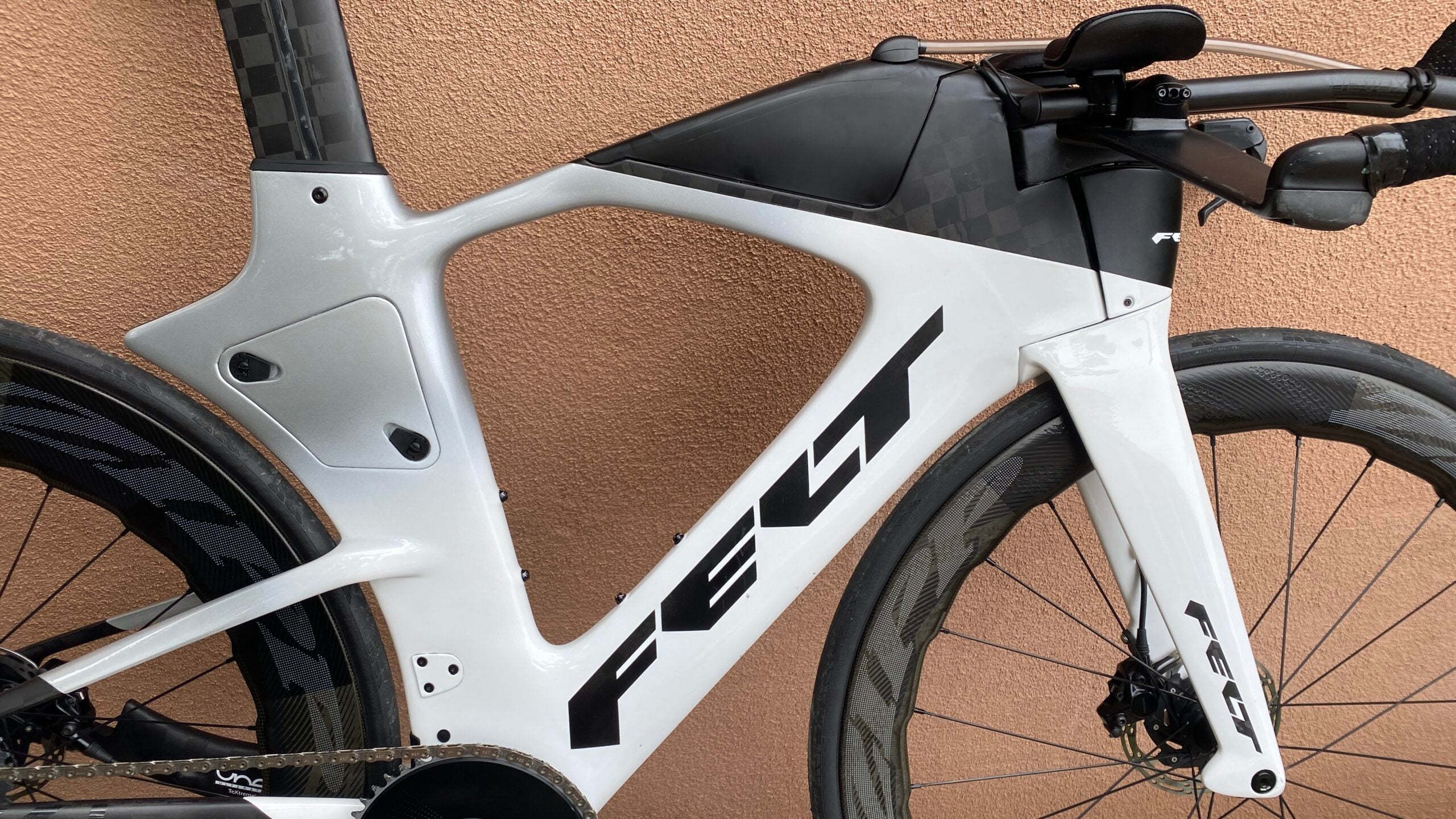 The $17,000 version we tested came with top-of-the-line SRAM E-Tap Red AXS 12 speed in a front derailleur-less 1x setup, Zipp NSW 454/858 wheels, and a Felt-branded cockpit. On the frame, Felt has 30 ounces of built-in—and removable—hydration with enough nutrition space on the built-in top-tube storage for three to four gels.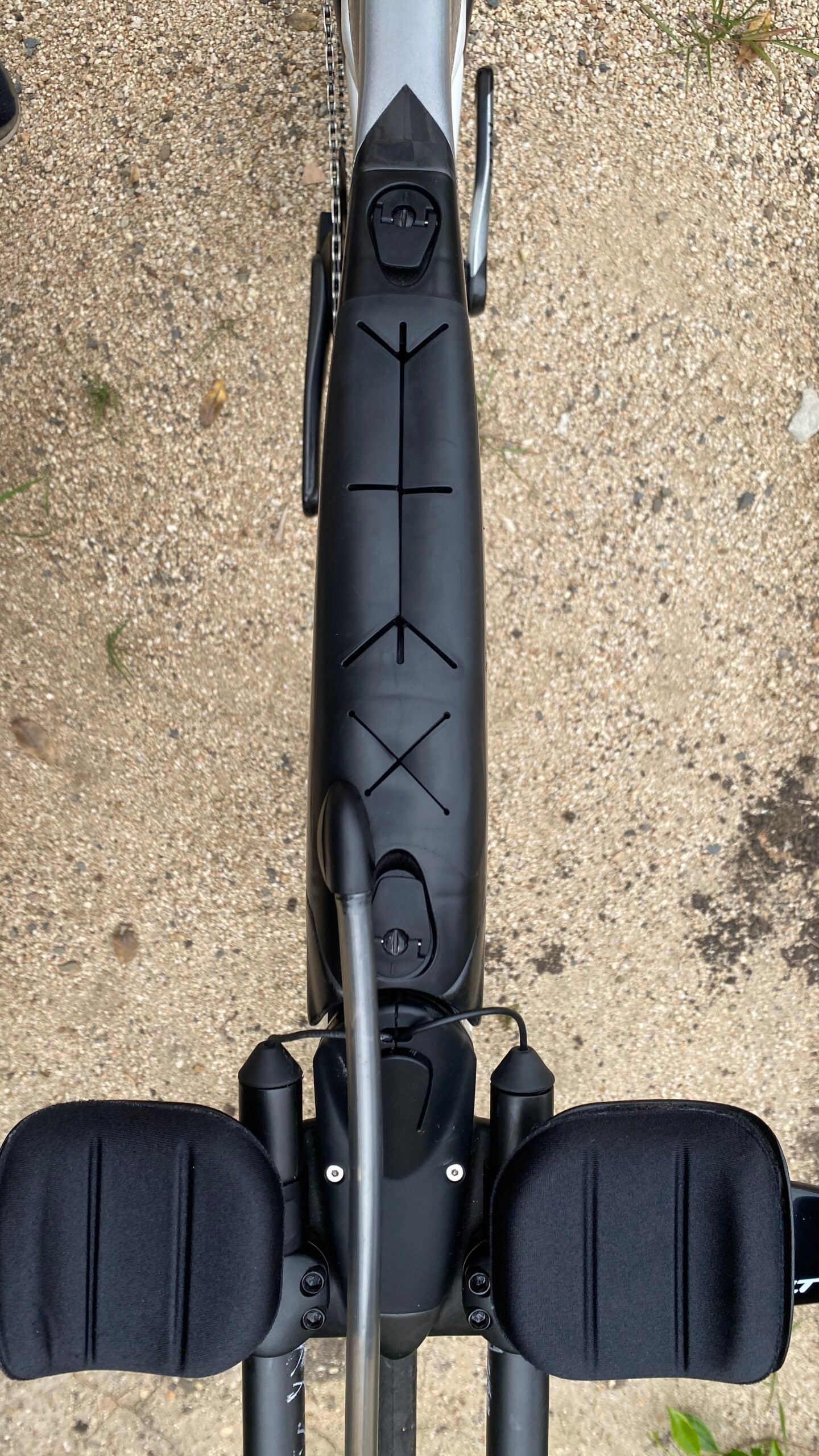 It also boasts a very slick, built-in toolkit storage space in the seat tube that's very easy to remove.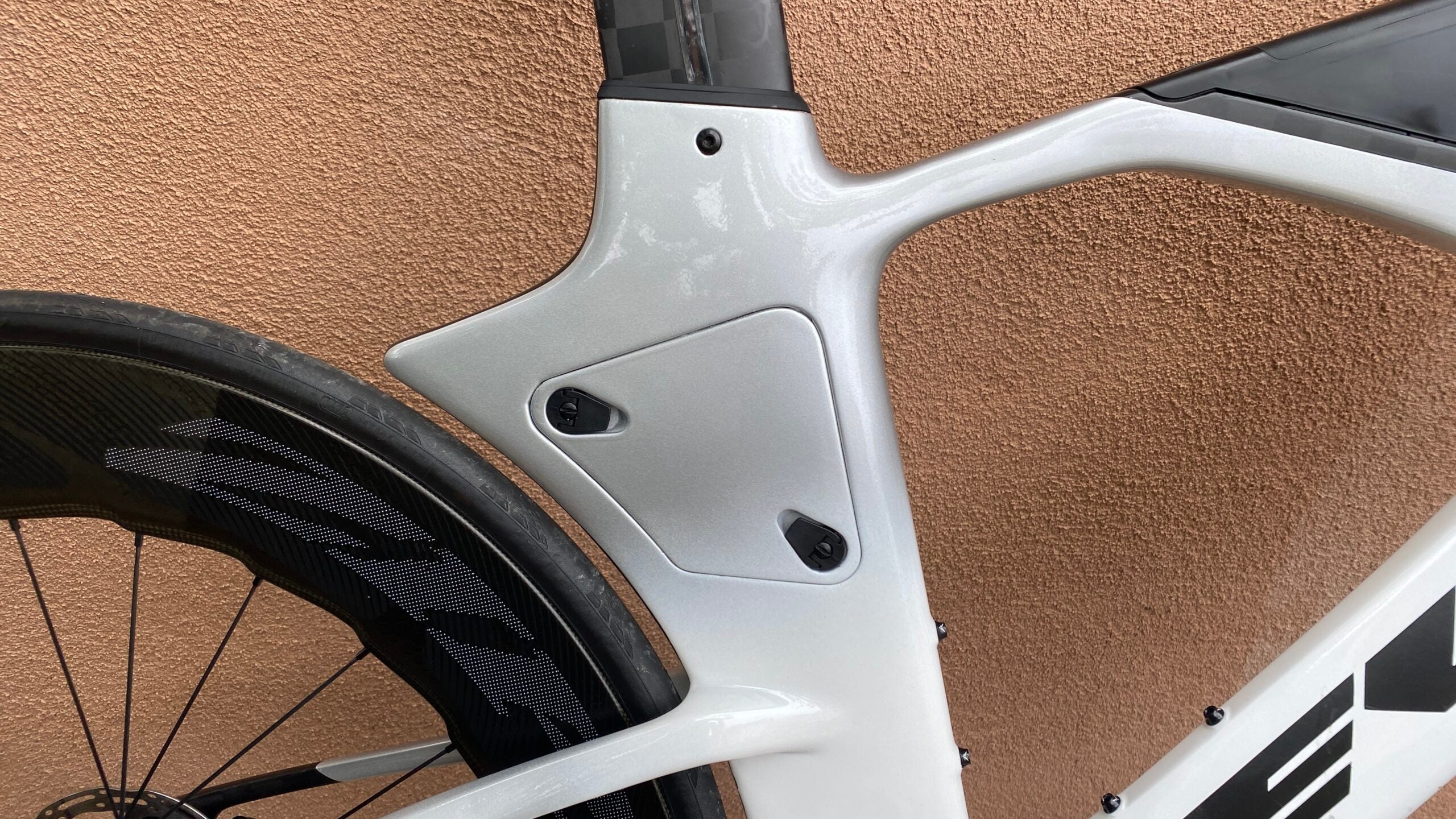 Though our version was a single chainring up front 1x setup, the IA 2.0 does have braze ons for a front derailleur hanger.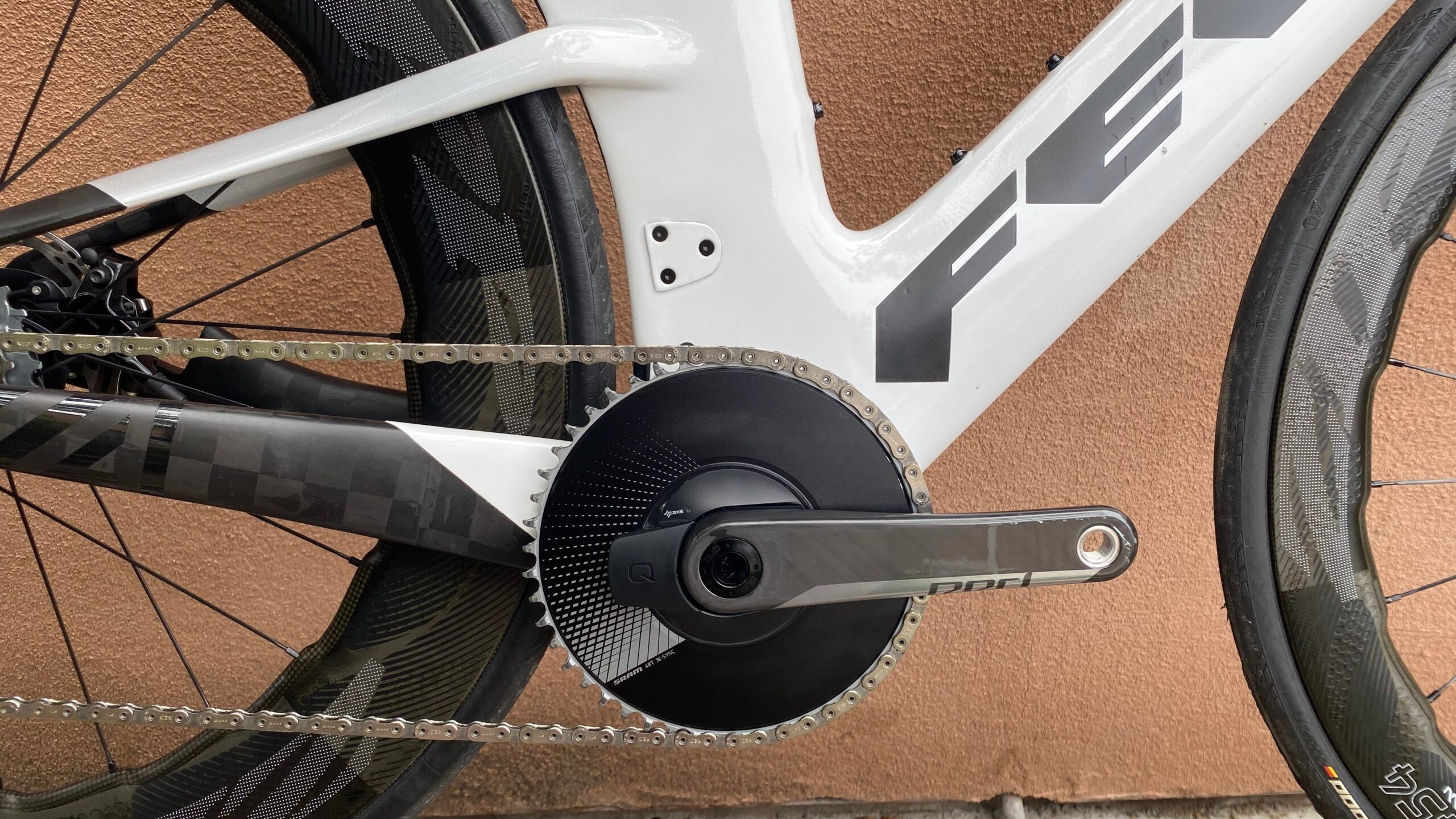 The geometry remains the same as the previous IA version with five sizes, and plenty of flexibility between each. In terms of aerodynamics, while we don't have independent verification, Felt claims a 4% savings over the previous IA—which was a slippery bike by all accounts.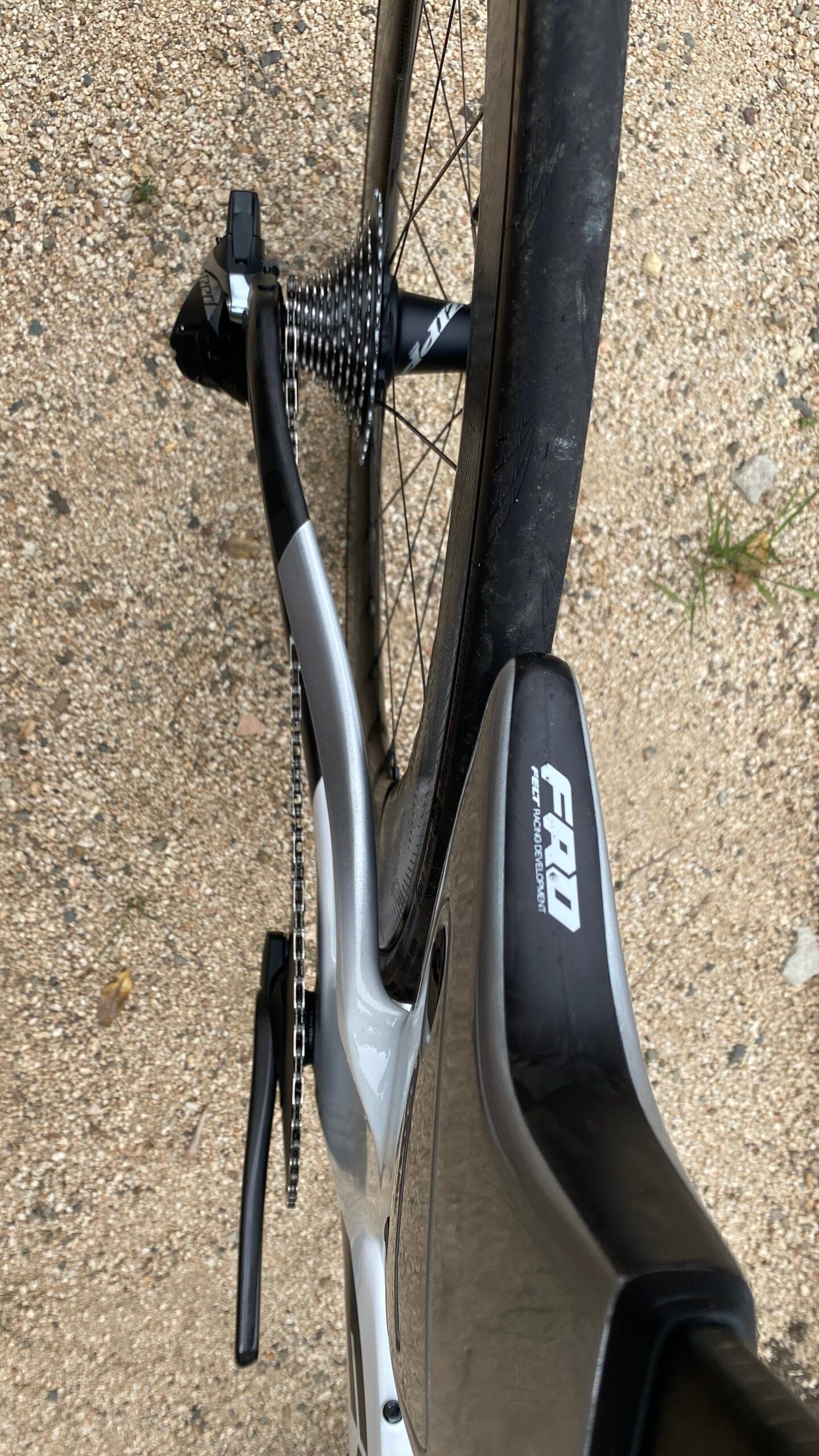 With built-in hydration and storage/flat repair included, the IA 2.0 weighed in at a very impressive 21 pounds, 11 ounces—quite light for what it is.
Section divider
Felt IA 2.0: The Good
First, we'll start with the weight—though that's not exactly super important in a tri bike. Twenty-one pounds with built-in hydration/nutrition is pretty impressive, especially given the depth of the tubes on this bike. For reference, the high-end Quintana Roo V-PR is 21lbs. 6oz. with hydration and the other lightweight king in this price range, the Scott Plasma 6 RC is 21lbs. 12oz. Of course a 1x setup with SRAM Red and super super nice Zipp wheels can't hurt the IA 2.0, but I wouldn't have faulted this bike for getting into the 22-pound range.
Weight aside, this is a very predictable tri bike—which sounds boring, but is actually super important and often very hard to do. In a very aggressive 54cm setup for me (I typically ride a 56cm Felt), I found the straight-line tracking to be excellent, even with a big drop and narrow aerobars. Had I gone higher and wider, it would have been even more stable. On that same "predictable" note, the ride on this bike is very very smooth—one of the smoothest non-beam bikes I've tested. Low-frequency (big bumps) are managed extremely well, mid-frequency is good, and high-frequency (road chatter) is excellent, thanks to an updated "carbon sleeve" around the seatpost, tuned to specifically reduce vibrations of this kinds—something I only learned about after a few rides, where the sensation was palpable.
The flip side of a well-tracking, smooth-riding bike is typically sluggish handling, but this is another area where the IA 2.0 surprised. While bikes like the aforementioned V-PR are amazing for long-course racing—due to their stability and smoothness—they often handle a little like a longboard surfboard. The new IA, on the other hand, cut like a scalpel through tight turns without feeling twitchy on descending corners with changing radii. This is typically the result of excellent geometry and well-placed rider weight over the center of mass—an incredibly difficult sweet spot to hit.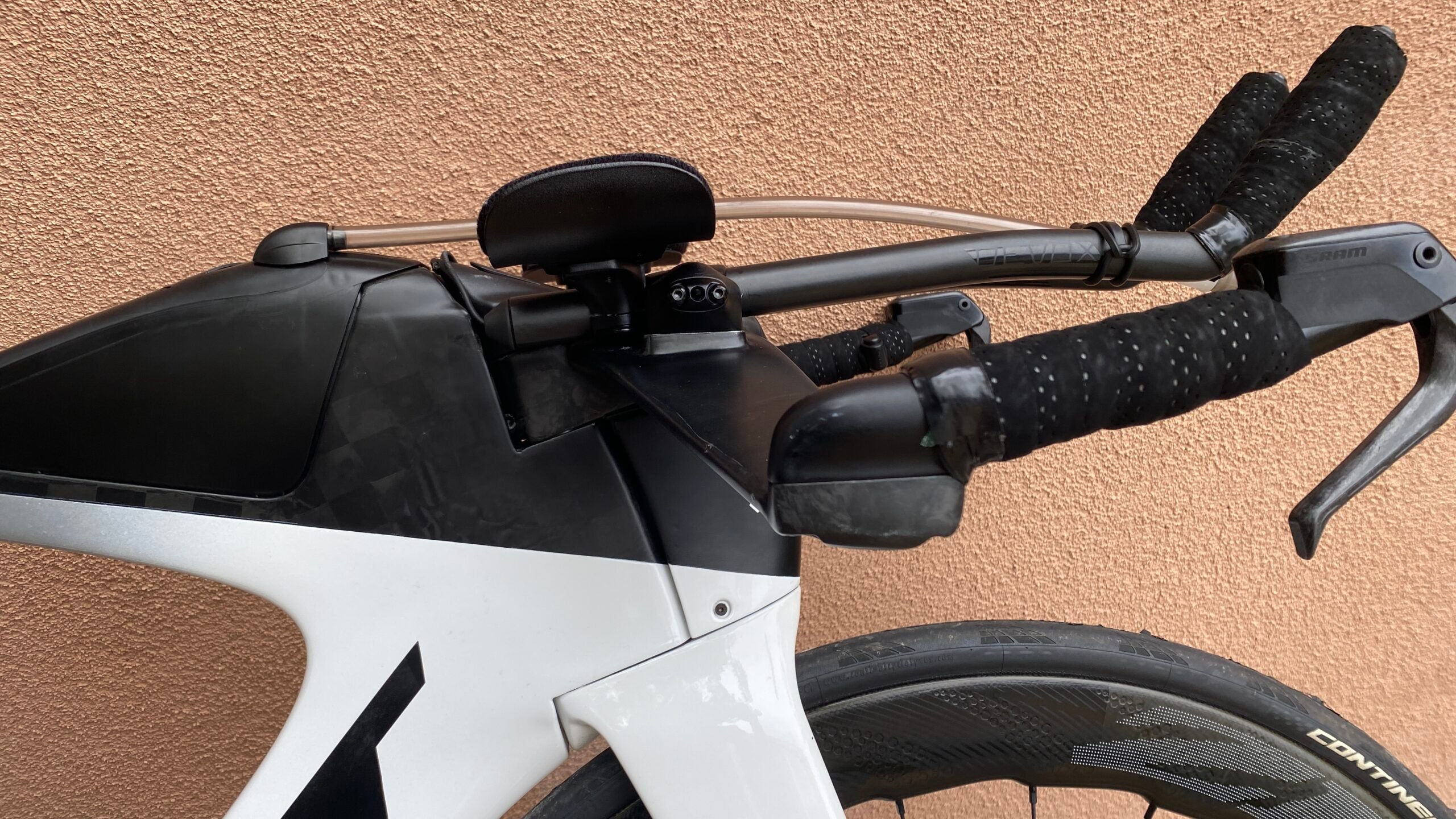 There were other wins that are worth mentioning as well: easy-to-remove hydration/nutrition storage, easy-to-remove repair storage, and most notably excellent adjustability not only on the aero bar stack height (which is common on most all superbikes), but also on the base bars (usually an afterthought). Included risers for each are a boon for dialing in the front-end fit/handling.
Section divider
Felt IA 2.0: The OK
While there are some really big, unique upsides to the IA 2.0, it's not perfect (no bike is). Normally this would sound like nitpicking, but nitpicking a bike that costs as much as a nice used car is probably ok. Most importantly, we had surprising issues with some pulling in crosswinds. This is surprising because Felt makes a pretty big deal about how well the IA 2.0 handles in crosswinds.
Now, the issues do have some caveats: First, while the bike "pulls" in mid to heavy crosswinds, it's a predictable pull; it doesn't pitch, twitch, or cause sphincter-clenching moments. It simply moves you. If you've ever seen top pro tri cyclists (think Cam Wurf) move at high speeds in heavy crosswinds, that's what they do, they let the wind drift them a little bit. It's actually a good thing, but you have to know it's coming. I actually prefer that drift to being surprised by a big wobble after a certain wind speed, but it does take some getting used to. Also, it's worth noting that the setup tested had a Zipp 454 NSW (53-58mm undulating depth) front and a 858 NSW (82-85mm undulating depth)—a fairly deep setup, but one that is also touted for crosswind stability. Again, nothing twitchy or scary, but certainly present (and predictable).
Elsewhere, the IA 2.0 was surprisingly less snappy than expected, given the depth of tubes and beefiness of the bottom bracket and head tube junctions. That said, it's tough to get a super-smooth ride like the IA 2.0 has that's also lightning in a bottle for accelerations. And if I had to choose, I'd take a smooth-riding tri bike that doesn't beat you up for the run over something that wins town-line sprints. In tri, it really doesn't matter.
One last detail worth noting on the "OK" side of the ledger includes Felt's caveat that the IA 2.0 can only accommodate a 52t front chainring in the 1x setup, according to their information. This might seem kind of abstract and like it might not apply to anyone but a monster pro, but it's actually not that tough to spin out on a 52t-11t combination downhill or with a big tailwind, and is worth taking into consideration if you're interested in taking advantage of a 1x option. The top-tube nutrition storage is also fairly shallow, only allowing a couple of gels/hydration powder packets, so you'll need more storage elsewhere for long-course events if you want to pack it all.
Section divider
Felt IA 2.0 Review: Conclusions
I used the word "surprising" more than once in this review because there were a few expectations when riding a bike like this: Given the depth/size of the tubes, I figured it would be a rougher ride, maybe twitchy, and probably snappy when standing up; everything was the opposite.
I also assumed, given Felt's language that crosswinds would feel nonexistent on this bike—which wasn't quite the case. I wouldn't be worried to ride the IA 2.0 in a heavy crosswind, but I'd need to "understand" how it handled, particularly given how stable it feels in straight lines with little-to-no crosswinds. If anything, its excellent stability on a dead calm can lull you to sleep and make you a little complacent and "lazy."
Of course getting stability (mostly) right, creating a bike with an exceptionally smooth ride, and one that handles shockingly well all together are nearly impossible tasks—you usually get a couple without the others. I'm not sure I've ridden a bike that does those three things so well, even if there's a small sacrifice of stand-up snappiness (again, who cares in tri?). The weight is great, and the flexibility of fit (which can't be overstated) is excellent.
The only big elephant in the room on this bike, of course, is the price tag and that Felt's position on availability is a little murky—right now you need to fill out a form on their website if you're interested, and as of this writing they have some of the eTap and Dura Ace Di2 versions ready soon. But if money is basically no object, this is where you should put your cash. You won't find a better bike for more or less.
RELATED: The Best Triathlon Bike Fitters in the United States