We Review Shimano's New 12-Speed 105 Di2 Groupset
Draped on Quintana Roo's new $5k X-PR build, we take a look at Shimano's latest budget electronic (not really) semi-wireless setup and attempt to wade through the e-quagmire. 
---
Pros
Far less expensive than Ultegra or Dura Ace Di2
Indistinguishable shifting performance versus more-expensive Shimano siblings
Finally electronic shifting at the 105 level
Finally 12-speed shifting at the 105 level
Cons
Still more expensive than SRAM Rival eTap AXS
Not only not wireless, but not even semi-wireless, like the road version
---
Heading out the door? Read this article on the new Outside+ app available now on iOS devices for members! Download the app.
Ok, let's get this out of the way first: We don't usually (or ever) review groupsets. There are a few reasons for this—availability, novelty, and (quite frankly) interest. Also, not a ton of triathletes spend the time and the money to upgrade their entire component set, as it's costly, burdensome, and at times unrealistic, given the nature of today's tri bikes and the specificity of component groups.
With that said, we decided to review the new Shimano 105 R7100 Di2 groupset because even though not many triathletes might plan on upgrading their current bikes to 105 Di2, now that the groupsets are becoming more widely available on new bikes—like the Quintana Roo X-PR we used in this review—it's a build that's worth paying attention to. So even if you're not in the market for the laborious task of upgrading your components, you might be interested in buying a new tri bike that comes equipped with 105 Di2, so this is worthy information.
Related: Shimano To Release First 105-Series Di2 Components
Shimano 105 Di2 Groupset: The Basics
Released last summer to moderate fanfare, the 12-speed semi-wireless 105 Di2 groupset is the first "budget" electronic shifting groupset from Shimano. Priced in the $1,800 range for the complete road setup (including front and rear derailleur, cassette, chain, crankset, bottom bracket, road shifters, brake calipers/hoses/rotors, battery, and wiring harness), you can expect to pay a few hundred dollars less for the tri version of that same package that removes the road shifters and replaces them with base bar brakes and bar-end shifters. For comparison, the R8100 Ultegra version would run around $800 more, and the R9100 Dura Ace Di2 version would cost another $2,000+. SRAM's on par Rival AXS is still cheaper than 105 Di2 by a few hundred dollars (and it's fully wireless).
With that in mind, it's also worth noting that like the Ultegra and Dura Ace 12-speed Di2 setups, the 105 Di2 is semi wireless only for the road version, meaning triathletes still need to run wires from the shifters and base bar brakes to the battery and from the battery to the front and rear derailleur (we'll get more into that later).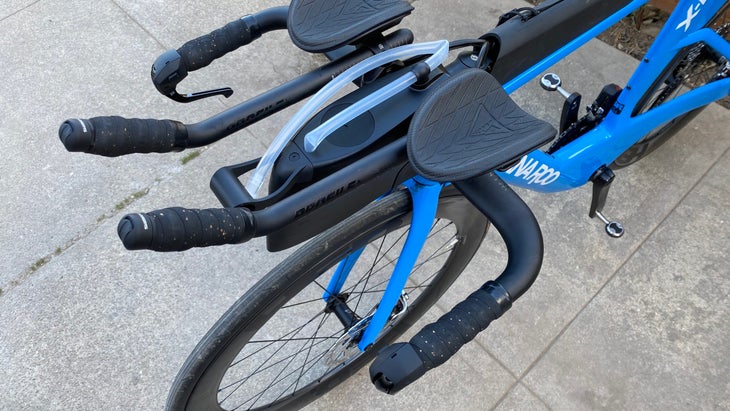 Finally, this is a disc brake-only setup that means anyone looking to upgrade their rim-brake setup will have to sit it out (and likely sit out any electronic shifting upgrades, to be honest). Also, Shimano has yet to release a mechanical (or rim brake) 12-speed groupset, but rumors and spy shots indicate this might be somewhere on the horizon, so take heed non-electronic fans looking to add one more gear.
Shimano 105 Di2 Groupset: The Good
Our test bike, Quintana Roo's X-PR is one of our favorite "budget" carbon frames from the last year. We reviewed the X-PR quickly here and in depth here last summer. While we won't get too far into the frame since we've covered it before, it's worth noting that the X-PR/Di2 105 build is a fantastic intersection of price and performance—an electronic-shifting bike with a serious superbike pedigree for around $5,000 is a rare thing nowadays.
Like the X-PR, the performance of the Di2 105 groupset is nearly indistinguishable from that of its more expensive siblings. Both the more-expensive V-PR and Shimano's Di2 Ultegra/Dura-Ace setups are lighter. For comparable component builds, expect to shave around 330 grams by going to Di2 Ultegra and about 500 grams by going to Di2 Dura Ace. But in terms of shifting performance, for triathletes, there is literally no difference I could tell.
The shifts on the 105 groupset were lightning fast, accurate, and noise free. Better yet, the 105 cassette and chain will likely wear slower than Ultegra, and if history holds true, much slower than Dura Ace. And if you're super picky about shifting, insisting that a Dura Ace chain and cassette is faster (there's no evidence that an electronic Dura Ace front or rear derailleur could possibly be "faster"), committing to that change for race day is not a difficult swap and would cost around $350 for both cassette and chain.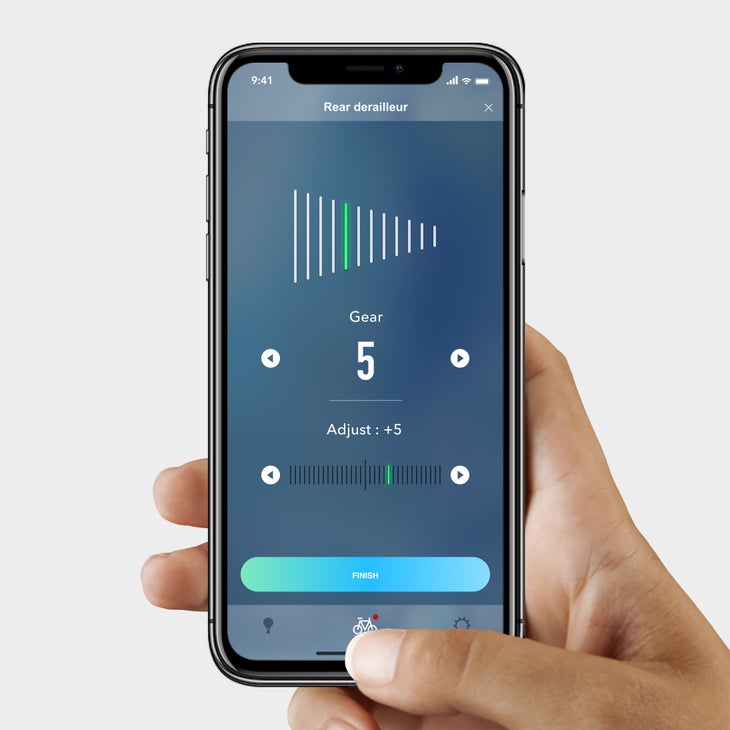 In terms of set up and customization, the 105 Di2 groupset also utilizes the same wireless Shimano E-TUBE app as the Ultegra and Dura Ace versions. Charging is far simpler than it used to be, and similar to the Ultegra/Dura Ace groups you'll find a magnetic plug on the rear derailleur to charge the battery with a claimed 600 miles of ride time between charges (we didn't get that far).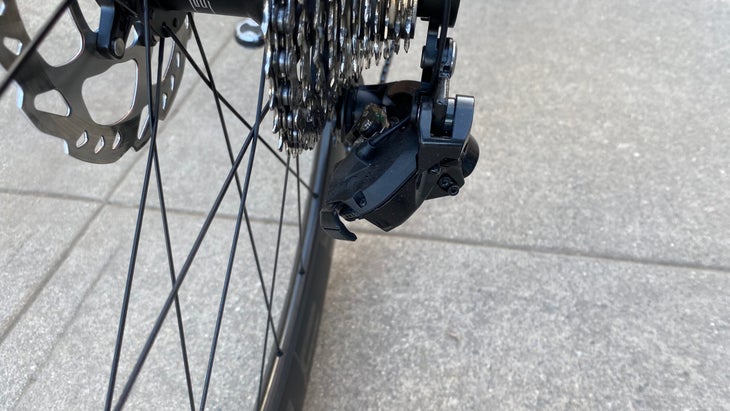 Shimano 105 Di2 Groupset: The Ok
When comparing Shimano's 105 Di2 to Ultegra/Dura Ace for triathletes, it's almost a no brainer—with indistinguishable shifting performance, increased durability, and lower price, the extra grams are tough to argue about when you're riding a 20-pound-plus tri bike made for aerodynamics and carrying multiple pounds of hydration and nutrition. Triathletes' bikes aren't typically the most svelte on the block, and I think most of us are ok with that.
However, triathletes do value aerodynamics, and we do like the newest tech (and a bargain)—three things that Shimano has kind of forgotten. As there are no new wireless bar-end shifters or base bar brakes, we're still stuck with a fully wired system, while Shimano roadies enjoy a semi-clean semi-wireless cockpit and SRAM users boast an entirely clean wireless 12-speed electronic experience with the eTap groups. Not only that, but SRAM's 12-speed, fully wireless Rival eTap AXS groupset comes in cheaper than 105 Di2. So that's less money for fewer ugly, aerodnamics-killing wires.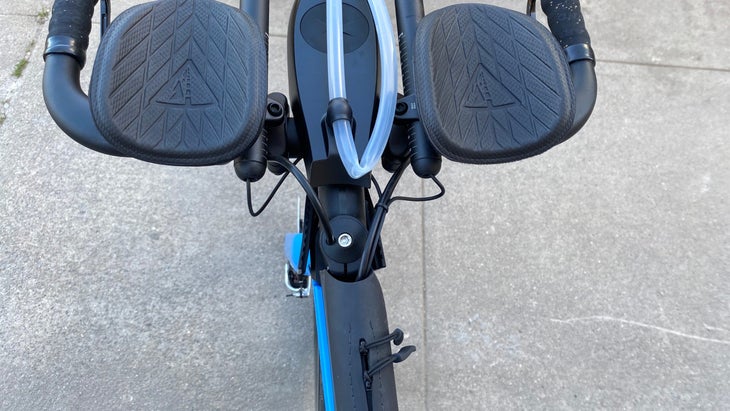 Conclusions
Despite the imbalance between SRAM's budget electronic shifting and Shimano's groups, the 105 Di2 setup is still an excellent and realistic choice—especially if you're a die-hard Shimano-ite (is that a term?). As I said before, the pairing of Shimano 105 Di2 and Quintana Roo's X-PR is really a match made in heaven, when it comes to budget and performance. If we're talking apples to more-expensive apples, you'd be hard pressed to feel a big difference between the $5,000 X-PR 105 Di2 build and the $10k+ V-PR Dura Ace build on a flat, smooth section of road. Sure, the latter is lighter, snappier, and might ride more smooth, but even this experienced gear reviewer would struggle to find $5,000 of difference in a blind test.
On that same note, it's tough to even find SRAM's Rival eTap groupset on many tri bike builds—only the Canyon CF 7 Disc comes stock with Rival, and that bike still costs exactly the same as the QR X-PR with 105 Di2 and HED Vanquish RC6 wheels we used in this review (though the Canyon does have hydraulic disc brakes). In other words, while SRAM might edge out Shimano when looking at full component builds (and wireless-ness), the 105 Di2 build is still a compelling offer for a midrange tri bike like QR's X-PR.