Wanted: QR PRsix Stealth Dream Build
QR goes for broke with this top-shelf build on their already sleek—and super lightweight—PRsix Stealth.
Heading out the door? Read this article on the new Outside+ app available now on iOS devices for members! Download the app.
QR goes for broke with this top-shelf build on their already sleek—and super lightweight—PRsix Stealth.
In a day where many triathlon bikes have gotten incredibly complex in the quest for superior aerodynamic efficiency, it is refreshing to see the Quintana Roo PRsix, which is not only aerodynamic but also simple to build, service, and travel with. There is nothing simple about the performance of the PRsix—it has been racking up some impressive finishes in 2017, with a double win at the North American Ironman Championships under Jodie Robertson and Matt Hanson and at Ironman Lake Placid under Brent McMahon.
The Build
Our blinged-out dreambuild Stealth came with full Dura-Ace Di2, Zipp NSW 808/404 carbon clinchers, and lots of bits from CeramicSpeed (oversized pulleys, UFO chain, and PF30 ceramic bottom bracket) among other upgrades. This fully-upgraded version hits around $16,000 when all is said and done. The PRsix is also available as a frameset with the 2.0 stem for $3,995 or as a complete bike from $5,550 with Shimano Ultegra components to $9,200 with Ultegra Di2 and carbon race wheels.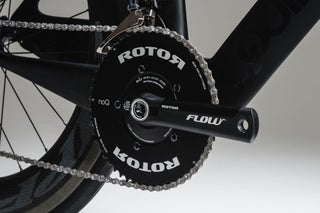 All models come with the popular ISM PN2.1 saddle, and while no one saddle is going to work for everyone, this will work for many. The crank lengths on the PRsix have followed the trend towards using (relatively) shorter crank arms. While this is a step in the right direction, even shorter cranks could go on the smallest frame sizes. QR includes a Q box and the top tube storage box with each bike, just add pedals and water bottles and your PRsix is ready for a training ride or your next Ironman.
Fit Adjustability and Geometry
If a bike doesn't fit well, then nothing else matters. The PRsix is available in six sizes, with a well-proportioned geometry similar to a number of other popular triathlon bikes. The PRsix uses a proprietary stem which has been refined since the bike was originally released. The original stem was adjustable to three effective stem lengths, while the newest version of the stem is available in three different lengths and is less bulky. The new stem allows for a lower bar position than the original and integrates nicely with their top tube storage box. Either stem permits some vertical adjustability for the aerobar, but arm pad spacers are required to make larger adjustments.
As with any triathlon bike purchase, it is best to get a bike fitting before you buy a bike, on a fit bike, from a reputable bike fitter and to take the fit coordinates to the arm pad geometry charts to pick out the bike that best matches them. QR provides the charts on their website, and while they could be a little more straight forward, they do the job. It is important to note that QR uses a novel way of naming the sizes of their bikes, the named size corresponds to the stack height of the bike. This has created some confusion among consumers when considering which size to purchase, so don't be surprised if you wind up fitting a bike that seems small based on the named size you're used to.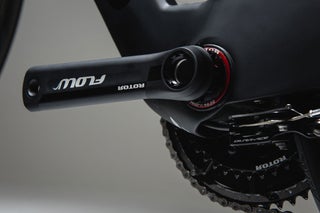 Maintenance and Travel
The PRsix has superbike pedigree but not superbike complexity. It's compatible with direct-mount or center-mount brakes, so there are many aero aftermarket brakes options. PRsix owners will not be frustrated with rubbing brakes or brakes that don't work at all. Packing the PRsix for travel is about as simple as it gets, the handlebars are removed with just a few screws, you won't need to keep the manual nearby for help. One aspect of this bike which could be improved is the saddle clamp mechanism, adjusting the saddle tilt and position is counter-intuitive and tricky. It would be nice to see the Ritchey seatpost head atop this bike, which many other companies have adopted.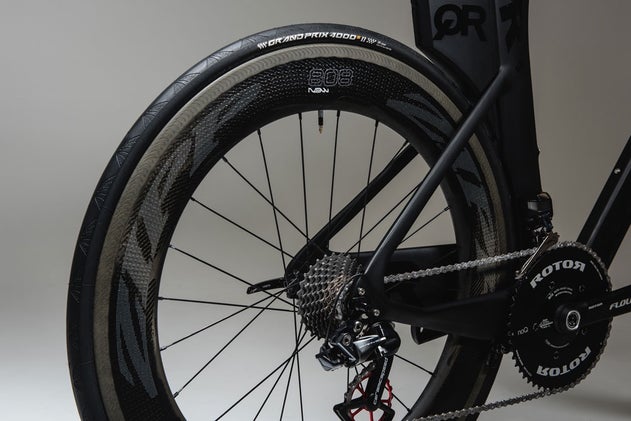 Storage Options
Triathletes need their stuff and nothing irritates bike designers more than to see their carefully designed bikes littered with gel packets and spare tubes attached to it. QR delivers two great features to neatly hold all your race day necessities. The spacious "Q Box" mounts neatly behind the seatpost, improves aerodynamics, is large enough to store all your mechanical necessities, and includes a taillight. For nutritional storage, QR provides top tube storage boxes behind the stem, available in two sizes. For hydration, the PRsixfeatures water bottle bosses on the downtube and seat tube.
Ride
Our test bike featured a Profile Design Aeria Ultimate aerobar, Dura Ace Di2 9100 parts, a Zipp 606 NSW wheelset, and some goodies from CeramicSpeed. The first thing we were impressed with was the bike stiffness given its low weight. The PRsix is among the lightest triathlon super bikes, and QR has not sacrificed any noticeable power transfer in doing so. The PRsix is responsive and climbs well from both in and out of the saddle. It tracks nicely and confidently when riding in the aerobars, even under windy conditions. The PRsix wants to go fast, and it is no surprise to us that, 30 years after QR's inception, their bikes are still at the top of their class.
For more info, head over to Quintanarootri.com.
Headset – Cane Creek
Brake Calipers – Dura-Ace Direct Mount
Aero Brake Levers – Dura-Ace with Di2
Wheels – Zipp NSW 808/404 Carbon Clincher
Tires – Continental GP 4000II 25c
Base Bar – Profile Aeria Ultimate Carbon
Aerobars – Profile T4+ Carbon
Stem – QR Aero 2.0
Saddle – ISM PN 2.1 Titanium
Seatpost – PR Aero Carbon
Shifters – Dura-Ace Di2
Front Derailleur – Dura-Ace Di2
Rear Derailleur – Dura-Ace Di2 with CeramicSpeed Oversize Pulley
Chain – CeamicSpeed UFO
Cassette – Dura-Ace 11-28
Crankset – Rotor Flow 53-39 with Aero Rings
Bottom Bracket – PF30 with Ceramic Bearings
MSRP – $16,000