Triathlete's Garage: Focus Izalco Chrono
Heading out the door? Read this article on the new Outside+ app available now on iOS devices for members! Download the app.
If you're a front-of-the-packer with Kona aspirations and are familiar with riding in a low drop, the Focus Izalco Chrono is one we highly recommend—it's a serious weapon.
Written by: Jay Prasuhn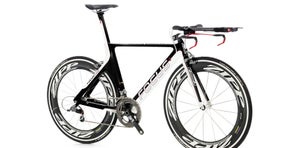 There is something intrinsically alluring about German engineering. Consider the BMW motorcycle, the inner workings of Sinn watches and Mercedes Benz Motorworks. The care that goes into a hand-stitched Adidas soccer shoe. All these brands have built their names on unhurried attention to detail. In the bike realm, one can add the Focus Izalco Chrono—a German brand that applies the same basics of staid German mechanical precision— to the mix. It's so very simplistic, so very … well, German. It is without hesitation that we predict the Chrono will be a quiet surprise on our side of the pond among those who understand that to the wind, simple design is better.
While Focus is a staple brand in Europe, the Izalco Chrono is gaining North American traction thanks to new U.S. distribution. Of course, having German engineer Andy Walser involved in the design doesn't hurt. Walser (who built his name in cycling a few years ago by making handfuls of self-branded bikes for top-name pro cyclists including Jan Ullrich) was contracted by Focus to produce a bike that has volume marketability (that would be to money-spending triathletes) and utility for its UCI ProTour team, Milram.
The 2009 Chrono is beautifully spec'd with Zipp 808 clinchers and a 3T front end including the Ventus Team aerobar and Funda Pro fork. While a Walser-designed product, the Chrono maintains industry standards, including a standard SRAM Red ceramic external BB. It has no tricky brake placement, which means for a bike mechanics will be happy to wrench.
No, the Chrono does not port cables in through the front of the top tube, which is a fan favorite of late. But I was most impressed with the rear derailleur cable port-out; an internal run exits cleanly at the chainstay/seatstay junction, making for a smoother radius to the rear derailleur (and thus smoother cable pull and shifting action) than most designs out there.
But what really catches the eye are the razor-sharp edges. The Chrono has some of the narrowest, yet stiffest carbon-fiber tubesets we've come across in quite some time. Using unidirectional fibers throughout the wet-look gloss painted frame, the trailing tubeset edges come easily to the sharpest point in the industry. Hearkening to the simple principles of aerodynamics, Walser goes narrow; clean entry, clean exit. The top tube/seat tube area, a Walser hallmark with no cinching bolts exposed, has a sharp terminus behind the wafer-thin seat post. The Chrono will be a favorite of those who believe the aero creed: Simple is better.
What sets this Walser-designed product apart from his earlier iterations comes in the geometry, which is thankfully not another tri-adapted road TT bike. In fact, Focus offers the Chrono in two models; the tri-focused AMP version with its 76.4-degree seat angle, and the time trial-oriented TT with a 74.3-degree seat angle. Complemented by a 72.3-degree head angle, a zero-offset seat clamp on the aero carbon post and a very short head tube and not-too-long top tube makes this a very aggressive tri bike that's not terribly long in the cockpit.
One major difference when compared to direct competitors is the use on the Chrono of a replaceable vertical derailleur. With a tire gap of just 2mm with a 23mm Continental GP3000 clincher mounted, some of us (myself included) will prefer the convenience (and peace of mind that you won't ruin a frame if your rear derailleur goes AWOL) that comes with replaceable vertical dropouts.
Our fully-to-spec test ride was presented with a red, yellow and black tag, proudly stating Made in Germany—a rarity in an age of Asian production for nearly every major brand.
It didn't take long for the Chrono to climb into my top-five favorite rides. Tangibly, I couldn't tell whether the razor-thin tubesets were beneficial—I'd have to race for five and a half hours and stop my watch to determine that. On San Diego's coastal flats, the bike was simply thin to the wind.
The ride itself? The Chrono is certainly not for the uninitiated, the comfort-conscious (it's stiffness can be taxing on long rides) or those who ride out of the aerobars. It's not meant for riding, it's meant for drilling. I was able to get as low, tight and aggressive as I liked without fudging my fit, which is half the battle. Stiff, unyielding, serious and as halting as the German language, the Chrono was a scythe. Despite the narrow tubesets (which typically result in a flexible ride, even in the aerobars), the Chrono was shockingly light and stiff. Whatever lay-up process the Chrono undergoes during its production will certainly be studied by Focus' competitors. If a guy as big and powerful as former T-Mobile pro cyclist-turned-triathlete Kai Hundermarck can tear off a 4:32 bike time at the Quelle Challenge Roth this summer aboard the Chrono, it was certainly stiff enough for a 160-pound age grouper like me. Steering, descending, climbing, all executed with confidence thanks to a stiff, balanced platform.
The Chrono is a serious new contender to the high-end tri bike realm; the Felt DA, the Cervelo P3 or P4, the Cannondale Slice, Argon 18's E114 and the Specialized Shiv have company. If you're a front-of-the-packer with Kona aspirations and are familiar with riding in a low drop, this is one we highly recommend—it's a serious weapon. Perhaps it takes up a few grams of drag by using standard brake placement and basic internal cable runs—but its stiffness and position promise to make up for it.
You'll find more at Focus-bikes.com.