The New Art and Science of Finding the Perfect Women's Bike Saddle
Recent data can help women make decisions on finding the best bike saddle—we break down what to know and what to do when trying to increase your cycling comfort.
Heading out the door? Read this article on the new Outside+ app available now on iOS devices for members! Download the app.
Your bike seat is just as important – if not more important – than the brand of tri bike you ride or any aero upgrades you make to your rig. So why is it that one of the most common complaints among women cyclists is pain and numbness down below? A new study by Taiwanese researchers weighs in this question, and even offers a science-backed solution for building the best bike seat for women. The study found that alleviating pain, optimizing pedal stroke, and decreasing chance of injury for women can all be done by making one simple change – increasing the width of the saddle. Seems simple, right?
A woman's problem in a man's world
In an industry that caters largely to men, cycling brands often fall short of producing a product that's designed ergonomically for women.
"The bike industry has historically created equipment based on the male anatomy, like the bike saddle for example. I think this is where things greatly differ between men and women and where problems can arise when it comes to the fit process," said physical therapist Caitlin Alexander, who also races as a professional triathlete.
The anatomy of the female body also differs drastically from men in that "women produce greater hip adduction and pronation and knee joint abduction than men, resulting in differences in lower limb kinetic and kinematic parameters," as researchers on lower-extremity mechanics have found. This small-but-significant anatomical difference may be behind women experiencing injuries at different rates and severity than their male counterparts. Failing to address these anatomical differences in both bike design and bike fit can yield negative outcomes for women. In fact, studies show women suffer from cycling-related injuries more frequently than men, and are twice as likely to develop patellofemoral pain syndrome, a common knee injury.
Additionally, women have different pelvic anatomy than men in terms of wider ischial tuberosity distance ("sit bones") and a different arrangement of muscles, nerves, and soft tissues, says Alexander. Studies have also found that men and women distribute their weight differently when riding, due to variations in the body's center of gravity. Yet most bike seats are typically designed for men, which is why they're so uncomfortable for so many women.
"The cut-out in the traditional bike saddle was designed for men, to offload the pudendal nerve, which runs through the pelvic floor muscles and external genitalia of the male rider," Alexander offers as one example. "This cut-out can be a big source of pain and numbness for women, because swelling and ischemia can develop in female structures like the labia as they get pushed through the cut-out when we're sitting on the saddle."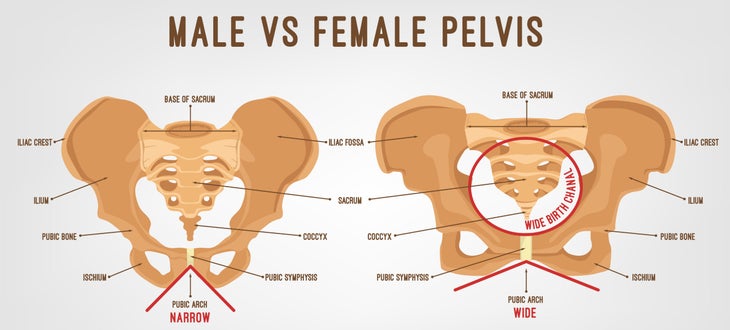 When it comes to the women's bike seats, size is everything
Because women have entirely different, wider pelvic structures, the size of the saddle also matters. In one study, women's ischial tuberosity width averaged 1.6 centimeters wider than men's. It may sound like a small difference, but anyone who has found their perfect saddle after months or even years riding on the wrong seat can attest that even a one-centimeter shift can make a massive difference.
After testing female cyclists on four different saddle widths, the aforementioned Taiwanese researchers found that the width of a bicycle saddle should be at least one centimeter wider than a cyclist's ischium, to improve both pressure distribution and pedaling symmetry. In that same study, the average saddle width suitable for women was 160 millimeters. However, it's important to note that every athlete is different, these are general statistic, and women should find their precise measurement to avoid risk of injury and discomfort.
How to take measurements for a bike saddle
Though some local bike shops have specialized measuring tools to help athletes find their precise measurements, a do-it-yourself option is easy: While wearing leggings, running shorts, or pants made of a thin material (no jeans), place a piece of cardboard on a firm chair. Sit down and press yourself into the cardboard, then stand up and check the indentations made by your sit bones. Measure from the center of each indentation – this is the width you should be looking for in a saddle.
Although brands seldom carry wider saddles, some do. Women with wider sit bones might consider saddles such as the Specialized Power Arc Expert or Fizik's Argo Tempo R5 and Argo Tempo R3.
How does this translate to tri bike seats for women?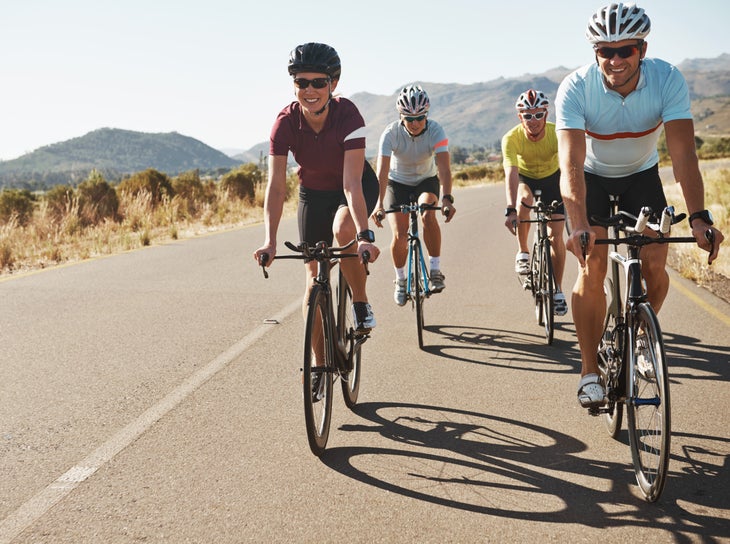 While this insight is extremely helpful to cyclists who maintain an upright position, Alexander recommends these tried-and-true tips for finding the best triathlon bike seat for women:
Just like a good pair of running shoes, it's important to explore your options. When in the aero position, the saddle nose will be what impacts your comfort level.
Likewise, Alexander says "for women who have a wider sit bone width (more than 12 cm), it may be necessary to find a tri saddle that can also accommodate and support the sit bones if you plan to ride up and out of aero often," especially if you anticipate climbing.
Consider your chamois (the padding inside of your bike or tri shorts) as well. "Most tri suits have a thinner chamois than cycling bib shorts. Make sure you've tried and like the saddle when wearing your race kit, because it may feel firmer than it does in a thicker cycling chamois," Alexander says. And don't skimp on chamois cream, which can reduce friction (and therefore discomfort) when riding.
Ask your local bike shop if they have loaner (or "test") saddles – some will let you try a saddle for a set period of time to determine if the saddle is the right fit for you.
You should see some improvement in your comfort with a well-fitting bike saddle, but remember it may take one or two weeks of riding to get used to the new seat.
Always get a bike fit done by a professional, especially after purchasing a new saddle.
"A bike fit is the best investment for your comfort and performance on the bike. Do not go out and buy a new saddle if you haven't addressed your fit yet," Dr. Alexander advised. "As a physical therapist and bike fitter, I highly recommend seeking out a fitter who can do an assessment of your body and movement patterns [both] on and off the bike."