The New Zipp 454 NSW Carbon Clincher
After four years of development, Zipp launched its newest wheel on Thursday.
Heading out the door? Read this article on the new Outside+ app available now on iOS devices for members! Download the app.
After four years of development, Zipp launched its newest wheel on Thursday, which it's heralding as its most revolutionary design yet. It's certainly their most different looking wheel yet, and at $4000, it is the most expensive. But if the claims made by Zipp are validated on the road, this wheel may be a true game changer.
When creating the 454, the advanced engineers in Zipp's Nest Speed Weaponry (NSW) division turned to biomimicry, the concept of solving complex engineering problems by looking at how nature has already done so. The issue at hand was how to make a wheel both faster and more stable, essentially looking for the Holy Grail of aero wheels. Oddly, their inspiration came from humback whales. Humbacks have small ridges on their pectoral fins, called tubercles, which keep water attached to their flippers when turning, making them more agile. The same concept has been applied in other industries, notably in planes, where these ridges, also called "vortex generators", provide both lift and stability.
What causes wind turbulence when you're riding is known as vortex shedding and shedding frequency — ie. how the wind comes off the wheel. The more sudden or inconsistent that shedding is, the harder it is to control as a rider. The new rim shape, termed Sawtooth, undulates between 53 and 58mm. Each ridge, called HyperFoils, create small pressure vortexes, like the humpback whale, to keep the air stuck to the wheel so that it sheds in smaller and more frequent amounts. Zipp has also updated the arrangement of the hexagonal dimples on the rim. This doesn't mean you won't feel the crosswind, but it does mean it'll be more consistent and therefore easier to handle.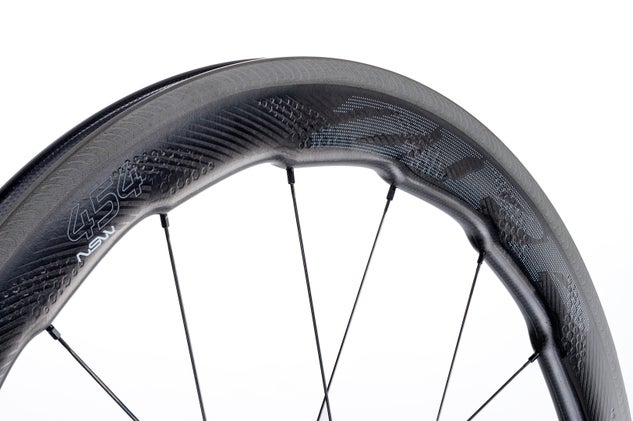 Since you theoretically don't have to spend as much energy fighting crosswind gusts, this can equate to up to a 15 watt savings at the highest yaw angles compared to a competing 60mm wheel. With varying wind conditions, it typically averages more like a 5 watt savings over the course of a race. But, potentially, if it stops you from sitting up in heavy crosswinds, then the savings could be even greater. All of this is according to Zipp and it has to be said that I have not seen the data to back up these claims.
While the whale's vortex-generating tubercles inspired the answer to this ongoing question, it took four years to figure out exactly how it would do that. In that time, the engineers tried over 100 designs, 36 prototypes, and spent 252 hours in the wind tunnel. Some of this is science, some is trial and error.
The wheels also include all the technology already in Zipp's existing NSW line: the Showstopper textured brake track with silicone carbide, and the Cognition hub, which uses magnets to disengage while coasting for reduced friction.
I was able to see the wheels at the launch in Sausalito, CA. In person, they look fast and feel very light. At a reported 1525g, they are 30g lighter than the 404 NSW Carbon Clinchers. The magnetic hub is kind of awesome. How the wheels actually ride is harder to say. Talking to those who have ridden them, it's supposed to be a stiff ride and great for descending on narrow roads — something that lends itself more to road racing than triathlon, where we typically worry primarily about staying low and aero. As of now, the 454 NSW is only available as a carbon clincher.
It's important to point out that while fast, in calm winds, a deeper wheel set will still be faster. It would be a tempting option to run a 454 as a front wheel or as a set if you're particularly prone to getting blown around or feeling unstable. So the 454 NSW probably won't immediately become widely adopted in triathlon, especially considering the $4000 price tag.
However, this new technology will likely trickle down, both inside and outside of Zipp and definitely throughout triathlon. Although it's all patented, we'll likely soon see similar designs adopted by other companies — much like the Firecrest design became an industry model. That will inevitably drive the price down some. We'll also see new variations coming from Zipp. It was hinted at the launch that a disc brake integration will be coming, not that triathletes need disc brakes. And the Sawtooth technology will likely make its way into Zipp's other sizes of wheel and variations. When that happens it may end up solving one of triathletes' biggest trade-offs: how to stay stable and still be as aero as possible at the same time.