HED Releases Upgraded Wheels With Flamme Rouge Discs
Heading out the door? Read this article on the new Outside+ app available now on iOS devices for members! Download the app.
Triathlete Magazine Gear & Tech Editor Aaron Hersh takes a look at the new Flamme Rouge disc wheels from Hed.
Written by: Aaron Hersh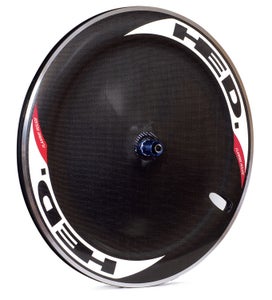 The products that come out of the HED Cycling factory in Minnesota have always been designed as race tools, not bike jewelry, and HED's insatiable desire for speed has motivated them to upgrade their already outstanding disc wheels.  Both the Stinger and Jet discs are now available in Flamme Rouge versions, HED's deluxe demarcation, with lighter components and exclusive decals that announce your good taste to those in the know.
Both HED discs are spoked wheels covered by permanently fixed carbon sidewalls.  These fairings are present for aerodynamics only and serve no structural purpose.  This construction is just as aero as a structural disc but the flexible walls feel chintzy in hand.
The standard HED discs utilize 3k carbon for the fairing that hides the inner structural wheel.  3k means there are 3,000 filaments per woven segment.  The sidewalls on the Flamme Rouge versions are made from 1k carbon, which allows HED's carbon manufacturer to make thinner, and therefore lighter, sidewall sheets. This thinner but weaker type of carbon sheet is an ideal upgrade for the HED discs because they rely on spokes rather than the sidewalls for structural support.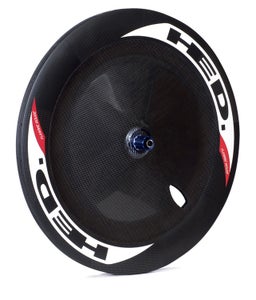 Both the hub ratchet ring and the skewer were upgraded from steel to titanium, which cuts a few more grams.   The metal rim on the Jet disc Flamme Rouge was upgraded to scandium from the heavier standard alloy rim found on the Jet disc.  All these upgrades make both the Jet Disc FR and the Stinger FR discs a few percent leaner than the standard versions. Exact weight quotes will be available shortly.
Discs are the optimal time trial wheel because of their aerodynamic characteristics, not their weight.  The upgrades found on these wheels don't affect wind drag—they won't cut minutes from your bike split—but they add a little speed and panache to wheels that were already amongst the worlds fastest.  And, true to form, the HED Flamme Rouge discs offer a performance value that other manufacturers cannot match.
The Jet disc Flamme Rouge retails for  $1350 ($300 more than the standard Jet disc).
The Stinger disc Flamme Rouge retails for $1600 ($250 more than the standard Stinger disc).