Get Aero Without a Wind Tunnel with These Hacks
No wind tunnel? No problem!
Heading out the door? Read this article on the new Outside+ app available now on iOS devices for members! Download the app.
Wind tunnel time is expensive and elusive — and is something you'll usually only see seasoned pros enjoying. The gains made can save precious time and energy, with scientists and engineers poring over every aspect of your bike set-up, position, and equipment. But let's face it — there are very few of us who will ever get inside one of these uber cool places, so we've done the next best thing for you. Here are some top tips from human performance engineer Jesse Frank, who works at the Specialized Win(d) Tunnel in Morgan Hill, California, and has helped world-class athletes such as Tim Don and Sarah True improve their aerodynamics.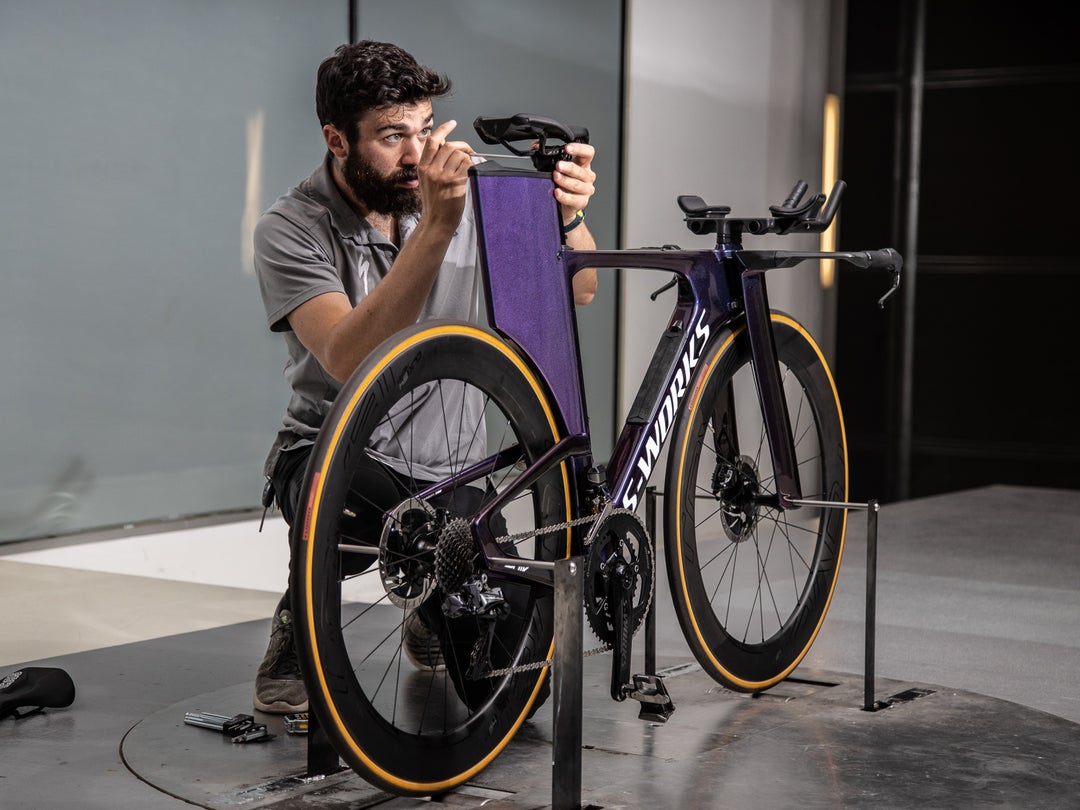 1. Use Your Head
Your head poses a huge threat to your aerodynamics, but you might have a hard time riding your bike without it, so just be sure to drop your head as low as you can comfortably get it. Frank says: "The head is a weird shape and not at all aerodynamic. You don't want it to be like a periscope on a submarine, popping up all the time, so stay as low as you can."
2. Shoulder Shrugs
Your shoulders create a lot of frontal resistance. In order to cut through the wind as sleekly as possible, you want to minimize their width without compromising comfort. "Something as simple as shoulder shrugs, where you focus on bringing your shoulder blades together as you're riding, can be remarkably effective," says Frank. "We always look at arm pad width and the impact that has," he adds.
3. Comfort is king
Aerodynamics are important, but the significance is drastically reduced if you're not comfortable. Frank explains that sometimes this means a rider might need to leave a wind tunnel session and work on their flexibility or mobility in order to achieve a certain position, or it might mean that they don't ride in such an aggressive position so comfort won't be compromised. "If you're not comfortable then you'll be moving out of the aero position every 20 minutes, which is not what we want at all — that's the opposite of aero."
He adds: "When we first get a rider in the tunnel, we go through a range of different arm pad stack heights to optimize comfort. Once we have settled on a position then we try to optimize everything else around that."
4. Equipment
"The most obvious equipment selection for optimizing your aerodynamics is to invest in a time trial bike," says Frank. Time trial bikes are designed with aerodynamics in mind and will help you deliver a faster bike split. Most come with a hefty price tag, though, so do your research before throwing down the cash.
The wheels you ride and the helmet you wear also have a big impact on your aero abilities, so consider deep section wheels and an aerodynamic helmet. "Deep section race wheels will help you out in the wind and maximize the aero effect," says Frank.
5. Keep it tight
The clothing you wear while riding can have a significant impact on your aerodynamics. Skinsuits are de rigueur in long course triathlon and there's a good reason for that: They help make you faster!
"Wearing a skinsuit will definitely help improve your aerodynamics," says Frank. "But it has to be tight, no wrinkles, and ideally it should have some texture on the sleeves."
6. Get shaving!
It might seem abundantly obvious, but wind tunnel tests have shown time and again that shaved skin is faster than hairy — so consider shaving your legs and maybe even your arms if you're really looking for those aero gains.