Eurobike: Triathlete catches up with Kestrel as they launch the new 4000
Heading out the door? Read this article on the new Outside+ app available now on iOS devices for members! Download the app.
Triathete's arrival into Friedrichshafen in Southern Germany for Eurobike has been a comedy of errors, including a missed connection and day-late arrival to Europe thanks to a late arrival in D.C., no internet at our hotel and lost luggage for three days that made for a pitying industry "sponsoring" me with clean t-shirts and socks (thanks heaps, American Classic and Zipp).
So after a flight to Zurich, a train to Romanshorn, a ferry to Friedrichshafen, I was beat like a rented mule.
"How are you gonna get to the expo once you get off the boat," one Steven Harad asked? Harad of Kestrel Bicycles and I bumped into one another on the ferry. Weary, I said "I don't know. The way my trip has been going, it's a minor concern."
"You're coming with us," Harad replied.
Once the ferry connected with the dock in Friedrichshafen, I was folded into the Kestrel van. But not before my bad luck was towed along; just a mile into our drive, border control pulled us over to check the cars and our passports. Free and clear after the roadside inspection, I finally had my first appointment: Kestrel.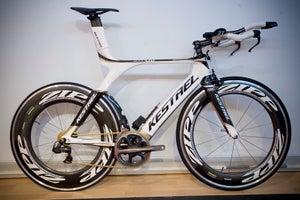 Which worked out nicely. Kestrel was one brand we hotly anticipated, as the world had seen sneak peaks of a new bike over the last few months, with a distant off-angle shot from the A2 Wind Tunnel in North Carolina. What was it, everyone asked?
We finally get the details: it's the new Kestrel 4000.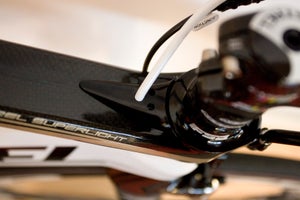 Here's the highlights:
The 4000 is a fully wind tunnel-designed rig. It has a cyclo-cross style in-line front brake akin to that of Specialized on the Transition, with a FSA top cap and built-in cable guide/stop. It's mounted to a frame-integrated fork. "We tried the nose cone setup and at yaw, the bike was dying," Harad says. "We found this solution to be much better."
The seat mast is removable in three parts; the carbon fiber base will be fixed by a horizontally-oriented bolt at the front base of the mast. The Ritchey-designed post head and upper mast (which will be comprised of carbon fiber and alloy) will then slide into that initial extension. This makes for a bike that can travel in a bike box without issue.
The rear chainstays are swept inward, and have a unique organically torqued shape on their lateral sides. "We couldn't figure out where we were losing on the stays, but after working on the shape, we found this to be optimal to pulling wind off the wheel," Harad says.
The rear derailleur is run on replaceable vertical dropouts, giving the tire a fair amount of space (approximately 1.5cm) from the concave curved seatpost.
The rear brake is located under the bottom bracket, using a scissor-style brake caliper with a straddle wire and stop/guide akin to that found on the front brake.
Seat angle on the multi-position Ritchey post head will go as forward as 82 degrees.
The bike will come in three spec levels: the LTD, with Shimano DI2 (with a battery pack mounted under the non-driveside chainstay) with colormatched gold 3T aerobars and Vision Carbon Aero crankset (instead of the shown Shimano crankset) at about $10,000, a SRAM Red version with Zipp VukaAero aerobars at about $8000, and an Ultegra version at about $5000.
Specifications will feature color-matched Zipp wheels on the Limited and SRAM Red versions. The Limited will also feature a special gold Wippermann chain and gold race-day cassette and full carbon fiber saddle with carbon rails.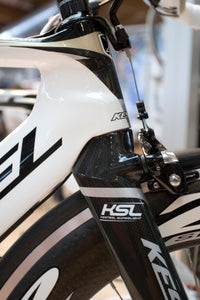 Weight is still not yet determined. Harad said the next few months will reveal the coming spec option looks. But even absent that visual element for the public as yet, he's excited to have finally unveiled the fruits of his labor for the past year. With the Hawaii Ironman so close, current Kestrel-sponsored pros including Michael Lovato and Charlotte Paul will stick with their existing race bike for race day this October.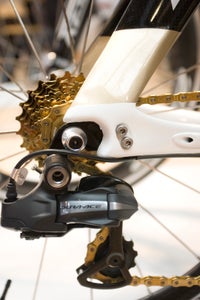 "They're all excited to race it, but it's too close to the race to make a big change like that, and we wouldn't press them on it anyway—the race is too important to make a wholesale bike change this close," Harad said. "But, it's been awesome seeing this bike come to life."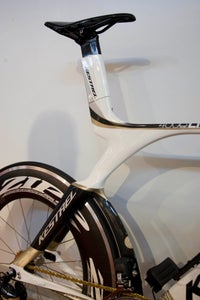 For Kestrel, proving out the bike at the tunnel in the design process was paramount. "We tested apples to apples, with cables, everything real against Cervelo's P3 —I wanted to know where we stood. And our testing at A2 shows we've beaten them."
Ah… numbers? "I have them and we'll show them to you." We can't wait.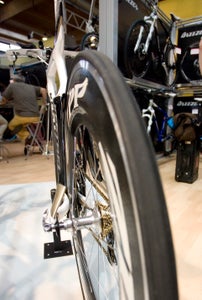 Stay tuned to triathlete.com for extensive photo galleries from Eurobike 2009.