Bike Review: Fuji's D-6 Professional
Heading out the door? Read this article on the new Outside+ app available now on iOS devices for members! Download the app.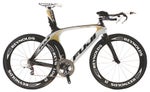 Senior editor Jay Prasuhn got a chance to try out Fuji's new D-6 Professional.
The Fuji D-6 was one of several Interbike debuts last year that piqued my interest. It was not because Fuji is just finally getting into triathlon (it has been a low-profile mainstay with the Aloha for several years) but because my first glance at the D-6 placed it among a small handful of brands that were making bikes not by mimicking what anyone else was doing but by thinking outside the box and doing it their own way.
Fuji engineers did their homework when implementing their own designs, succeeding in making a bike worthy of the company of tri-industry leaders. And my test of the D-6 Pro revealed a bike that is as fast as the manufacturer's aero efforts allude to.
Position on the D-6 is straightforward; a true 76-degree seat angle has an effective range of 74 to 80 degrees on a fore/aft adjustable clamp. Fuji has addressed the increasingly mandatory elements one would expect to find on an $8,000 bike, including hidden brakes, a cable run that ports into the frame at the front of the toptube and horizontal dropouts. I was surprised by the fact that both driveside and non-driveside dropouts on the D-6 are replaceable. Driveside replaceability I expect, but non-driveside is a nice touch I've not seen anyone else do. As weighty as the design looked on first glance, my test bike weighed in on our scale at 18.09 pounds with SRAM Red and Reynolds Strike tubular wheels—very reasonable considering how much deep aero tubing it has.
The D-6 has a unique seat post design. While the long carbon seat cap that sets onto the frame isn't groundbreaking, its super-light fixing solution is: A set of reverse-thread bolts (which I at first thought were bottle cage mounts) fixes it to the frame with a horizontal load.
The rear end of the bike was among the stiffest we've encountered, and that's largely thanks to its design. The most obvious feature on the D-6 is the hidden brakes, most notably a rear brake that sits out of the wind inside a flared cowling in its traditional place on top of the seatstays. The aero advantage of shielding the brake is obvious, but the design makes for a wider stance at the apex, creating an effective brace or stiffener. Braking on Tektro Quartz front and rear brakes was adequate considering the aero adaptations.
I have to take it to task, however, for a slightly flexy front end, which made steering slow and a bit disconnected, requiring less aggression and more care to steer through tight corners or sweeping curves. The fork is not the culprit, nor is the easy-to-track 73-degree headtube angle. The less stiff juncture at the head tube between the toptube and downtube seemed to be the cause. It won't be an issue for those doing straight-line races like Kona, and micro-steering in the aerobars (around rocks, potholes, etc.) is spot-on. But the more technical the bike course, the more steering comes into play, and for those who want that tactile feel in corners, it's a notable consideration.
On the flat straights, however, the D-6 was a hard charger. I was able to switch my brain off and just focus on putting work through the SRAM Red drivetrain, secure in knowing that wind was slipping seamlessly over the bike's NACA-approved tube set design. It climbed and straight-line descended at faster speeds quite well.
So indeed, it's along the ruler-straight Kohala Coast where the D-6 is most at home. The athlete who can push big watts and prefers courses like Florida, Ironman Arizona or Oceanside 70.3 will find little fault with the D-6. And lest I forget, there's a black and neon green Matt Reed signature frameset available, which begs the question: Does this decidedly non-ITU bike expand the possibility that Matty Boom Boom could be going long, maybe half-Ironman distance for starters? Last year I cornered him with that question, and with a wry smile, he said, "We'll see." If I were to see him at a half-Ironman on this bike, I sure as hell wouldn't bet against him.
You can find more on the D-6 at Fujibikes.com.