Ask a Gear Guru: What's the Best Indoor Trainer For Triathletes?
We break down the different types of the best indoor cycling trainers and list some picks.
Heading out the door? Read this article on the new Outside+ app available now on iOS devices for members! Download the app.
Biking inside is the best. Biking inside is the worst. Biking inside is both the best and the worst—depending on whom you ask. For triathletes who live in the sunny southwest or far southeastern U.S., riding on even the best indoor cycling trainer might not be an essential part of the multisport year, but it's still a good idea. Indoor bike workouts are like brussel sprouts when you were a kid: They're really nasty, but they're good for you. Eat your trainer workout!
For those who must accept the inevitable suck of an indoor trainer—whether because it's snowing freezing slush sideways outside right now or for safety or for simple convenience—there's an indoor cycling trainer that's best for you too. The popularity of indoor riding is skyrocketing right now, with virtual training environments like Zwift being one of the biggest drivers. In fact, our own audience survey found that 80 percent of triathletes own and use an indoor cycling trainer. To put it in perspective, that's about the same percentage of Triathlete readers who own a tri-specific bike.
As the popularity of indoor riding has increased, so have the number of brands and types of trainers available. Trainers have magnets, fluid, air resistance; they have built-in wheels (ostensibly), contactless resistance, sideways motion, simulated bumps, inclines, and more. The best indoor cycling trainers can simulate almost everything on the road except the adrenaline spike you get when a three-foot lifted truck buzzes and "coal rolls" you (I think we're ok with leaving that feature out…). With so many options and trainers out on the market, it can be hard to know what's the best indoor cycling trainer for you, so let's first take a look at some important things to know when riding inside:
Smart or Dumb?
The biggest upswing in recent trainer sales has been in smart trainers, while "dumb trainers" are quickly becoming less popular. But dumb trainers have their place—they don't need to be plugged in (good for race day warmups in transition), they're (super) cheap, and they work the same every time.
Smart trainers all have connectivity that uses either Bluetooth and/or ANT+ communication to talk to a computer or smartphone. While most smart trainers send (and receive) power information, even a trainer that sends speed and/or cadence is considered "smart." The biggest draw for a smart trainer is that it allows the rider to use virtual training environments. Many smart trainers use Bluetooth and/or ANT+ FE-C to not only send information like power, speed, and cadence, but also receive feedback from virtual training environments on a smartphone, tablet, or computer. This is how a trainer will simulate the resistance of climbing a virtual hill or "feel" the rockiness of a cobbled section.
Wheel Talk
Today's trainers fall into two basic categories when it comes to slapping your bike onto that contraption: wheel-on and wheel-off. For some people the choice is a matter of convenience, for some it's a matter of preference or even need.
Wheel-on indoor trainers clamp down on your rear skewer in some way (usually, you'll want to change skewers to prevent damage and get a better fit) and generally have your rear tire directly contact the metal roller. Once clamped in, the roller is tightened against your tire using some sort of clutch knob. Wheel-on is a good choice for people who use a trainer a few times a month and want to leave their wheel on (duh) without having to go through too much work. If you use this type of trainer often, it can have a detrimental effect on your tire, so we suggest equipping an old training wheel with an old tire or buying a trainer tire that will last for a long time (but can't go on the road at all, ever). The downside to wheel-on trainers is that they often have less accuracy and a lower resistance ceiling than a wheel-off version; they can also get wheel slippage if not tightened just right when you really hit the gas.
Rollers also fall into the wheel-on category, but (most) rollers don't require anything to be clamped down. The rear wheel drives a belt that turns the front wheel to create enough centrifugal force to stay upright. We won't really get into rollers here, as so few triathletes use them—but they probably should. Rollers are a great way to work on bike handling skills and pedaling smoothness.
Wheel-off (or direct drive) indoor trainers require the removal of the rear wheel before clamping the rear dropout onto the trainer and threading the chain around a cassette (this means you either have to change cassettes from wheel to trainer or buy a cheap cassette to leave on the trainer, if it doesn't come with one). This is a great option if you know you'll be indoor-bound for long periods of time—as wheel-off trainers are generally more stable, more responsive, and generally more accurate with higher resistance ceilings. Most are quieter than their wheel-on counterparts and some have cool extras like road-feel simulation.
The Path of Most Resistance 
The next thing to think about when trying to find the best indoor cycling trainer for you is resistance ceiling. Today's trainers measure resistance in two ways: max wattage and max simulated grade. Though they're both directly connected to how much resistance the trainer can push back on you, the two numbers imply slightly different things. Max wattage is useful for knowing how hard you can push the trainer while doing a ride with intervals. For most triathletes, nearly all trainers have enough wattage to do 99 percent of their workouts. To be realistic, very few triathletes are doing workouts that would ever have them above even 1,000 watts, as most of our workouts involve more steady state efforts and minimal true sprinting—like road cyclists.
Gradient is more to give you a sense of how high a "virtual hill" you could climb in a low gear at low speeds. This is a useful measurement when thinking about virtual training environments like Zwift. Again, here it's very rare that triathletes would need anything above a simulated 15 percent grade, and even 10 percent would work for most. In short, road cyclists may want to go for big resistance ceilings, but the best indoor cycling trainer for a triathlete doesn't necessarily need it.
The Sound of Silence
While it may not seem important at first, a good quiet trainer can mean the difference between a good workout and a blaring TV, an awoken toddler, or an eviction notice. Some trainers can be very loud, and without a mat can be a huge problem if you live above someone else. Like bingeing on Netflix while you ride inside? If you have a loud trainer, you had better get some waterproof headphones or a home stereo that goes to 11. Though becoming slightly out of vogue now, "dumb" wind trainers are by far the loudest of the bunch, as they use a spinning fan to basically create resistance. Just for reference, these put out around 80-90 decibels at ~20mph.
Wheel-on fluid and magnetic trainers generally are the next loudest option with both ranging around 65-75 decibels at ~20mph—depending on the model. Wheel-off or direct-drive trainers are generally the quietest of the bunch with many models testing between 55-65 decibels at ~20mph. There are a few outliers that we'll get to later, but most trainers fall somewhere between the noise level of a quiet street (60 decibels) to a shower (70 decibels) to a garbage disposal (80 decibels) to a gas lawn mower (90 decibels).
All the Feels
Another important factor when looking for the best indoor cycling trainer is its road feel. Early on, a heavier flywheel or a resistance curve meant the trainer experience felt more like riding on the road: The heavier the flywheel, the more rolling inertia that you'd have to overcome—like standing up to push up a hill—or that you'd be able to use to coast. Dumb fluid and wind trainers always had a more realistic resistance curve, while magnetic trainers didn't as much. This meant that the resistance would get progressively harder the faster the wheel spun (like on the road with wind).
Today, a flywheel's weight is still sometimes important, but the resistance curve on smart trainers is mostly created by the feedback from virtual training environments, like we spoke about above. In terms of engagement, wheel-off, direct-drive trainers have the fastest engagement with no slippage between wheel and roller, and they also have some really cool features like simulated road feel on cobbles or dirt. Some trainers—smart and dumb—have side-to-side movement in the rear, and some have connected accesories that adjust the rise of your front wheel based on virtual grade or a fan's wind speed based on virtual training speed.
Now that you know a little bit about the wonderful world of riding nowhere, let's look at some great options for the best indoor cycling trainer for triathletes:
Best Indoor Cycling Trainer for Triathletes Who Need QUIET!
4iiii Fliiiight Smart Trainer
$600, 4iiii.com
Max Slope Simulation: 7%; Accuracy: +/-1%; Power Output: 2,200W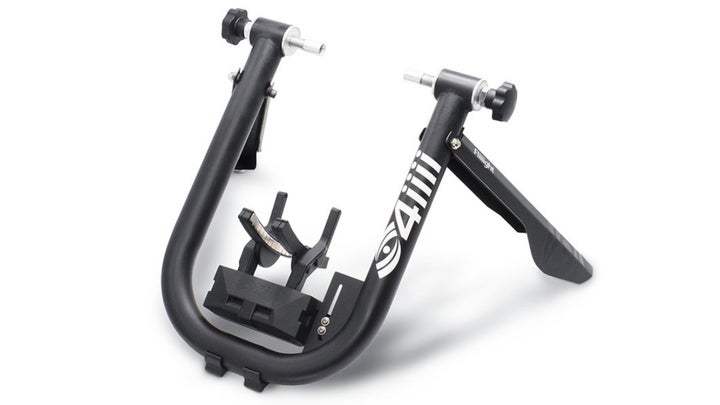 Based off the slightly crazy concept first generated by Stac a few years ago, this rebranded smart trainer uses magnets to create resistance on aluminum rims (no carbon rims!) without any contact. This means users can leave their wheel on but don't have to worry about shredding tires or making noise with a spinning flywheel. Billed as the quietest trainer available, the only sound it makes is the whooshing of your wheel's rear spokes. This trainer has a huge resistance ceiling in terms of watts, but a fairly low slope simulation for virtual training environments. That said, high accuracy and quiet output on this unique concept makes it a must-have for some situations. Also, an internal rechargeable battery makes this a truly wireless experience for quick training setup or race-day use. 
Best Indoor Cycling Trainer for Triathletes Who Need Everything
Tacx Neo 2T
$1,400, Amazon.com
Max Slope Simulation: 25%; Accuracy: +/-1%; Power Output: 2,200W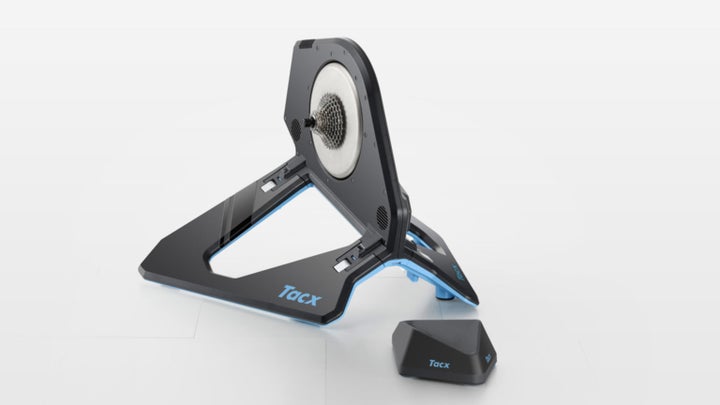 Though there are trainers with a higher watts resistance ceiling, in terms of max slope simulation, this is the top of the heap. Using a very stable and solid base (that actually looks pretty cool), the Neo 2T has just about anything you'd want in a direct-drive trainer. Fun extras like left and right pedal analysis, downhill simulation, and vibration that simulates cobbles and dirt prove that this is the most deluxe setup on the market right now. Though the price is nothing to overlook, if you're riding inside for months (or years!) at a time, this is a worthy investment. 
Best Indoor Cycling Trainer for Triathletes Who Want A Full-Body Workout

Kurt Kinetic Rock and Roll Control
$750, Amazon.com
Max Slope Simulation: 10%; Accuracy: +/-3%; Power Output: 1,800W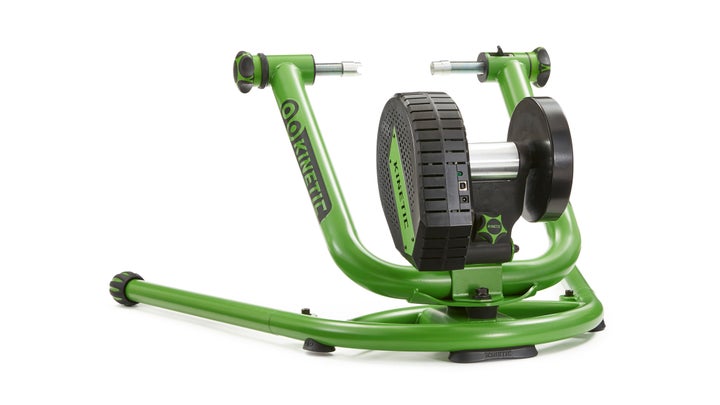 Especially for time-crunched triathletes trying to juggle life with three sports, it's important that we make the most of every workout. This unique offering from trainer legends Kurt Kinetic uses a swaying side-to-side movement on a wheel-on smart trainer—allowing for core and stabilizer muscle work while training inside. The large flywheel helps with road feel, and although the resistance ceilings are lower than other trainers in this category, bear in mind triathletes will rarely need the upper end of either watts or slope simulation—but we do need core work!
Best Indoor Cycling Trainer for Triathletes On A Budget (Direct Drive)
Wahoo KICKR Core
$900, Rei.com
Max Slope Simulation: 16%; Accuracy: +/-3%; Power Output 1,800W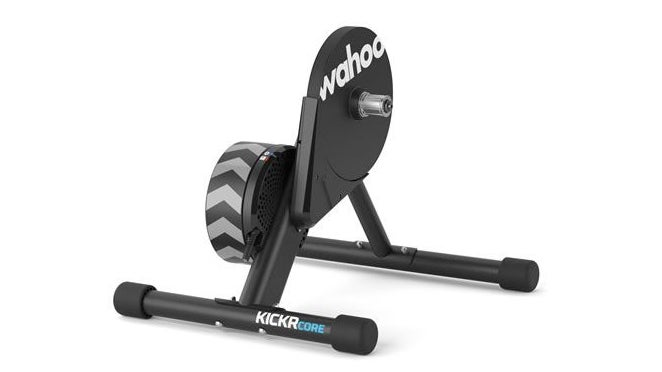 For the vast majority of triathletes looking for a direct-drive, wheel-on indoor cycling trainer, Wahoo's KICKR Core has pretty much everything you'd need. Boasting resistance ceilings that work for pretty much all triathlete workouts and virtual training environments alongside rock-solid construction and a beefy flywheel for excellent road feel, there's not anything that beats this trainer for price. For less than $1,000, the KICKR Core has flawless connectivity that reduces the frustration of setup for virtual training environments and is compatible with cool upgrades like Wahoo's KICKR Climb (for raising and lowering the front end based on grade) and Wahoo's Headwind (that changes fan speed based on virtual riding speed). 
Best Indoor Cycling Trainer for Triathletes On A Budget (Wheel-On)

Saris M2 Smart Trainer
$500, Saris.com
Max Slope Simulation: 15%; Accuracy: +/-5%; Power Output 1,500W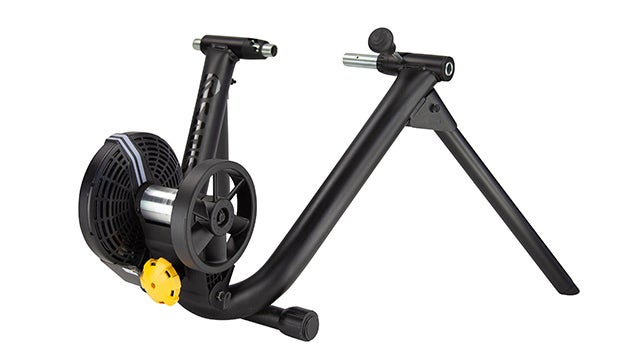 For triathletes looking to get into the world of virtual training environments without breaking the bank, Saris' M2 is a great option. With middle-of-the-road specs that are still absolutely perfect for most triathletes' needs, the solid construction and portability of this small trainer make it ideal for those who maybe only ride indoors from time to time. Even when not paired with a smartphone, tablet, or computer, the M2 still matches a fluid trainer's resistance pattern, so you can use it for quick workouts with minimal setup.
Best Indoor Cycling Trainer for Triathletes To Warm Up On Race Day
Feedback Sports Omnium Over-Drive Bike Trainer
$430, Feedbacksports.com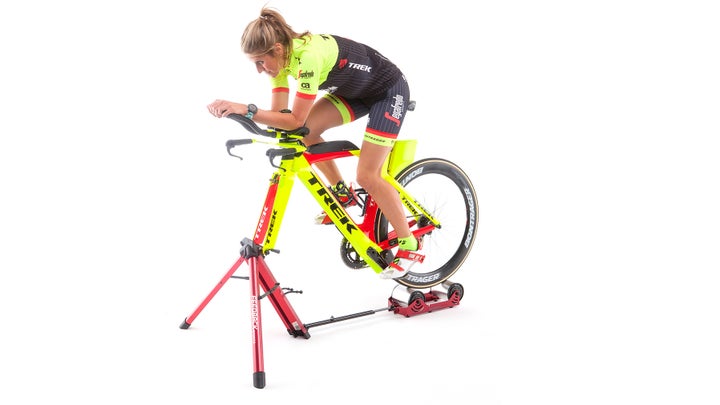 Here's a little pro tip: You should be warming up for race day on a trainer. Aside from the risks involved while trying to warm up on the bike in the morning before your race (it's often dark, closed streets, possibility of flats, etc.), knowing that you can reliably get in a good bike warmup before you hit the water is a huge mental boon. While Feedback Sports' Omnium Over-Drive is definitely a dumb trainer, it also packs down super super small and takes literally seconds to set up. Weighing in just under 15 pounds, this trainer still offers the stability and progressive resistance that standard rollers just don't. Even if you're not a fan of warming up on a trainer pre-race, this setup also works wonders for simpler brick workouts where you need to schlep a trainer to the track.