Ask Aaron: Spruce Up Your Race Wheels
This week in "Ask Aaron," Aaron provides a clever new way to add a touch of fashion to your old race wheels.
Heading out the door? Read this article on the new Outside+ app available now on iOS devices for members! Download the app.
This week in "Ask Aaron," Aaron provides a clever new way to improve the aerodynamics of your wheels, while adding a touch of fashion at the same time. Click here to view past versions of "Ask Aaron." To submit a question, email Aaron at Askaaron@competitorgroup.com.
Q. Aaron,
I have an old pair of race wheels that I want to spruce up. Can I make them faster without spending a ton of money?
─Ron
A. Hey Ron,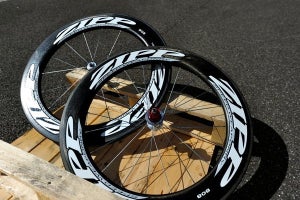 Zipp is famous for the ability to innovate new ways to make a bike wheel faster. They were one of the first to produce deep-section carbon rims to reduce aerodynamic drag and weight. They shared the patent on the toroidal rim shape that allowed them to stand clear of every other aero wheel manufacturer other than HED. In addition to refining their rim shapes, Zipp started to focus on the details that can save a few watts of resistance. They introduced ceramic bearings into their wheels and started texturing the rims with dimples. Counter-intuitively, a rough surface allows air to stick to the rim rather than disconnecting and fluttering, which creates pressure drag. It sounds silly, but the dimples might actually make you faster. Zipp is one of the few manufacturers that produces wheels with dimples, but you can take matters into your own hands and texture your smooth race wheels yourself.
Head to an arts and crafts store to pick up a bag of small rhinestones and a roll of double-sided Scotch tape. Put a strip of tape on your rim rolling outward toward the brake track and stick 1 stones for every 8mm of rim depth. So, if you have 60mm-deep wheels, that accounts for about 10mm of brake track, so use six stones in that case. Eight for an 80-mm deep rim. You will need a strip of stones every 1.5cm to maximize the aerodynamic benefit. The rhinestones will add some weight, but the massive improvement in aerodynamic performance will counteract the additional mass.
Good luck racing this season! Oh, and Happy April Fools' Day!
Sparkle, sparkle
─Aaron
test

[sig:AaronHersh]