An Exclusive Hands-On Review of The Cadex Tri Superbike
We got the rare opportunity to spend hours on the unconventional, not-UCI-legal superbike that propelled Kristian Blummenfelt to both a world title and the fastest-ever iron-distance time last year.
Photo: Chris Foster/Triathlete
---
Basics
A unique non-double-diamond frameset with a double-crown fork means aerodynamic advantages at all costs. With built-in hydration and nutrition storage, this surprisingly adjustable (and packable) superbike is 100% a tri-first setup.
---
Pros
Crazy fast in straight lines
Great hydration/nutrition/tool storage
Easy/flexible fit adjustments
Available in five sizes
Easy to pack/unpack
Not as heavy as you'd think
Cons
Slightly rough ride
Handling takes some getting used to
Price
Not super snappy accelerations
---
---
Heading out the door? Read this article on the new Outside+ app available now on iOS devices for members! Download the app.
Cadex rocked the tri world last May when we spotted an incredibly unusual non-double-diamond style, Cadex Tri bike at the Ironman World Championships in St. George. It was an unconventional-looking design from a brand that was not known in the cycling world for producing bikes: Cadex—a division of Giant Bikes—was better known for its wheels, as well as saddles and tires, but hadn't put together a bike in a very long time.
But it made sense that Norway's Kristian Blummenfelt would choose the funky-looking bike for his 2022 campaign, which included wins at the Ironman and 70.3 World Championships in St. George and setting the fastest-ever iron-distance time at the Sub7/8 event. Known for his love of cutting-edge training and tech, Blummenfelt had a great season aboard his Cadex Tri bike. 
But details about the bike have been scarce, and no one had been able to independently review a complete build – until now.
Section divider
Cadex Tri Review: The Basics
First, it's important to know that this non-double-diamond design—a frame without a "diamond" inner triangle formed by the downtube, top tube, and seat tube—isn't entirely unique to the Cadex Tri. Brands like Ventum, Dimond, and even the Cervelo P5x are all missing one of three standard tubes in an effort to hit aerodynamic superiority, free from the confines of UCI rules. The Ventum One design is missing a downtube; the Dimond and P5x designs are both missing a seat tube; the Cadex Tri design is missing a top tube. Definitely the rarest iteration of the three, the new Cadex is actually derived from a very old '90s Giant design (no surprise), the MCR, according to Cadex product manager, Jeff Schneider. Here, old is new.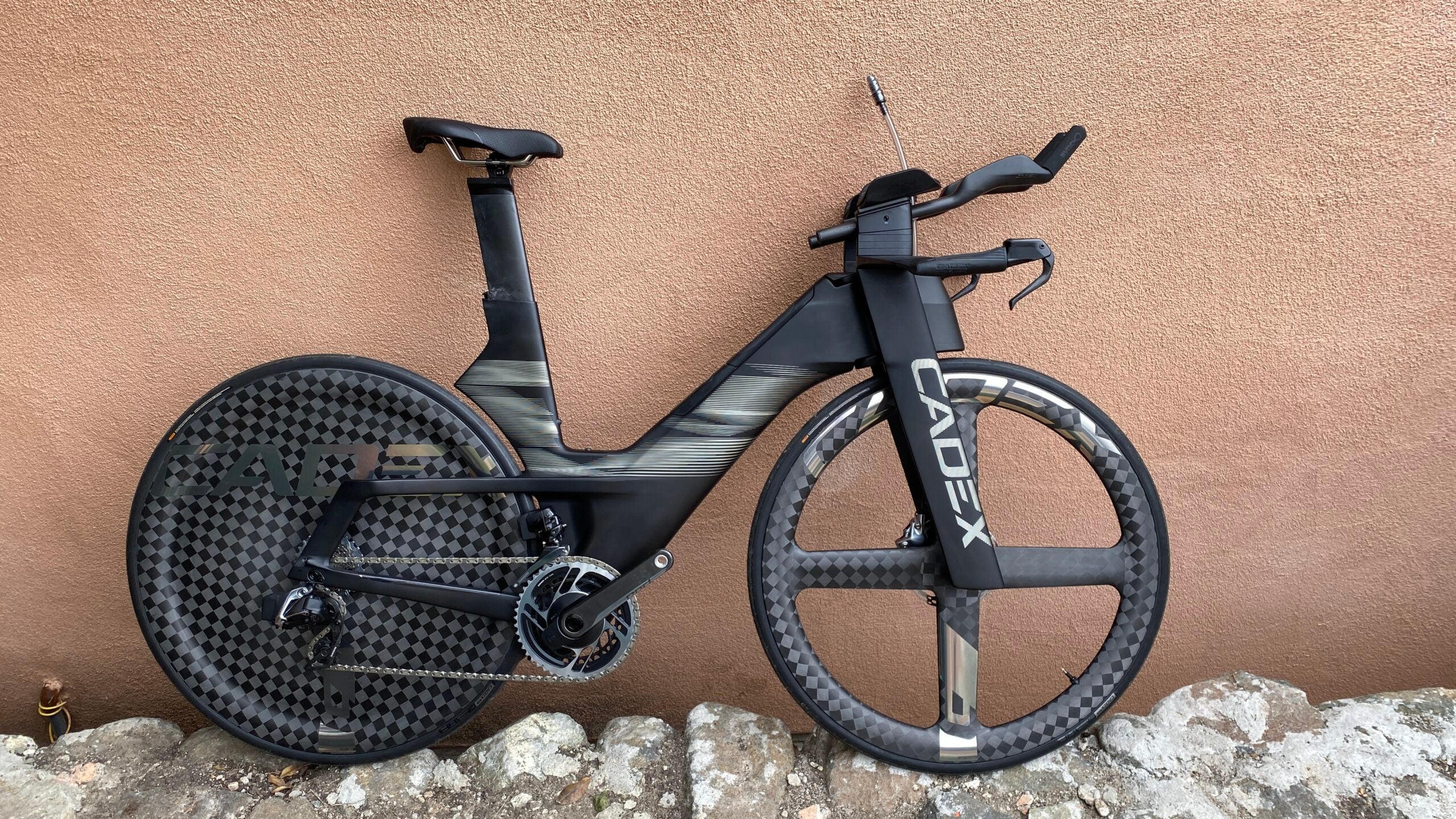 Schneider went on to tell us last year that the genesis of the new Cadex was in part a function of aerodynamics (he said it saved 6 to 7 watts over their top-shelf Giant Trinity), in part to give a home for hydration/nutrition/tool storage, and in part to accommodate some very unique fit needs from their top athlete, Blummenfelt.
With that in mind, the Cadex Tri comes in five sizes, works with a large range of fit coordinates via a 0- and 15-degree seat angle configuration, and has a very easy-to-use integrated front end that allows 80mm of aerobar stack adjustment and 40mm of base bar adjustment on top of a very unique "double-crown" fork design.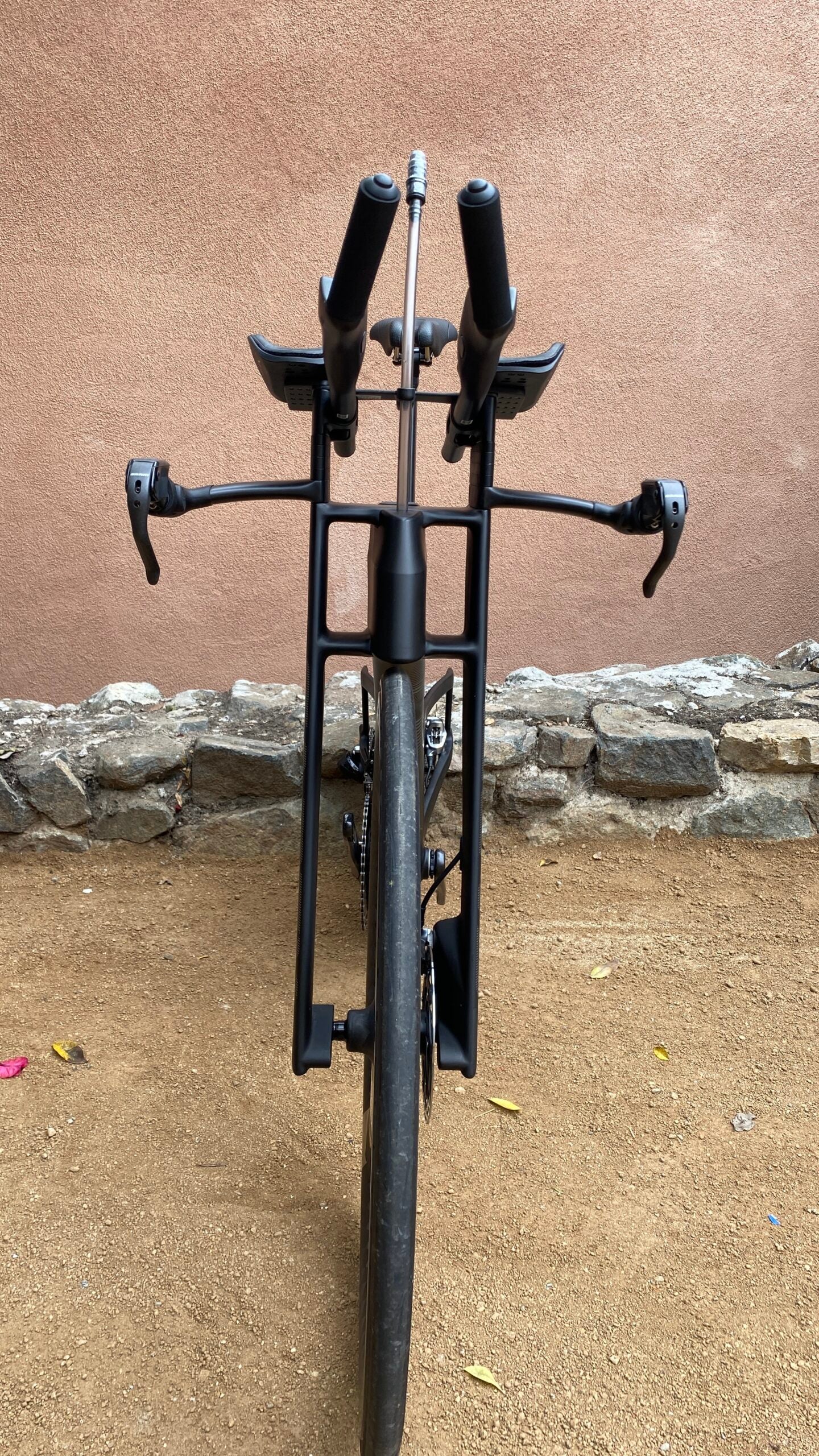 While the frameset module weighs in at 4,576g (size medium), we weighed our fully built version with Sram Red eTap (2x), hydration/storage, and a pretty beefy Cadex Aero 4-spoke/Disc wheel setup at 22 pounds, 2 ounces. If you opted for a 1x build and/or lighter wheels, you'd have no problem coming in under 22 pounds, which is surprising for this design, which includes 600ml to 1000ml of hydration, a very roomy nutrition storage area (up to 10 standard-sized gels), and an easy-to-access tool cavity.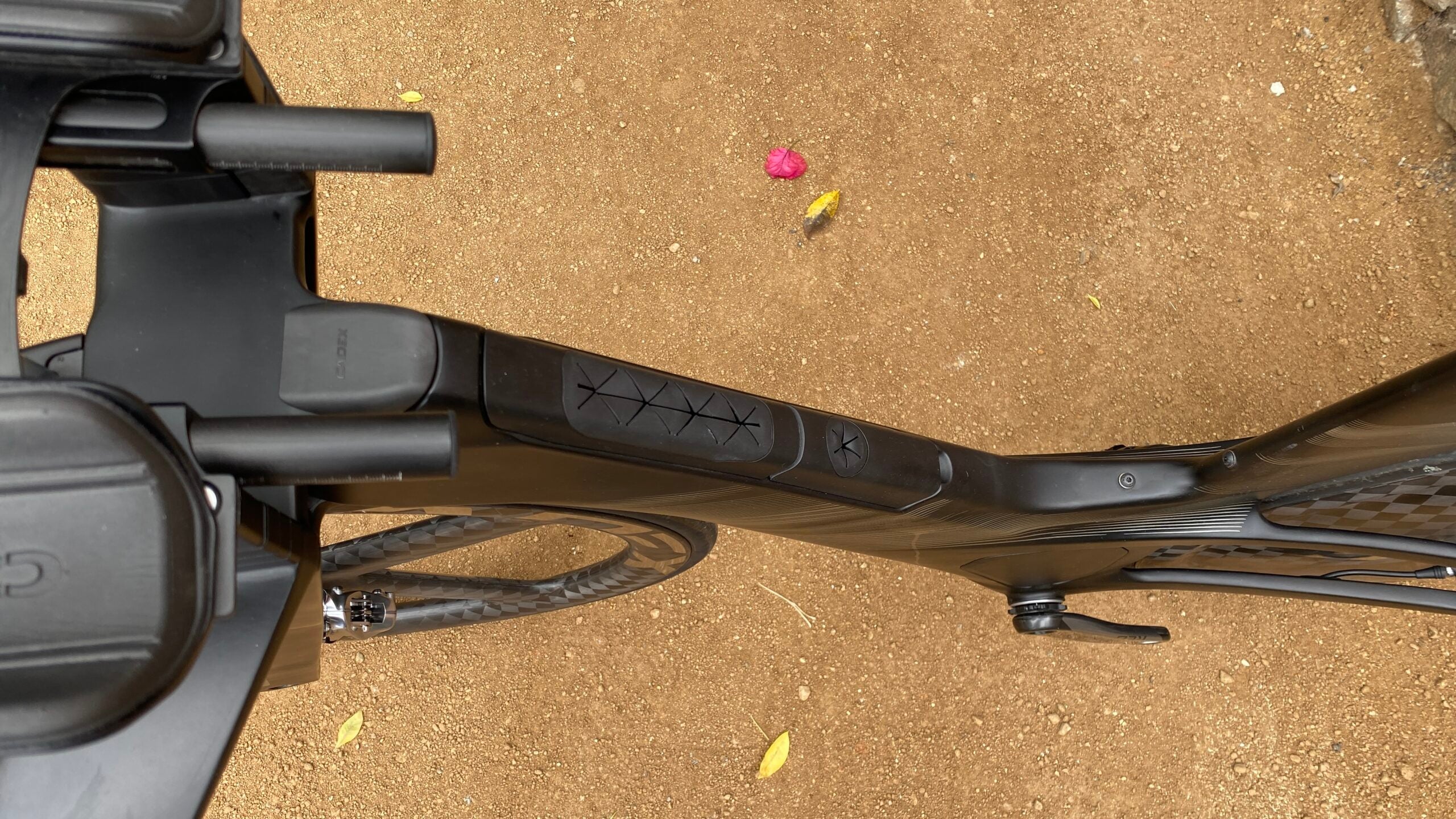 Of course, Cadex says the big draw about this unusual frame is the excellent aerodynamics, that they say is a result of the way the air moves from the unique fork, around the rider's legs, and through the horizontal seat stay design. They also say the design and fork help with stiffness and handling—to varying effect (we'll address this below).
Section divider
Cadex Tri Review: The Good
There's a lot to break down with this bike, so we'll start with the features that work well, then move onto the more subjective side further down. First, the fit flexibility and adjustability is among the easiest we've used. Changing the aerobar stack height/angle on the fly is straightforward and clever (though why you'd need to change that often is up for debate), as is the seat fore/aft/height. This also lends to a fairly simple breakdown/build-up for travel, as obviously the person who buys this bike is probably racing more than just their local tri. I had the opportunity to build the Cadex Tri up from a small, standard clamshell bike box (not a rolling "coffin" like the TriAll3), and it probably took less than 15 minutes, even without an instruction manual or previous experience.
In terms of the "extras," the 600-1000ml of hydration and large nutrition storage are both excellent for any distance tri. In addition, there's space for a standard seat-tube bottle cage (which isn't awesome for aerodynamics, by the way), behind-the-saddle hydration, and between-the-arms hydration setup (though we wouldn't recommend this, more later). The toolkit cavity is also tool free and very easy-to-use.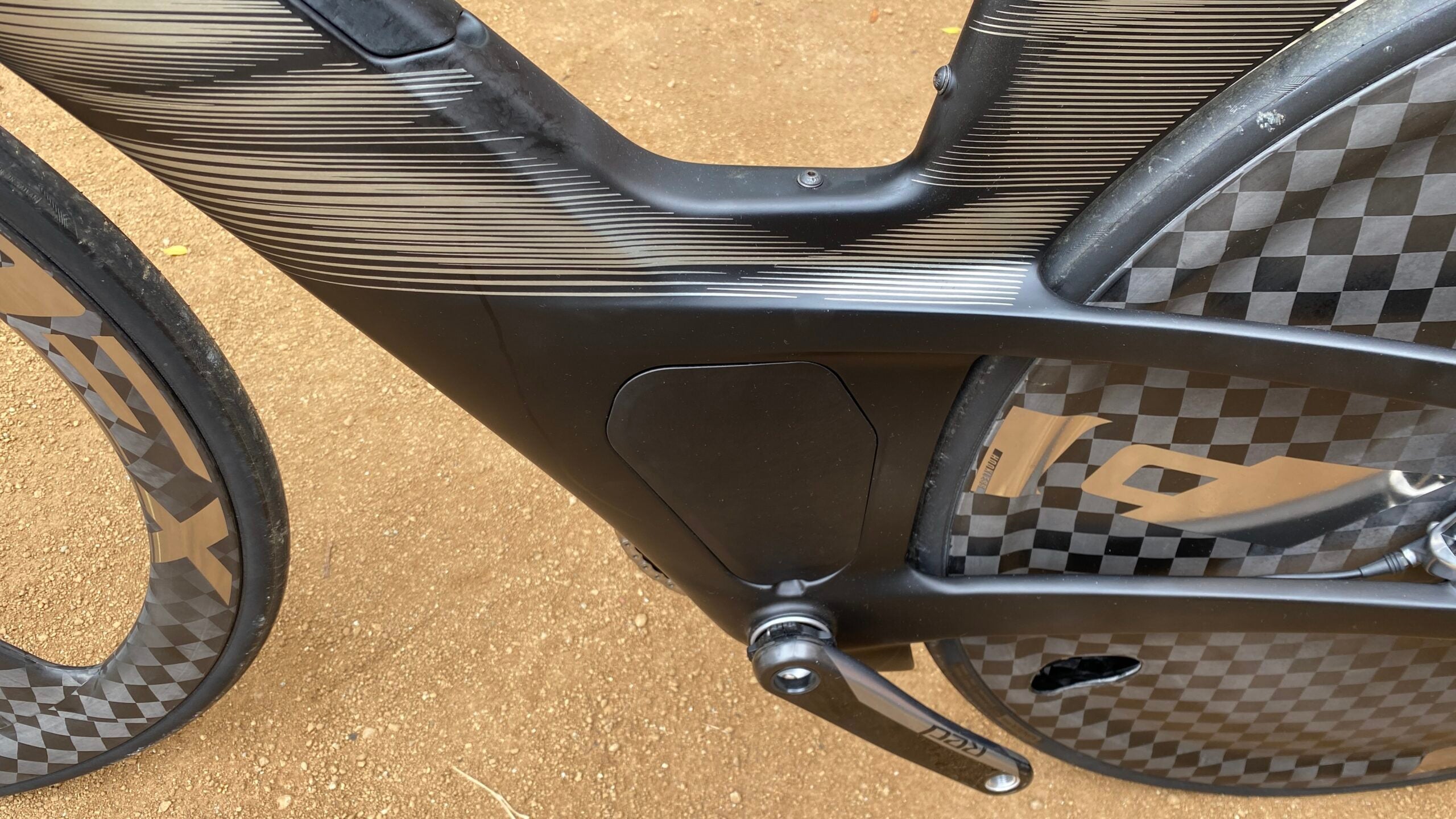 When it came to the ride and ride quality, this is a bike that "flows" once it gets up to speed. Sadly we don't have any independently verified hard wind tunnel numbers, but this was a bike that felt very very fast on flats, in light-to-medium winds, and on descents. Notably, the double-crown fork and huge downtube resulted in an odd vortex that created perceptibly strange sensations around my legs as I rode. Pockets of air were either super calm or super turbulent in places I'd never felt before. It's tough to pin down precisely what that means, but there is obviously something very novel going on with the aerodynamics from the legs down on the Cadex Tri.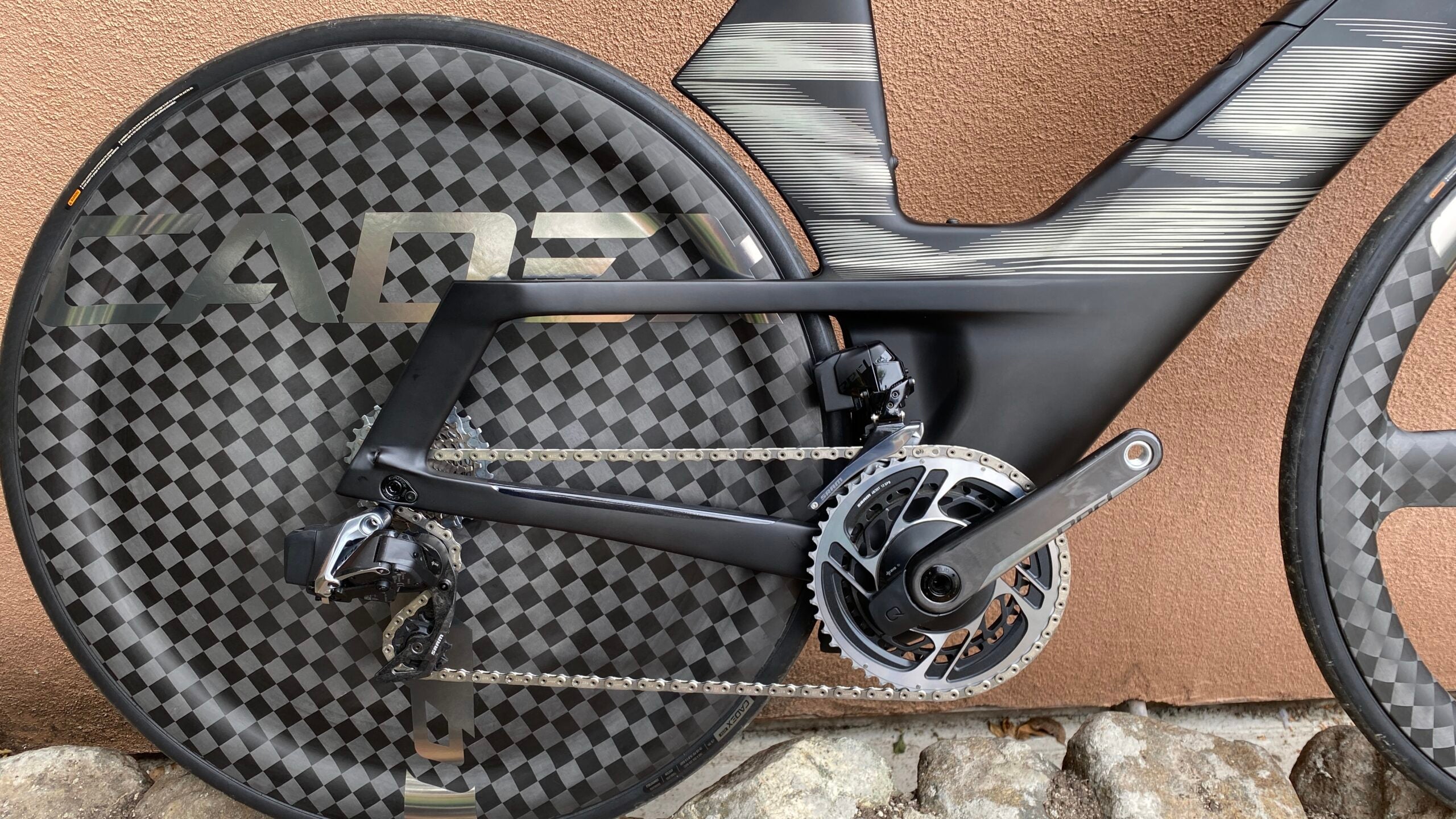 Section divider
Cadex Tri Review: The Ok
While this is a very feature-heavy bike that checks a lot of the boxes that triathletes need—storage, fit, travel-readiness, etc—the ride quality and handling was a little less of a slam dunk. First, we rode this bike with the recommended Cadex Aero 4-spoke/Disc wheel setup, but it's also not the first deep-rim/disc wheel combo we've ever tried. Over high-frequency chatter, the bike did surprisingly well, but over medium- and low-frequency bumps, there was some notable rockiness. Could a shallower wheelset change this? Probably.
But elsewhere, the handling also felt pretty twitchy. Maybe due to the super wide profile (from the side) fork/headtube module, but in heavy crosswinds and on crazy-fast descents, the front end definitely moved in a slightly unpredictable way. As a comparison, we rode the new Felt IA 2.0 in similar conditions on the same day, and while the IA 2.0 "drifted" in crosswinds, it was a more predictable experience that gave more comfort and confidence. Ironically the other bike that handled in a similar way from our years of testing was the Cervelo P5x. Neither felt "scary" or dangerous, but both required some experience with the bike before we felt good about tucking in deep over 35mph in sidewind conditions.
Similarly, the bike handled best in straight lines or around wide, sweeping turns. Not that the Cadex Tri is meant to race crits or carve Tour de France-level descents, but it was far from a scalpel around sharp curves and turns. With that said, it's worth noting that a great tri bike really needs to handle best in straight lines—as that's the majority of tri courses, and certainly being able to tuck in and tune out is more important than really slicing corners. And finally, in the category of "not-super-important-for-tri" we found the lateral stiffness of the Cadex Tri to be fine—not amazing, but not as wobbly as some other NDD designs.
Section divider
Conclusions
This is an unusual and novel bike, and as such it has some very unique quirks. While the handling is far from a dealbreaker, it's also a common trait of NDD design bikes. Oftentimes with an unconventional frame design, the location of some of the frame weight, the flex points, and areas of stiffness can make the bike feel unfamiliar until weeks and weeks are spent riding it. In other words, a funky-handling bike is not unusual with a funky-looking design.
Otherwise, there are a lot of positive surprises on this setup—things like the excellent storage, adjustability, travel, and incredible aerodynamics. This is hands-down the best version of a NDD-designed bike that we've tested (and we've tested them all), so if you have $7k burning a hole in your wallet for a new frameset, and you're a long-course triathlete who travels, you probably won't find anything faster.