5 Steps To Get Your Bike Ready For Race Day
Whether you are racing in the cold of spring or your season starts later in the year, now is a perfect time to get your bike race day ready.
Heading out the door? Read this article on the new Outside+ app available now on iOS devices for members! Download the app.
In addition to tuning up the shifting and braking accuracy, these five steps will help ensure that your bike will be as fast, efficient, reliable, and race day ready.

1. Get the right gearing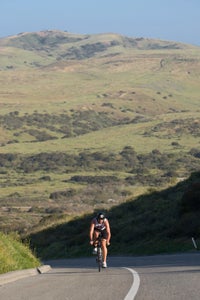 Running off the bike is hard under the best circumstances. It's even more difficult if you were forced to grind against a big gear while climbing hills. Oceanside 70.3 is one of several early-season races that features serious up-hills on the bike course, but you can swap your cassette—which can costs less than $100—for one that is designed to help you spin up a climb instead of grind against a big gear. Both Shimano and SRAM recently started offering cassettes with a very large easiest gear, which reduces the speed you must maintain to hold a high cadence. Basically, they make climbing easier.
One of Shimano's best climbing cassettes is the 11-speed Ultegra 6800 cassette with a super-wide gear range of 11-32 teeth. Not only does the 32-tooth cog help you make quick work of most hills, but the 11-tooth ring allows you to reach a high top speed on the descent.
SRAM has taken the climbing cassette a step further, with its electronic eTap group AXS' cassette, boasting an unmatched 33-tooth setup. It also sports an 10-tooth cog for rapid descents but requires a special AXS system. If you want to maintain a high cadence over any hill, this is the one for you.
2. Clean it
Whatever your municipality uses to keep the roads free of ice is probably sitting on your drivetrain right now. Whether it's sand, salt or another de-icer, that substance has made its way between your chain links and onto the teeth of your chainrings and cassette. Combine it with mud, grease and the other usual drivetrain pollutants, and your bike could probably use a thorough washing. If you have the tools and know-how, now is the perfect time to take your drivetrain components off the bike to degrease, scrub and re-grease them for the season. If getting elbow-deep in grease and road salt isn't how you want to spend your weekend, take your ride into a bike shop and request a full drivetrain clean to make sure you're race day ready.
3. Check your tires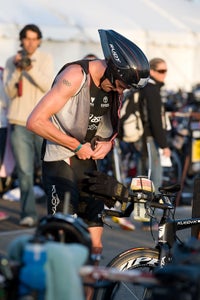 You've waited all winter to show off your fitness in the year's first race, don't let a simple mechanical problem like a flat tire get in your way. Double-check your tires before race day. If the top of the tire is worn flat, it's time to replace it. If there are tiny shards of glass throughout the rubber, it's time to replace it. If the tire sidewalls are cracking, it's time to replace it.
4. Practice your mount
Whether you have been racing for years or this is your first adventure in the world of multisport, there is a good chance you haven't executed a transition for at least six months. Take the time to set up a mock transition area in a parking lot and practice your mount until you can seamlessly jump on the bike and start riding.
5. Carry your stuff efficiently
The longer the race, the more stuff you have to carry. For a 70.3—such as Oceanside—you will probably need to carry multiple water bottles, hundreds of calories and flat tire repair supplies. Personally, I like to mount a bottle on my aerobars—either using a cage mount such as the XLab Torpedo Kompact 500 or a bottle like the Profile Design FC System—and carry bottles on the frame as well. Another good option is a behind-the-saddle hydration system. There will be plenty of aid on the course, so don't worry about bringing every drop you will need to complete the 56 miles, but you should carry enough to make it through about half the ride without having to refill.
You will also need calories. In addition to bringing pre-mixed sports drink in your bottles, you can store bars and gels in a pocket that mounts to your top tube, like the Blackburn Outpost top tube bag.
Your flat repair supplies can tuck under your saddle, like they would on a training ride, unless you race with tubular tires. If that is the case, bring a canister of tire sealant, I use Vittoria Pitstop, to close a small puncture and refill the tire in one shot. Also, bring a spare tubular tire. Most standard saddlebags are too small for a tubular, but the XLab tire bag can hold one as well as re-inflation supplies. No need to tape all this crap onto your otherwise-beautiful bike.