Ask A Gear Guru: What's The Best Water Bottle?
It's time to ditch plastic water bottles for good.
Heading out the door? Read this article on the new Outside+ app available now on iOS devices for members! Download the app.
It's 2021, and if you're still using disposable water bottles, it might be time to do some honest self-reflection: They're bad for the environment, they don't (generally) contain enough fluid for triathletes' needs, and they just don't do the job as well as today's (cool) new water bottles do. The only downside to the growing universe of water bottles is figuring out what the best water bottle is for the job you need. (And for triathletes, that job is generally hydrating three times as much as a normal person…)
To make things simpler, we've created a guide to the ever-expanding world of water bottles. While there are certainly water bottles that do a lot of things well—regular old cycling water bottle, we're looking at you—there are a few that are the best water bottles for a specific thing. Below we've collected a few basic tips to help you decide what to look for and then break down the best water bottles as we head into the 2021 season.
The Best Water Bottle Leaves Your Fluid Alone
If your fluid is hot, a good water bottle will keep it hot; if your fluid is cold, a good water bottle will keep it cold. More importantly, the best water bottle today will not leave behind an aftertaste and it definitely won't leave behind any harmful chemicals. Be sure to look for BPA-free options no matter what, and if you're trying to keep something hot or cold (and weight isn't a concern) then look at a double-walled style. A good cycling water bottle will keep the fluid inside where it belongs and can be refilled with minimal spillage. Here, not every water bottle is created equally.
The Best Water Bottle Can Be Cleaned Well
For sure you might have a hard-to-clean bike water bottle that's super aero and you only use for race day and a few practice sessions per month, but for your everyday bottle, be sure you can really get into it for a good cleaning session. Also remember that the more natural and wholesome and raw and great your hydration/nutrition/recovery liquid is, the more funky it can get quickly. The best water bottles can break down into their component parts and so you can get to the little nooks and crannies where bacteria hides. Better yet, get something dishwasher safe, but know that if it doesn't break down into bits with big surfaces, icky stuff can still sneak away.
Without further ado, our top picks for 2021:
Best Everyday Carry Water Bottle
Klean Kanteen Insulated TKWide with Chug Cap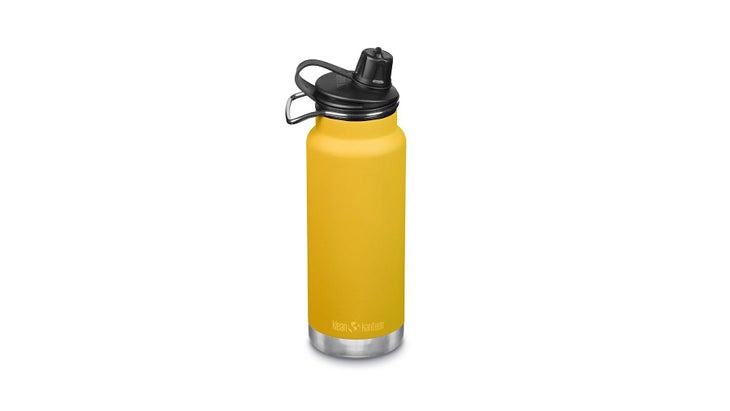 $40, 32 oz. (950 ml), also available in 12-, 16-, 20-, and 64-ounce versions
Kleen Kanteen is at the top of most "Best Water Bottle" lists for a reason: They make excellent bottles and they love to think outside the box. Here, with the TKWide, they again check both boxes with a truly good-looking water bottle with novel internal threads, 18/8 food-grade stainless steel, and a new clever "chug cap" that protects the drinking surface while still allowing you to "hydrate rapidly" if the need arises. The TKWide also cleverly works with Kleen Kanteen's universe of compatible caps, so this bottle can easily be converted to something either sleeker (with the TKWide Insulated Wide Loop Cap) or more hot-beverage appropriate (with the TKWide Café Cap). No matter which cap you use, it'll keep hot beverages hot and cold beverages cold with no aftertaste.
Best Water Bottle For Travel
Bübi Bottle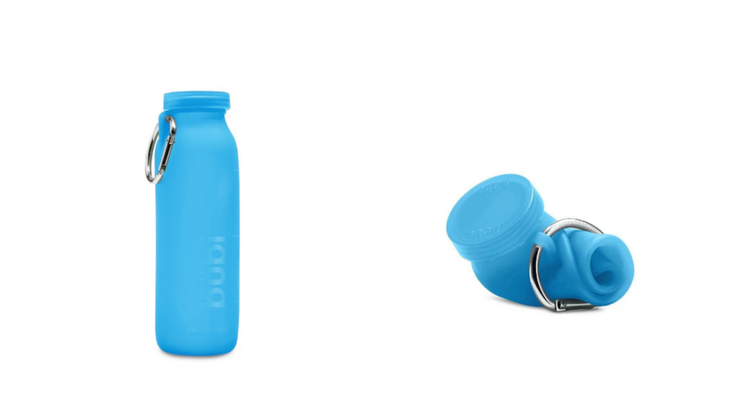 $25, 22 oz. (650 ml), also available in 14- and 35-ounce versions
While other water bottles have come and gone from this list, the Bübi remains. We have still yet to find a better water bottle for traveling, as this can be rolled up into itself, used as a comfy pillow, and even cooked if need be (according to the website—we're too scared to try!). The only thing better than the Bübi's usefulness is the amount of attention you'll get with this conversation starter. Bonus: Each part of the Bübi disassembles into dishwasher-friendly components to prevent it from getting funky.
Best Water Bottle For Water Storage
Sea To Summit Watercell ST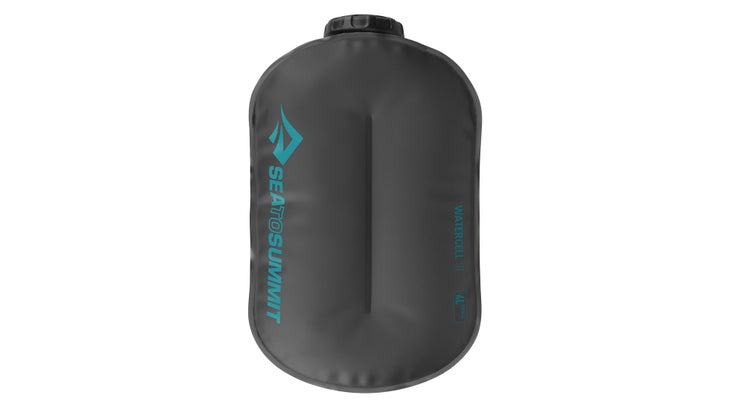 $30, 135 oz. (4L), also available in 6L and 10L sizes
This is a new category for our list but it's super necessary given most people's new (or long-standing) aversion to public water sources. The Watercell ST is a super packable water bladder that works well for refilling your bike, run, or post-workout water bottles—not necessarily for using with a bladder hose in a backpack. While you could use this for hiking or backpacking it's meant to be more of a container that you could take with you to refill at the car before or after your session. We like this because it packs to basically nothing but expands to carry a staggering amount of fluid. The big mouth and soft handles make pouring easy (or chugging, if that's the situation you're in), and the price is right.
Best Water Bottle For On-The-Go Filtration
Philips GoZero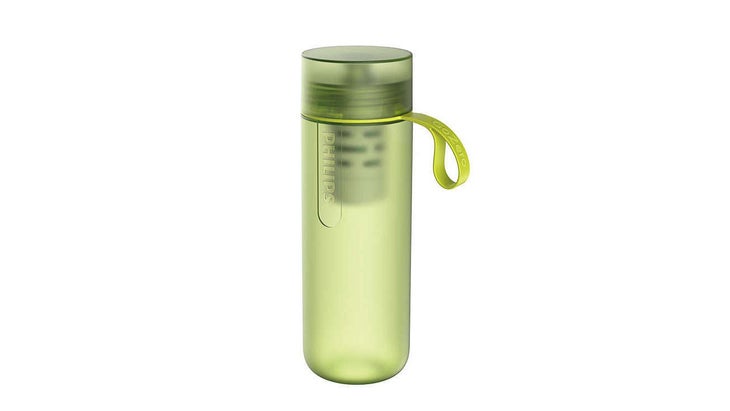 $20, 20 oz (592 ml)
With so much concern about health and contaminants right now, there's nothing wrong with a little extra precaution as you go to the gym or refill your water in public. We like the GoZero because Philips says it filters out 99.999% of waterborne pathogens including bacteria, viruses, and cysts and it doesn't look like a super beefy outdoor adventure water bottle. Using a sleek and simple design that includes a mouthpiece top cap (crucial nowadays), the replaceable filter works for up to 26 gallons of water, and if you upgrade to the UV self-cleaning version (that runs around $50), you only need to recharge the built-in filter every 30 days.
Best Water Bottle For Front Hydration On The Bike
Profile Design HSF/Aero HC 800+ Hydration System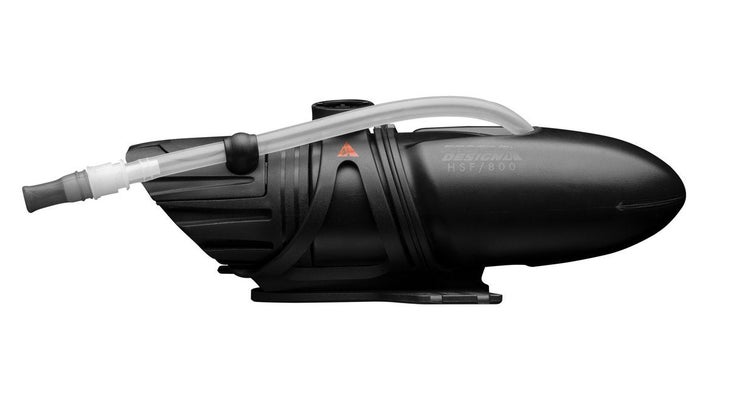 $115, 27 oz. (800 ml)
This front hydration system might not be cheap, but it earned a rare five-star designation from our testers in the Spring 2021 Triathlete Cycling Hydration System Buyer's Guide. (Check out the extended review here.) As such, the HSF/Aero HC 800+ has all of the bells and whistles: a magnetically secured drinking straw, an included Garmin mount for your cycling computer (Wahoo version sold separately), and a rear-located refill port designed specifically to prevent any splashing while you ride over bumpy roads. Best yet, this setup can be mounted above or below your bars and is compatible with a standard water bottle in case you don't want to set the whole contraption up for regular training days.
Best Hydration Pack For On The Run
The North Face Flight Race Day Vest 8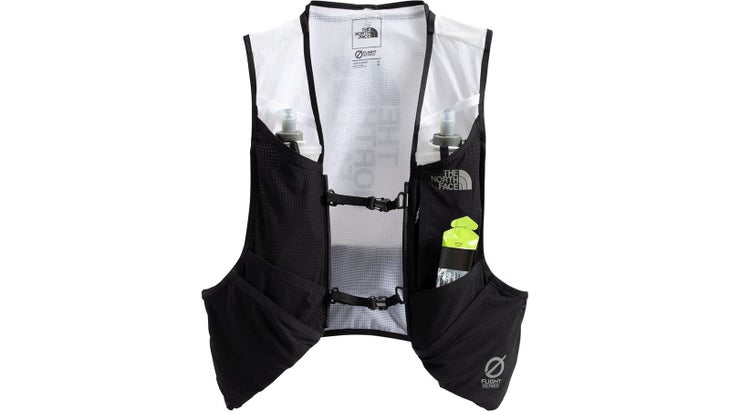 $140, Two 500mL soft flasks included
According to reviewers from Women's Running, this is "a minimal, lightweight trail-running vest that will comfortably carry your gear while you log in miles." Their testers gave it high marks for a special lightweight nylon that is both durable and breathable. For sure this is a "light and fast" setup, as the options for hydration include only two chest-mounted soft flasks at 500mL each, but the rear can be outfitted with a bladder if needed. Testers also liked the 360-degree reflectivity, a zippered cell phone holster, and a quick leash system that holds onto the included water bottles.