The 4 Wildest Products at Interbike
We look at some of the wildest products on display and wrap up the final edition of Interbike in Sin City.
Heading out the door? Read this article on the new Outside+ app available now on iOS devices for members! Download the app.
Bamboo bikes, spring suspensions, and other interbike outliers. We look at some of the wildest products on display and wrap up the final edition of Interbike in Sin City.
Since it began in Vegas in 1982, Interbike has served as the de facto annual party for everyone in the Circle of Cycling. Though it has moved around over the years (Reno, Long Beach, Anaheim, and Philadelphia), since the late '90s, Interbike had found a home in Vegas. Next year that will change when the show relocates again to Reno, Nev.
Already in 2017, Interbike saw plenty of change: Fewer big brands had booths at the Mandalay Bay Convention Center—missing were companies like Trek, Specialized, Felt, and Giant among many others, who instead opted to have in-house sales events for dealers. Their absence effectively leveled the playing field for the little guy. In other words, more eyeballs got onto less mainstream stuff than ever before.
Aside from ringing in the end of the Vegas era, Interbike 2017 also marked return to cycling's roots. Yes, e-bikes were certainly The Big Thing this year, but even e-bikes were a sort of weird return to the anything-goes innovation that cycling has had in fits and spurts. Interbike 2017 was more, "We're all into biking, whatever that looks like now."
Case in point: I sat down for lunch next to a lifelong BMX guy who picked at a salad as he told me about the best places to "eat clean" at the show; I crammed a Louisiana hot link into my face and nodded as I scanned my phone for the top spots to get a gross pile of nachos for dinner. And yet we both loved bikes.
So if a BMX dude and a tri geek can strongly agree that "biking is awesome" while strongly disagreeing on nutritional strategies, then all of the cycling tribes can also unite around the fact that cycling is strange and so are we. With that said, let's take a look at a small sample of the oddest things that Interbike had to offer us weirdos this year:
Favorit F3 Custom Adventure
While Favorit's F3 custom adventure bike clearly isn't tri-specific, this bike seemed to capture the spirit of Interbike 2017's break from the mainstream. Known for their strong cyclocross offerings, Czech-based Favorit went all out on their top-of-the-line gravel/adventure bike (read: bikepacking). This carbon-framed beauty features a very unusual Lauf front fork that uses a spring suspension system to give up to 30mm of travel for off-road grinding. Completely decked out in the latest adventure cycling accoutrement, this is the bike that the Favorit staff will be riding from Yosemite to Lake Tahoe starting on Sept. 27 (follow their trip on Instagram at #favoritcz). Available now.
$8,390 (as pictured); Favorit.cz
Bamboom Chase Yun Pro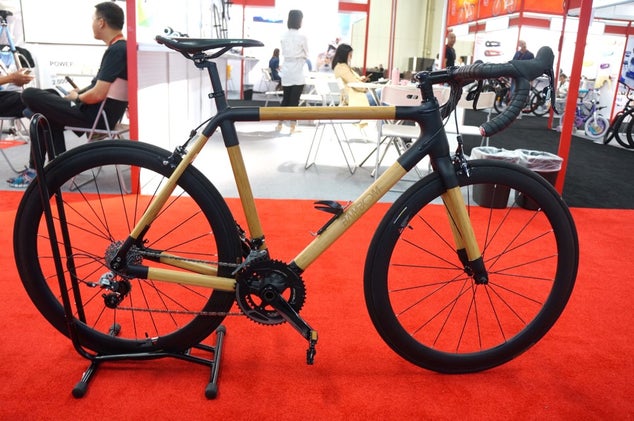 Though not a ton of information was available about this very impressive-looking (yet oddly inexpensive) bike, the Bamboom Chase Yun Pro definitely caught our eye. Using a bamboo frame combined with aluminum and carbon, Bamboom's line is said to be both smooth-riding and more environmentally friendly than traditional frames. The model we saw had a strange mix of Shimano Tiagra 20-speed components and carbon bars/wheels. Not yet available in the U.S., there's always a chance that this brand will make it stateside someday soon.
$1,159; Bamboom.com.cn
Pioneer ESN Motion Capture System
While not the weirdest product on the floor, Pioneer's new prototype ESN (Expanded Sensor Network) system certainly got some attention. Using two cameras and 12 sensors placed on the cyclist's body, Pioneer mates extensive motion capture with their famously detailed power output technology. The main idea behind the system is that coaches and fitters can use the pile of information to simultaneously work on bike fit, technique, and efficiency. Though not yet available, Pioneer had former triathlete and current pro mountain biker, Lisa Leonard, hooked up to the ESN during the show, while her info was broadcast live to those who passed by.
Price unavailable; Pioneerelectronics.com
Null Winds Spoke Fins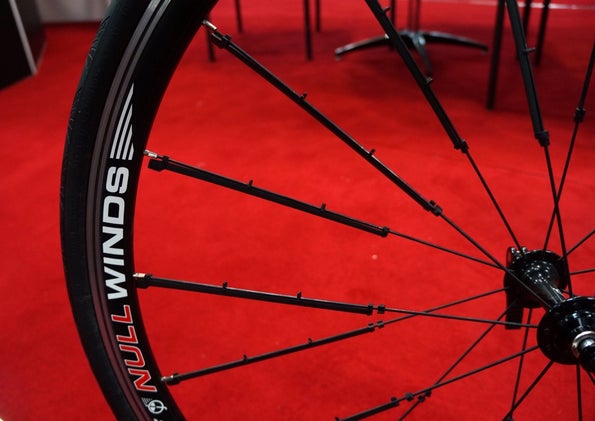 Though not hosting a booth at the show, Null Winds founder Garth Magee was wandering the floor with a set of his wheels. The idea behind Null Winds is that spokes move at different speeds and meet different side forces as they spin along the hub. Magee's small plastic spoke fins—when clipped on to round spokes—create independently-moving tails as the wheel moves. He claims that these tiny fins not only make the wheel spin faster because they're more aerodynamic at all angles but that they will increase stability in crosswinds as well. Magee is also working on a top wheel fairing that he claims will reduce the turbulence around the faster-turning top section of a wheel. He says both inventions could have applications beyond cycling like better fuel efficiency for trucks and autos. Available now.
Starting at $40 for 64 spoke fins; Nullwinds.com