Ask Chris: What Are the Best Lights For Triathletes?
We look at what's important when trying to stay visible when the days get shorter.
Heading out the door? Read this article on the new Outside+ app available now on iOS devices for members! Download the app.
So it's early November and unless you live in one of those weird rebel U.S. states—Arizona and Hawaii I'm looking at you—you've recently "fallen back" to observe daylight savings. While this means your wakeup routine has temporarily become less horrifying, it also means your post-work workout has been suddenly plunged into an abyss of darkness. While training in the dark or dusk is not exactly ideal, busy tri folks are still going to train one way or another, and as lights get smaller, cheaper, and more ingenious, now it's easier than ever to seek out the best lights for triathletes.
It used to be that bike lights were big old AA-battery powered behemoths that clamped to round bars or nothing at all. Then, came a few rechargeable options that were either affordable—but as bright as a single Christmas tree light—or cost as much as a pair of carbon wheels—but could light up the Grand Canyon. Today, USB-rechargeable lights are the inexpensive norm, and thanks to a few outside-of-the box thinkers, you can fit many of them around even the weirdest tri tubes. Call it The Age of Enlightenment.
Not only are lights brighter, cheaper, more adaptable, and weigh less, but they're also far more effective than the simple solid-beam/strobe-beam combo that used to be the norm. Now lights flash in series, adjust for the ambient light, and make crazy patterns—all in an effort for you to either see better (which is rarely the goal while on-road) or be seen better (which is always ideal). Now that triathletes are competing with smartphones for drivers' attention, light makers have upped their game considerably.
Before we get into a few choice picks for low-light training, we'll take a look at the terms you'll see while shopping and learn about what makes a good light the best light for triathletes.
Be Bright
Unlike home lights that are measured in watts, lights for sports are measured in lumens. The more lumens, the brighter the light. Bear in mind that most lights will operate at their max lumens for far less time than at the lower setting, and—surprise surprise—brands like to advertise max lumens on one line, and then the max time (at the lowest lumens) on another. Though there isn't a set scale for how many lumens you need, some research has produced the following rough advice:
10-50 lumens

Can be seen by drivers at night

~100 lumens

Can be seen by drivers during the day

400 lumens

Minimum for seeing during the night while riding on-road/running on- or off-road

700 lumens

Minimum for seeing during the night while riding off-road
Of course this assumes that the brand's lumen capabilities are accurate, and it also assumes a useful light pattern (which we'll cover below). The rule of thumb is also the faster you're riding/running, the more possible obstacles, and the darker the surroundings, the more powerful light you'll need.
Beat The Spread
While brightness is super important, the best lights for triathletes will also have a pattern (or spread) that suits all conditions. A super bright light with a tiny pinpoint pattern (think: some cheap, generic offerings on Amazon) doesn't do you much good when it comes to avoiding obstacles in your periphery. A crazy tight spread also means that while cars directly in front of you see you coming, cars at stop signs on cross streets might not.
The same thing goes for flashing patterns: While a strobe can often catch a driver's eye, is it blinding or confusing to the point that it could distract the driver? There are some studies that say a tiny blinking light can actually draw drivers in because they're trying to figure out what the source is—while a wider flash pattern with an irregular repetition makes a cyclist/runner look bigger, so drivers give them more space.
Charge It
Battery life is super important when it comes to choosing the best light for triathletes. While the vast majority of lights today are USB rechargeable, it's important to consider that a good battery only works when you actually remember to charge it. Most brands will advertise their light's battery capacity at minimum output—which can be barely good enough for being seen at night or reading (on headlamps for running)—so be realistic about your output needs when considering a light's charge. A light with a warning indicator—that goes off well before shutdown—is huge, and some lights even go into an emergency mode, putting out just enough light to get you home without becoming roadkill.
Know Your Place
Light placement is almost as important as the light itself. Even if you have the most powerful beam and enough spread to light your whole city, it doesn't do much good if drivers can't see you from the back or side—or if the thing is shooting like a spotlight out to space after one bump. First, be realistic about where you can attach a light to your bike. Aero can often be the enemy of practicality, so look at your cockpit (for front) and seatpost/seatstay (for rear) to find some suitable real estate and buy your light accordingly. Today, a great number of lights are highly adjustable, working with more than just round tubes—and in reality many tri bikes barely have a round tube to be seen.
Bike Bright
The best light setups for triathletes while riding will have a bright, wide-patterned rear light with at least one different color and some "action." Your seatpost is a great spot to start, seatstays are a good second choice, and in a pinch you can put the light on your jersey or even your helmet. Just be sure the light is still pointing rearwards and not out into space or into the ground. A quick look back or a smartphone photo behind you in a dark room while in your riding position will help determine if everything is pointing where it should.
If you have a tri bike, the front can get a little more tricky due to all the fun aero stuff we've got. Below the basebars is a good option and midway down the bottom of an aerobar can work in a pinch if the light rotates in that direction. Even better, get a computer bridge for your aerobars and place the light either on top or below that—depending on your position. The most important thing here is making sure it's securely fastened and won't change its aim after a few bumps—as front lights are generally heavier due to the increased power output required. A few brands make decent helmet options, but these can be a little awkward and heavy. Don't forget side lights if you're in a very busy area—some brands have them built into either front or rear lights.
Run Seen
When running, a lightweight headlamp or a light clipped onto the bill of a hat works in the front. Many brands are making run-specific headlamps that work very very well. Even if you're on sidewalks, a good front light lets cross traffic know you're coming. In the rear, studies have suggested that lights on shoes or the back of arms are best because they show a specific runner "motion" that signals a person rather than something of no consequence. A rear light with a similar pattern to the bike setup above also works fine on a waistband—assuming you tuck in your shirt—or clipped to the back of a hat.
Side lights or side reflectivity is a great idea—the best (and cheapest) option here is to get some adhesive reflective strips to stick on your shoes or hat or use a reflective wristband for either your wrist or upper arm.
Swim? Well, No
Though not recommended (at all), if you're swimming open-water in the early morning hours, a few brands make waterproof lights that you can clip onto the back of your swim cap that might help you be seen. If for some reason you absolutely have to swim in open water in poor visibility—like thick fog, rain, or limited light—it's absolutely essential that you have a bright cap and at least a waterproof light (or two). But trust me, this is pretty much never a good idea.
Now that you're a light expert, let's take a look at a few great options to help you find the best light for triathletes:
Best Light For Triathletes On A Budget Looking To Be Seen While Riding
NiteRider Swift 300 and Sabre 80 Combo
$45, Amazon.com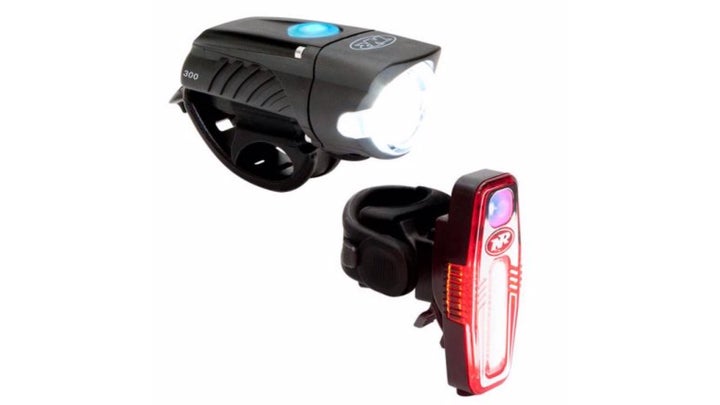 Max Output (front): 300 lumens for 90min.
Min Output (constant, front): 100 lumens for 11 hours
Flashing (front): 11 hours
Weight (front): 82 grams
Max Output (rear): 80 lumens for 90min.
Min Output (constant, rear): 4 hours
Flashing (rear): 4-10 hours, depending on pattern
Weight (rear): 28 grams
This is an excellent combo from a veteran of the lighting industry, NiteRider. The Swift 300 is a headlamp with a small footprint, light weight, and a great range of brightness for being seen—it's also USB-rechargeable with an intuitive low battery indicator. The Sabre 80 rear light is sleek, USB rechargeable, and boasts amber side lights for visibility at all angles.
Best Light For Triathletes On A Budget Looking To See While Riding
Lezyne Power Drive 1100i
$155, Competitivecyclist.com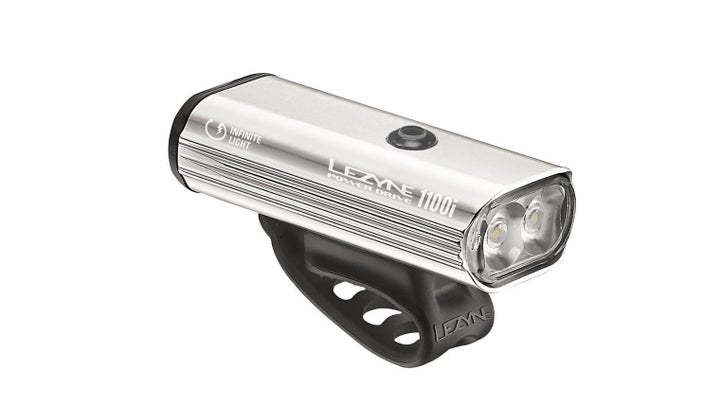 Max Output: 1100 lumens for 75min.
Min Output: 150 lumens for 9+ hours
Flashing: 150 lumens for 19 hours
Weight: 159 grams
Boasting a blinding 1100 lumen max output for right at $100, this is a great value for a light from Lezyne. While the short runtime for max output may be an issue for long rides, running it at 450 lumens still gives you almost three hours. You can also add an extra external battery pack (another $80) that basically triples all runtimes. Seven different modes also let you dial in your brightness/runtime ration and a reflective side spread helps you be seen at different angles.
Best Bike Light For Triathletes When Money Is No Object
Light & Motion Taz 2000
$250, Competitivecyclist.com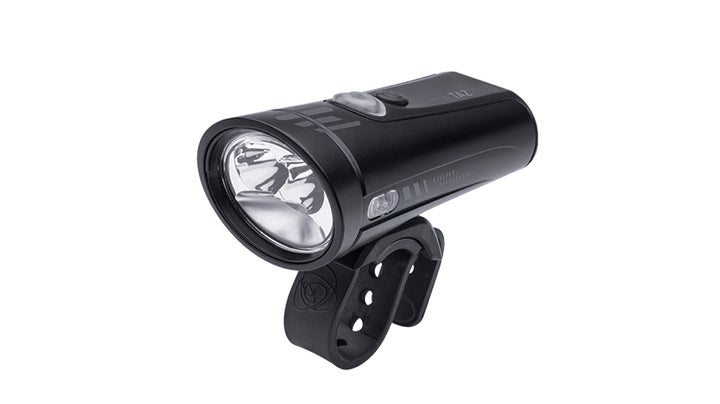 Max Output: 2000 lumens for 90min.
Min Output (constant): 500 lumens for 6 hours
Flashing: 500 lumens for 8+ hours
Weight: 216 grams
This dual-beam handlebar mounted headlight does a great job of managing that spread/beam combo that some models can lack. One LED does a wider spread to illuminate the periphery, while another acts as a spot to light up the far distance. Better yet, the Taz 2000 comes with amber side lights on the unit that helps cyclists to be seen from a hard angle. Setting this waterproof light to medium at 1000 lumens will give you three hours—enough for most rides—as the 2000 lumen option could be considered overkill unless you really need the firepower off road.
Best Light For Triathletes To Be Seen While Running
Knog Quokka Run Headlamp
$35, Amazon.com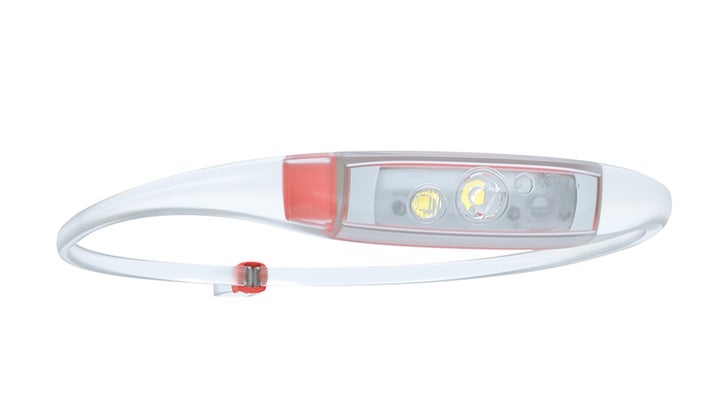 Max Output: 100 lumens for 2.5 hours
Min Output (constant): 46+ hours
Weight: 49 grams
Though there are headlamps out there what put out more light, nothing available is as light weight or as innovative as the new Quokka Run. Boasting a super tiny battery/LED combo that basically lives inside a silicone strap, this headlamp weighs about the same as a pair of goggles—with a similar strap system. The true beauty in this device is the red "halo" it casts around the matte-clear headband, lit up by red LEDs on either side of the lighting device. Requiring no cable to charge (the USB plug is built in!), this is an excellent choice for those who want a simple headlamp that attracts attention while running at night.
Best Light For Triathletes To See While Running
Black Diamond Icon Headlamp
$100, Rei.com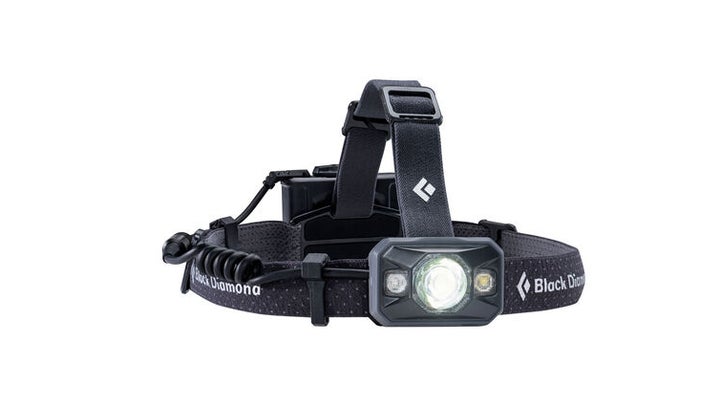 Max Output: 500 lumens for 70 hours
Min Output (constant): 175 hours
Weight: 300 grams (with batteries)
Ok, so the Icon doesn't have rechargeable batteries like all other lights in this list, but bear with me. The Icon is hands down the most powerful headlamp that still works well for trail running, and its runtime is nearly staggering. 500 lumens is a super high number for a headlamp, and because the battery is on the back of the head, this unit still remains balanced while running—a super tall order. Though it has very few functions—a spot, a wide spread mode, and a red LED mode—the pure power of this headlamp lets it work for everything from trail running to hardcore backpacking. Just know you'll need to bust out the old AA batteries like once per year.
Best Rear Light For Triathletes While Running (Or If You Must, Swim)
Knog Plus Free Rear
$20, Rei.com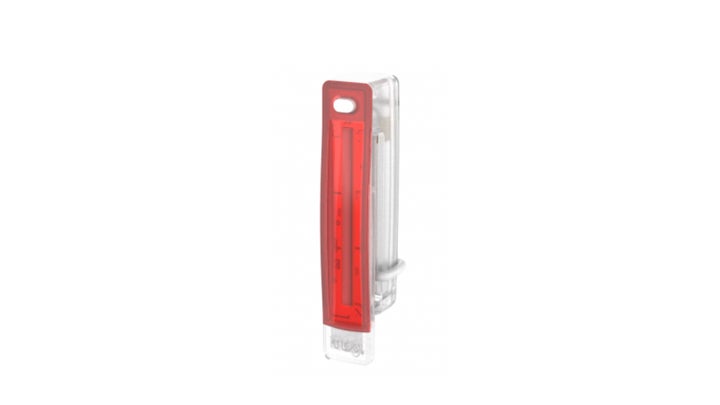 Max Output: 20 lumens
Flashing: 40 hours
These little lights garner an impressive amount of attention, particularly given their weight and size. With five modes of operation, these can be clipped into mid-length socks, shorts' waist strap, a sports bra, a hat, a swim cap—almost anywhere. Also available in a clear-lensed front version with 40 lumens for the same price, these are a good emergency set to have just in case the run might go longer than you think.