Triathlife with Jesse Thomas: How I'm Fueling 70.3 Worlds
Today I'm going to talk about two things: 70.3 Worlds this weekend and my pacing and hydration/nutrition strategies.
Heading out the door? Read this article on the new Outside+ app available now on iOS devices for members! Download the app.
Jesse Thomas is back! In a weekly series leading up to the Ironman World Championship the 140.6 champ will address training, racing, nutrition, mental prep, and gear—and how he's fitting it all in while running Picky Bars, the business he co-founded with his wife, Lauren Fleshman, and being a dad with a second baby on the way.
Howdy y'all! Yep, that was terrible. But I couldn't help myself given the generous southern hospitality I've received the last 3 days in Chattanooga.
For those of you just joining us, this is Blog 2 of an intended eight-week blog series going into Kona 2017. A quick review of Blog One:
I qualified for Kona, and despite it being the hardest thing I've ever done, having a baby due two days after and facing very little chance of making any money, I'm doing it again! Way to go me!
Why? Because I want to see if I can get a career goal top 10 at a World Champs (16th last year) while balancing family and managing the business I co-own with my wife, Picky Bars.
To be better this year, the major strategic changes I made to my season and my training calendar were 1) more rest after my first IM and 2) racing more leading into Kona to combat overtraining – the reason I'm here at 70.3 Worlds! For more info, check out the first blog.
Today I'm going to talk about two things: 70.3 Worlds this weekend, and as it relates to both Kona and 70.3 Worlds, my pacing and hydration/nutrition strategies. First to the most pressing topic:
OMFG I'm racing 70.3 Worlds this weekend.
I was talking to my coach Matt Dixon a couple of weeks ago and said something like, "We'll do that in the lead up to Chattanooga." I replied, "Yeah, when's that race again?" Silence, grumble, groan.
The last time I raced 70.3 Worlds was in 2015 and it was my everything, A race, #1 goal, yada yada. But this year, I've been so busy with Picky Bars, and so focused on my training for Kona and prepping for Baby #2 that I honestly hadn't thought much about this race. This problem was exacerbated when the terrible wildfire smoke in Bend forced me to leave four days early. When I woke up Sunday morning to another "HAZARDOUS" air report, I booked a flight, packed as quickly as I could, and said a (slightly tearful) goodbye to the fam. (It still kills me every time I leave Jude, does that ever go away?) So here I am—and oh yeah, I'm racing on Sunday in the World Freaking Championships! But before I talk about my race, I used some of my extra time here to preview the course for you guys.
Quick 70.3 WORLDS Course Preview
Swim is gonna be TOUGH! I don't mean to freak anyone out, but I swam what I'm 95% sure was the course, and it was definitely the slowest swim I've ever done. It's net upstream a 150 meters or so, with a long upstream part of the loop. I swam it at what I thought would be ~30-35 min pace and it took me 41 minutes! I've heard the current will be slower on race day (it's somewhat controllable?), but I don't know that for sure. Regardless of how fast the current is, it will be there, so my advice to all of you is to mentally prepare yourself for a long hard effort. I'm normally a ~24 min half swimmer or so, so I'm expecting to swim over 30 minutes. Don't get freaked out or frustrated, and just take it one stroke at a time. I actually count to 100, then reset, then count to 100 again because I'm a math dork and that's what I like to do. But anyway, it helps pass the time.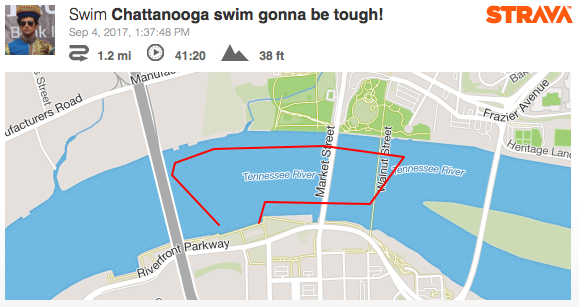 Bike is gonna be TOUGH! I know this sounds like a joke, but it honestly will be solid day out on the bike as well. I think the bike is the hardest half-Ironman course I've done outside of Wildflower and 70.3 Worlds in Austria—definitely harder than, say, Oceanside or any other 70.3 I've done. Yay! I'm serious. Yay!
The bike starts with a flattish 5 miles out of town, then you take a hard right turn and BAM YOU'RE CLIMBING FULL GAS. It's honestly super duper steep right out of the gate and stays pretty steep for about 1.5 miles or so. There's one small break and then 1.5 miles or so of climbing. I think I was climbing for about 20 min at a "soft" 70.3 effort, so be prepared to climb climb climb. Once you reach the top, you're not really at the top—you have some rollers for a while with a few steep 2-4 min climbs, then one last gradual climb to finish that took me about 11 minutes. It took me about 80 minutes get to the end of the top of the hill around mile 24. The descent is nice and mostly open. I felt safe, never worried about running off the road like at Austria or Lanzarote. Then the way back is long, rolly, flattish. You have a headwind mostly on the way out and tailwind mostly on the way back, so with the climbing, expect the first half to feel very, very slow. But you'll make up for it on the back half.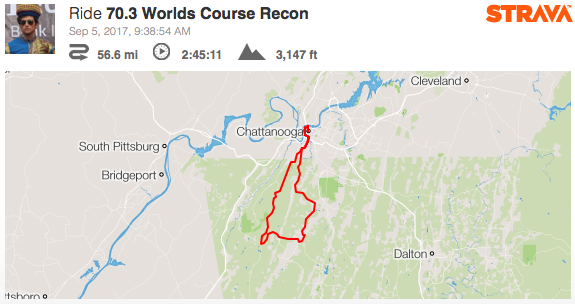 Run is gonna be….TOUGH! SURPRISE! Yeah, I'm serious again. This is going to be a tough course, I'm just telling you how it is. But it's a World Championships, so all good, amiright?! Without going into all the details, the run is two loops with lots of rolly climbing. Nothing I would call super steep, but maybe four 3-5 min climbs per lap. There are some flat sections and some shaded sections to rest a bit, but plan on working through this one as well.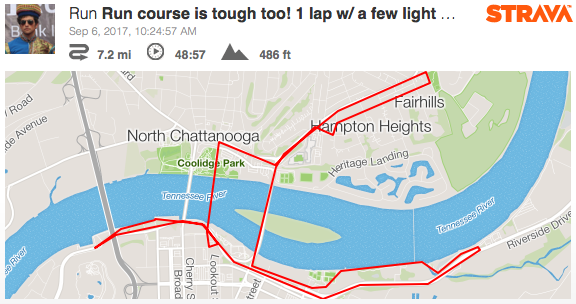 OVERALL ADVICE: TAKE IT CHILL, BRO.
My advice to you (and to me, see below) for this course is to race within yourself. Focus on what you need to do to get the best result out of yourself. If I were an age grouper out there (or myself out there, honestly), I'd err conservatively at least through the first half of the ride and run. There will be plenty of time for you to use any "leftover" energy you have after getting through the first half of each discipline. With the difficulty of the course and the heat/humidity, there's an obvious risk of blowing yourself up by going too hard too early.
More Info: Come Meet Us
If you want more course preview info and my answers to a ton of questions – check out my facebook live video from a couple of days ago. Also:
My Race, Expectations, and Goals: KONA Testing
The guy in my swim lane today at the YMCA asked me a simple question: What's you goal? And not surprisingly, I hadn't even thought about it with all the Kona/Picky/Baby stuff going on. But thinking about it now, I think the main goal for me to is use/test some of the tools and strategies I've developed for Kona in this race, and see how it goes. I'm obviously not a 70.3 specialist anymore, and there are a ton of them out there who I honestly don't expect to be super competitive with. But the tough bike and run are a good match for my strengths (despite the tough swim, which isn't), so I'm not counting myself out of a good finish. Matt said here's a line for your blog: "NO expectations doesn't mean LOW expectation." Matt should probably tweet that because he'd get at least like three retweets. Anyway, my best is a 12th here a few years ago, so anywhere in that range I think would be great. We'll see how it goes.
Trying Not to Pace Like an Idiot
As mentioned, the main thing I'm going to focus on is to "race within myself," otherwise known as "don't get caught up in being competitive and stupid and abandon your race plan in the first 3 miles, you idiot." The reason I'm going to do this is two-fold: 1) I think it can net me my best result, and 2) It's practice for avoiding what I thought was my biggest race day mistake in Kona: getting caught up in the early craziness/competitiveness and sacrificing my own race plan as a result. As I stated in my unfiltered post Kona conversation with Matt, the biggest mistake I made last year at Kona was going too hard too early on the bike. I was excited, riding with all the powerhouse riders: Kienle, Stein, Weiss, Skipper, etc. I stayed with them and caught the main group by 40K! It was awesome! Until it wasn't. I PAID for it about 20K later when we hit the Hawi climb. The power required to stay with the group wasn't even that hard to be honest, but my legs were SMOKED. Then I faded so bad it was almost a joke coming back into town. I averaged (power-wise) what would normally be an easy aerobic ride for the last 2 hours. In short, I believe I could have ridden the bike faster overall and with less damage to my run had I just let the uber bikers go early and paced myself appropriately. I might be wrong, but that's what I think, so that's the strategy I'm taking this year.
So on Sunday, if things get too spicy up that first climb and it feels like it doesn't make sense to be riding that hard, I'm going to back off and see what I can do paced appropriately. Maybe I'll get dropped and never catch up, but maybe I'll work my way back and have legs for a better run. We'll see.
How I'll Fuel: Trying to Drink and Eat Enough of the Right Stuff to Not Implode
After cramps, fatigue, and dehydration sent me to a post finish line 45 min med tent stupor last year, another area of Kona focus has been my hydration and nutrition strategy. . I've been consulting with Dr. Stacy Sims and the team behind NUUN Performance, a hydration line they launched together. We think I was likely not drinking often enough, not drinking enough period, and maybe eating a little too much, all of which was leading to dehydration. The result of the testing and planning is the following hydration/nutrition plan for Sunday:
Days leading up to the race: stay hydrated. Preload some hydration by adding salt to foods, etc.
Morning of, 3 hours before race Oatmeal mix, yummy! My fave.
30-60 min before: Picky Bar (post warmup)
 Swim

Try not to drink the river water

 Bike

Set a timer on my Garmin to beep every 7.5 min
At every beep take in NUUN Performance (aiming for about ~6oz, or ~48 oz/hr)
At every other beep eat 75-100 calories of Picky Bars and/or Clif Bloks (~350 cal/hr, mix of balanced Picky Bar and straight sugar Clif Blok).

 Run

Water cups at every aid station with a bit of NUUN Performance in a flask
1-3 Clif Bloks every other aid station
Starting mile 3, Red Bull at every other aid station (opposite from Clif Blok station)
Other than that I'll try some HOTSHOT and/or TUMS to help combat cramping on the spot. I've had some, but not 100% success with both of those strategies, so we'll see what happens. The other thing I've been doing to try to combat cramping is more specific strength and flexibility work on my sartorius (the thigh muscle that always cramps my form), and some stim work with a Marc Pro. I'm not sure if any of it is working to be honest. (If any of you have suggestions, I'm still open to them.) The real tests come in the races, so I'll know more Sunday!
That's all the info for this week, guys! As always, let me know if you have any other questions on my facebook, twitter, instagram, and/or Strava and I'll either answer or do a follow up on Facebook Live or something like that. Hope all is well and see you guys on the other side of race day!