Sanctuary! The Story Behind the Protected Waters at Tris Across the Nation
Events held in national marine sanctuaries are almost guaranteed a gorgeous first leg.
Heading out the door? Read this article on the new Outside+ app available now on iOS devices for members! Download the app.
Every year, poor water quality cancels swims at races across the country. But events held in national marine sanctuaries are almost guaranteed a gorgeous first leg, every time. Bethany Leach Mavis dives into America's underwater national parks.
The 2016 Olympics in Rio highlighted an issue that affects all triathletes: clean water. The water off of Copacabana Beach, where the swim portion of the triathlon took place, recorded dangerously high levels of bacteria and viruses due to human sewage contamination in the months leading into the Games. One Associated Press investigation, which came out just before the triathlon test event in August 2015, reported that athletes "risk becoming violently ill" in the Rio swim venues.
The pro triathletes, for the most part, shrugged off the worries and raced anyway; the world was watching and there would be no stopping an Olympic event—not even after a human foot washed up on shore of the Olympic beach a little more than a month before the opening ceremonies. But most of the time, dirty water means the swim gets canceled, leaving triathletes who spent months swim training to race a duathlon. Last September, for example, race organizers in Washington, D.C., had to cancel the swim portion of the Nation's Triathlon due to high levels of E. coli in the Potomac River.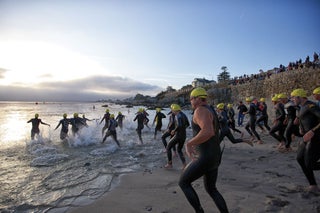 "It's very frustrating as an athlete to pay for these races, and you're excited to compete, and then days [or hours] before you get notice: 'Hey, sorry, you can't swim, so we're going to cut that portion,'" says Michelle Johnston, a triathlete and a research marine biologist at the Flower Garden Banks National Marine Sanctuary off the coast of Galveston, Texas. But there are magical places where you can all but guarantee your swim will always be spectacular and never be canceled due to contamination: "That never happens in triathlons that are held in national marine sanctuaries because they're protected," Johnston says. "It makes it a bit nicer because things tend to be a bit cleaner."
A national marine sanctuary is essentially an underwater national park that's protected for its natural beauty and recreational value. There is an entire government office dedicated to the 13 sanctuaries around the U.S.: the Office of National Marine Sanctuaries, which falls under the National Oceanic and Atmospheric Administration. The sanctuaries span from the Great Lakes to American Samoa, and they're open for our enjoyment.
"A lot of times people hear the word 'sanctuary' and think you can't do anything in them, and that's not true," Johnston says. "Sanctuaries are basically just set aside as a place that has some basic protections. And you're allowed to fish in a lot of the sanctuaries. You can dive and snorkel and kayak and view marine life. They're just really extraordinary places." They're set up to protect things such as a coral reef or kelp forest or ship wreck, and typically draw incredible marine life including sea turtles, whale sharks and manta rays.
Of the 13 national marine sanctuaries, three of them currently host triathlons: the Monterey Bay sanctuary, the Florida Keys sanctuary and the Hawaiian Islands Humpback Whale sanctuary.
For 22 years, the Triathlon at Pacific Grove featured a swim in picturesque Monterey Bay. Putting the race on in a sanctuary "brings one more government agency that you have to deal with," says veteran race director and owner of Tri-California Events, Terry Davis. "Although, I will say that the Monterey Bay National Marine Sanctuary staff has been overwhelmingly supportive of what we're doing and the way we do it."
The three main national marine sanctuary rules are: no anchoring boats on the sea floor, as it could crush coral or other important parts of the ecosystem; no spear-fishing "because that's a really good way to deplete species really fast," Johnston says; and no dumping.
Along the lines of rule No. 1, Davis is required to be very careful about where turn buoys are put in and taken out of the water, as their anchors could harm the seafloor if put in the wrong location. The swim route also needs to traverse areas that won't disrupt sensitive natural habitats, like seagrass beds and shallow coral reefs—even minor human interactions, such as touching or standing on them, can have devastating cumulative impacts on seagrass and reef sustainability, affecting their ability to provide shelter and safety to species such as fish, seahorses and crabs. Drones and jet skis are also prohibited, as they could frighten and disturb wildlife. Sanctuary managers work with race directors on these specifics to make sure the sanctuary is left in the same condition as it was before the race.
"If you have a national marine sanctuary, then obviously it must be a beautiful place with great value to the nation," Davis says. He knows from more than two decades of running the Pacific Grove event—and 33 years putting on the historic Wildflower triathlons—that a gorgeous, dependable, clean swim makes a race special and can increase its longevity.
That's what makes it all the more heartbreaking that water, or a lack thereof, has forced him to put all Tri-California events on hold in 2017, including Pacific Grove; drought dried up the swim at Wildflower (the company's flagship and most lucrative event, which helped float the cost of the other races), forcing it into another location with gunky water. "We just can't draw a lot of people if there's doubt about the quality of the race or if they're going to swim," he says.
Clean water is clearly a vital race component, both for enjoyment and health, and triathletes can do their part to support the purity of the water in which they train and race. "Getting involved in your community and leading by example is one of the best things you can do," Johnston says. If you live near the beach, she recommends looking up when your local Surfrider Foundation chapter's monthly beach cleanup takes place. If you don't, try picking up one piece of trash every time you train to keep it from becoming one of the 8 million tons of trash that gets into the ocean from land every year.
Another simple way to keep our waters safe is to help prevent runoff. "When it rains, bacteria and things run off and into the waterways, and then it makes it unsafe to swim," Johnston says. She suggests planting natural vegetation and adding natural buffers to your yard to keep that from happening. Recycling is also simple but important because approximately 75,000 tons of plastic waste gets into the ocean from land annually, according to a 2015 study published in the journal Science. "I feel like these things are beat to death," Johnston says. "Those types of things might seem small but can make a difference."
If you've never been to a national marine sanctuary, it's well worth your time, says Johnston. "They really are underwater treasures and something to be valued and proud of as Americans, that we have these beautiful places," she says. Whether it's for a race (see "Clean and Clear" at right), an open-water training swim, or anything else aquatic from kayaking to snorkeling to stand-up paddle boarding, sanctuaries boast clean water, trash-free beaches and healthy ecosystems that will make your experience one to savor.
Johnston, who lives on Galveston Island, Texas, feels she has an extra connection with the water, as it's right out her front door. "I wake up every morning and go for a run next to the ocean, I swim in the ocean, I bike along it for my long training rides," she says. "It provides this medium that allows me to get faster and stronger and better and more confident. So I just value the connection I have to it because without it, I wouldn't be able to compete."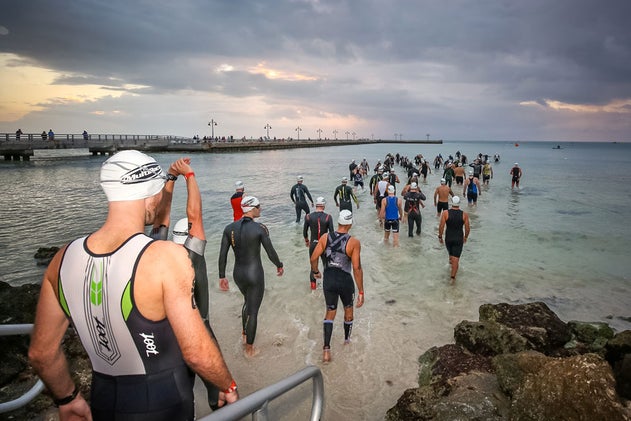 Clean and Clear
Inspired to do a race in a national marine sanctuary? You can count on these triathlons to be beautiful and have clean water.
Monterey Bay National Marine Sanctuary
Tri Santa Cruz
Aug. 13, 2017
Finishlineproduction.com
Triathlon at Pacific Grove
Postponed to 2018
Pacificgrove.tricalifornia.com
Ironman 70.3 Santa Cruz (formerly Big Kahuna Triathlon)
Sept. 10, 2017, Ironman.com
Santa Cruz Triathlon
Sept. 24, 2017, Santacruztriathlon.org
Florida Keys National Marine Sanctuary
Key West Triathlon
Dec. 9, 2017, Multirace.com
Hawaiian Islands Humpback Whale National Marine Sanctuary
Na Wahine Festival (women's triathlon)
Sept. 10, 2017, Nawahinefestival.comNawahinefestival.com
While not every sanctuary can host a race, as some are located too far off shore, there are some that border the shore but don't yet have their own triathlons: Thunder Bay in Lake Huron (Michigan); Channel Islands in Southern California near Santa Barbara; Greater Farallones in Northern and Central California; Olympic Coast off the Olympic Peninsula in Washington state; and National Marine Sanctuary of American Samoa.
Find your closest marine sanctuary at Sanctuaries.noaa.gov.