Roth Course Preview: What Makes Quelle Challenge Roth So Fast?
Heading out the door? Read this article on the new Outside+ app available now on iOS devices for members! Download the app.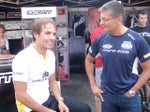 A combination of factors that come into play to make the Quelle Challenge Roth the location where Ironman-distance records are broken. We analyze the course for Sunday's race, and also look into why this venue makes for blazing times.
The swim in Donau Canal is a single counterclockwise loop. And the bike course on its face is not anything earth shattering; it has no legendary Ho'o Mumuku winds and no massive climbs like those found at Lanzarote's Timanfaya Park.  It's two loops, heading south toward the town of Greding before turning north again to town.
But it does have its signature character: Solarer Berg.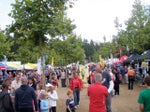 "Solarer Hill is absolutely crazy," says Quelle Challenge Roth race director Felix Walchshofer. "Athletes will get around the corner and will hear the noise of the crowds. After a right turn, they'll see 25,000 spectators. I get goose bumps talking about it, but it's like a wall of people, and they pass out of way just as the riders come up. It's our own Tour de France climb."
The run is a flat effort with two out-and-back sections on the south and north end. Walchshofer explains the finish is not to be missed. "The last finisher experiences the sparklers, huge fireworks," he said. "For me, the last finisher is an even more special moment than the first finisher."
But what makes Roth such a potential record-breaker for blazing Ironman-distance times?

Sighting-Free Swimming
Swimming in a canal without the need to sight to track your path helps. With the shoreline or midline course markers as a guide, there is minimal need to sight. "For me, this is the most fascinating part of the race. 20,000 people come up along the canal creating a great festival atmosphere as the sun is rising. It's absolutely magic," Walchshofer says.
Germany's Michael Prufert swam a 43:35 in 1997 here, while Ute Muckel holds the women's swim time in 47:27. (Actually, Muckel holds seven of the ten fastest times in Donau Canal.)
A Straight Shot Bike
The two-loop bike course is mostly flat with several rolling sections and just a few short stabs including the Solarerberg, or Solar, Hill. Elevation goes no lower than 350 meters above sea level, and no higher than 550 meters above sea level. "People when they see the times of Jurgen Zack and Thomas Hellriegel, they think it was tailwind all the way around, but it's just a fast, fast course," said Walschshofer.
We wanted a second opinion, and found one in Hungarian pro Erika Csomor. "I don't know—it's still a hard run course to me," said Csomor, who finished second here last year. "I think because there are few turns, it's quite fast."
Walchshofer agreed: when it's straight, it's easy. "It's not a technical course by any means," he said. "It's open and a rather easy course.
This is where things get sick: in 1999, Jurgen Zack tore to a 4:14:16 record bike time. The next fastest time came in two years before, when Thomas Hellriegel turned in a 4:14:45. The most recent fast times came in 2007, when Hellriegel went 4:16:18, and Chris McCormack went 4:16:31.
The women are equally impressive: American Krista Whelan still holds the bike course record of 4:45:59.
Smooth Roadways
There's nothing like the quiet buzz of wheels on fresh pavement, free of seam cracks, chip seal or potholes. It's a racer's dream. "This makes it fast," Csomor says. " You can just focus on your pace and your effort."
An Easy-On-The-Legs Run
The run, with a far north and south turnaround, is mostly flat. "We have one hill in it, but it's not a major one," Walchshofer says. Long stretches along the Donau Canal can be a blessing—or a boon. "It may be tough for some for the head, but it's really good seeing the runners coming by again," he says.
Csomor brought out one of the biggest factors: a marathon that's easy on the knees is one absent cement or hard pavement. "I think 70 percent of the run is on this," she said as she shuffled some gravel underfoot. "It's not like Frankfurt, where you have cobbles, you are always adjusting your run stride, your balance."
The kind surfaces gave Belgian Luc Van Leered a race record of 2:36:49 in 1997. In 2007, German Nicole Elder ripped a 2:52:46 to own the women's record.

Temperate Weather
While Roth has been experiencing rainy conditions the last few days, the area is expected to see cool conditions for Sunday's race. And even when the conditions are rainy as they were last year, the women, particularly Yvonne Van Vlerken and Erika Csomor—were still able to break out record-breaking times. Thomas Hellriegel had a theory on that at the press conference that brought some laughs—and a playful jab from Rebecca Keat:
"Women are a bit fatter than men," he said, as the room erupted. "It's true from a scientific standpoint, that they have a bit more fat on their bodies, so lean men tend to get cold easier, when the women can go well when it's colder out."
What will we see Sunday? Age groupers will love it, as they can set PRs. But the big questions is whether names like Chrissie Wellington, Norman Stadler and the like can translate ideal conditions on an ideal course into a set of broken records.
Check Triathlon.competitor.com after Sunday's race for a post-race report and race photo gallery.