Q&A With Rasmus Henning: One Of ITU's Most Dominant Athletes Shifts His Sights Toward Kona
Heading out the door? Read this article on the new Outside+ app available now on iOS devices for members! Download the app.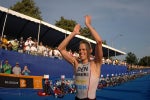 Written by: Brad Culp
Prior to his win at Ironman China, we sat down with the Danish triathlete to talk about the shift to long-course racing.
We frequently hear of mediocre World Cup athletes moving up to the Ironman distance in hopes of using their speed advantage to give them an edge over the "slow" Ironman veterans. So when Denmark's Rasmus Henning announced his decision to focus on Ironman in 2009, we were a bit surprised, as he's certainly not among the "mediocre" of the ITU realm. Henning has scored nine victories in the World and European Cup circuits in the past five years, including two victories at the $200,000 Hy-Vee World Cup in Des Moines, Iowa.
The two-time Olympian is no stranger to the 140.6-mile distance, however, as he raced the ITU Long Course World Championships in 2000 and 2001. In his second iron-distance event, Henning finished in 8:25:45, ahead of athletes like Torbjorn Sindballe, Jonas Colting and Cyrille Neveu. We caught up with Henning to find out why he's making the move back to long-course racing.
Triathlete: Is this move something you've considered for a long time? What were the major reasons behind your decision to go after Kona this year?
Henning: I really don't want to be away from home as often. It's easier to be at home with Ironman racing. I have to go away for only a few big races each year, and then I get to spend the rest of the time with my family. Training for the Olympics last year was very stressful. I got to the point where I thought about retiring from the sport. After the Games, I realized I wasn't ready to leave the sport, but I knew I needed something new.
Triathlete: Training in Denmark must suck in the winter. Do you do most of your training there year round?
Henning: Yes. We have a national training center just outside of Copenhagen, near where I live. There are great coaches and athletes to work with. The weather can be a problem at times. I do quite a few training camps, especially in winter. I often go to Lanzarote of Mallorca to do triathlon training, or I'll go cross-country skiing in Austria, Germany or Sweden.

Triathlete: Have you decided which race you're going to do to qualify for Hawaii? Will you try to get it out of the way early in the season or will you try to squeeze in some World Cups early on?
Henning: I'm looking to qualify at either Ironman China or Lanzarote. I want to get it out of the way early, but I won't be ready before April or May. I may still do a couple of World Cups. I'd like to go back to Des Moines, but it'll be hard to perform well there if I'm training for an Ironman.

Triathlete: So China or Lanzarote? I take it that means you like heat? Do you think that will help you on the Big Island?
Henning: I've always had good World Cup races in hot conditions. The first year I won in Des Moines it was very, very hot. I'm not too worried about the heat and humidity in Hawaii—I feel comfortable in places like that. However, I'd like to try racing for that long in those conditions before Hawaii, and both Lanzarote and China are sure to be hot.

Triathlete: When was the last time you were on a TT bike?
Henning: It's been a while. It'll certainly take some getting used to again. I've been working with Chris Boardman of Boardman Bikes, and he is going to help me get fit and comfortable. I may even spend some time in the wind tunnel. I've seen what that testing has done for guys like Torbjorn and I'm interested.

Triathlete: Speaking of that "other" Danish triathlete, do the two of you train much together?
Henning: We've trained quite a bit together in the past. I know there's a lot I can learn from him, especially now that I'm racing Ironman. Mentally, I think it'll be a little different now because we're both racing Ironman. We're each other's competition as well as training partners, but I think we can both benefit from training together.

Triathlete: Looking at your own natural abilities, do you feel you're more suited for short- or long-course racing?
Henning: I actually think I'm more naturally a long-distance athlete. I've never really had the ability to surge and sprint like a lot of the World Cup guys—that's definitely been my weakness. However, I've always been able to train long hours without getting tired, and I've felt comfortable racing the Ironman distance in the past.