The Power File Behind Ben Kanute's 2:08:10 70.3 Worlds Bike Split
Looking at Kanute's file, it indicates that along that climb he averaged 385 watts for the 8.5-mile ascent.
Photo: Competitive Image / @CompImagePhoto
Heading out the door? Read this article on the new Outside+ app available now on iOS devices for members! Download the app.
There's racing hard from the gun—and then there's a courageous assault on your limits, where you knowingly put yourself out there in every sense of the word and make a statement about yourself as a contender. The latter is the type of racing 24-year-old American Olympian Ben Kanute brought to the table on Sept. 10 when he finished second at the 2017 Ironman 70.3 World Championship in Chattanooga.
Kanute—still new to long-distance racing—is no stranger to good results on tough courses. He won the 2017 Escape From Alcatraz, and placed fifth in a stacked field at this year's Ironman 70.3 St. George (a race won by two-time Olympic gold medallist Alistair Brownlee in his 70.3 debut). Both races are known for their unrelenting bike and run courses, but, as Kanute told Trainingpeaks.com a few days before Chattanooga, he has enjoyed his foray in long-course racing, and has embraced the changes in training post-Rio.
This year's 70.3 World Championship course didn't pull any punches. The swim was non-wetsuit (for the pros) and largely upcurrent, the bike featured an 8.5-mile-long, 8-percent grade climb in addition to 3,000 feet of elevation gain over 56 miles, and the two-loop run was full of tiny rollers throughout that knocked the sails out of the pros and age groupers alike.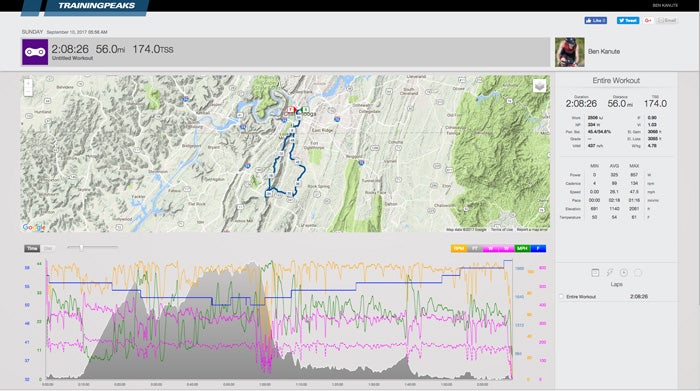 Overall Bike Stats
Bike split: 2:08:10
TSS: 174
Average Power: 325 watts
Normalized Power: 334 watts
Watts/Kilogram: 4.78 w/kg
Average Speed: 26.1 mph
Average Cadence: 99 rpm
Intensity Factor: .90
Variability Index: 1.03
Learn more about these metrics click here.
Kanute's Perfect Day
Kanute led the swim, exiting the water in 24:03, five seconds in front of eventual champion and fellow Olympian Javier Gomez, before quickly establishing a lead out front on the bike as he jetted toward the climb up Lookout Mountain, which started a mere 10 kilometers into the course.
"I wanted to cap myself at 400 watts up the climb," says Kanute. "I had done intervals up Lookout in the days before the race where I played with intensity, and I felt my legs really felt good as I started the climb, so I just held right up at the edge of my zone and told myself I would evaluate things again once I got to the top." Indeed, looking at Kanute's file, it indicates that along that climb he averaged 385 watts for the 8.5-mile ascent.
Jim Vance, Kanute's long-time coach, says Kanute did indeed stay well within his limits during the climb. "I gave him the green light to make the call based on how he felt," says Vance. "He went for it. We both believed he could win. We wanted to put everyone else on their heels from the beginning and make them question a lot of things, and the climb in the early part of this race helped this cause."
Despite the fact that several Ironman and Ironman 70.3 world champions were attempting to hunt him down on two wheels, when Kanute made the crest of the hill he looked around and saw that he was all alone. "Knowing I was still in front gave me the incentive to just keep pushing, and so I did," he explains.
After the initial large climb, the course still took athletes on a number of rollers before a nice long descent and a flat and fast back-half into T2. "I felt really good on that back section, but toward the end of the ride, the intensity started to take a toll," admits Kanute. "For those last five miles into T2 I backed it off a bit and just kind of mentally prepared for the run."
With a four-minute cushion between Kanute and Ironman and Ironman 70.3 world champion Sebastian Kienle (among others), the American would need to pull out one heck of a half-marathon split to take the title.
While Kanute admits his legs were heavy coming out of T2, he still felt he found his stride earlier than expected. However, to those watching, it was apparent that Gomez—who exited the bike just a short distance behind Kienle—was keen to run down the lead and nab his second Ironman 70.3 world title.
"I knew Gomez's pass would be decisive—and it was," says Kanute. At just before the eight-mile mark, Gomez flew past Kanute, pausing only for the briefest of moments on Kanute's shoulder. "He's just such an exceptional competitor and runner," says Kanute. "Once he passed me I just became as focused as possible on running my best race."
According to Vance, Kanute's 1:16:23 was his third-fastest half marathon of all time, and looking at the numbers Vance feels he truly ran the best race possible. "I told him before the race if he took a risk in the swim and bike he would run between 1:14 and 1:16, and I knew not many in the world could beat him if he did that," says Vance. "In fact, if he hit the faster part of that range, we would be congratulating him as world champion, that's how close it really was. We had one of the greatest triathletes ever on the ropes [Gomez], and he went to the final rounds with him. Man, it was awesome."
While Gomez would finish in 3:49:45, Kanute held on for a few minutes later in 3:51:06—a bold result for a young, promising long-course athlete. "I think I had just about as perfect of a race as I could have had," says Kanute. "Honestly, I'm just so pumped."
This article originally appeared on Trainingpeaks.com.