Podium Pro: Meredith Kessler Overcomes Obstacles at 70.3 Steelhead
A broken headset and a ripped wetsuit couldn't keep Meredith Kessler from the podium at Ironman 70.3 Steelhead yesterday.
Heading out the door? Read this article on the new Outside+ app available now on iOS devices for members! Download the app.
The 11-time Ironman champion put her years of experience to good use as she managed to find her composure amid the setbacks and race her way to second place. No wonder her post-race Big Mac and G&T tasted so good! Jackie Hering took the win in 4:07.21, Kessler finished in 4:15.33, and Dede Griesbauer rounded out the podium in 4:22.40.
Triathlete: How were you feeling going into this race? What were your goals/aspirations?
Meredith Kessler: I was feeling excited for a dirty double (Kessler's nickname for racing back-to-back weekends) – always a favorite thing to do! My goals were to fix my previous bike niggles and properly bike how I'm trained to bike, and to also remind myself and seek comfort that, at the age of 41, it's all hopefully still in there!
T: Best part of the race for you?
MBK: The camaraderie with Dede Griesbauer at the front of the race on the bike, taking turns doing the work.
T: Worst part?
MBK: About 10 miles into the bike, my headset fell down, it angled and tilted downward nearly touching my front wheel – it was a sight! Just a bit of bad luck there.
T: How were the conditions, anything you struggled with?
MBK: See above! The road conditions on the bike were a little dicey and rough so just navigating through that for 46 of the 56 miles to make sure I didn't hit anything major in fear my headset would completely fall off and my day would be over. It was a small miracle that the bolts stayed put and that we survived the bike with no additional craziness!
T: At what point did you realize you were going to podium?
MBK: I'm a firm believer that nothing is ever secure until we cross that finish line – that's when we know: when it's over!
T: Which part of the race did you execute best?
MBK: Keeping my composure. This was the theme of the race. Like many people experience in the lead-in and on the day of the race, it certainly had its fair share of adversity. Half the battle for us all is getting to the start line happy, healthy, injury-free and with our chi intact. While I was thankful to be 90 percent of those things, two days before the race, I badly bruised my foot doing a flip turn of all things (how many flip turns have I done in my life?!) and was limping around leading into the race. After some serious icing and ibuprofen, it was tolerable enough to race. The body can be so resilient if we allow it to be! Then, 15 minutes before the start of the race, my husband was zipping up my very trusty wetsuit and it ripped down the entire backside. This just doesn't happen! I sprinted up to the expo and thankfully was able to rent a wetsuit very quickly for $50. Between the foot situation, the pre-swim stuff and the bike bolt drama – I mean, it's a crack up, right? I believe the key, though, with bad luck or any adversity thrown our way is to keep composure.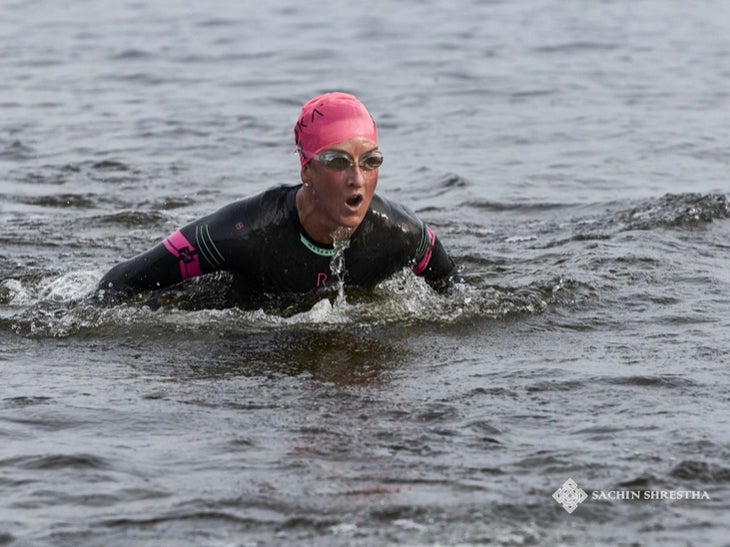 T: Anything you wish you'd done better?
MBK: Triple checked my headset bolts!
T: Post-race food? Any beer/cookies/favorite foods?! Tell us all your secrets!
MBK: I slammed a Big Mac and extra hot French Fries at McDonald's! When we got to the party later in the evening, a refreshing gin and tonic was surely delicious – and a quesadilla!
T: First words your husband Aaron said to you post-race?
MBK: "Way to get it done. Now let's move, we gotta hit the road!"
T: How sore are you post-race, on a scale of 1-10?
MBK: Oddly, I was more sore after the first 70.3 last week versus this one! Maybe a 3/10. Yet ask me tomorrow as two days after any race, I am always more sore. I also did not need to travel too far (it was only a 4.5-hour drive home and I could wear my recovery boots on the car ride, which was ideal) after the race which plays a huge role in that.
T: Any blisters, any chafing?
MBK: Just a little on my thumb from my very low aero bars and me trying to not put too much weight on the bars, thus my arm/hand/thumb positioning was awkward. I wore socks on both the bike and run so no issues there, which is key for me personally.
T: First thoughts when you hit the finish chute?
MBK: WOOF! We made it.
T: Mantra or words that got you through the race?
MBK: Everything ends and this will too! Stay calm. Stay composed. Stay with it. Stay in it. Also, you need to hurry to the finish line to hit the road quickly and get home to a party!
T: Pre-race brekkie?
Maple Flavored Oatmeal topped with Bungalow Munch Granola, a banana, coffee and Shotz Electrolyte Tab in 28 ounces of water. A Shotz Cola gel about 10 minutes before the swim start.
T: What (and when) will your first workout be post-race?
I swam a lush 5,500 yards 'MBK chi' recovery swim today (Monday, the day after the race) with a lot of toys and fins at the end to flush out the lactic acid in my legs.
T: What does your training look like this week?
MBK: This is a key week for some quality active recovery coming off two 70.3s a week apart. It looks like there are about five runs this week with anywhere from 5-10 miles (32 miles of running this week) with an 8 mile progression run built in there, some aerobic cycling anywhere from 90 minutes to two hours, and likely longer smooth swims on the horizon as swimming is like my yoga and meditation! I will be sure to hit my two strength sessions Wednesday and Friday this week as those are always key for injury prevention and stamina for me.
T: What's next on your racing calendar?
MBK: We'll head out west the end of July/early August for another 70.3 double at 70.3 Santa Rosa and 70.3 Boulder – I'm looking forward to it!
T: What does the rest of your racing schedule look like this year?
MBK: It is no secret that I really enjoy using racing for training too. As long as I'm healthy and happy, this works for us. After we got back from those two races, it will be time to recover and then fine-tune for Ironman Mont Tremblant in the middle of August and then try to properly prepare for that elusive race of Kona that eats me alive every year! We'll end the year with Ironman Arizona in later November and Challenge Daytona in December.
T: Tell us who all of your sponsors are…
MBK: I feel very grateful to have these first-class supporters: ROKA, Ventum, ENVE Composites, Rudy Project NA, ISM Seats, Challenge Tires, Panache Cyclewear, Medlie, Vector 450, Red Bull, Bungalow Munch Granola, XLAB Accessories, Ceramic Speed, Omius Tech.
T: Best post-race recovery tip for age groupers?
MBK: Drink your water! Hydrate. Get those zzz's. Sleep. Slap some SP2LIFE superfood in your recovery smoothie for more sustainable energy. Wear any form of compression or recovery boots if you can swing it. I know it's hard with little humans running around, yet even 15 minutes at night before you go to bed is helpful. Most importantly, I up my Vector 450 intake (daily immune function support for gut health too) post-race to prevent getting sick when my body is understandably depleted.