Podium Pro: Holly Lawrence Talks Race Dynamics, F-Bombs, and Hangovers Post-70.3 Worlds
The Brit chats after her second-place finish at the 2019 Ironman 70.3 World Championships in Nice, France.
Heading out the door? Read this article on the new Outside+ app available now on iOS devices for members! Download the app.
This time last year, former 70.3 world champion Holly Lawrence was fighting an uphill battle with a nasty foot injury that doctors feared could end her career. Now—after an impressive return to racing in 2019—the ballsy Brit is celebrating her second 70.3 World Championship podium. Lawrence finished second to the indomitable Daniela Ryf, who earned a record fifth 70.3 world title on Saturday in Nice, France. Up-and-comer Imogen Simmonds, also from Switzerland, came third in what was a highly competitive, thrilling and dynamic race. Triathlete.com caught up with Lawrence as she prepared to jet home to Los Angeles after enjoying a few days of R&R on the French Riviera.
Triathlete.com: How were you feeling going into this race?
Holly Lawrence: Generally good, training had gone really well and I was really happy with where I was. I flew out to Nice after the 70.3 European Champs to spend a couple of weeks on the course so I felt like I was as prepared as I could be.
T: What were your goals and aspirations?
HL: To have the best race for myself regardless of position, but hope that would put me on the podium.
T: Best part of the race for you?
HL: I'm not sure there was a "best" part—it was very stressful out there. But I love to climb and I really loved that aspect of the bike course.
T: How were the conditions, anything you struggled with?
HL: Just the descent on the bike course was going to be challenging for me, I'm not the best descender so maximizing what I could do was key. I was relieved to only lose two minutes to Daniela, but obviously that's not ideal!
T: At what point did you realize you were going to podium?
HL: I never count anything until I cross that line but felt I was secure in second, but not too secure.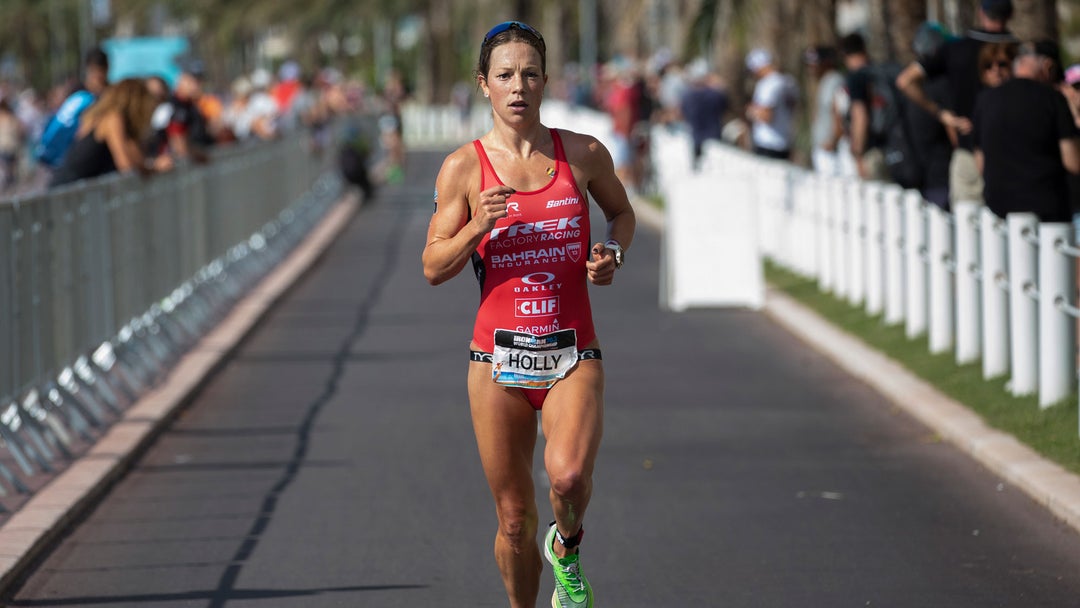 T: Which part of the race did you execute best?
HL: My coach, Dean Golich, begged me before the race that whatever I did I had to take the first steep section of the climb easy. It lasts about five minutes—and even if this meant letting people go—he wanted me to take that section easy. It was torture to let a bunch of people pass me, but most of those girls paid for it later so I was happy I stuck to the plan.
T: Anything you wish you'd done better?
HL: I'm not very happy with my swim. I started out on Lucy's (Charles-Barclay) feet but lost touch after a little while and was in no man's land swimming with who I thought were good swimmers, but we all bunched together so much and made it easier to keep more bodies with us, which made for a more hectic start.
T: Post-race food? Any beer/cookies/favorite foods?! Tell us all your secrets!
HL: After eating so much candy pre-race and all the sugar during the race I just felt like protein and plain foods afterward, but I do like to indulge in some celebratory drinks after a big race like this so was definitely nursing a hangover the day after!
T: First words your coach said to you?
HL: He sent me a gif that said "Who is awesome?!" with a dude pointing at me. We have a funny text exchange going between us consisting of a lot of gifs. Dean is such a great guy, a great coach with a strong science background who is a good influence on me; he gets me.
T: How sore are you post-race, on a scale of 1-10?
HL: I can't do these ratings! To me, 10 would be on my deathbed, so maybe a 4-5 the next day coupled with the hangover!
T: Any blisters, any chafing?
HL: Nope—except a big nasty scratch on my back which I'm guessing is from one of the girls in the swim.
T: First thoughts when you hit the finish chute?
HL: Thank F**K. I was massively struggling the last couple miles of the run. When I headed out on the run I ran faster than I usually would to try to eat time into Daniela and see if I could get back within distance; it was a pretty ballsy move, but was also my only way to try and get her.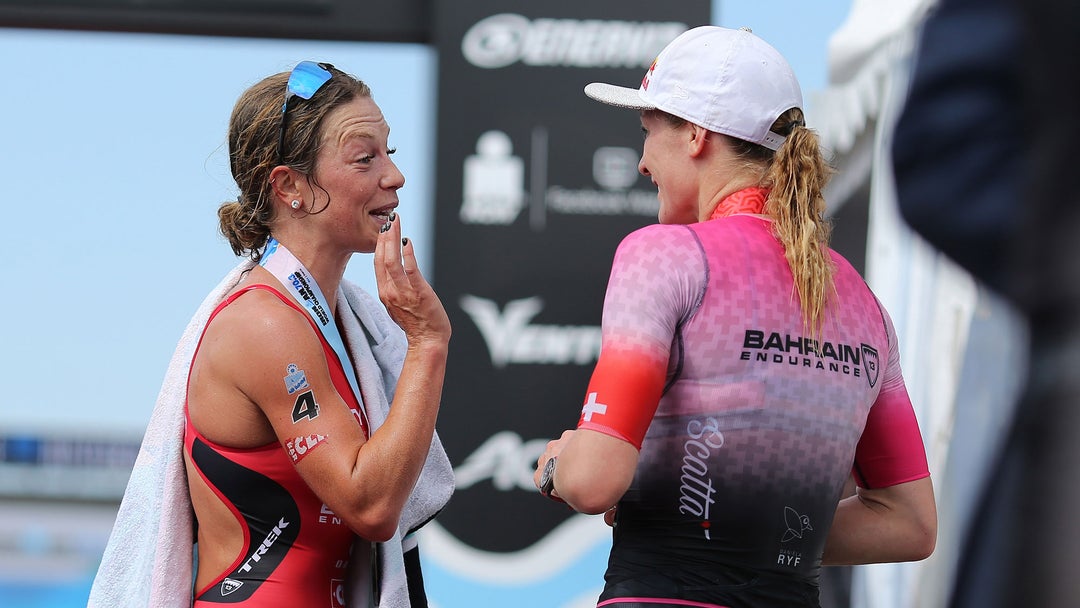 T: Mantra or words that got you through the race?
HL: Stay strong. My coach's words. Also I've been using the app Headspace for a while now and I know this'll sound crazy, but when I think of a negative thought I just label it "thought" or "feeling" and it helps you to distance it from yourself so you don't get involved in thinking about it.
T: Pre-race brekkie?
HL: Oatmeal with almond milk and egg whites, blueberries, maple syrup, and a boat load of coffee.
T: What (and when) will your first workout be post-race?
HL: I did a little run a couple of days later with my friend in Nice, but I won't be doing anything until Saturday and then it'll be whatever I feel like for a week.
T: What does your training look like this week?
HL: I was given a week totally off training and then some fun training next week.
T: What's next on your racing calendar?
HL: Not sure yet, I'll decide with my coach in a few days. I've been racing since last December (coming back from the injury) so I'm due some downtime and I want to have a good winter's training this year.
T: What does the rest of your racing schedule look like this year?
HL: TBD.
T: Tell us who all of your sponsors are…
HL: Trek, Bahrain Endurance 13, Oakley, TYR, Clif Bar, Zwift, Garmin, Santini.
T: Best post-race recovery tip for age groupers?
HL: Massage, lots of fluids, protein—and then just enjoy it!