Podium Pro: Heather Jackson Gets Win at Inaugural Ironman Vitoria-Gasteiz
The roaring crowds at Spain's Ironman Vitoria-Gasteiz helped carry American pro Heather Jackson to her fourth full distance title this weekend.
Heading out the door? Read this article on the new Outside+ app available now on iOS devices for members! Download the app.
The former Princeton ice hockey player took the lead early in the bike and remained in control of the race, all the way to the finish line–a finish line she says she'll never forget. She took the win in a time of 8:52.10, with Nina Derron in second in 9:05.33, and Judith Corachan rounding out the podium in 9:13.37. Jackson spoke to Triathlete.com while still in northern Spain, kickstarting her post-race recovery with a few days vacation in the Basque Country.
T: How were you feeling going into this race?
HJ: I felt pretty relaxed going into this race, which was a first for me for a full Ironman.
T: What were your goals/aspirations?
HJ: I was fortunate to already have my Kona slot prior to this race and so my main goal was to have a solid practice run-through in terms of pacing and nutrition over the full distance, as it is so much different than racing a half distance.
T: Best part of the race for you?
HJ: While the bike course was beautiful and an awesome mix of rolling terrain with a few climbs and great support, the run course was indescribable. There were just thousands and thousands of fans on the entire course just screaming and cheering so loudly. I have never experienced anything like that.
T: Worst part?
HJ: Honestly, I can't think of anything at all. I have nothing but incredible things to say about this event!
T: How were the conditions, anything you struggled with?
HJ: Conditions were absolutely perfect. It looked like it was going to storm or downpour right before the swim start but it never did. Instead, we had a bit of cloud coverage early on, so it never got too hot. We had some wind on parts of the bike, which I will always take. And the run course was just phenomenal.
T: At what point did you realize you were going to win?
HJ: Literally everything can change in a matter of seconds so you can never really feel like you have it wrapped up. I was struggling on the last lap knowing I really had to go to the bathroom! I knew I had a gap but I wasn't getting any time splits so I wasn't positive on how much time I had, but it got to the point where I knew I absolutely HAD to go into the bathroom to be able to keep going. That happened with about two to three miles to go, so really only after the bathroom stop when I got moving again did I feel like I could actually bring it home.
T: Which part of the race did you execute best?
HJ: I would say I executed the bike the best. I didn't want to go out too hard, so I rode the first third of it (37ish miles) "easy," then I built a bit into the second third and then I felt I rode the strongest at the end.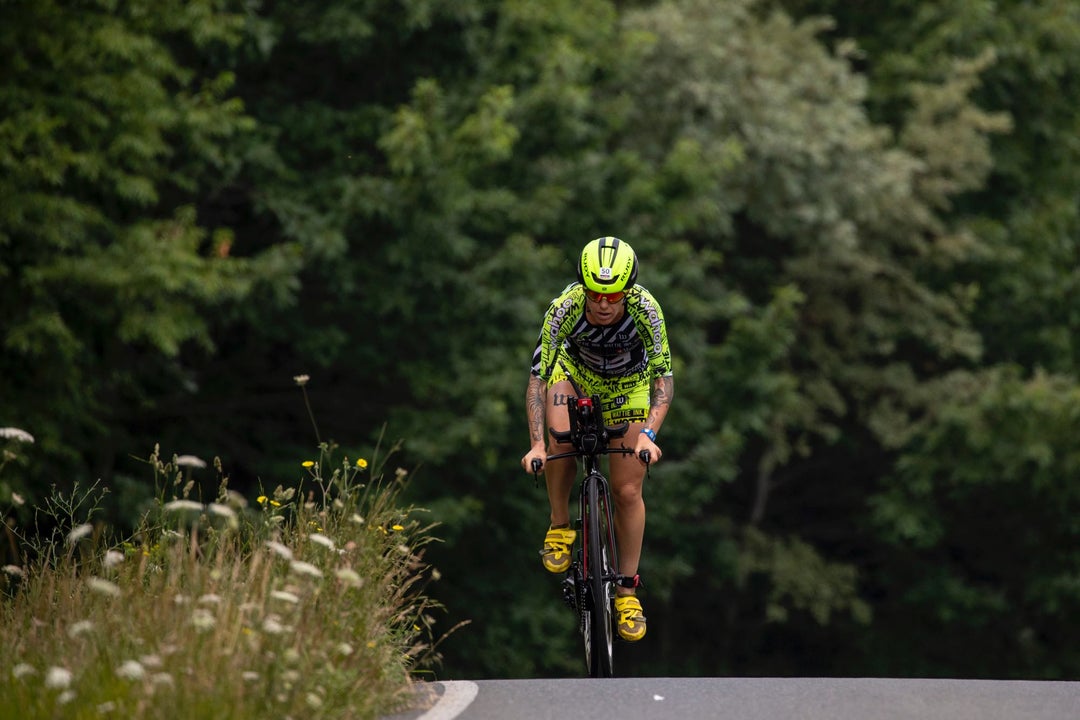 T: Anything you wish you'd done better?
HJ: I wish I had swam a little bit better. I know the exact moment when I was losing touch with Judith and Nina about 300 meters or so in and I want to learn how to fight more in that moment, or be able to keep pushing past that point in order to make a faster swim group. I also had better pacing plans for the run, as I went out a little bit too hard, but in the end I'm fine with that, as I just couldn't contain myself with those crowds just roaring!
T: Post-race food? Any beer/cookies/favorite foods?! Tell us all your secrets!
Haha! Definitely all salty food in sight immediately. I think I grabbed for the potato chips after this one. It was more just a relief that we finally had the opportunity to enjoy the pinxtos bars and restaurants here without being completely anxious about what we were about to eat. I ate a lot of pizza and bread the entire week here leading into the race because I just wasn't sure what a lot of the local delicacies were and I don't know the language, so we were having difficulty figuring the menus out. A few hours after the race, my husband Wattie (Sean Watkins), Josh Amberger and I ended up going to a Japanese Teppanyaki joint for some sushi. I was craving anything salty–nothing else sugary or sweet, and I was so over pizza and bread, so sushi hit the spot. Then we ended up heading back out for the finish line and had some nice red wine throughout the night. We also got a gelato cone, the gelato shops here are amazing!
T: How sore are you post-race, on a scale of 1-10?
HJ: To be honest, yesterday I didn't feel too bad, just generally tired and fatigued. Today (Tuesday), I woke up a bit sorer but still not terrible. We didn't have extreme conditions and the run course was pretty flat, so no crazy downhills that would really pound the muscles so I'm not too too bad. Just overall I'm feeling very, very tired.
T: Any blisters, any chafing?
HJ: I literally lube my entire body in a coat of TriSlide, haha, and my HOKA ONE ONE Carbon Rockets are money…so I've got nothing. I'm so sorry-I feel bad sharing that! Haha.
T: First thoughts when you hit the finish chute?
HJ: Well, the finish chute lasted about a half-mile because you run past the finish line in a crowd of just thousands and thousands and then do an out-and-back and come back down the chute, it was spectacular! I was just trying to soak it all in. It was so loud and it felt like the town square was just shaking or vibrating. I'm sure I had some sort of thought like: "Thank goodness that run is over," as the final 10K of that run was pretty rough, but I was just overall so happy and trying to soak in every second.
T: Mantra or words that got you through the race?
HJ: I was in a pretty good mental state for this race, just staying really positive and happy, which always makes me race better. I know on the bike I just kept saying to myself, "You GET to do this…" I was just staying so grateful all day that I'm able to do this sport.
T: Pre-race brekkie?
HJ: I had coffee, a bottle of Herbalife24 CR7 Drive electrolytes, some oats with milk, and two pieces of toast with jam and banana slices on it.
T: What (and when) will your first workout be post-race?
HJ: Josh (Amberger) and I swam for about 30 minutes yesterday and we just went for another 2K swim and we're about to go out for a ride, but these are more just to keep the body moving and help get rid of some of the soreness.
T: What does your training look like this week?
HJ: We are here for another couple of days to check out Northern Spain, so I'll just do short, light workouts to break a sweat each day until this weekend. I wouldn't really say it's "training." I'll just keep doing light stuff all this week. We fly to Boston on Friday to go visit my Grampa in New Hampshire for a few days, so Wattie and I will probably get out for a longer ride this weekend, maybe two to three hours. I'll just keep everything pretty aerobic until I feel good to push again, so probably a couple of weeks until that.
T: What's next on your racing calendar?
HJ: I'm not positive yet. This race really kicked off a bigger volume Kona block for me for July and August. I was using it as a test to see where I need to focus and now I will go home to Bend and put in a pretty solid four to five-week block in July/August before using September to sharpen up for Kona. I will end this upcoming block with a 70.3, which will probably be Santa Cruz 70.3. This will force a taper and recovery week about a month out from Kona.
T: What does the rest of your racing schedule look like this year?
HJ: Obviously Kona is the big goal, but I will also return to Ironman Arizona to try to defend my title. Those are really the two main goals left.
T: Tell us who all of your sponsors are…
HJ: Herbalife24, Argon 18, HOKA ONE ONE, Wattie Ink, Wahoo Fitness, ENVE Composites, Masimo Personal Health, Pioneer Cycle Sports, BlueSeventy, Rudy Project, ISM Seat, Marc Pro, Shimano, 51 Speedshop, Zealios, Speedfil.
T: Best post-race recovery tip for age groupers?
HJ: Marc Pro! (an electrical muscle stimulation device). Unless we are out and about, I have my MarcPro on in the hotel room (and the entire flight home) to keep the blood flowing to all of my sore muscles. I also take a lot of epsom salt baths to help sweat out the toxins and then stretch, foam roll and trigger point ball after the hot bath. I also keep moving with the short 20- to 30-minute swims or spins to keep the blood flowing and break a sweat. I try to drink a lot of water right now to also flush everything out.