Magali Tisseyre Discusses 2011 Races
I have one ultimate goal this year and it is to win in Las Vegas, have my best race of the year on that day.
Heading out the door? Read this article on the new Outside+ app available now on iOS devices for members! Download the app.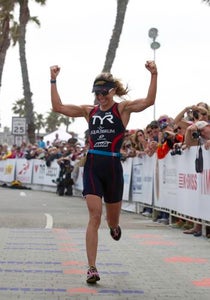 Inside Triathlon senior editor Jennifer Purdie chatted with Canadian Magali Tisseyre about her podium finish at the Oceanside 70.3 and what is coming up for her this year.
Triathlete.com: Congrats on your podium finish at Oceanside 70.3. Can you walk us through the race?
Tisseyre: On the way to the race, I knew my heart was at the right place. I was hanging out with mom and a great new friend (teammate Erin Spitler), listening to some of my favorite songs on the way to the race.
I was not overly stressed. I felt excited. It was my first time doing this race and I had not seen the bike course. I loved how there was an element of mystery in the day and a fun adventure to come.
I arrived in transition and got everything set up for the fight. Siri was there, full of her usual great energy. I remember feeling confident.  Siri had been great at preparing me mentally. She said I was ready for a good race but to take away expectation and just go for my best effort on the day.  That was perfect for me. I had my mind set on giving it my best and just couldn't wait.
After the warm up, I ended up having to run to the start as I had taken a little too much time (as usual) getting ready. A few minutes after I arrived in the wave line up, it was time to enter the water. Sometimes it is better not to have too much time to think—in this case, about curious and huge sea lions hanging all over the swim course.
We swam to the starting point and as soon as the gun went off, the sea lions were out of my head. They had been replaced with a more important thought: FEET!! FEET!! HOLD ON FOR YOUR LIFE!!! I was swimming at a whole new level at the pool and had to prove to myself that I could transfer that to open water.
After a sprint that placed me in a good position, I recognized the long arms of fellow Canadian Heather Wurtele and started hanging on to that draft like my life depended on it. Someone hit my TYR NestPro goggles, but it didn't bother me. I could tell they were still on tight. I also noticed that Mirinda Carfrae was on my left side. We had our eye on the same big fish. After a series of waves, I lost the line behind Heather and Mirinda slipped in and it was now smaller feet that I was following. Maybe Mirinda has small feet, but boy does she get them going. The three of us completed the swim together. It was not an easy task when the waves (from boats I think) hit us. It was a struggle to stay on those feet but I never gave up. All three of us exited the water together.
I sprinted past Heather in transition. My transition in San Juan was not optimal and changed race dynamics, so I was not going to take that chance this time.  I exited transition behind Mirinda with Heather chasing. After a few minutes I had passed her and was in third (Dede Griesbauer and Kelly Williamson got out of the water ahead). I had never before passed Mirinda on the bike and was catching up to Dede and Kelly quite fast. My legs felt good enough and I was at a pace I knew I could handle, so I got very excited when I quickly moved into the lead. At the turnaround, I noticed I had gained a lot of ground and felt I could be having a good day. We have not done much intensity work on the bike yet but we have been doing base and some quality work and in the two races I did this year, the bike has come easier than ever. I was excited for the first half of the bike and had no idea how far ahead of the rest of the field I was. At mile 40, I made a mistake. After a short climb, I turned around to see how far ahead I was. I was told never to do that, but I was starting to feel tired and couldn't resist. The person behind me seemed too close for my taste and I started to think I had to pick up the pace. It was also the time where we had a head wind and the hills were tough so I had to fight more to keep on task and keep positive. As I had not fueled well in San Juan, I made sure I kept the calories coming and focused on my own effort. I got my fuel belt gel flask going and had more caffeinated GU gels on that bike than ever.
I later turned around again to see Melanie McQuaid about to pass me, looking very strong. And she did so quite fast.  As I watched her slowly move away, I brought the cadence up and used that energy to bring my speed up as well. But I could feel it was about time the bike ended.
Into transition, though my legs felt quite tired, I had fueled well and felt ready to attack the half marathon. Off the bike, my turnover was better than it had been two weeks ago, I could tell I was getting fitter and the run would be better. The first kilometer went quite well. I remember spotting my friends holding a Quebec flag—what a surprise and motivation—things were looking good. And all I could think of was to get back in the lead, trust my training and just go. Then, in the second kilometer of the run, came a little "uh oh."  My medial quad on both legs started twitching. I definitely didn't want a cramp. I kept the pace up but was careful about my stride length and immediately started grabbing coke and Gatorade at every aid station. At the same time, I did manage to keep the pace up, taking a calculated chance, and saw I was getting closer and closer to Melanie, in the lead at the time. I caught her before the turnaround, but the twitching was still there. I felt like I was running on a fine line.
I was now in the lead again but fast runners were chasing and I wasn't having my best run. I noticed that Heather Jackson, off the bike quite close behind, had started getting closer. I noticed because I had turned around again. Thankfully the course was full of great energy to get me going. My mom was jumping around all over the place; my teammate, Misato Takkagui, was holding up huge panels of encouragement; the course was beautiful; my godfather was among the crowd and so was another teammate, Jenny Fletcher. Siri was the most hyper one of them all. She was just amazing. I was loving it and fueling on our outstanding energy.
I ended up getting passed by Mirinda and Heather Jackson and held on for the closest third I've had in such a strong field. Fellow Canadian Heather Wurtele was going strong in fourth and definitely kept me pushing once I was in third. Until I reached the final line, I was running for my life.
The feeling I had at the finish line was just amazing. It was my best race so far and we are only getting started. I was excited and still am today. I feel more confident than ever. Thanks to my great family of sponsors, my team and everyone that followed and cheered.
Triathlete.com: What did you think of the course?
Tisseyre: It was one of my favorite courses so far, particularly the run course. I loved the part of the course that was along the beach and the ocean. It was very spectator-friendly on the run course and the energy was just great.  The run could also be divided into sections easily, which made it go by quickly. There were also a few slight inclines that I enjoyed. It was also definitely one of the faster run courses.
The bike course was challenging, especially towards the end. I love this kind of course as it doesn't allow for too much drafting and separates the cyclists. There were two good climbs, some fun descents and definitely always a challenge. I also liked that the first section of the course was fast, flatter and there was a turnaround that allowed us to have a better idea of our situation in the race.
As for the swim, the water was not as cold as it had been reported to be in the past years. The water was not too choppy—it was perfect and straightforward. I enjoyed it very much.
Triathlete.com: What does your racing schedule look like this year?
Tisseyre: My next race is Wildflower. I did that race last year for the first time and just loved it. It is a special race and I want to have a great day on that course. I also know the field will be quite competitive and I love that.  After Wildflower, I will travel back home to Quebec for some down time; then I'll be off to Europe to race Switzerland 70.3, do a camp in France with Siri and the team, then race U.K. 70.3, then Rev3 Portland or Vineman 70.3, Calgary 70.3, and finally, the priority, 70.3 in Las Vegas. I don't have definite plans yet for after Las Vegas. It will depend on how the race goes. I have some ideas.
Triathlete.com: What are some of your goals for 2011?
Tisseyre: I have one ultimate goal this year and it is to win in Las Vegas, have my best race of the year on that day.
Also, my general goal for this year is to raise the level of my racing to the top of the field in 70.3. Last year I did not choose races that presented a field that was as competitive as the ones I am facing this year. It is time to step it up and I feel confident enough to do it now. Oceanside was the first big one for me and it has been so far so good.
Triathlete.com: You have a very cool website—mightymagali.com. Who came up with the idea of the superhero theme?
Tisseyre: The guys at Trakkers were nice enough to offer to make me this fun website. I told them I would really like to have a cartoony, fun theme. Because my former teammate, Linsey Corbin, came up with my nickname, mightymouse, I think things evolved from there into the superhero concept and they made it happen in a wonderful way. My manager, Travis Blanton, was also involved in developing the concept and did a great job with it. I was also lucky enough to have a bike sponsor that wanted to play with the theme and make a custom paint job on my "Blue" bike. I got my superhero on there, too. It helps me keep it fun and exciting. That is so important.
Triathlete.com: Where do you train?
Tisseyre: I follow my coach, Siri Lindley, as much as I can. I started the season doing base work in Santa Monica in January and Febuary, then we went to the desert outside San Diego and will be training here until Wildflower. After that, it will be Europe and then back to Santa Monica to get ready for worlds.
Triathlete.com: What types of courses do you prefer to train and race on?
Tisseyre: I love challenging courses for training or racing. I love it when I feel that not only the competition, but also the event or training ground becomes the actual challenge. Since I started with team Sirius, I have been really enjoying long climbs on the bike, also long cross country climbs on the run (for example, trails at Will Rogers state park back in Santa Monica). I have chosen more challenging races this year. I am particularly excited about the U.K. 70.3, as I heard the conditions and course are challenging. Also, since I am now in the desert, I have discovered the true definition of windy. I am discovering that on some days I enjoy flat, windy rides. I am getting used to them. They help me get stronger. Still, I have to admit, since I got to the desert, I have had some brutal moments at the end of long rides when the sugar is low and the anger is high. Wind is love and hate for me.
[sig:JenniferPurdie]