Katie Zaferes On Letting It All Sink In
We check in with newly-crowned ITU World Champion Katie Zaferes while she relaxes in the Spanish countryside. 
Heading out the door? Read this article on the new Outside+ app available now on iOS devices for members! Download the app.
There's an ITU World Cup in Banyoles, Spain, this weekend, and the brand new ITU World Champion is in town. It's one of her favorite places in the world and she's in the best shape of her life. She loves the roads and trails of this particular corner of Catalonia, and Lake of Banyoles is simply one of the most beautiful places on Earth to swim.
But Katie Zaferes isn't there to race. Or even train. She came to her favorite place in Europe to relax with family and friends and let the last week sink in a bit. After three years of coming oh-so-close to achieving something that once seemed impossible, she's now just the fifth American woman to claim the title of ITU world champ. Twelfth place would've been good enough to earn Zaferes the series title at last weekend's Grand Final in Lausanne, Switzerland, but in true champion form, she went for the knock-out punch and sprinted to victory.
We caught up with a relaxed and reflective Zaferes as she enjoyed the final days of her Spanish vacay.
Triathlete: What was your biggest fear in the days and hours leading up to the Grand Final? 
Katie Zaferes: My last two races were crashes, so that was definitely something I was worried about. The one in Hamburg I definitely couldn't avoid. I guess I could've avoided the one in Tokyo too if I just didn't crash. That one had a little more impact on me physically, but luckily it wasn't as big of a concern as we thought in the first 24 hours.
Because of all that my biggest fear was just getting through the bike course. Those crashes did affect my confidence on the bike, and there were certainly technical aspects on the course that I was a little more nervous about than I'd normally be.
Triathlete: Were you more nervous than usual at the start and feeling the weight of expectations? 
KZ: Not really. I feel like I've done a good job of always redirecting 'world champion' thoughts. I wasn't thinking 'I need to be 12th.' My thoughts were more process-driven: swim, bike, then run. People might've been thinking, 'you only need to get 12th,' but that's still really challenging. You have to have a good race to do that. I had to race; I couldn't be conservative—not in any large sense. I think I was a bit conservative on corners because one of my big goals was to have a safe ride.
Triathlete: You grew up running at a pretty high level and must've had some lofty goals, but when was the first time in your life you remember thinking that you could be a world champion or that you wanted to be a world champion? 
KZ: I never really had thoughts that I wanted to be a world champion or that I wanted to go to the Olympics. It's not that I didn't want to go, it's that I realized such a small number of athletes become Olympians or world champions. It always seemed like an unrealistic goal. But in the last couple years, as I've been on the podium consistently, I started writing it in my goals in my journal at the start of every year. It's not that it's something I didn't want until recently, but it always seemed far-fetched until these last couple of seasons.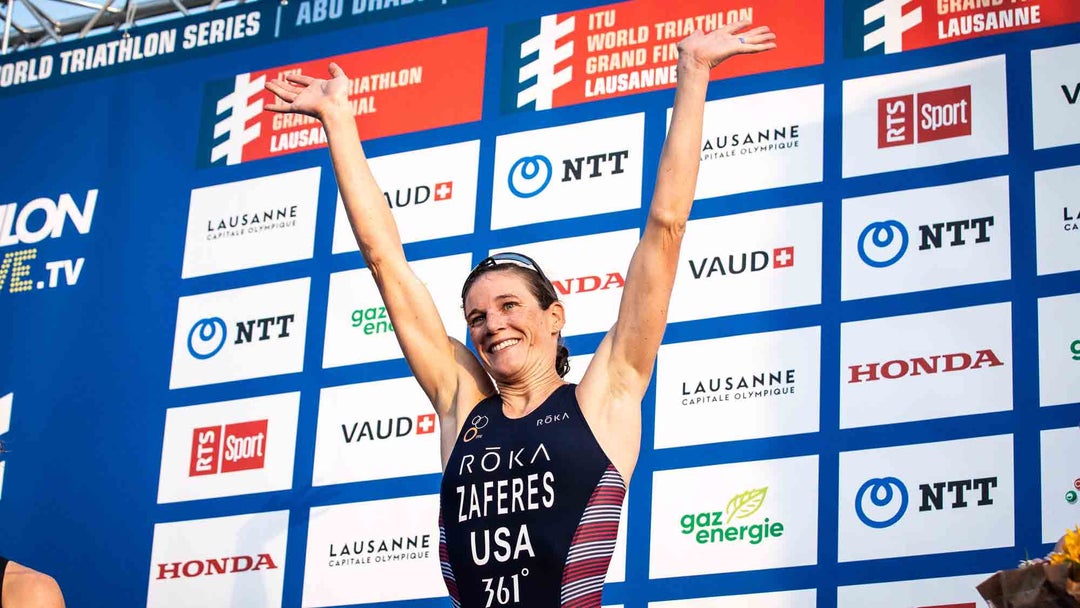 Triathlete: You often hear athletes say that a big win hasn't really sunk in in the moment. Looking back on the finish last weekend—and the podium celebrations and the interviews and the all the photographs—did it feel pretty surreal at the time, and have you been able to let it sink in a bit? 
KZ: There's like a 'woah, I really did this!' feeling. Last year I got as close as you can get without actually becoming world champion. That made me even more driven, but it also made more understanding that you only get it once you get it. Anything can happen until that moment.
What's felt really good is to share it with people—with my family and with Tommy. This was the year that a lot more of my family and friends were at races. It made for a really good year outcome wise, but it also made it more special because I was able to share it with all the people that go into it. I wouldn't be a triathlete let alone a world champion without all those people. So that's what I've been thinking about since becoming world champion—like all the people who were a factor and guided me along the way.
Triathlete: If you could only have one, would you rather win a world title or an Olympic bronze medal? 
KZ: Oh man that's hard [long pause]. I hate these questions [another long pause]. I guess a world title.
Triathlete: What about a silver? 
KZ: [Short pause] Still the world title.
Triathlete: Have you been thinking about Tokyo 2020 much over the past week? 
KZ: Not right now. With the Grand Final going that way—not just getting the world title but winning the race—it made me feel confident. Even though it was only two races that hadn't gone as planned, it was enough to allow some doubts to creep in. You start to think 'what if I'm not the same athlete?' You start to have those 'what ifs.' This really helped get that confidence back and feel driven and motivated about the next steps going into 2020.
Triathlete: Some federations do all discretionary Olympic spots; the U.S. has one. Does it help knowing that there's that discretionary slot out there after crashing at the Tokyo Test Event? 
KZ: It's comforting, I guess. I think USAT has pretty clear criteria that they're following for the discretionary spots. Obviously anything can happen, but I feel like if I just keep doing what I'm doing then I'm confident I'll be on the team come August.
Triathlete: A lot of you are racing for the same country but training with different groups from around the world. Has the relay helped bring Team USA together a bit more, especially since it looks like you'll have a good shot at a medal next summer? 
KZ: I think the relay has been a lot of fun for everyone. It's fun to try different mixes of teams and figure out how we can all work together. It's definitely brought the group together more and I think we all enjoy the unknown of it. We're all trying to figure out the right combination.
Triathlete: What's an interest or hobby you have outside of triathlon that might surprise some people? 
KZ: I don't know if I have any interesting ones, but I really like to journal. I have three different ones—four if you count TrainingPeaks. I always bring my journals and my pens everywhere I go. I did it a bit before Rio [2016] but I've been doing it a lot more since. It's gotten a lot more finessed. I have my planner, which breaks down what I'll be doing each day by the hours. I have my written journal, which I write in every night. I'll write 10 things of gratitude and then three things that I want to work on the next day. And one of my friends just gave me a goals journal, which I'll use for breaking down the specific goals of each race.