Meet Kona's Oldest Competitors
Meet two of the inspiring age-group athletes who will compete in next week's Ironman World Championship.
Heading out the door? Read this article on the new Outside+ app available now on iOS devices for members! Download the app.
Of all the 2,500-some athletes slated to participate at the Ironman World Championships on October 12, arguably the most astonishing athletes in the field aren't the pros. They're the select septuagenarians–and even octogenarians–who are defying the odds by continuing to compete well beyond the age of most other athletes. Here's a look at the oldest female and male competitors toeing the line in Kona this year.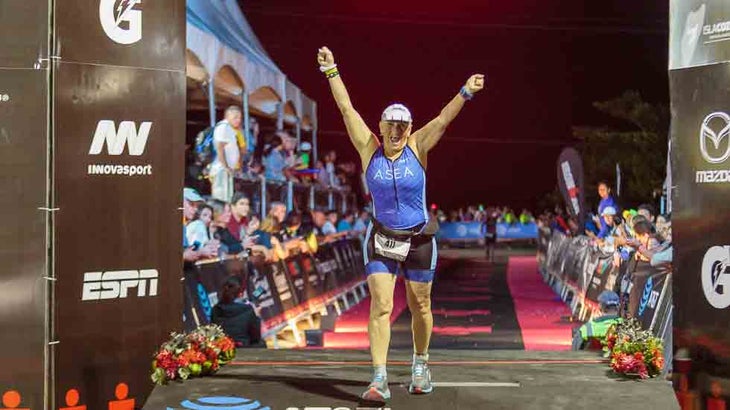 Oldest Female: Dexter Yeats
Age: 75
Hometown: Hayden Lake, Idaho
When Dexter Yeats did her first triathlon in the late 1983, it was so rare for women to compete that organizers didn't even have awards for the top three females. But, as a professional truck driver, the gender gap didn't really phase her. "They gave us each a red rose from a local grocery store instead," Yeats recalls.
After some fits and starts in the sport while juggling her career and family over the years, Yeats returned to racing for good when she moved to Coeur d'Alene, Idaho and jumped into the Ironman there. By 2018, she found herself on the top step of the Ironman 70.3 World Championships in South Africa, having won her 70-74 age group. She's raced in Kona six times before, but never with the distinction of the most senior athlete in the field–until this year.
"It's an honor to be sure," says Yeats. "I've always admired the oldest athletes who have competed in the past because it's not an easy race for anyone, let alone an older athlete."
As a kid, Yeats cut her teeth in sport through ride-and-tie, a cross between trail running and endurance horse riding, where a pair of competitors take turns running and riding a horse over distances up to 100 miles. She did her first triathlon–on her son's bike–back when most people had never heard of the sport. So she's thrilled to see the progression women of all ages have made in triathlon since then.
"Seeing the growth in the sport is wonderful," she says. "When I first qualified for Kona in 1993 as a 45-59 age-group athlete, there were only 20 women in that age-group. Now it's one of the largest groups."
Having solidified a lengthy and impressive career in triathlon, Yeats has no plans to stop anytime soon: She's already planning on racing Ironman Canada next July, where she hopes to nab yet another slot for Kona 2020.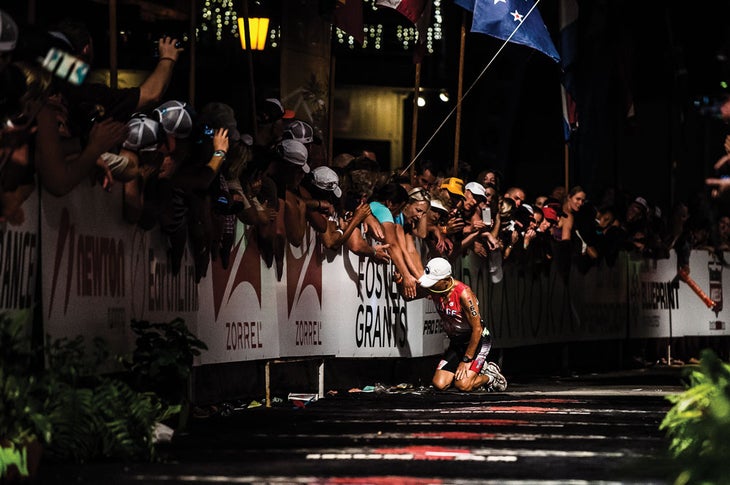 Oldest Male: Hiromu Inada
Age: 86
Hometown: Chiba, Japan
In 2015, Hiromu Inada was just strides away from the finish line at the Ironman World Championship when he collapsed, his legs no longer able to hold the weight of his body. He slowly gathered himself and stood up, took a few more steps, and fell again. The sequence repeated until Inada, then 83, was finally able to cross the famous threshold.
But Inada was disqualified. His time? 16 hours, 50 minutes, and 5 seconds–just a few blinks away from the 16:50:00 cut-off. Inada could have taken the heartbreak as a sign that perhaps his body just wasn't able to withstand the stress of an Ironman. Perhaps, at 83, his time had come.
Instead, Inada used that moment as motivation. He returned to Kona one year later and triumphed, finishing under the cut-off as the oldest person to ever complete the race. And he hasn't stopped since. In 2018, Ironman organizers had to create an 85-and-over age category just for him. After nearly two hours in the water, eight hours on the bike, and a 6:28 marathon, Inada yet again beat the cut-off, completing the course in 16:53:49.
Inada, a former news anchor who took up triathlon at the age of 70, has dedicated his retirement to the sport. He works out six days a week, often alongside athletes decades younger. No surprise, Inada's built quite the fanbase in his hometown as well as around the world–and he takes his status as both an Ironman and as a role model quite seriously.
"If there are people rooting for me, then I think it's my obligation to meet their expectations," he says. "It's an extremely tough race for an old man like me. But there's a part of me that wants to challenge myself and see how long I can keep competing."