Kona In the Rear View Mirror
Now that the Kona dust has settled, we caught up with Matt Dixon of Purplepatch Fitness, coach to many of the top pros, including Chris Lieto, Linsey Corbin, Rachel Joyce, Luke Bell and Meredith Kessler.
Heading out the door? Read this article on the new Outside+ app available now on iOS devices for members! Download the app.
Now that the Kona dust has settled, we caught up with Matt Dixon of Purplepatch Fitness, coach to many of the top pros, including Chris Lieto, Linsey Corbin, Rachel Joyce, Luke Bell and Meredith Kessler. Dixon looks back with us on the highs (Joyce's 4th place finish) and lows (Lieto's disappointing run) of Kona.

Triathlete.com: So, clearly Kona didn't go the way you and Chris hoped.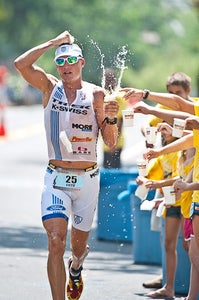 Matt Dixon: No it didn't. But you can look back at the year and be really deeply satisfied. Looking from 2008—when we started working together—and earlier, the last time he had won a half-ironman was in 2003. So from 2003-2007 he had a lot of seconds, a lot of thirds. But in 2010 he won 3 or 4 half-ironman races, this year he was second at the half-ironman world championship, he won Texas half ironman with a great run, and unfortunately after Texas he got an injury that really impaired our ability to do that much run training.  Obviously we kept that quiet but until Kona we were sort of nursing and managing around it. I think last year was the last year that Chris was 100 percent focused on Hawaii. Which is a good thing, as I think Chris has been more satisfied this year—he's become more family oriented, and he was very relaxed over the winter and spring with his training—living in Hawaii and there were more things important to him than just Kona.  He was certainly doing the work—he wasn't being lazy—but he was definitely going into Hawaii thinking that it might not go as well. He certainly wasn't thinking, 'nothing else matters.' There were other things that mattered this year. All of that is the backdrop to: he blew up and it didn't go as planned.  But we can also look back and go, 'wow, he's really had an amazing year.' He's the best athlete he's ever been.  And he's almost 40. That's really inspiring. This year he's really enjoyed his family—he has a great family—and his life more than he ever has before. I think you get to this stage in your career where that's okay.
This year's Hawaii was a 1 in 20 years kind of race. They had a tailwind on the way home, there was no wind whatsoever, and everyone else has gotten a lot stronger on the bike—let's play it fair—he had to work incredibly hard to even get a five-minute gap. Way harder than he had to work in 2009 to get a 12-minute gap. Way harder. And he paid the consequences.

Triathlete.com: If Kona won't be his main goal for 2012, then what might that be?
Matt Dixon: We're still deciding. If they change the rules in Kona—to be a 20-meter draft rule—which I think would be ideal because the men's race now is so…we see power files where you're sitting three back and we're still seeing a lot of energy, especially with the new aero bikes. If tomorrow they said, "we're going to change it to 20 meters," we'd go full in for Kona because it would change the whole dynamic of the race and make it a true triathlon, versus now—it's a shit show. Every runner would have to earn their bike ride. Right now it's a group mentality where people just blow themselves to bits. It's a shame in a way because you have 50 percent of the field explode every year. You don't get to pace or have your best effort over eight hours or whatever.
I'd like to see him go do some other great races. In terms of Ironman, maybe Melbourne, Frankfurt or New York. We will probably have Vegas [70.3 world championship] as a key goal. I think that race is legitimate and will become more and more legitimate in the coming years, versus Clearwater.
Triathlete.com: Both Chris and Julie Dibens have said that they keep hearing people say, "if you just let up a little on the bike and conserve for the run, you'll have a better race," but Chris has said that he is always going to try to get from point A to point B as fast as he can and cycle to his ability. Are you two on the same page with that approach?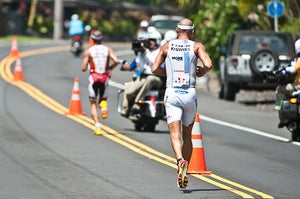 Matt Dixon: The people that are most vocal about Chris are the people that are least knowledgeable about the real dynamics of the pro race, which are very different than the amateur race. Neither of these athletes are simply getting on the bike and biking as hard as they can go and playing Russian roulette and thinking, 'Oh, I might explode!' If Chris is going to win that race, he needs conditions in his favor so that it makes the bike really hard. If it's windless, he won't win that race. Period. Even if he sat in the group and came off the bike with Craig Alexander, no matter how relaxed he was on the bike he's not going to win the race. He has to do whatever he can to save as much energy as he can but get a big gap because he has to have a gap. And to think we don't think tactically about how to approach the bike is just naivete. These are world-class athletes that have a tremendous amount of experience—both Chris and Julie. In Vegas, he sat with the group and enjoyed the legal drafting that was happening until 15 miles to go—he got a 4 minute gap and the only person to beat him was Craig Alexander. Everyone else was two minutes behind at the end—that was a very smart tactical bike ride. So, that stuff just washes off because it's simply out of naivete.
Triathlete.com: Who will be seeing a lot of in 2012—who should we be watching?
Matt Dixon: Jesse Thomas has a big future. He's got another winter of swimming ahead of him and another winter of riding. It was unfortunate last year because he went to the Philippines and got the classic giardia plus another bacteria so it destroyed the back half of his season. If I've made a coaching mistake this year it was allowing him to do Vegas. Against my better judgment I let him go and that was a mistake. He's healthy again so I think we'll see a lot from him.

Triathlete.com: How about Linsey Corbin?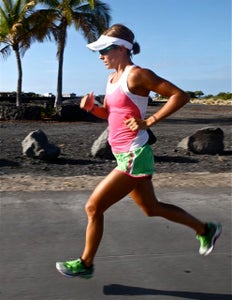 Matt Dixon: Linsey had a tremendous 2010. Throughout her career she's struggled with injuries and for two years we kept her injury free and then this year past she got a strange injury—a floating hamstring injury—and it really kept her from running from May through September. But the one thing that Linsey has committed to doing—and needs to do—is a massive project on her swim. She did a lot of it this year, mostly because of her injury, but we also knew she had to. For her to be really competitive in Hawaii she has to be well under an hour in the water. She had a pretty poor swim and a pretty poor Hawaii by her standards. I think she's still an athlete really evolving. She got third in Vegas, which was fantastic, but she was really sidelined for much of 2011. I think she'll come back and have a much better year in 2012. She still has the ability, talent and potential to be a top five finisher in Kona for sure. As a coach taking her into Kona, I missed her peak—I let her rest a little too much a little too early. She was great a week out but wasn't great on the day. That was a coaching thing.
Triathlete.com: Rachel Joyce had a great race in Kona.
Matt Dixon: Rachel The Great. I've never met a girl that gets less media attention or recognition. She is never mentioned before a race. Some of it I think is her being international. She also doesn't race in the states very much. But that's going to change in 2012—she's going to be based in Boulder and we're going to have her race in the states. If you look at what she's done in the last three years, she's really developed as an athlete. At Ironman Lanzarote she was a minute away from Paula Newby-Fraser's 1994 record. She broke the run course record there set by Cat Morrison, running close to three hours. She has a legitimate shot in the coming few years to win Hawaii. She just keeps progressing. She also does something that's very challenging—she shows up every year in Hawaii. The last three years she's been sixth, fifth, fourth.
I also think Luke Bell had a tremendous year and will build on that. We won't make Hawaii the focus for Luke. You start to make decisions about where you get the most out of your career, where you get the most satisfaction. Having Hawaii as the be all and end all for every athlete is a mistake. He'll probably do Hawaii, but will try to do well in Melbourne—he lives on the course so it's a very emotional race for him—and then go do another Ironman and really try to be a great athlete across the year. Last year he won multiple races—that was someone who's career was supposedly down the toilet and done.

Triathlete.com: And Meredith Kessler?
Matt Dixon: Meredith had a really hard patch between May and August. There was nothing wrong with her training, her confidence or her preparation. She's not very good in the heat so there were multiple things we were doing to try to overcome that. One of the things we were doing was working a lot with sodium citrate, which is a better electrolyte to work with for people who have core temperature problems. What we didn't know—and what no one would know—is that she's actually allergic to it. She was blowing up in these races to the point where she was being taken to the hospital and having heart stabilization. What we were loading her on was absolutely the thing that was shutting her down. Once we solved that problem, she was great. Meredith is one of the most resilient people and athletes I know. She'll win more Ironman races next year. If Kona was a cool-weather race, I would say that's a girl who could be world champion.