The Fastest Ironman Ever Is Skipping Kona This Year. WTH?
Lionel Sanders set the fastest M-Dot time ever when he posted an insane 7:44:29 at Ironman Arizona. So why's he skipping the sport's biggest race?
Heading out the door? Read this article on the new Outside+ app available now on iOS devices for members! Download the app.
Lionel Sanders set the fastest M-Dot time ever when he posted an insane 7:44:29 at Ironman Arizona last November. So why'd he declare he's skipping out on the sport's biggest race? Chris Foster investigates.
It could be the very Canadian accent, but more likely it's the mustache. If you saw Lionel Sanders' picture or met him in person, the mustache is probably the first thing you'd notice. Its out-of-era nostalgia has a way of disarming you—making you think that he's just out for fun. "This isn't the facial hair of a serious man," you'd say to yourself. "This is a guy who probably just flies by the seat of his pants and takes whatever may come." But just behind the '70s-era Burt Reynolds 'stache is a steely brain and a mind with an almost strangling focus.
Sanders' past speaks to his taut mental state: On his website, Sanders talks openly about a turbulent history mired in drugs and alcohol, eventually leading to him drop out of college and hit a rough patch. "Over the next couple of years I went deep inside of myself, becoming severely depressed and paranoid," writes Sanders. "I was also beginning to have auditory and visual hallucinations."
Fortunately, Sanders pulled out of his downward spiral and concentrated on sports. He raced in his first Ironman in December of 2009 but still remained fairly unfocused. "For the first few years, I didn't really have any goals," says Sanders. "Eventually I started to have the desire to see if I could race professionally. Once I started racing professionally I started to wonder whether I could make a living and how far I could go."
By 2016, Sanders' stock was rising fast, and he was being hailed as a possible Kona contender. On the big day in Kona, Sanders found big improvement on the swim and some on the bike, but his run quickly, uncharacteristically struggled. Less than 12 miles in, Sanders was unable to even jog. He shuffled and walked the remaining 14 miles.
"I am ashamed of my performance in Kona," says the always up-front Sanders. "I did not give the race the respect it deserves and went in unprepared." Despite being proud that he completed the course, he maintains that the 29th place finish is still something he would rather not have on his record. "I have had lots of 'bad experiences' over the years," says Sanders. "But I always try and learn the lessons that need to be learned and persevere onward."
In order to move onward this time, Sanders and his mustache have made the very serious decision to skip Kona in 2017. The single-minded inward focus that was his downfall years ago is now bubbling up to the surface in a positive way, and in 2017 Sanders is ready to make a change.
Despite being self-coached for his entire career, Sanders has recently enlisted the help of David Tilbury-Davis to oversee what Tilbury-Davis calls the "10,000-foot view" of Sanders' plan. While the decision to skip Kona this year was his own, he discussed it with his new mentor, and Tilbury-Davis explains the strategy.
"The truth of the matter is you can't deliver an 'A' race in both World Championship (70.3 and Ironman) circumstances," says the Woodlands, Texas-based coach. "You can't afford to go into 70.3 World Championships underprepared and expect to do well." Tilbury-Davis also insists that Sanders has a lot of time ahead of him.
"From an athletic perspective, Lionel is relatively young," he says. "There's no rush." Sanders has only been in the sport for seven years, and at 28 years old, he's still a relatively fresh face in the long-course game. "People say to Lionel, 'Why don't you take a run at Frodeno's record at Roth?' He's got plenty of time to do that," Tilbury-Davis adds. In fact, Sanders already showed greatness at the distance when he broke the Ironman-brand record last year at Ironman Arizona with a blistering 7:44 finish.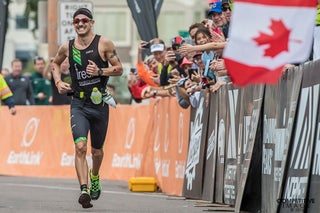 Now that Sanders' laser focus is no longer split between two championship events, he has time to work on his weakness: the swim. Last year in Kona, Sanders was over eight minutes behind the lead group—a deficit he has to make up quickly on the bike in order to remain in the hunt.
"The big thing I have done is join a local swim club," he says of his new approach in 2016. "I am swimming with 12 and 13 year olds, but that is where I am in my swim progression." Sanders says he's already seen the fruits of his decision and will never go back to the six years he spent swimming alone.
There is also beauty in Sanders' approach up to this point: Self-discovery and thorough questioning. "He wants to understand the 'how'," says Tilbury-Davis. "A lot of people can come at Lionel giving him advice, but he wants to learn and understand, 'Why am I doing this?'"
Tilbury-Davis says this is something any athlete can apply to their own training. "The biggest takeaway for age groupers is understanding why are you doing 'X'," he says. "How does that fit into your goals—training consistently, managing all the details: recovery, nutrition, etc."
Sanders also doesn't buy into his own hype—a common pitfall amongst pros and sometimes age-group athletes. "One of his strengths is Lionel's element of realism of where he's at, and what he can do," says Tilbury-Davis. "That's something else an age group athlete can take away: Be realistic about your time commitments."
Like a triathlon version of Henry David Thoreau, Sanders leaves one last piece of hard-learned advice: "Everyone's journey will be different, but I will say, it is deeply satisfying to improve your weaknesses. Our natural tendency is to cultivate your strengths, and I think there is a time and a place for this, but don't neglect your weakness," he says and reminds athletes to look inward. "Give some serious thought to how you can improve yourself in all aspects of the sport."