A Dark Horse Prevails In Kona
The following story about dark horse Ironman World Championships contender Leanda Cave was printed in the September/October issue of Inside Triathlon magazine. She ended up finishing third in the October race.
Heading out the door? Read this article on the new Outside+ app available now on iOS devices for members! Download the app.
The following story about dark horse Ironman World Championships contender Leanda Cave was printed in the September/October issue of Inside Triathlon magazine. She ended up finishing third in the October race.
By Kim McDonald

Photographs by Nils Nilsen
Chrissie Wellington, Mirinda Carfrae, Julie Dibens. As everyone knows by now, those three women are the odds-on favorites for the podium at the Ironman World Championship in October. But if the ride to Hawi on Oct. 8 is unusually windy and the run along the Queen K unbearably hot, expect another female competitor to break her way into the top three—Leanda Cave.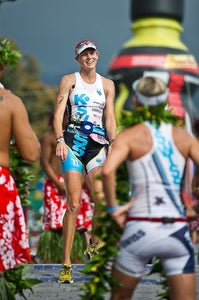 I first noticed Cave in 2007 at what was not only her first Ironman World Championship, but mine. Battling the winds on the long uphill to Hawi, I managed to redirect the pain in my legs by focusing on the pro men barreling downhill in the crosswinds to my left, wondering who the first woman would be to come into view. Michellie Jones, who had won the race the year before? Kate Major, the third-place finisher that year and the year before? As it turned out, it was Cave. Few remember that Cave led the women nearly all the way into T2 that day in what was her first ever Ironman only to be passed in the final miles of the bike by Wellington, who went on to win the first of her three Kona titles.
I watched Cave race again at last November's Ironman Arizona, where she led the women and most of the pro men out of the water. While she was passed by Wellington around mile 40 and eventually came in third, it was clear that she was the only female competitor who could bike with Wellington—and this was on a day when Wellington beat most of the pro men and set a women's world record for Ironman. Indeed, Cave outbiked Wellington at the Ironman 70.3 Kansas in June by two minutes.
Intrigued after Cave's performance in Arizona, I called her and her husband, German pro triathlete Torsten Abel, and asked if I could spend a long training weekend with them at their home in Tucson, Ariz. It didn't take long to notice the contrast between Cave's reserved, easygoing demeanor and her blood-and-guts style of racing. She's also tall. Most pro triathletes are short and compact like Carfrae or Major. But Cave looks more like a basketball center. In fact, if a single physical attribute could define Cave, it would be her legs. Long, slender and topped by a powerful pair of quads, they provide her with a lengthy running stride and an efficient set of levers on the bike that few competitors can match. But when she stuffs her 35-inch-inseam legs into running tights and uses them to propel her 5-foot-11-inch, 128-pound frame, it's evident the nickname that triathlon coach Brett Sutton gave her at the start of her career—Bird—still suits her.
"Brett called me Bird because he thought I looked like the 'Sesame Street' character Big Bird," Cave confessed in her typical self-deprecating way as we prepare for a long run on the cactus-lined trails near her home. "When I can find jeans that fit me, I make sure to buy two or three pairs."
PHOTOS: 2011 Ironman World Championship
For more than a decade, the affable Brit with a distinctive Aussie accent was an ITU short-course prodigy whose sponsors brought her at age 20 from Australia, where she had been raised, back to the U.K., where she was born. There she raced for Wales and Great Britain, taking second in the Commonwealth Games and winning the ITU Short Course World Championship in 2002. But after years of frustration dealing with leg injuries, the poverty that often results from racing on the ITU circuit and the politics of a fickle British Triathlon Federation, she switched gears in 2007 and struck out on her own, learning the intricacies of Ironman racing.
Now Cave is hitting her stride again, this time as a long-course athlete and top Kona contender. Her expansive home in an exclusive golf community in west Tucson, which she bought last year with her husband, who was her coach for many years, is testament to that. With her new coach, Siri Lindley, a former ITU world champion who guided Carfrae to last year's Kona win and coached Cave to her best long-course season ever last year, Cave will be taking her best shot at winning Ironman Hawaii this year. Based on her results before and after her disappointing (for her) 10th-place finish in Kona last year, that's very much in the realm of possibility.
Early last year, Cave was second to 2009 Ironman 70.3 and Xterra world champion Julie Dibens at the Abu Dhabi International Triathlon, won the Escape from Alcatraz Triathlon and Florida 70.3 and was the runner-up at the Vineman 70.3, the TriGrandPrix U.K. and the TriGrandPrix Basque Country. Then last October, only three weeks after Kona, she won the inaugural Ironman 70.3 Miami race by nearly nine minutes. Two weeks later she was second to Jodie Swallow at the Ironman World Championship 70.3, beating Dibens in the process. The following weekend, she raced a stellar women's field at Ironman Arizona that included Wellington and came in third.
Lindley points to those three races as a sign of Cave's untapped long-course potential.
"She's so mentally tough and determined," said her coach, who calls Cave "Superbird" in recognition of those superlative qualities. "There's so much more ahead. She's just coming into her stride. We've only really begun to see the potential that she has."
Sitting on her living room sofa in her sparsely furnished home (she and Abel decorate it when they're not training or traveling to races), Cave admits that her motivation to do those races in rapid succession so soon after Kona last year came from the simple fact that she needed to make sure she could continue to live in Tucson.
"I was trying to get my green card and I was under pressure to have a good race in Kona," she explained. "My lawyer said that you've got to get a top 10, a top five would be even better, to show exceptional ability. So I had a big low coming off Kona. Tenth place is good, but it's not great—it's not where I should finish, and I was really disappointed."
Now that she has proven herself once again this year, winning the Wildflower Long Course Triathlon on a tough, windy day with a time that was only eight seconds off Dibens' course record, followed by a win over Dibens at Rev3 Knoxville two weeks later, Cave is turning her attention to preparing for the rest of her long-course season. It will include another tough long-course trifecta—the Ironman World Championship 70.3 in Las Vegas, Kona and the ITU Long Course World Championship in Las Vegas (a race that Cave won when it was held in Lorient, France, in 2007). But her "A" race will remain Ironman Hawaii.
"My ultimate goal is Kona, to nail it," she added. "Kona is the hardest thing I've ever done in my life and it's the biggest challenge for me."
A fast swimmer with an even stronger bike leg, Cave's Achilles heel has been her long-distance run. But she's been working diligently to improve it. She carries an electronic metronome on training runs to increase her stride rate. And Lindley has her doing drills, hill repeats and core exercises to improve her power, form and economy with the goal of maintaining her short-course speed for longer and longer distances.
"Siri has really developed Mirinda as a runner and that's something that I feel I can benefit from," Cave said.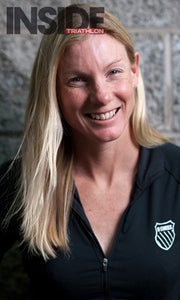 So far, the changes are working. Cave ran a PR of 1:23 last fall at the 70.3 world championship in Clearwater, Fla., and says coming off the bike in the Ironman and facing the marathon no longer seems as daunting as it did several years ago.
"It's getting longer in the marathon before I feel the pinch," she said. "Before, it was halfway. Now it's three-quarters of the way."
Cave's first marathon was at the 2007 Ironman World Championship, where she remembers her quads burning with every step going down the steep hill on Palani Road all the way to the finishing line, which she finally crossed in eighth place.
"I can handle pain," she said, "but I was in so much pain that I was bawling when I crossed the finish line."
In 2008, Cave came down with the flu in Kona and although she rode well enough to come off the bike in fifth place, she couldn't run. The following year, she was "in the form of my life," but was again derailed in the run, this time by GI problems caused, she thinks, by not having enough salt and too much fiber the night before.
"I was in fifth or sixth place coming out of the Energy Lab and then my gut went mental," she said. "It took me an hour and a half to go the last six miles."
Gut issues became a problem once more in the latter stages of last year's Kona, forcing her to again run into the lava fields along the Queen K to relieve herself. And it derailed her race at this February's Abu Dhabi International Triathlon, leading both Cave and Lindley to conclude that they need to revamp Cave's pre-race diet and nutrition this year (see sidebar on page 52).
Problems like that year after year might frustrate the average person, but Cave regards them matter-of-factly as obstacles she'll eventually overcome.
"I'm a big-time trial-and-error person" who learns from experience, especially bad ones, she said, so she's convinced it's just a matter of time before that problem can be resolved.
In fact, her sometimes pigheaded determination and confidence are what friends and family point to as the main reasons Cave has remained such a successful athlete for so long.
RELATED: The Making Of A World Champion
"She's one of the gutsiest, most determined athletes I've known," added Lindley, who remembers that the first time Cave came to train with her group in Los Angeles two years ago, she hit a rock while on a group ride and crashed on the side of the road.
Although her shorts were ripped and there was blood everywhere, Cave "just dusted herself off and got back on the bike," Lindley said. "That's Leanda's style. Nothing gets in the way."
Cave's mother, Joyce, recalls when her youngest daughter was 11 and learning how to swim as most children in Australia do in a surf lifesaving class: "Everyone could see the potential she had against the other athletes because of her sheer determination. Leanda was serious about training while others were mucking about."
That dogged determination was the key factor in Cave's come-from-behind win at the ITU Short Course World Championship in 2002 in Cancún, Mexico, against a field that included Lindley, who won the race the year before.
"I remember that day," said Lindley, who developed a new respect for Cave after her gutsy performance. "The moments when you see an athlete fighting to the very end tells you a lot about them."
Sutton, who was coaching Lindley at the time and watching the race, was similarly impressed.
"Leanda always handled the heat extremely well, so seeing her in the front pack in Mexico had me thinking podium," he said. "The fact that she won is of great credit to her."
Cave's ability to handle heat is unusual for a bigger athlete. But it's a result, she says, of growing up in the hot, humid environment of Cairns, Australia. And although she is in many ways a product of her environment, she reminds people who get the wrong idea from her Aussie accent that she's really a Brit at heart.
"I don't feel Australian at all," she said. "I don't feel I fit the Australian stereotype. I grew up in a very British household and I don't feel that attachment to Australia; it doesn't feel like home. I love Britain. I listen to the BBC radio every day. I feel connected to Britain. The weather there is just not suitable for triathlon."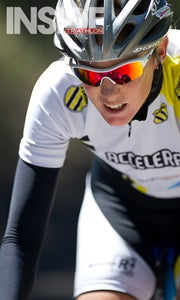 In 1982, Cave's parents, now retired in Cairns, took Leanda, her older sister and younger brother to Australia on what they said would be an adventure of a lifetime. They bought a four-wheel drive, shipped their trailer from the U.K. and toured the country for 10 years. Leanda's mother, Joyce, homeschooled the children through middle school, while Leanda's father, Gordon, built homes during the Australian housing boom.
"It gave them a broader education than they would have gotten if they were in one particular place," Gordon said. "They had a different picture of the world."
Moving from town to town, though, had its drawbacks.
"In high school, I realized I didn't have any social skills," Cave said. "I was never able to stay in one place long enough to make friends. I was always very lonely and when I went to the university I realized I didn't have any choice—I had to start talking to people."
Her family's peripatetic lifestyle also forced Cave to develop self-reliance, which only enhanced the confidence and determination she was developing through sports.
"I never had to rely on anybody, any friends to be there," she said. Enrolling at the Queensland University of Technology in Brisbane at 16, Cave was planning on becoming a physical education and geography teacher. And she was swimming on a club team, hoping to make it big in the 800- and 400-meter freestyle.
But after two years of college Cave changed her mind about swimming and teaching and moved to Canberra to train with Sutton, who at the time was the triathlon coach at the Australian Institute of Sport, training the country's short-course stars, many of whom would eventually become future Kona champions such as Greg Welch, Chris McCormack and Craig Alexander.
RELATED: Competitor Radio – Leanda Cave
"When I knew Leanda she was very young, inexperienced and not yet an adult," said Sutton, who remembers he tried to talk her into trying rowing for a while to develop her mental strength. "She was staying at times with the best athletes in the world, and that can be pretty intimidating."
But Cave stuck with triathlon and by the time she was 20, she had landed a sponsorship in Germany and in 2000 moved to Europe. While she missed the 2000 Sydney Olympics, she set her sights on Athens, in 2004. Coaches told her that to increase her chances of qualifying she had to quit her part-time job and train full-time.
"It was hard—I was so broke," Cave said. "I was sleeping on someone's floor and I had maxed out on two credit cards."
When she finally earned enough money from races to put a deposit down on an apartment, a thief stole the entire amount from her purse at a local market. But within a year her race performances earned her a regular monthly stipend from the British Triathlon Federation and by 2002 she was second in the ETU Triathlon European Championships, second in the Commonwealth Games and the ITU Short Course world champion. Spurred on by that success, she stepped up her training but ended up injured with lower back and hamstring problems for more than a year.
"I couldn't run," she said. "I couldn't cycle."
So Cave returned to Australia and got healthy in time to race the first Olympic qualifying race in Japan, but she ended up in the hospital right before the start with food poisoning. Her hard luck continued at the ITU World Championships in Madeira, Spain, later that year. "I was for some reason sick on the bike," Cave said, and Dibens, the first Brit, got the automatic qualifying spot on the team. Because of internal politics, Cave wasn't even picked as the alternate for the Olympic team.
"It was a very unfair selection," she said. "I was at a low point. It was very sad, how it all happened."
Fed up with the ITU circuit, Cave moved in 2007 to Mill Valley, Calif., with her future husband, and her streak of bad luck finally ended. She began entering and winning races with good prize purses such as Escape from Alcatraz and "before I knew it," she said, "I had money in the bank." With Abel as her coach and training partner, the couple also began visiting and training in different locales in the U.S. The two went to Flagstaff, Ariz., after Cave read that marathon world record holder Paula Radcliffe, one of her British role models, came to the U.S. specifically to prepare for her big races in Albuquerque, N.M., and Flagstaff. But the town that Abel and Cave liked most was Tucson. At 3,000 feet, it offers enough altitude to make a difference to her in races, it has great year-round riding, and like her hometown of Cairns, it can be swelteringly hot, a major plus for Cave.
"I'm always cold," Cave said. "Even when it's hot, I'm cold. It's weird. Torsten will be sweating and dripping. And I'll be dry."
The morning after our trail run, it becomes apparent why Tucson is home to so many Ironman pros (Chris McDonald, Samantha McGlone, Hillary Biscay and Maik Twelsiek to name a few). It's not just the riding, the year-round warmth and the lack of rainfall. Once you're out of the city, this place is as raw and desolate as the lava fields along the Queen K. From their house, Cave and Abel take me on one of their standard Kona training routes—a five-and-a-half-hour ride that goes south from Tucson through a desolate lava-and-shrub-brush landscape, then up to a forest park in the Santa Rita Mountains known as Madera Canyon. It's windy and warm, even on this mid-January afternoon, and our route has few stoplights or cars to interrupt the steady cadence of Cave, who stays in her aerobars, grinding away in a big gear and pulling us for most of the ride.
When the weather becomes hellishly hot in the spring and summer, Cave and her husband have set up their training environment to minimize the driving and other hassles that most of us have to contend with. They've outfitted their downstairs bedroom with his-and-her treadmills side by side so they can do their bricks and transition runs off the bike together. Down the street within walking distance is a typically empty 25-yard pool, where they do all of their swimming workouts. And up the street is a resort spa outfitted with an expansive fitness center, where they do their strength and core training.
Because Cave is so naturally lean, strength is one area she pays particular attention to, making sure she maintains her muscle mass for power as well as to prevent injuries, which were prevalent in her ITU career.
"I've had 11 diagnosed stress fractures," she said.
VIDEO: Leanda Cave From 70.3 Worlds In Vegas
She and Abel are also religious about sleep, recovery and post-workout nutrition, which Cave points to as factors that have allowed her to compete at such a high level for so long. Their kitchen cupboards are fully stocked with canisters of Accelerade and Endurox, which Cave blends into fruit smoothies for us after our long ride and run, along with hard-boiled eggs and toast with honey and jam, and tea.
Although she's been racing at a high level for some 15 years, Cave believes that, at 33, she is just now starting to hit her peak years and plans on racing for many more. With the Ironman now becoming more like the ITU and with Wellington setting the bar so high, Cave believes her transition to long-course racing has come at the perfect time.
"Chrissie's been the biggest influence on women's racing," she said. "Everyone knows that to beat her or come close to her, you have to step it up. You have to take on a whole new mind-set. I don't want to take credit away from people who have won in the past, but I don't think they've had that much pressure—they've not had to be that fast."
Now, in the Chrissie Wellington era, Cave says, you have to be a risk taker.
"If you want it, you've got to go for it," she explained. "You can't hold back anymore. I've always been like that. So for me, the Ironman distance is now fun because it's racing. It was just painful before. Now," she added with a laugh, "it's fun and painful."
McDonald is a freelance journalist and kick-ass age grouper. Look for him in Kona and Vegas this year.