2010 Ironman World Championship Features Unique Pro Start
Heading out the door? Read this article on the new Outside+ app available now on iOS devices for members! Download the app.
The pros at this year's Ironman World Championships will be starting 30 minutes ahead of age-groupers.

Written by: Courtney Baird
In years prior, pros went off 15 minutes before age-groupers.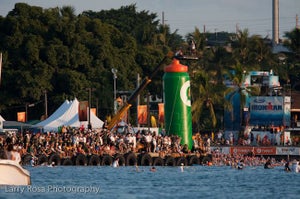 The earlier start time is presumably a response to complaints that, during the bike portion of the race, some of the faster age-group men would catch up with the female pros, leading to illegal drafting and unfair racing practices.
The World Triathlon Corporation had this to say about the change: "The new pro start time was put in place in an effort to provide the professional athletes a fair and level playing field. It also further allows us to showcase each of the races within the event — the pro and the age group races."
The change is welcome news for many of the top female pros.
"I can only speak purely for the professional women here, but [the early start] will make for a much cleaner race," said Belinda Granger, who has won several Ironmans and who will be racing in her ninth world championship on Oct. 9. "For too long now many of the pro women have been caught up riding with the top age-group males. I am now hoping that the extra 15 minutes will reduce this problem or maybe even eradicate it for the entire ride."
Three-time Ironman world champion Chrissie Wellington has also been outspoken about the need to address drafting issues in Ironman events.
"We need a discussion about how to reduce the amount of drafting," Wellington wrote in June in a response to the WTC's overhaul of how pros qualify for Kona. "One solution would be to send the women off 5 minutes behind the male pros and then 20 minutes (at least) in front of the age-group athletes."
With heat and wind being big factors in Kona each year as the day progresses, some believe that a 15-minute head start could lead to faster times overall for the pros.
But with the Big Island's notoriously unpredictable winds, it's hard to tell how much of an effect the extra 15 minutes will actually have.
"The earlier you can get out to the [bike] turnaround at Hawi and beat the winds, the quicker the ride home—well, that is the theory, anyway," Granger said. "I have raced here eight times now and, honestly, you just cannot predict these winds."
Purists also argue that the 30-minute head start takes some of the magic out of the world championships, as it was once a place where age-groupers and pros raced side by side.
But others say that the heightened integrity the early start brings to the race far outweighs any drawbacks.
Courtney Baird is a senior editor of Inside Triathlon magazine.