Got What it Takes to Race Ultraman?
"It is a long way… but if your goals don't scare you, they aren't big enough."
Heading out the door? Read this article on the new Outside+ app available now on iOS devices for members! Download the app.
By any measure, David Hainish's first win at his first attempt in a new distance was a big success. Though Hainish only had to beat 44 competitors to win the event, it wasn't necessarily the field that made the victory so impressive, but rather the race itself. From Feb. 17-19, Hainish outlasted the course in one of the toughest multisports endurance events in the world: Ultraman Florida—a three-day event that is triathlon's equivalent of a multi-stage Badwater Ultramarathon. On the first day, competitors must swim 6.2 miles then bike 92 miles. On the second day, racers must get up and ride 171 miles. The last day is the coup-de-gras, and what's left of the field must run a double marathon—52.4 miles—on already ravaged legs.
Hainish did this whole crazy thing in just over 22 hours, and in doing so recorded the second fastest time ever on the course— second only to Ultraman Florida race director and Ultraman-distance world record holder, Check Kemeny. (It was overall a fast race as Germany's Steffi Steinberg took the top spot in the women's division with a record-setting total overall time of 24:55:13.) So are you crazy enough to tackle this loony challenge? To find out, we turn to the newly-crowned king of Ultraman.
For Ultraman Florida—or similar events like Ultraman World Championships in Hawaii—preparation is the name of the game. Hainish would train six days a week, twice a day in the morning and after his full-time job as a software engineer. At his peak, he was training about 18 hours per week. "As unfathomable as Ultraman may seem, the training is most definitely the hard part," says Hainish, who hails from Milton, Ontario in Canada. "Especially since I committed to training exclusively indoors in my basement through the coldest part of the Canadian winter." His most brutal workout: A 24-mile treadmill run the day after a six-hour bike workout.
As insane as that sounds, Hainish insists that the preparation isn't too different than iron-distance training. "The volume is slightly more due to the dramatic increase in distance one must cover, and the intensity is only marginally lower […], but the key is training on tired legs," he says. "Performing every workout with residual fatigue is the name of the game, since it is a multi-day event."
As if the training isn't hard enough, just getting into Ultraman Florida is a challenge. The race only accepts 50 solo entries, which are reviewed by an application committee. According to their guidelines, an athlete can only be considered if they have already finished an iron-distance event in the same calendar year—so in between all that training, competitors still have to find time to race prior to entering.
The $1,800 entry fee includes the price of staging the event and provides participants with two crew members, but not a whole lot else. "Since Ultraman is self supported and on an open course, the nutrition, hydration, medial, navigation, etc. must be planned out and nailed down ahead of time," says Hainish. There are no aid stations, so racers need to supply their own food, drink and anything else one might need out on the course. And the nutritional aspect is huge—Hainish says competitors should plan to expend about 5,000-7,000 calories per day from racing alone.
"You will also need to consider having many more contingency plans both mechanically, nutritionally and medically than in an iron-distance race," says Hainish. If you want to compete, you need a support crew, and racers need to provide accommodation and transportation for them as well.
For him, the toughest part about the race itself is in the morning. "One of the hardest moments is waking up everyday and feeling stiff and tired, but knowing you have to perform on that day," he says. "This is something that training day in day out will help with, but training can't quite replicate the fatigue you must endure."
So who should tackle this most extreme of the extremes? "Ultraman isn't for everyone. It is something very specific," says Hainish. "Just like a full Ironman isn't better than a marathon, it is simply a different challenge."
"I had raced several Ironmans and feel like I had solved the problem of Ironman and wanted a new challenge to test limits," he says of Ultraman. "I also loved the fact that I could do all this with my gorgeous wife and best friends by my side [as support]." One quick glance at Hainish's recent Ironman results confirms that he has indeed "solved the problem of Ironman"—last year he finished the notoriously flat Ironman Florida and its obverse cousin in difficulty, Ironman Mont Tremblant, in almost the exact same time.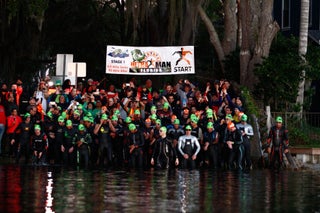 However, when Hainish talks about his proudest race results, he doesn't tell you what place he finished, or his times. He talks about the experience: running through the lava fields of Kona; the 104F degree heat during the third leg of the Ironman 70.3 World Championships in Las Vegas in 2012; or how running the Boston Marathon in 2010 felt like "the Tour de France experience of running." With a gauge like that, Ultraman is a good fit for anyone like him who craves a personal experience, not recognition. "Very few people were aware of the race," says Hainish of the open-course environment at Ultraman Florida. "One cyclist said to me on the run, 'I don't know what you're doing, but awesome job!'"
"I would say the low key nature of Ultraman means that the general public isn't familiar with what exactly an Ultraman entails," Hainish says. "It is a long way… but if your goals don't scare you, they aren't big enough."