12 Days: The Story Of Chrissie's 2011 Kona Win
A bike crash two weeks before the Ironman World Championship would ultimately reveal Chrissie Wellington's greatness as an athlete.
Heading out the door? Read this article on the new Outside+ app available now on iOS devices for members! Download the app.
A bike crash two weeks before the Ironman World Championship would ultimately reveal Chrissie Wellington's greatness as an athlete and Dave Scott's gifts as a coach.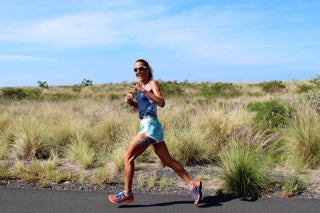 On Saturday, Sept. 25, two weeks before the 2011 Ironman World Championship, three-time winner Chrissie Wellington swam 5000 meters at Boulder Aquatic Masters with her coach—six-time Hawaii Ironman champion Dave Scott—in an adjacent lane. Scott's sister, Jane, was coaching. According to Scott, Wellington was putting on the finishing touches of her best preparation yet for a 13th Ironman (she's yet to finish an Ironman in any position but first), an enormous statement given that 11 weeks prior the 34-year-old Brit lowered her own world record to 8:18:13 at Challenge Roth. "She was very fit. It was a stellar preparation," says Scott.
The next day Wellington went out with a group for her last long bike ride before Kona. While riding with her hands on the drops and into a turn she says she'd "taken millions of times" before, the front tire flatted and the wheel slid out from under her. Crashing to the pavement with her was Scott's 20-year-old son Drew, who was preparing for his first appearance in Hawaii.
While on his own ride, Dave had seen the pack that his son and Wellington had gone off with. When he finished, a text message from Drew was waiting for him. "He'd texted me that they'd crashed and that Chrissie seemed OK." But the sentence was punctuated with a question mark. The ensuing hours and ultimately the next 12 days would prove to be a physically and emotionally demanding test for Chrissie Wellington, the athlete, and Dave Scott, the coach—perhaps the most demanding tests ever within these roles for two inarguable legends in the sport. This test was made radioactive by the vivid memory that in 2010 Wellington made the most painful decision of her career in not starting the championship due to a
viral infection.
Although Wellington had suffered deep contusions to her hip and shoulder, and large swaths of road rash on her thigh and lower leg, X-rays showed no broken bones. "It was a big sigh of relief," says Scott. "But I knew she was banged up badly. She was sore. And on Monday the soreness was worse. There was both physical and emotional trauma involved, partly because she knew she was the most fit she had ever been. I tried to help her maintain her confidence to get through this. Obviously we had to tweak her schedule." Scott insisted to Wellington that she would have to resist any panicked desire to train when recovery was the critical issue. "'You're doing the wrong thing if you try and train through this,'" Scott recalls telling her. "'Just let your body heal.' There wasn't any need to panic. She had to be diligent to the highest level possible."
Wellington would later say that before the crash, "I was in the best shape of
my life."
The day after the crash Wellington insisted on trying to do a workout on an elliptical trainer at the gym. Her body would have none of it. "She had an infection from the road rash and was taking antibiotics. She couldn't bear any weight on her leg—it had swelled up and she ended up lying on a couch," Scott says. "She was shivering." Scott and Tom Lowe, Wellington's boyfriend, carried her out of the gym to the car. "She was a wreck," says Scott.
Wellington postponed her departure to Kona, arriving on Saturday one week before the race rather than the planned 10 days. Sponsors were contacted and her media schedule was pared down to a minimum.
"We took things day by day," Scott says of race week. Although Scott and Wellington were buoyed when a test ride showed she would be able to bike on race day, it was during a 4K test swim on the race course that Wellington developed a sharp pain in her chest, and it became progressively worse later in the day. "Injuries from the crash were manifesting themselves into different issues," Scott says. Wellington tried one final swim in a pool. After 1000 meters she gave up, later explaining that it "felt like someone was stabbing me in the chest."
After Wellington left the pool her active release technique therapist, Mike Leahy, said it was time to go back to the hospital. X-rays were conducted to search for broken ribs and a CT scan was issued to check for the possibility of a pulmonary embolism. Both tests were negative, but doctors thought she'd torn a pectoral muscle. "I told them I thought they were wrong and wanted a second opinion," Scott recalls saying, in part to dilute negative information that would only work to harm his athlete's state of mind.
With just three days before the start cannon, Wellington's race became all about the swim. The race plan had in essence boiled down to simply getting through the swim and then taking advantage of three facts: The Ironman is a long day, Wellington still had a tremendous reservoir of fitness to tap into, and she's Chrissie Wellington, winner of 12 consecutive Ironman starts and three Ironman world championships.
Scott knew that originally Wellington would have come out of the water at the 54- or 55-minute mark, and calculated that the new situation would cost her three or four minutes. He watched the women exit, seeing the likes of Mirinda Carfrae, Julie Dibens and Rachel Joyce streaming away on their bikes as the clock continued to tick. "I was tracking all the women," he says, admitting his concern at the time. "I knew she just had to get through the thing." Wellington exited in 1:01, slower than Scott had anticipated. Wellington smiled as the crowd acknowledged her, elation that she would at least be able to finish the race.
Scott saw the smile. "I had talked to her about how much she feels she owes her fans while racing. She gives them so much during the race in smiling and waving to them. I told her that if this lifts her up and gives her energy, then smile. But I also told her this time around she was going to need every last oxygen molecule and to try to conserve as much as absolutely possible."
Scott said this not only because of the injuries but also because of the competition. "We knew Mirinda was not going to be intimidated by Chrissie," he says. "Mirinda was the world champion. She was going to do everything possible to deny Chrissie the victory. I have great admiration for Mirinda. Before the race I told her, 'Let's have a battle.' My comments were genuine."
In past victories at Kona and elsewhere, fans were used to seeing Wellington dominate the bike early and command the race through the run. In 2011 Wellington caught Carfrae only in the climb toward the turnaround in Hawi. In her 2010 win, Carfrae broke the run record with a 2:53:32 marathon, averaging 6:37 pace, running the final miles at sub-6:30 pace. In 2011, Wellington went into T2 22 minutes down on the leader, Dibens, and 10 minutes behind Joyce and Leanda Cave, and with the knowledge that the Ironman champion and course run record holder was stalking her.
Before the accident, Scott had worked with Wellington on erasing what he felt was her most serious vulnerability: the second half of her marathon. "This has been a huge weakness," he says. "Chrissie will blast the first half of the run in 1:22 but come back with a 1:30." In Roth, Scott saw what he wanted to see: fast, even splits, a 2:44 combining back-to-back 1:22 half-marathons.
Scott knew that the race dictates strategy and Wellington had to go hard early. But it wasn't pretty. Despite running sub-6:25 pace in the opening miles of the run, she looked broken to Scott and everyone else watching. "It was an unsightly looking run," Scott says. "Her left foot and glute weren't firing. Her form was ghastly." The smoothness they worked hard to polish was gone. "She was running through pure willpower."
Scott watched as Wellington picked off rivals one by one to assume the lead by the entrance to the Energy Lab, the race boiling down to holding off Carfrae. "Mirinda was running steady and Chrissie started to fade. I watched the lead drop from 5:10 to 3:35," he recalls. The previous two weeks of pain, healing, anxiety and the tightrope walk of getting to the starting line had finally caught up. "The emotional trauma had taken so much out of Chrissie," Scott says. "Her body was finally starting to shut down. She just had to hang on."
Carfrae was not having the best day either, reporting afterward that she struggled through the first half of the marathon. But as Wellington began to fade Carfrae poured it on with a 6:12 pace. It wasn't enough. In fact at 2:52:41 Wellington stole the course run record from Carfrae, a record the 2011 champion would hold less than three minutes as Carfrae recorded a 2:52:09. But despite setbacks that came close to forcing Wellington not to start the Ironman World Championship a second year in a row, she had regained
her crown.
It was one of the greatest victories in the history of the Ironman. Since 2007, the year of Wellington's first attempt at Kona and the first time she would routinely crush her competition, Wellington seemed to fly above the greater mythology that possesses the Hawaii Ironman—the idea that only through trial by fire can one develop the inner mettle it takes to even have a shot at the top five. Wellington, of course, is blessed with great physical and psychological talents—what she's accomplished has not come easy even though she made it look that way.
Any questions of how Wellington will react when pressed have been answered: She'll just go harder. "There are only a handful of champions who have that brand of innate inner calmness to prevail and dig so deep," says her admiring coach.
When asked about the external pressures surrounding her career, Wellington says that no one puts more pressure on her than she does: "I feel pressure from the expectations fans have of me. I also have a desire to achieve great things to inspire and empower people. But ultimately I do this for me. I will never, ever, ever rest until I know I've given absolutely everything."