What 40 Means To A Professional Triathlete
Two-time Ironman world champ Tim DeBoom writes about hitting the big 4-0.
Heading out the door? Read this article on the new Outside+ app available now on iOS devices for members! Download the app.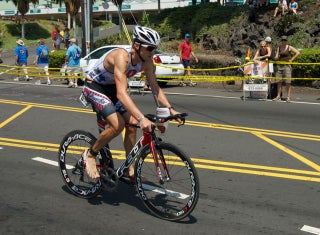 DeBoom writes Inside Triathlon magazine's "At the Finish" column. The following column was originally printed in the 2011 March/April issue of Inside Triathlon magazine. Click here to subscribe.
Black balloons and streamers decorated the house. Signs read, "It's all downhill from here!" These are the memories I have of my father's 40th birthday party. These are the memories that have stuck with me for the past 25 years.
I always knew it would come. For the past few years, I could feel it. It is not the sort of thing that usually concerns me in the least—I just don't think about that stuff. However, this number was causing me to stutter in my steps. I was having a hard time even saying it aloud.
Forty. I was turning 40 years old.
For most people, 40 is just another birthday. The symbolic start of middle age maybe, but nothing too life changing. For a professional athlete, however, 40 definitely looms over you like a weight on your shoulders saying, "It's time." Time to hang it up? Time to move on? What time is it?
Because of that damn USAT rule in which you race at the age you will be at the end of the year, for most of 2010 I had to deal with the announcers at races calling out my name and occasionally surprising themselves. "Are you really 40?" they'd ask.
"Thirty-nine!" I'd holler back in pure defiance.

RELATED: Tim DeBoom – One Last Time
Yes, I feel the effects of age. I have had my share of injuries. I am a little slower getting out of bed in the morning. When my feet are tender and my back aches a little, I chalk it up to the hard workouts I've done. When it lingers, even after some downtime, it makes me realize I am not the sprightly lad who could once run 20 miles in the morning, go out late at night and feel fine the next day.
Thirty-nine was a great year, comparatively speaking. I think I turned the clock back a few years with my winter weight training, and I felt better than I had in a long time. It was not like I was 27 again, but I raced a full schedule and did not have any niggling injuries that lasted throughout the season. I was not as fast as I had wished, but I was healthy.
Still, I knew that number was waiting for me in November, and I was dreading it.
I don't know why I've had so much trouble with that number. (See, I even have a hard time writing it.) I have many friends who are in their 40s, and they rave about it. For me, the day I turned 40 came and went rather unspectacularly. I did the things I always love to do, with the person—my wife, Nicole—I love to do them with. We went for a long mountain hike and then rolled all over town and trail on our bikes.
I did get one card, however, that gave me a nice perspective and improved my outlook on the forthcoming decade. A good friend wrote to remind me that your 40s rock. She said that in your 20s, everything is crazy, with so much turmoil, and you know nothing about life in general—I'd say that's about right. She then said that in your 30s, it's all about working toward professional goals, acquiring stuff, buying a house and finding some sort of stability. Right again. Finally, in your 40s, you can relax, enjoy the life you have created and truly appreciate where you have come and the people in your life who are important. That doesn't sound too bad.
Then she gave me the best advice: Enjoy where you are now. Enjoy the view. Appreciate every moment because it is what you have worked so hard to build. Enjoy being 40, and every time you step up to that starting line from here on out, kick every youngster's ass that you can, just to show them you are still around.