Triathlife with Jesse Thomas: Learn from Bad, Harness Good
No easy way to put it, my race was ROUGH!
Heading out the door? Read this article on the new Outside+ app available now on iOS devices for members! Download the app.
Jesse Thomas is back! In a weekly series leading up to the Ironman World Championship the 140.6 champ will address training, racing, nutrition, mental prep, and gear—and how he's fitting it all in while running Picky Bars, the business he co-founded with his wife, Lauren Fleshman, and being a dad with a second baby on the way.
I'm back for installment No. 3 of my weekly Triathlife Lead-Up-to-Kona blog series. A quick recap of what's gone down so far:
Today I'm going to talk about 70.3 Worlds, one of the two races I'll do before Kona and obviously the biggest one. Next week I'll go over my key Ironman workouts. As always, let me know if you have any questions on social media interwebs (aka Facebook, Twitter Instagram, or Strava).
Before I get into my race, I wanted to say quickly that the event in general was awesome. Despite a subpar performance, I liked the course, the people and facilities were great, and I dug the way they split the men's and women's races into two separate days. I felt like it made it a better event to both attend and race.
70.3 Worlds is Hard. Learn from Bad, Harness Good.
No easy way to put it, my race was ROUGH! I knew the course was going to be tough, I knew the competition was going to be tough, but I'll be honest: I hoped to perform better on the day. It wasn't all bad, but it definitely wasn't good.
I've been racing most of my life. I've had lots of good days and WAY more not good days. Whenever I don't have the day I hoped for, I catalog the positives and negatives, learn what I can, and move on. Pretty simple. This is also what I try to do in business, relationships, and life in general. One of the great reasons that sport is so important in life is it gives us these little micro environments and micro events to repeat the cycle: set a goal, try to achieve it, most likely not fully achieve it, learn, reset next goal, do better. It's the cycle of life, bro, and I'm only in the second paragraph so watch out!
Anyway, I'll talk about some of my pluses and minuses below, but to start, here's a quick recap of what happened:
Swim: Last Place, but then not! Whoa!
We lined up for the swim based on number. I was number 26, so that's where I lined up. Not sure that's important. Anyway, it was a dive start off the dock and I had a great dive—I'm pretty sure I was in the front pack for the whole dive. But when we all started swimming I fell out of the front pack pretty fast, like maybe after 3-5 strokes. Seriously, I mean I'm a weak swimmer, but wow, that made me feel pretty slow. I actually kept contact (eye contact, maybe?) with the guys in front of me around the first buoy about 300 meters in. Then over the next 200 meters everyone pulled away until I was Hans Solo. Literally alone, 95 percent sure I was in DFL place.
Like I always do, I debated dropping out right there, just turning to the shore and calling it a day. But I made myself stay in it because that would be embarrassing. When I rounded the next buoy at 1200 meters, I looked back to see if anyone was around me and I saw ABSOLUTELY NO ONE. At that point I was 99 percent sure I was dead last, but the fastest way in was to just finish the course so I kept going. As bummed as I was not to be competitive, it was most important to my Kona plans to get in a solid workout regardless.
Then shockingly, about 100m from the end, someone came by me. (Surely an age grouper from the wave behind me?) But as we exited, there were another 5-6 guys with my color cap, including Sebastian Kienle and Trevor Wurtele, two guys I normally swim with! My hopes were raised for a moment running through T1!
Bike: Weaksauce
Then Sebastian took off like a rocket. I've ridden with Sebastian before and know the GARGANTUAN effort it takes to stay with him (and I've blown myself up a few times doing it). After reflecting on my Kona pacing errors last year (where I rode with him and others…and blew up), I decided not to try and chase/ride with him. The way I ended up feeling, I wouldn't have been able to anyway! But I decided I'd try to ride at what felt like a more sustainable/managed pace for me. Ultimately, that was probably the decision that cost me any chance at a higher finish in the race.
I stayed with the group of 4-5, trying to conserve energy, always at or near the front as we climbed up and over the hills. I felt like I should try to ride away, but it was obvious in the first 20 minutes that my legs just didn't have the firepower necessary to do so. I worried that the large group in front was gapping us big time, but I honestly just didn't feel like there was anything I could do about it. My plan was to ride solid, but save some for the second half and try to run well. I did that, but I also just rode like crapola and my "semi-conservative" was honestly far below what I'd expect even for that effort. The few times I got motivated (and/or frustrated) and tried to push, I felt stale, didn't drop any of the guys behind me, and thought to myself, "What's the point?" It was pretty low.
I knew we were losing time, but didn't realize how bad it was until we finished and were 8+ minutes behind the main pack, and well over 10 minutes behind the leaders! Wowsers.
Run: You've Got NOTHING to Gain… but RUN HARD ANYWAY!
When you're goals are toast, it's important to make new goals to help motivate yourself to finish as well as you can. So with the race effectively over in terms of me moving up the field, I tried to focus on what I could do:
1) Beat all the guys coming off the bike with me
2) Get a solid run in, try to "negative split"
3) Practice my nutrition/hydration plan.
Basically, just a big practice day. So I set out at what felt like a good pace, but held a little back for a big second half. I had some company from Trevor and another guy for about 6 miles, but managed to pull away heading into the second lap. I felt strong—not necessarily fast—but strong, and at least felt like I was increasing my pace in the second lap. (According to Strava, I actually was a tiny bit slower, like 30 seconds over 35 minutes. But that's actually pretty decent for triathlon racing). I managed to get within 30 seconds of the last guy from the first group, but finished 22nd place with maybe the eigth fastest run or so. All in all, I was second place out of my swim group, only Sebastian beat me…by like 15 minutes.
Let's Evaluate This Thing a Bit.
Negatives:
I rode like doodoo, baby! I'm not totally sure why. I've had good workouts, felt fresh/ready for the race, but I just didn't have it. It was my lowest half Ironman power maybe ever. Yikes. I averaged nearly the same power for a 4-hour IM workout five weeks ago! So I don't know what's going on there. Maybe IM-focused training, or rusty from lack of racing, or used the wrong toothpaste that morning—who knows. I just had terrible legs on the day.
Lost focus/motivation. I'm pretty disappointed in the "what's the point" feeling I had during stretches of the bike. In reflection, I think I kind of gave up there a few times when maybe I could have pushed harder and it would have made a difference. Hard to know.
Need to better secure my stuff. I lost two Picky Bars and the Garmin computer I bought just 3 weeks ago! Definitely don't want that crap happening at Kona!
Clearly I was ready to go after doing a "Flat Bruce" the night before. So what happened dang it!?
Positives:
Decent swim. Even though it felt terrible and scary, I did come out with my normal group in a long, non wetsuit swim, so that bodes well for Kona—fingers crossed.
Bounced back and ran well. Maybe not surprising given I didn't really trash my legs as much as normal on the bike. But still pretty proud of that run with absolutely nothing to gain from running hard. Felt smooth, controlled, and strong.
Nailed nutrition/hydration, kind of, and didn't cramp. I wrote in the last blog that this is one of the main things I've worked on for Kona this year. It ended up being a cooler day, so I actually had to pull back a lot on my hydration. (Way too much peeing—sorry, TMI.) I'm sure I'm less susceptible to cramping and dehydration in cooler temps, but nutritionally, energy, and cramping-wise I felt really good.
Felt (and still feel) pretty dang good after. Maybe the biggest surprise (and positive) is how good I felt after the race. I rode an extra 35 miles a few hours after, which was part of the original plan because of Kona. Then I got up and ran 10 miles the next morning, which I've absolutely never done after a half-Ironman. Body, joints, energy all feel good. So maybe that means the strength from IM training is there and the sharpening will come around a bit later. At least that's what I'm going to tell myself!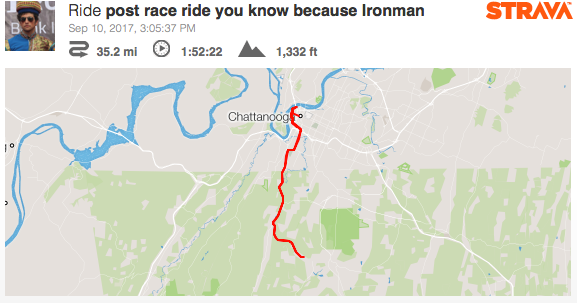 Overall: 70.3 Champs is Tough, Dude!
I'll finish where I started. Obviously, the level of racing at World Championships is no joke. But the thing I realized this weekend is that it's gotten so good, and the fields are so deep, that the 10-meter draft rules does little to separate the race, even on a challenging course like Chattanooga. There was some minor separation, but for the most part large groups stayed mostly together in both the men's and women's races. And what that means is that if you aren't a front pack swimmer (or one of the best cyclists in the sport like Sebi) it's going to be really tough to be competitive. I could have ridden my best half-Ironman bike ever, and I wouldn't have caught that group ahead of me. It's just too hard to catch a group of guys like that even when they're legally 10-meters apart.
BEFORE ALL THE TROLLS GO CRAY CRAY, I'm NOT complaining or saying it was unfair or I should have finished higher. It's not the be-all-end-all for me, I'm just making what I think is a pretty reasonable observation. And honestly, I can see the merits to making the swim "count" like that. It's a World Champs so it's reasonable for weak swimmers to have a trouble being competitive. And I can still be competitive against most of those guys in smaller fields where the groups aren't as big and there's more opportunity to catch. It's just a different race. The championship races at this distance now require front pack swimmers (or riding like Sebi). I think/hope there's still a little more flexibility in Ironmans, but we will see!
Next step: Augusta + Key IM Workouts
I leave this race feeling pretty motivated to go race again. I recovered so well that I think there's more in the tank, and I want to see what I can get out of myself. (With the understanding that goal #1 is still Kona, obviously.) Coach Matt and I still think my "one more race before Kona" plan will do more good than harm, so I'm sticking with it!
Next week I'll do a quick Augusta Preview, but focus mostly on my main/key Ironman workouts, and how Matt and I have structured them to be less time intensive on a single day and allow some intermediate recovery. I think it's a good mix for me to balance with age, family, and business life. We'll see.
Thanks a ton for reading and let me know if you have any questions! Thanks to the many people who cheered me on out there, and of course to my sponsors for supporting this race and all the others, you guys are the best! See Facebook for some fun sponsor shenanigans on the way home.