6 Pro Tips for Camping at a Triathlon (Or Training Adventure!)
Here's why, how and where you should pitch a tent for your next triathlon outing.
Heading out the door? Read this article on the new Outside+ app available now on iOS devices for members! Download the app.
Adventure, camaraderie and spandex-infused campfire tales await when you camp out for a race—or a few days of focused training. Here's why, how and where you should pitch a tent for your next triathlon outing.
If you go off-road for your triathlon training and racing, you can really get off the grid. But you don't have to be an XTERRA devotee to immerse yourself in the great outdoors and reap the benefits of getting dirty. Any triathlete with a desire to shake things up and explore a new place should consider swapping the (often overpriced) race-hotel room for a campsite under the stars.
"Camping makes racing more about the experience and journey and less about however many hours pass between the race start and finish," says Bend, Ore.-based pro triathlete and avid camper Matt Lieto. He climbed the pro ranks while sleeping in a tent for the Wildflower Triathlon and other races. "The best memories I have from the races where I camped aren't of the actual race—they're of all the [stuff] that went down when I was camping and the experiences I had with friends, and the people I met," says Lieto, who recently bought a 1998 Dodge 2500 diesel pick-up truck with a pop-up camper on the back "as an investment for racing."
In addition to the pleasure principle, camping for triathlon can help you reframe your triathlon goals. Are you in it purely to chase a PR? What's the end game? Having some fun with your racing—and just doing things differently—helps you recalibrate your mindset and maintain a healthy, balanced perspective. If you fear you're suffering from tunnel-vision syndrome (focused purely on splits, rankings and podium positions), an off-beat tri outing could be just what you need. "You might even forget that you're there to race as you're chatting with people you just met at the campsite, or by just being away from the hectic scene of the race hotel," Lieto adds.
While it requires some legit planning, camping can also be way more convenient and efficient. In some cases—in XTERRA racing, for example—camping lets you stay considerably closer to the race site. "If the race site is a half-hour from town but you can camp five minutes away, that's a pretty sweet advantage," Lieto says. In addition to the time savings, you'll save big dollars. A lot of sites are free or require a minimal overnight fee that's often less than nightly hotel valet parking.
So now that we've convinced you to camp for your next race, here's how you do it right.
Be prepared. Most rookie camper mistakes can be avoided with some Google-enabled education and sufficient planning. Research your driving route (cell service isn't a guarantee, so know where you're going), reserve the campground way in advance (go to Reserveamerica.com to book a site in any state park), find out if there are showers/pit toilets/grills/any other amenities at your campsite, check (and recheck) the weather forecast, and bring appropriate camping gear and clothing. Finally, staying organized is the most essential part of good preparation. "It's a little harder to be organized out of the trunk of your car or tent, so give yourself enough time to pack carefully and thoughtfully," says Lieto, a former backpacking guide.
Plan your meals. Make a shopping list, and bring ingredients to make simple, healthy meals. "I don't eat any differently than I normally would—eggs for breakfast, a carb-heavy meal if it's before a race," Lieto says. "Pasta is always easy, and you can get ready-made, 1-minute bags of rice you can toss into boiling water—Trader Joe's is pretty sweet for that kind of stuff."
Sleep like a prince(ss). Nothing will turn you off from camping—or sabotage a race—like bad sleep. "If you've got a sleeping mat you've had in the garage since you were a cub scout and a sh*tty sleeping bag, you're going to sleep four—or fewer—hours instead of your normal eight, and it's not going to be a fun experience," Lieto says. A quality sleeping bag and pad (or cot) are worthy investments, and don't forget your sound-sleep accessories. Lieto always travels with his "princess eye mask." Similarly, if you're a light sleeper, birds chirping at sunrise or loud campers are going to disrupt your sleep. Bring earplugs.
Time it right. If you are doing your Ironman A-race with a Kona qualification on the line, camping may not be the best accommodation option. "I know plenty of people who RV camp before an Ironman, but tent camping isn't ideal when the pressure is really on," Lieto says.
Make it social. Invite friends and be open to making new ones. One of the best aspects of the iconic Wildflower Triathlon—where all racers camp—is the camaraderie. Just like when you were a kid at summer camp, bonding and making memories with others just happens more easily when you're gathered around a crackling campfire.
Bring your gadgets … it's OK. Before heading out on a camping trip, Lieto loads his tablet with a movie or two. "You find a lot more time in your day when you're camping," he says. "I'll be sitting there, dinner in my belly and with nothing to do the night before a race, so I'll just watch a movie." Lieto's pre-race fave: Forgetting Sarah Marshall.
Booking a room at the Ramada will always take less effort, but we're not in this sport to take the easy route, right? Put in a little preparation, pack an intrepid spirit, and you'll have more fun than you ever imagined.
Happy Glamper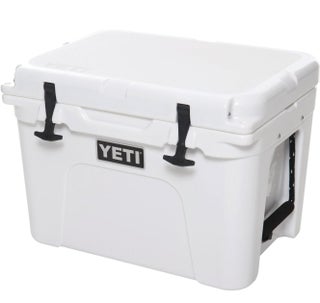 Gear essentials for a comfy camping experience
RinseKit Portable Shower
$90, Rei.com
This pressurized shower that fills from a spigot or faucet doesn't require batteries or pumping. A key piece of gear when your campsite doesn't have showers or a lake/creek for post-race wash-up.
EasyAcc Rugged Outdoor Power Bank
$50, Amazon.com
This durable, rechargeable lithium battery pack to charge your phone and other electronics is water- and dust-proof, and includes a powerful flashlight.
MSR WhisperLite Stove
$75, Amazon.com
Travel light with this compact, 14-ounce backpacking stove that will boil your pasta water in a few minutes.
Yeti Tundra 35 Cooler
$300, Rei.com
Your cooler acts as your mobile refrigerator, so it's important to have one that is super effective. The Yeti Tundra line is the gold standard in coolers designed for the outdoorsy set. The igloo-like 35 is small enough to easily haul around but still fits a ton of cans, err food.
Rumpl Original Puffy Blanket
$99, Rumpl.com
"If you don't camp often, know that you're always colder than you think you'll be," says camping veteran Matt Lieto. It's always smart to have an extra blanket stashed away. This super-cozy Rumpl design is made from the same tech material as top-end sleeping blankets and puffy jackets.