The Fittest Hotel in America
Heading out the door? Read this article on the new Outside+ app available now on iOS devices for members! Download the app.
Westin is setting out to be a traveling triathlete's dream hotel.
Ask most people to describe a perfect vacation, and they'll conjure up a vision of lazy luxury—poolside cabanas, bottomless drinks and sumptuous desserts. The vast majority, certainly, will not envision a spin bike in the corner of their hotel room.
And yet, Westin Hotels & Resorts did exactly that. The chain recently announced a partnership with cycling studio Peloton, which offers hotel guests the option of having a spin bike and on-demand video of studio cycling classes delivered to their room anytime, any day.
It's all part of the brand's push to be the fittest hotel chain in America. Fifteen years ago, consumers were only just beginning to care about wellness. But Westin saw potential in creating an identity around a healthy, active lifestyle. They went all-in on their wellness branding, beginning with a property-wide ban on cigarettes.
"Most people forget this, but we were the first hotel brand to ban smoking (in 2005)," says Brian Povinelli, Senior Vice President and Global Brand Leader of Westin Hotels & Resorts. "With that stake in the ground, we powered ahead by introducing several wellness offerings."
What they quickly found was a sizable customer demand for more health options away from home. Whether traveling for business or leisure, alone or with family, Westin noted a major shift in the way travelers incorporate well-being into their travel routines. Even honeymooners were embracing holistic holidays: in a 2015 Westin survey of travelers, 40 percent of couples said they ran together as a way to decompress, disconnect and be a tourist at the same time.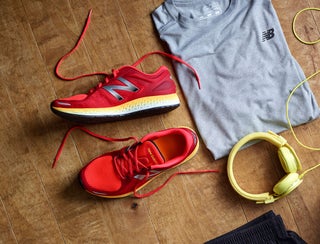 Westin saw an opportunity to appeal to travelers that other large chains had yet to consider. Instead of the usual room-service fare of cheeseburgers and club sandwiches, Westin curated a menu of healthy offerings. Rather than relegating hotel gyms to an afterthought in the basement, Westin put their fitness offerings front and center. In 2010, Westin launched a Gear Lending program in partnership with New Balance, allowing guests to pack light with loaner New Balance shoes and clothing available to use during their stay.
One of their most lauded programs is RUNWestin, which employs 200 running concierges around the world. Since 2013, these Westin employees have designed running maps with scenic, safe routes through the city and hosted group runs for guests.
"The Westin Fort Lauderdale Beach Resort typically attracts nearly 60 participants in their weekly evening 'sweatworking' runs, led by the hotel's run concierge," says Povinelli. "In its early stages, the runs were used as a way to guide guests around the destination and give them a local's perspective on the landmarks they would pass. As the group grew, the property noticed business guests elongating their stays to be able to participate in the Thursday night runs, and relationships form between the out-of-town guests and locals as they would 'sweat work,' or discuss business in a workout setting."
One of those runners, by the way, is Povinelli himself—the brand's wellness offerings have allowed the executive to train for several Ironman triathlons, despite a busy travel schedule.
"Wellness continues to permeate people's lifestyles in a holistic and meaningful way," says Povinelli. "Both time and Westin's brand success have shown wellness is not just a trend or a fad, but a lifestyle that is here to stay. We recognize that travel can be a disruptor to one's routine, and we have carved out a niche to take the stress out of staying active on the road."