Together, They Beat Cancer. Now: Triathlon
The team of doctors who helped Natalie Brogan beat breast cancer are going the extra mile (70.3 of them, actually).
Heading out the door? Read this article on the new Outside+ app available now on iOS devices for members! Download the app.
Natalie Brogan didn't plan to take seven years to finish her first half-iron distance triathlon. If things had gone to plan, she would have done it in 2015, the same year she set it. But life rarely goes to plan, and just one week after finishing her first sprint triathlon – the first step toward her ultimate goal – Brogan discovered she was pregnant with her first child. Two more followed in rapid succession, and after each, Brogan thought to herself, Okay, now I can get back to training.
And then one day, just as it started to look like she was ready to return to something resembling a structured training plan, Brogan found a lump in her breast. At first, it was dismissed as a normal side effect of breastfeeding her children, but the lump persisted and her doctor ordered more testing. At the young age of 36, Brogan was diagnosed with breast cancer. Intense chemotherapy followed, along with a mastectomy and reconstruction.
But now, finally, Brogan is training again, with the goal of crossing the finish line of a half-iron race this fall. Facing it alongside her will be a relay team consisting of the doctors who saved her life.
This isn't the way Brogan thought her triathlon story would play out. Instead of a feat of strength and endurance over 70.3 miles, Brogan's finish will symbolize a much longer and deeper journey—one that shows how no triathlete ever truly crosses the finish line alone.
RELATED: The 5 Training Buddies Every Triathlete Needs
The origin story
Brogan, a lifelong runner, came to triathlon by way of an Irish pub. While attending graduate school in Tampa, she'd meet up with her running buddies at Four Green Fields to knock out a few miles and a few post-run beers. It was on one of those runs that she learned about triathlon, and was curious. She started biking to work and reading books about triathlon, including four-time Ironman World Champion Chrissie Wellington's A Life Without Limits.
"I was hooked after reading that," Brogan says. "I loved it, loved that it was a woman doing it. So I said, 'OK, I'm gonna do it, too.'"
She signed up for a sprint, joined a triathlon club offered by her workplace, and started training. When race day rolled around, she had read up on everything that could go wrong in a triathlon and had a contingency plan for it all. What she didn't expect, however, was that everything would go wrong. After a series of misfortunate events, which included two flat tires on the bike, Brogan found herself running in last place.
"I got a police motorcade and everything," she laughs. "I got the whole experience."
The experience might have deterred some new triathletes, but not Brogan. She couldn't wait to go again – this time, a half-iron distance race.
But life had other plans. "A week later, I found out I was pregnant," Brogan says. "And that's when triathlon got put on hold. But I knew I wanted to do a half-iron race. That was my goal always."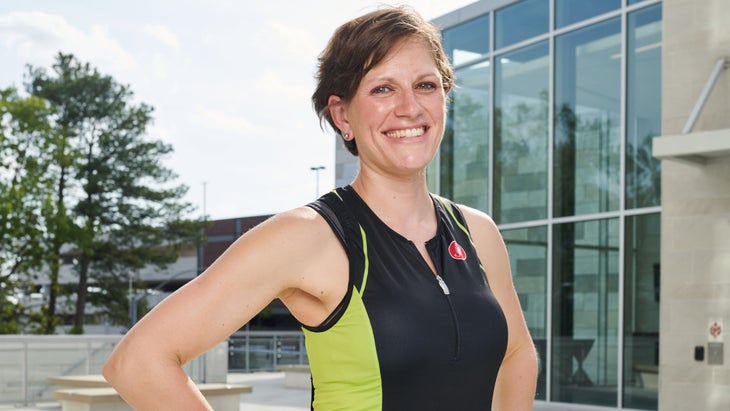 Neighborly advice
In true mom fashion, Brogan likes to brag about her triple stroller. She got it after the birth of her third child, months after taking up running again. Her main training buddy was her sister, who lives five minutes down the street from Brogan's home in Virginia Beach. One day, they were joined by Stephanie Repole, a neighbor who worked at a local hospital as a breast surgeon. Every now and then, Repole would wave at people who crossed paths with the runners: "Oh, that's Dr. So-and-So, I work with them at the hospital."
One of those people was Amy Skorupa, who often rode her bike on the same route the runners frequented. They'd smile and wave, as neighbors do, but not much else. All Brogan knew was that Skorupa was a colleague of Repole's.
When Brogan found a lump in her breast while breastfeeding her youngest son, she didn't bring it up with anyone. At least, not until her primary care physician ordered a second set of scans after the first uncovered some abnormalities. Brogan had HR/PR + HER2+ breast cancer, which would at the very least require surgery. She knew she needed help, and she turned to her running buddy.
"I knew it was not good," Brogan says. "And I asked Stephanie if she would be my surgeon, if she was comfortable with it given that we were friends. Thank goodness she said yes, because she ended up doing another biopsy that found I needed chemotherapy before a mastectomy."
"You know who you should talk to," Repole advised her friend and patient after it was discovered she needed chemo, "is Dr. Skorupa."
The cyclist Brogan had waved at weekly turned out to be an oncologist. Not just any oncologist – her oncologist.
Training through chemo
On the first visit to Skorupa's office, Brogan knew she was in good hands and that in some way, the universe was looking out for her. Her doctor felt the same.
"I try to connect with all my patients in some way, but Natalie's infectious personality clicked with me – and quite frankly, my entire staff – immediately. Our active lifestyles just gave us more to talk about," recalls Skorupa of their first meeting. Together, they developed a treatment plan, which included six rounds of intense chemotherapy followed by a double mastectomy.
In returning to running after pregnancy, Brogan had reclaimed that part of herself that identified as an athlete. Fearful of losing it again due to cancer, she asked Skorupa about remaining active through treatment.
"I always encourage my patients to continue to be active if they already are," Skorupa says. "I find that patients who can stay active tend to tolerate chemo much better. If patients aren't already active, I try to encourage them to walk even if it just means around the block. Exercise has so many benefits, both physically and emotionally, for people going through chemo."
"I had six rounds of what I call 'hardcore chemo,'" says Brogan. "I lost my hair, I was nauseous all the time, I had all the symptoms that you hear about when it comes to cancer treatment."
But she found reprieve in her daily walks with Repole. "Stephanie would come over, say, 'Hey, let's get up and go outside,' and it was nice. I was just getting through the chemo with my doctor who also happened to be my friend."
When it came time for a breast reconstruction, Brogan was referred to J. Byers Bowen, a local plastic surgeon. When she entered his office, she saw a diploma from the University of South Florida – as it turned out, they both went to the same school. They also had a love for getting outside and being active. Brogan couldn't help but feel lucky to have so easily found three doctors who understood not just how to treat her cancer, but to talk with her as a human being about their shared interests.
"I felt like I was going to be okay, and that I'm still going to be able to do my life goals," says Brogan says. "And doing that half-iron triathlon was in back of my mind."
But she didn't want to do it alone. She had a new plan, one that would honor both the serendipity and science that was bringing her back to health.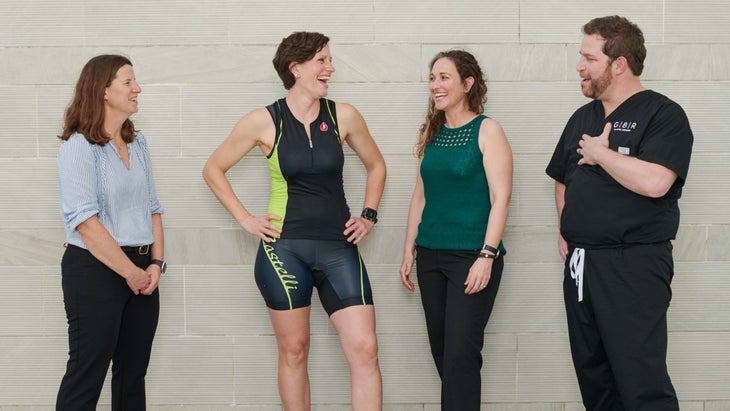 Out of the fog
While completing 14 rounds of post-mastectomy chemotherapy, Brogan started running regularly. She even began to ride her bike a few times a week. She did this for physical and mental health as well as to lay the foundation for her triathlon ambitions.
"I was out on a run with Stephanie one weekend, and I asked her, 'Hey, if I did this half-iron triathlon, would you do the run leg on a relay team?'"
She asked Skorupa the same question about the bike leg, and Bowen about the swim. And by the end of the week, it was set: Brogan would race her half-iron triathlon at the 2023 Kinetic Multisports Patriot Festival in September, she would be joined by a relay team made up of the doctors who saved her life.
Brogan knows it's not typical to take on an endurance event like a 70.3-mile triathlon so soon after such intensive cancer treatment, and even less typical to do with the doctors who treated her. But as she looks back on the trajectory of this story, she wouldn't want it any other way.
"They saved my life," Brogan says. "All of this happened for a reason, from meeting my doctors through running to having this goal in my head to motivate me. Now, I'm on the other side of all of this. I want them to know I'm not just better, but that I'm someone who survived and kept going."
"I think it is a fun way to support Natalie and to encourage others to get out there," Skorupa says. "I am excited to hear the crowd cheer Natalie on."
In most cancer treatment centers, a brass bell hangs on the wall for those who have successfully completed chemotherapy and are in remission. Brogan says the finish line of her fall half-iron race – not alone, but with the doctors who saved her life – will be her brass bell.
"This is a goal I had before breast cancer even took over my life," Brogan says. "But now this race will be an important transition in my life. Just like in triathlon, it's a time to take a breath and say, 'We did it, and we're done. Now let's move on to the next thing.' I will finally feel like I have moved beyond cancer."
RELATED: After Beating Stage IV Cancer, This Triathlete Is Headed to Kona