The Ultimate Pro Triathlon YouTube Power Rankings
We watched hours of pro triathlon YouTube - yes, even the stuff where Sam Long howls at the moon - to help you, the viewer, find something to stream for your next trainer ride.
Photo: YouTube/Lucy Charles-Barclay, Sam Long, Paula Findlay, Holly Lawrence, Lionel Sanders, Gwen Jorgensen
Heading out the door? Read this article on the new Outside+ app available now on iOS devices for members! Download the app.
Where a pro license was once proof enough that you were a professional triathlete, in the modern age, you can't go pro without a GoPro. Earnest first-person monologues to camera, interspersed with an evocative library track, set over cutaway drone shots – it's as de rigueur for today's best in the sport as the ability to swim, bike and run exceptionally fast. Perhaps even more so.
Even triathlon YouTubing is evolving. At one time, this medium's lore stated all video had to be Emmy-worthy and feature the smoking lava fields of Hawaii only previously seen in annual NBC Ironman shows. Now you don't even have to be a pro videographer to get involved as footage shakier than the "Blair Witch Project" can be passed off as authentic, and a sleep-deprived reluctance to be filmed is the price to pay for producing "training day" videos that squeeze more intensity into 12 hours than your average amateur experiences in a month.
This burgeoning industry brings the stars closer to the fans, and gives sponsors a hook to peddle their wares. Yes, it does help if you have someone to hold the camera, but for the most part, YouTubing is a democratization of media that just about any triathlete can turn their hand to (after 12 post-ride coffees and a power nap, of course).
YouTube isn't everybody's scene, of course. Take PTO European Open champion Max Neumann. The Aussie shuns social media, preferring to concentrate on his training. He could argue, with some justification, that it would need a lot of YouTube views to match the $100K check he picked up in Ibiza.
Leaving that discussion aside, here's a rundown of some of the big hitters from the pro triathlon YouTube scene, with some less-than-scientific ratings.
Section divider
Lionel Sanders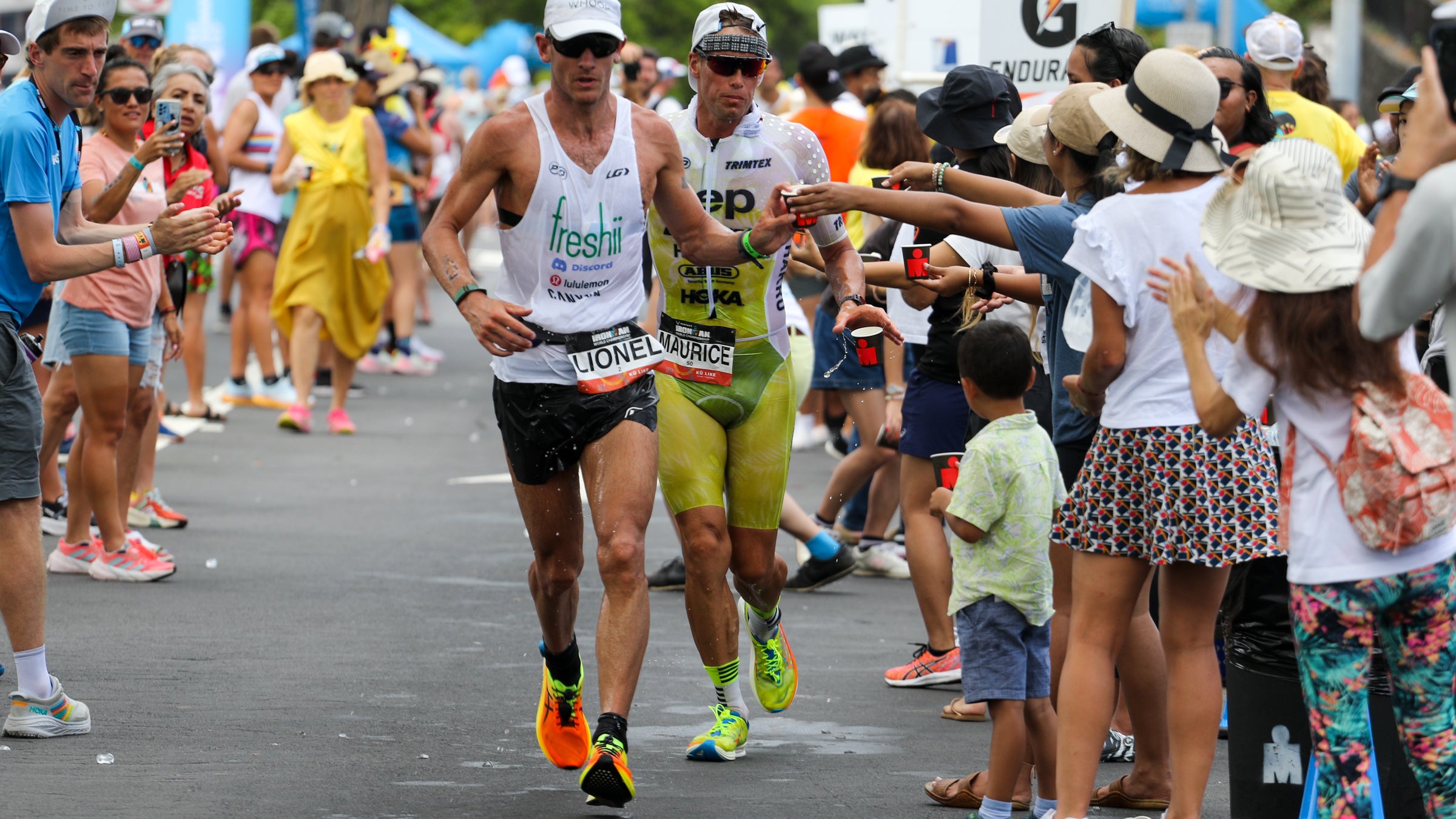 | | |
| --- | --- |
| YouTube subscribers | 161K |
| Number of videos | 267 |
| Total views | 26.6 million |
| PTO Ranking | 14 |
| Swim | 79% |
| Bike | 99% |
| Run | 93% |
| YouTube | 97% |
| Videographer: | Talbot Cox |
The titan of triathlon YouTube, Sanders is compelling, contradictory, and – to many of his thousands of addicted fans – wholly frustrating. True, he does seem to change opinions (and coaches) more frequently than most triathletes change trisuits, but this raw intensity keeps followers coming back time and again.
For example, his "Stop Sucking At Swimming" video series might not have helped his 79% PTO swim ranking, but resonated with thousands who tuned in trying to work out why their own swimming also feels like mud-wrestling an eel.
After one of his poorest starts to a season, his latest video on eating habits opens with an "Explicit Language" sticker and Lionel looking angsty chewing gum.
"I never came out of the hole, I never started to feel well, and I never started to perform good [sic]" is how he summed up a recent race in St. George.
Having long been his own worst critic, fatherhood appears to have dialed up the grumpiness further, ensuring the only place you'll see the Canadian batter himself more than on the racecourse is on his YouTube channel. That's saying something, but if the fans continue to lap it up, and if 'no limits' self-flagellation is your thing, you will too.
Money quote:
"I felt poorly the whole race. Fiddled with my helmet. Lost time there. Dropped my chain. Took a shit. And felt bad the whole time doing it. That was St. George."
RELATED: Lionel Sanders and the Art of the Sprint Finish
Section divider
Lucy Charles-Barclay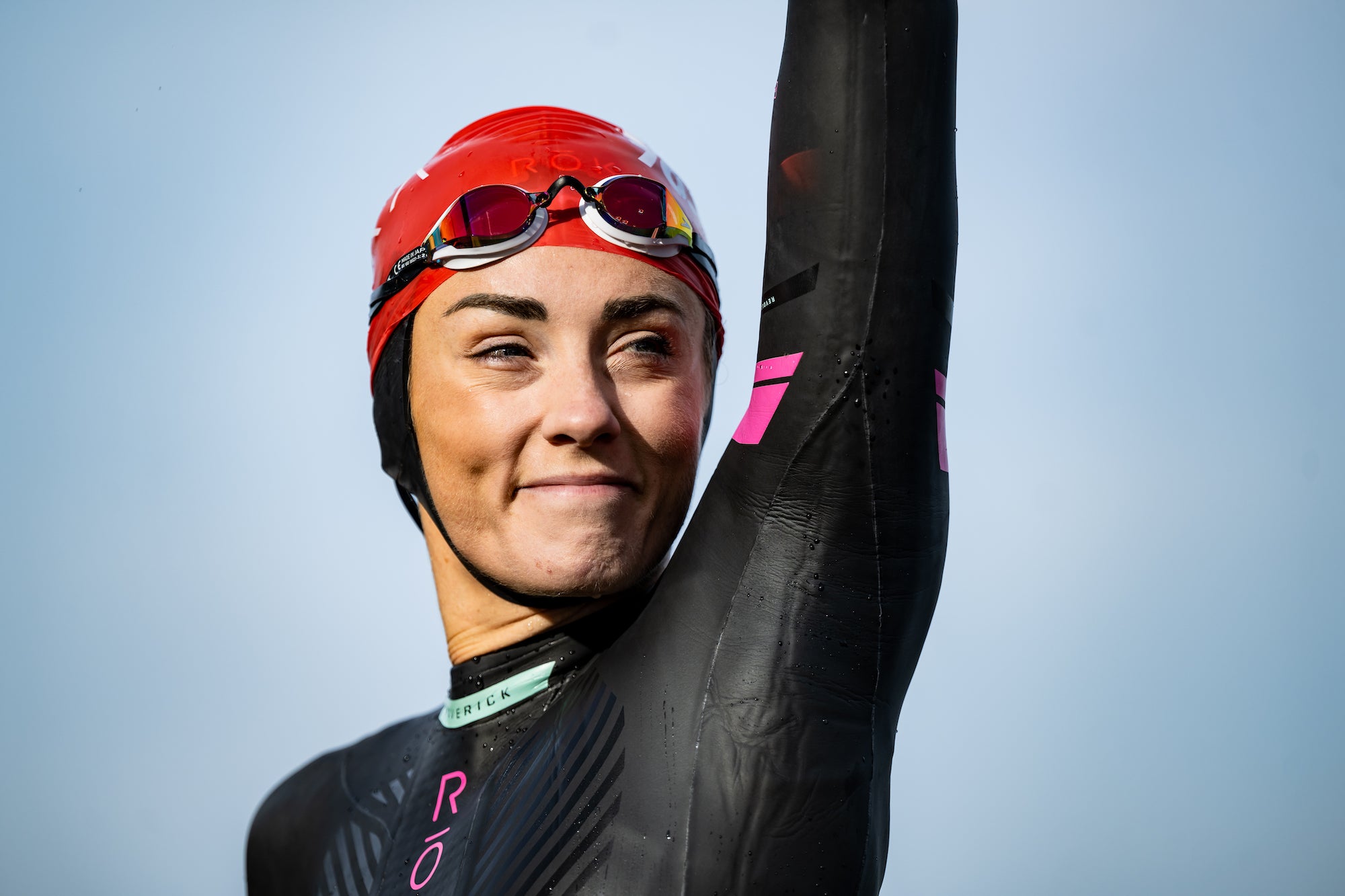 | | |
| --- | --- |
| YouTube subscribers | 87K |
| Number of videos | 120 |
| Total views | 8.4 million |
| PTO Ranking | 2 |
| Swim | 100% |
| Bike | 99% |
| Run | 93% |
| YouTube | 92% |
| Videographer: | Holly Charles |
While this channel is about Team Charles-Barclay, (including husband Reece and pooches Lola and Pickle) it's four-time Kona runner-up, 2021 Ironman 70.3 world champion, "fastest swimmer in the sport," Challenge Roth winner, former PTO ranked number-one Lucy who, understandably, gets top billing.
Filmed and edited with gusto by her sister, Holly, there's the usual testing of sponsor's gear, "how they train" exposés, race recaps, and glimpses inside their impressively-outfitted pain cave, but it's all done with flair and has no doubt helped turn Charles-Barclay into the most high-profile female triathlete on the planet.
There's some unique insights too, and few can match the variety. Coming off the back of the pandemic, Lucy was trying her hand at everything from the 1,500-meter Olympic swimming trials in the pool to short course racing at the highest level on the World Series to winning the 70.3 World Championship in 2021.
A hip fracture at the start of last year then kick-started a comeback journey to redemption and a fine end of season, with another long-course world title and two M-Dot world podiums. It's all documented online, where having more race footage to pick through than any other triathlete (given she leads every race for most of the race) helps with the cutaways, while her numerous sponsors help with the giveaways.
Money quote:

"One thing for battle braids – Reece always nags me for this – sun cream your parting. In this sun, you burn the middle of your head, and you don't want to do that."
Section divider
Paula Findlay and Eric Lagerstrom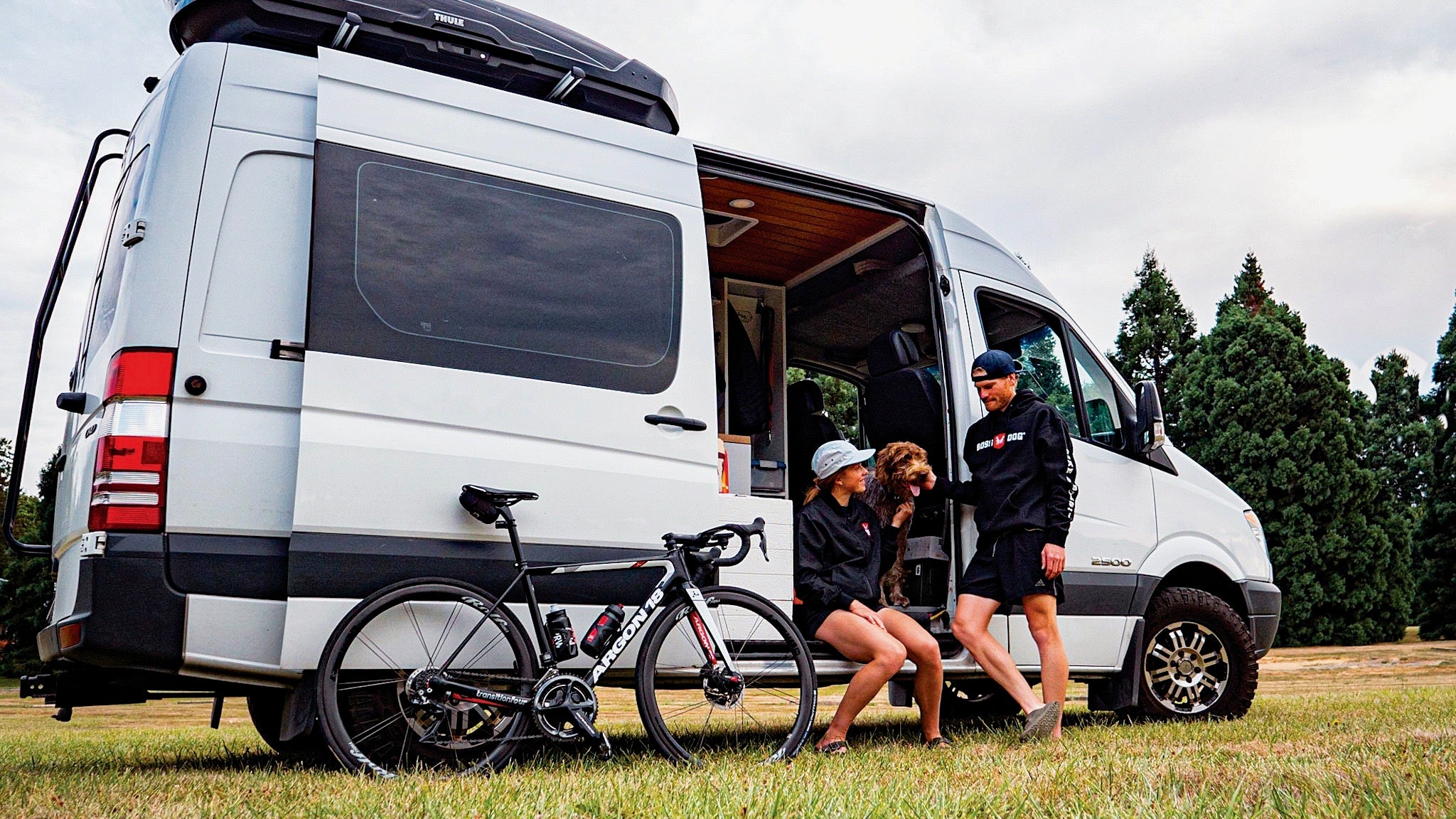 | | |
| --- | --- |
| YouTube subscribers | 55K |
| Number of videos | 280 |
| Total views | 8 million |
| PTO Ranking | 4 (Findlay) |
| Swim | 90% |
| Bike | 100% |
| Run | 94% |
| YouTube | 92% |
| Videographer: | Eric Lagerstrom |
An altogether more chilled-out vibe from the angst of Sanders, you get double bang for your buck with this subscription, as you learn about professional triathlon alongside a lovingly-curated tour of North America and beyond.
Lagerstrom's creative artistry wins all the style points for triathlon YouTubing, while (let's be honest here) Findlay's talent on the race course brings in the hard cash.
It's a combination that seems to be working rather well though, with feel-good "it's not all about the podium" sentiment as viewers get a deep dive into the nomadic existence and van life of successful pro triathletes who have struck out from their national federations and seem to be all the better for it.
It's a sort of idealist, minimalist (if you discount all the tri equipment and Eric's cameras) way of doing things that most of us probably couldn't handle, but are happy to live vicariously through TTL.
A recent video celebrates double podium success in 70.3 Chattanooga and XTERRA Oak Mountain, Alabama, but starts in Oregon as an illustration of how these two bumble around the world (often in search of bakeries). It's hard not to end up rooting for them, and if you want to support them even more, there is, of course, a whole stash of new season TTL merch to snap up.
Money quote:

"Next we are traveling home, which is a huge amount of travel. Not even home, we're going to Phoenix, Flagstaff to pick up Flynn, who is having the vacation of his life. Then we'll carry on to Bend, which is a 17-hour flight day and then a 17-hour drive. It's terrible, but traveling is less horrible if you've had some success."
RELATED: Multisport Movers and Shakers: Eric Lagerstrom and Paula Findlay
Section divider
Sam Long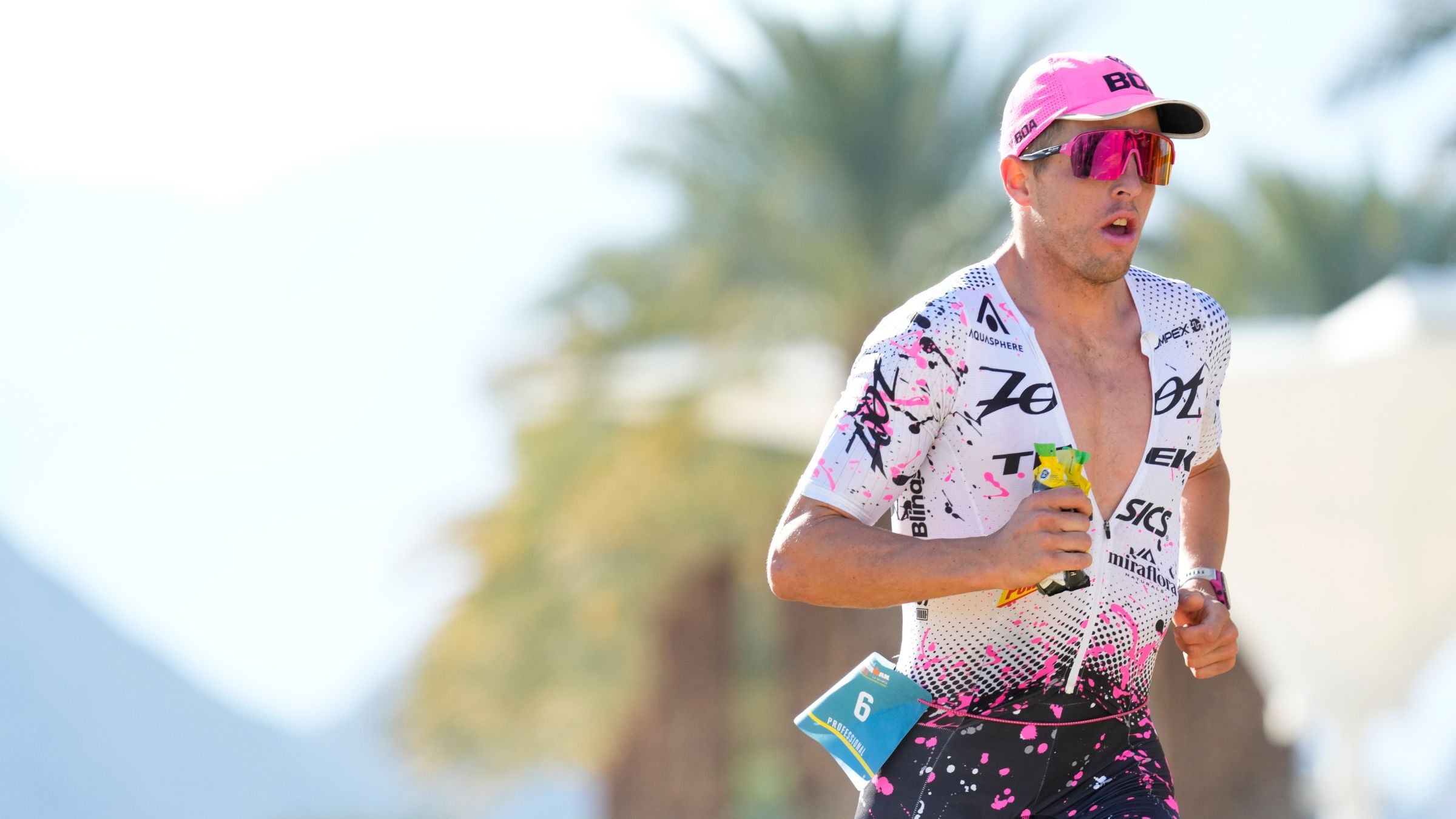 | | |
| --- | --- |
| YouTube subscribers | 31K |
| Number of videos | 75 |
| Total views | 2.4 million |
| PTO Ranking | 6 |
| Swim | 80% |
| Bike | 99% |
| Run | 94% |
| YouTube | 85% |
| Videographer: | Sam Long |
The Big Unit has one of the fastest-growing fanbases in the sport, and while he may not finish his career with the most world titles, he's a contender to top the list for the most viral memes spawned.
His YouTube channel gives him the opportunity to vocalize everything that's in his head – which may not always be the best idea. But even if he's not howling at the moon to get himself psyched, Sam Long's Psychology 101 is often a joyous riot of discovery.
For example, take his realization that 70.3 Gulf Coast was his 13th pro victory with race day being May 13th, and his partner Lara Gruden's birthday being April 13th and 13 being her lucky number. If that's not enough, he then explains how he drew the number… you guessed it, 31… ahead of the race, which, as Sam explains further, is a bit like the number 13 backwards. Inspired.
If insights like this don't leave your jaw hitting the floor, then his recent trip to the Wahoo Sports Science Center might. It's simply just the full footage from his ramp test to exhaustion in the lab, where he eventually fails at 540 watts, generating 11.1 mmol of lactate. Metaphorically and literally, bloody hell.
With Lara pregnant, Sam will soon have a "Little Unit" in tow, but as long as Long's giving us his self-coached wisdom that "coaches are always going to say you need a coach, McDonalds are going to say you need a Big Mac" and draining two liters of chocolate milk a time at the local store, all should be well in the world.
Money quote:
"Struggling, lethargic, struggling to wake up. I did, however, go out and find a quiet spot and do a little bit of howling up at the moon. It wasn't quite a full moon. I think it is kind of my new race ritual. This time it was less like 'awooo' and more like 'WooWooWoo.' Kind of just getting stoked. Anyways."
RELATED: The Grand Reinvention of Sam Long
Section divider
Holly Lawrence
YouTube: @PassionProjectTriathlon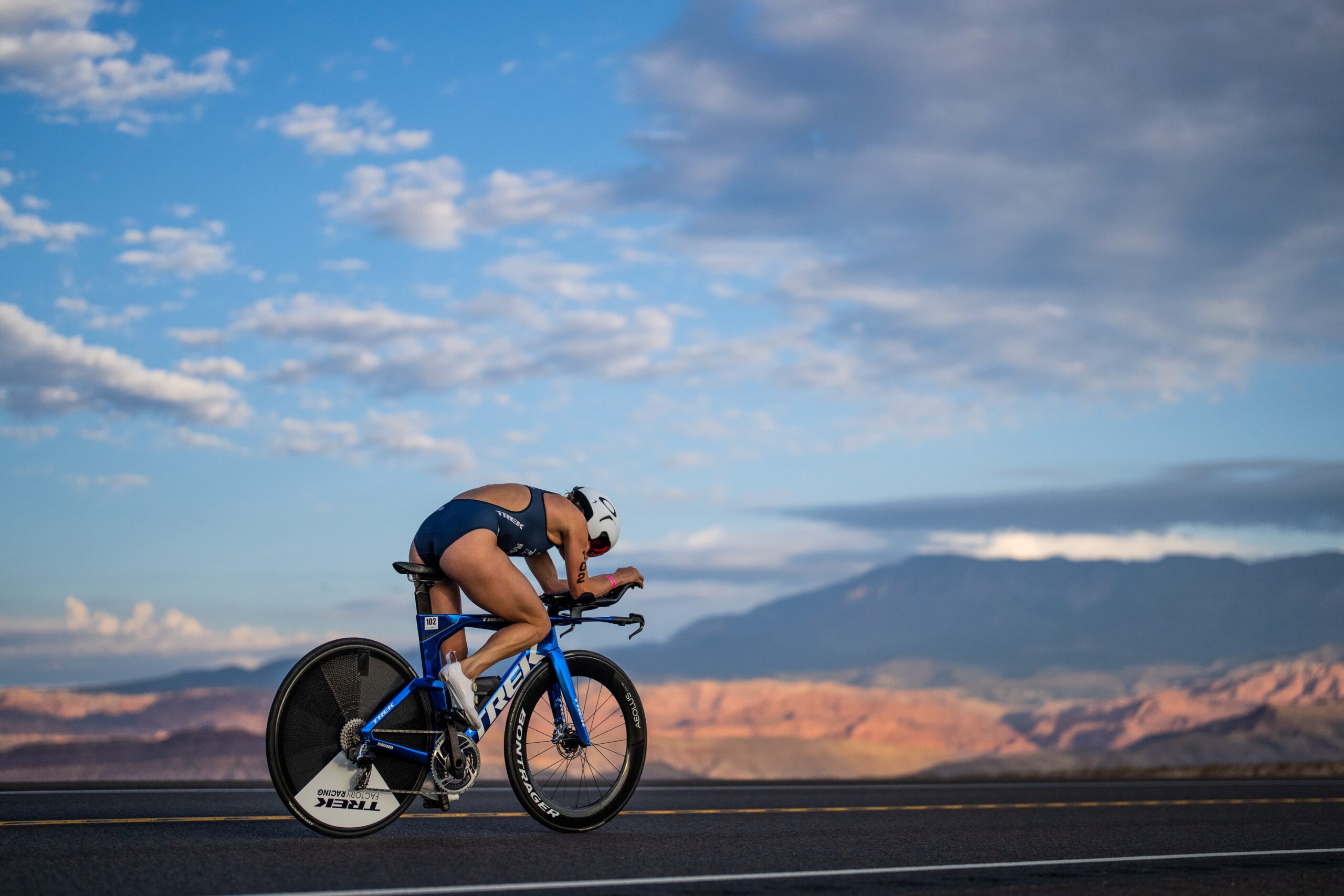 | | |
| --- | --- |
| YouTube subscribers | 4K |
| Number of videos | 8 |
| Total views | 117K |
| PTO Ranking | 9 |
| Swim | 94% |
| Bike | 95% |
| Run | 91% |
| YouTube | 80% |
| Videographer: | Sean Jefferson |
A new kid on the YouTube block, it's a little hard to tell quite whose Passion Project this one is. Whether Holly is a willing participant in her own YouTube channel or has been entirely coerced by fiancee Sean, the good news is that viewers will feel they are getting the genuine (albeit reluctant) article.
Lawrence is not a triathlete to duck challenges. While regularly duking it out with the best in the sport has no doubt contributed to no pro race win for two years, there's probably an inverse correlation between taking the tape and the quality of her YouTube takes.
For example, a pissed-off Lawrence annoyed with Findlay for dragging Jewett to the front of the race on Oceanside is the type of honesty that most triathlon fans want. That was in her first Passion Project episode and is to be applauded.
Hopefully it continues in that vein without any self-censorship, but if you want some less-racy stuff, then "I Quit Coffee" is probably one of the more shocking YouTube titles you are ever going to read on a triathlete's YouTube channel.
Money quote:
"I'd be lying if I said I wasn't disappointed. It's not really that I had a really, really bad race, it's that I got beat by three people."
Section divider
Honorable Mention: Pro Triathlon YouTube Channels
Want to binge-watch triathlon YouTube on your next trainer ride? Here's our picks for some more pro talent to check out – and if you'd rather watch the pros in action, we've got hours of triathlon, cycling, and ultrarunning race footage on demand through Outside Watch. Become an Outside+ member today for as low as $2.99 per month.
Gwen Jorgensen
It's not all about Ironman and long course racing when it comes to YouTube.
Ok, actually, most of it is. But one performer who has had cut through from the short course scene is 2016 Olympic champion from Rio, Gwen Jorgensen.
Gwen's YouTube channel has grown up alongside her young family as Stanley and George have entered the world and it's a journey of being a mom while trying to carve a career as a marathon, then track runner, and now back to Olympic triathlon.
There's a lot of soul-searching here, but credit to Gwen, while the results of the past seven years can't be sugar-coated (and she makes no attempt to), she still turns up come under-par race or sickness to give her frank take on what's gone on (or gone wrong).
Money quote:
"Did you at all enjoy Cagliari? No. I really tried to enjoy it, and the first day there I got stuck in this really bad thunderstorm. Our family got sick, George got sick, you got sick, Stanley got sick, my mom got sick, I got bit by a dog."
Sebastian Kienle
YouTube: @SebastianKienleTriathlete
There's real purpose to the 2014 Ironman world champion's YouTubing as he documents the last year of his pro career through his Discontinued series. Always an outspoken advocate for clean sport, whether it's cleaning up drafting or anti-doping, it's no surprise that his take on the Collin Chartier scandal is one of his most-watched videos.
That said, no controversial topic will ever beat bike bling. It shows we're in a triathlete's world when it's his introduction of the Scott Plasma 6 in 2021 that still gets the most eyeballs.
Money quote:
"This one definitely touched me a lot more. Now you always ask this question: Is the guy in front of me not just a better athlete but also a cheater? That destroys everything. It destroys the trust."
Tim O'Donnell and Mirinda Carfrae
The Tim & Rinny show has a devoted band of followers as Mirinda Carfrae and Tim O'Donnell share couple life as a newly-retired and soon-to-be-retired triathlete with kids. Not that we're questioning Tim's dedication: an episode entitled "First 70.3 Win Since a Heart Attack" is more than enough evidence of motivation, but when he's describing his pre-swim footage as watching "old people getting into our wetsuits" there's a sense that the end might be nigh.
Money quote:
"I came to the realization that with little kids and at 42 there is never going to be a perfect lead-in to a race any more. Those days have just gone."
RELATED: How Tim O'Donnell Won 70.3 Peru at Age 42
Ruth Astle
The Brit charts her rise from age-group world champion in 2019 to battling professional triathlete trying to defeat both rivals and her own forever injured calves, with thoughtful and candid content such as "What I Earned as a Pro Triathlete" that serves as a winner and warning shot for any budding amateurs looking to turn pro out there.
Money quote:
"Money, money, money – that's what everyone wants to know."
RELATED: The Richest Pro Triathletes
Sam Laidlow
The surprise Kona runner-up shows how good source material is a cornerstone to broadcasting and there is little better in triathlon than a full-on meltdown while leading an Ironman to tick that box. As such his recent self-deprecating release of what happened in Ironman Lanzarote, titled "I Am a Fluke," is rapidly notching up a six-figure views, and he ends the video by pronouncing his new profession – YouTuber. Which is probably a fitting way to sign off this piece.
Money quote:
"As my performance was so bad, I am stopping triathlon, becoming a YouTuber and going camel riding and karting, so please subscribe to my now profession which is YouTube."
RELATED: How Does A Triathlete "Go Pro?"