The Nine Lives of Daniela Ryf
It's impossible not to be impressed by Daniela Ryf's incredible achievement at Roth. But what truly sets the world record holder apart is her remarkable resilience and discipline through the good races and the bad.
Photo: Spomedis/World Triathlon, Janos M. Schmidt/World Triathlon, John David Becker/Triathlete, Sean M. Haffey/Getty Images Brad Kaminski/Triathlete, Daniel Löb/picture alliance
Heading out the door? Read this article on the new Outside+ app available now on iOS devices for members! Download the app.
"It was actually the only goal I still had left to achieve," says Daniela Ryf of her world record-breaking performance at Challenge Roth. "I have dreamed of this for a very long time. To achieve this, even somewhat unexpectedly, is incredible."
While the triathlon world—and the GOAT herself—are still absorbing and acknowledging her magnificent 8:08:21 in Germany on Sunday, we take a look back at the storied career of this Swiss phenom whose name will likely be in triathlon's record books for many years to come. Ryf's performance at Roth will, of course, stand out most clearly in our memories. But it is perhaps those races where she has been overlooked and written off, only to return to the race course punchier than ever, that truly define just how much of a resilient and disciplined human Daniela Ryf truly is.
"Triathlon has been my passion since 1998 and my profession since 2007," Ryf told Triathlete after her record-breaking day. Over the years, that passion and professionalism, through the great races and the not-so-great ones, have never left. Her resilience and steadfastness are likely the key ingredients in a career that has spanned almost two decades over both short-course and long-course racing. Here are nine key races that have shaped triathlon's world record holder.
RELATED: Chrissie Wellington: Daniela Ryf is "Greatest Athlete the Sport Has Seen"
U23 ITU World Championship 2008, Vancouver, Canada: First World Championship Title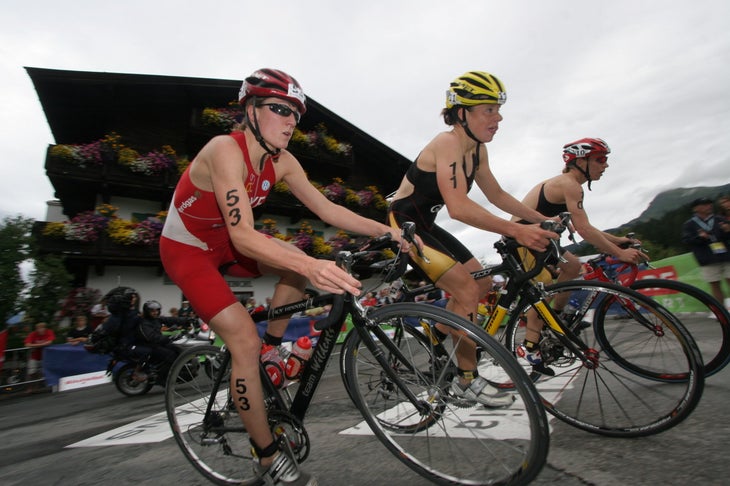 Having only turned professional in 2007, this first elite title for Ryf was an important one that validated her young decisions. Although U23 victories don't always translate into successful elite careers, this win was a significant one for Ryf, signaling that she belonged in the upper echelons of the sport and had plenty of potential. Fun fact: Flora Duffy was also in this race, finishing in 17th place almost 10 minutes behind Ryf.
2012 Olympic Games, London, England: At a Crossroads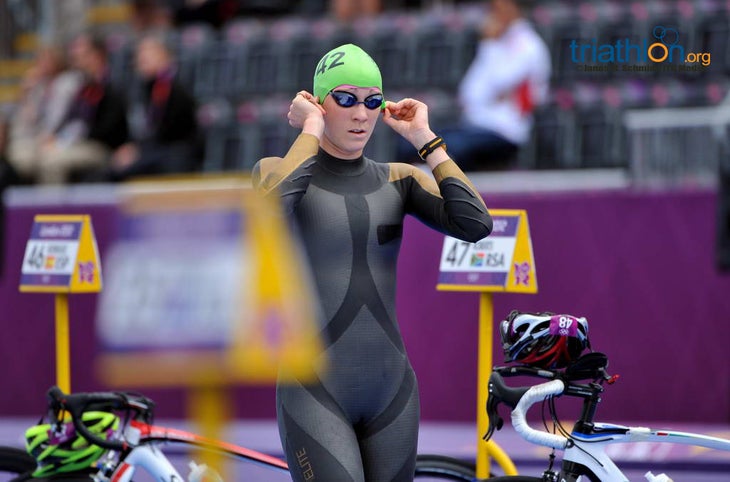 Ryf's first Olympic Games was in 2008, where she placed 7th in Beijing. But after a 40th place finish at the London Games (and five years of hustling on the World Triathlon circuit) Ryf knew she had a decision to make: Keep trying to make it as an average ITU athlete, or jump into the Ironman circuit? She decided to take the leap – a decision that would prove to be a life-changing one.
Ironman 70.3 World Championship 2014, Mont-Tremblant, Canada: First M-Dot World Title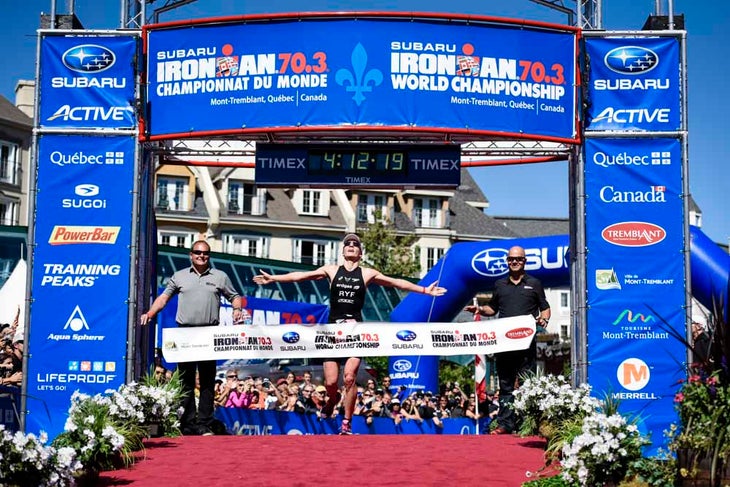 At this stage in her career, Ryf had only recently turned her focus to 70.3 and Ironman racing, but what she lacked in experience at this distance she made up for with bold racing tactics, establishing a lead on the bike that no one could match. She defeated then-dominant names like Jodie Swallow, Heather Wurtele, and Meredith Kessler. It was a clear signal to the long-course world that she had arrived.
Ironman World Championship 2014, Kona, Hawaii: Getting a Taste for It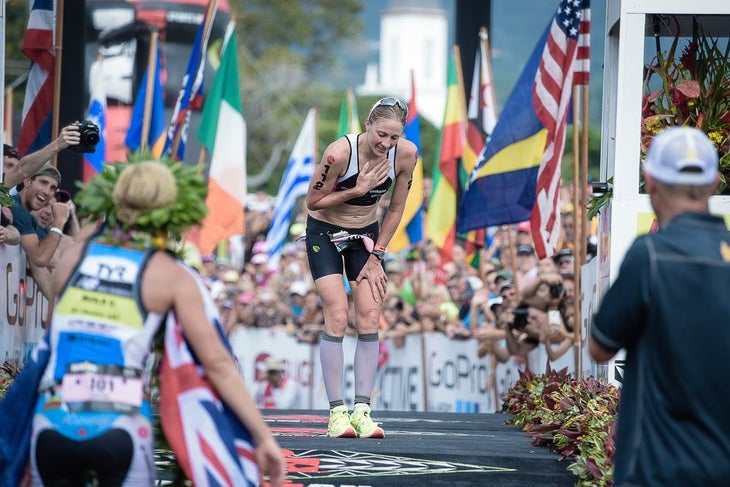 Buoyed by her recent 70.3 Worlds win in Austria, Ryf arrived in Hawaii thinking she could do the double. Rookies rarely win on their first outing (Chrissie and Chelsea, sorry, but you're freaks) yet Ryf gave it a good go. She led for much of the race, coming out of T2 with a 13-minute lead on Mirinda Carfrae, but Carfrae gave Ryf a masterclass in Ironman racing. That year, Carfrae ran through the field like nothing was going to stop her (and nothing did). Carfrae's 2:50 marathon pushed her past Ryf, who took second place.  This experience no doubt left her with all the motivation (and data) needed to return the following year and finish the job. She left the Big Island knowing where she needed to improve—and that's exactly what she did.
Ironman World Championship 2015, Kona, Hawaii: Win Number One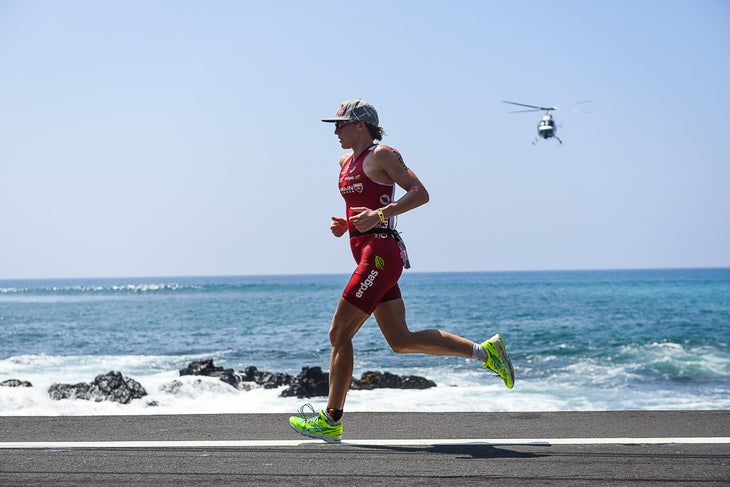 Having experienced what it felt like to lead the Ironman World Champs the year before, there's no doubt Ryf wanted to return this second year to make the dream a reality. That's what she did, building a seven-minute lead on the bike that she never relinquished, finishing 13 minutes ahead of second-place finisher Rachel Joyce. During a post-race interview with Triathlete, Ryf offered a hopeful vision of her future in the sport, saying: "I have a few more years…so maybe I can keep going."
RELATED: Recalled: Daniela Ryf's Very First Kona Win
Ironman World Championship 2018, Kona, Hawaii: Jellyfish Be Damned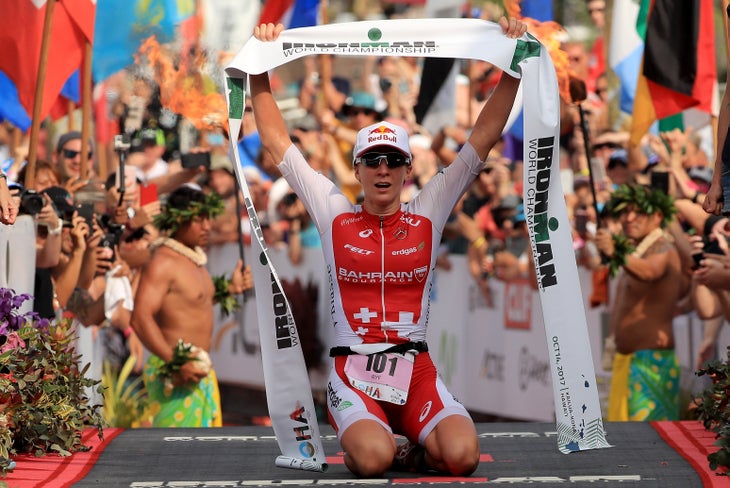 Despite a jellyfish sting before the swim start and a 10-minute deficit exiting the water, Ryf never gave up. She closed a seven-minute gap on the bike between Hawi and T2, which delivered her onto the run course in the lead with everything to play for. Not only did she win, but she broke the Kona course record en route to the finish tape (the record still stands today), perhaps proving to herself that she's tougher than she thought. She said after the race: "It's the craziest victory that I've been able to celebrate so far. It was such a difficult start, and to turn that situation around is unbelievable. I could hardly believe that I could do such a race. I'm very glad that I pulled it through and could turn it around."
Ironman World Championship 2021 (held May 2022), St. George, Utah: Ryf Returns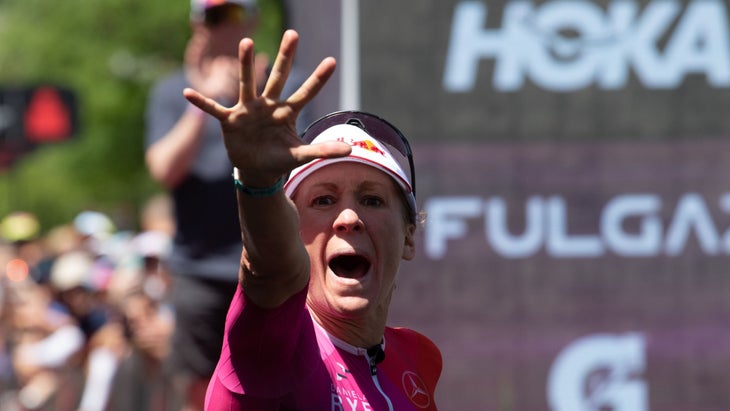 After a lackluster showing at the 2019 Ironman World Championship (finishing 13th), and then very little racing after that due to COVID, there were a lot of people who wrote off Ryf coming into this St. George race. She had finished in 11th at the 70.3 World Champs in September 2021, after which she said: "It's been a rough few months with weird things happening to my body." Ryf seemed to have lost her shine. Yet within the first few miles of the bike course in Utah she showed us we were wrong to have bet against her, displaying a strong all-around performance that was as defiant as it was dominant. As she crossed the finish line to take her fifth Ironman world championship win she let out an almighty roar—showing a magnitude of emotion we had never seen previously from the always-reserved Swiss Miss. This one mattered, and she let us know.
RELATED: Daniela Ryf Returns to Dominate for 5th Ironman World Championship
Ironman World Championship 2022, Kona, Hawaii: Falling Apart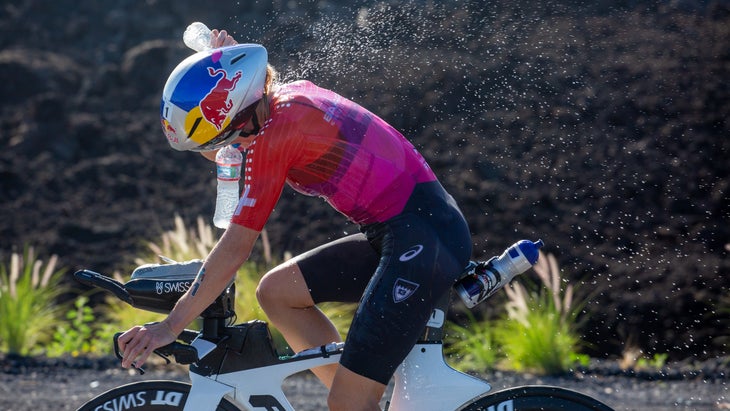 By this stage in her career—and having won the Ironman World Championship in St. George five months earlier—it was hard to bet against Ryf. But she shows she's not a machine, she has weaknesses, and despite leading off the bike she ultimately dropped to eighth place, admitting: "In Kona, if you fall apart you really fall apart. That's what happened today. It felt brutal."
Challenge Roth, Germany, June 25, 2023: The Record Breaker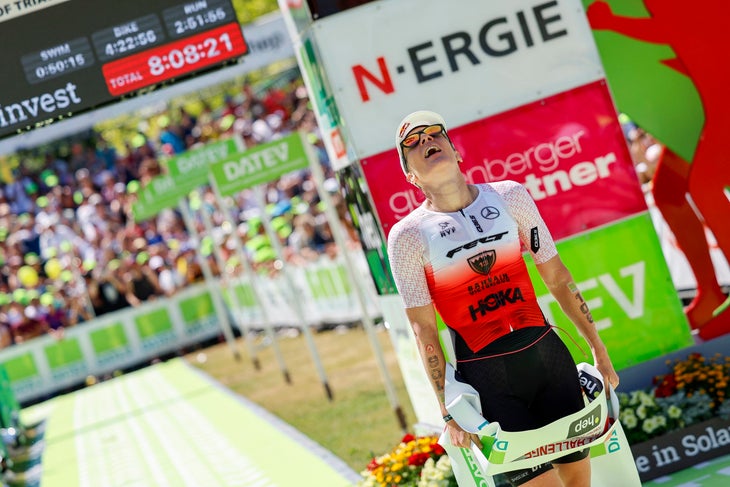 By her own admission, Ryf's day started with what she called a "surprisingly fast swim" that set her up perfectly for the most magical of days. After taking an early lead on the bike, she says she "quickly realized she felt super good" and that it might be a good day to take some risks and build a huge lead onto the run course. Having spent five months training at altitude in St. Moritz, Switzerland, coming into this race, she says she really felt the impact of this early in the marathon.
"It was on the run course where I had the biggest surprise," she told Triathlete. "To pull off a marathon like that was incredible. I felt light and realized that the altitude had an impact…so a lot of things came together. The time, 8:08:21. Wow, I have dreamed of this for a long time."
RELATED: Ryf, Ditlev Obliterate Records at Challenge Roth
The Ryf Resume
World Triathlon titles: 1 (WTCS Seoul, May 2010)
Olympic Games: 2 (2008 Beijing Games, 7th place; 2012 London Games, 40th place)
70.3 World titles: 5 (2014, 2015, 2017, 2018, 2019)
Ironman World titles: 5 (2015, 2016, 2017, 2018, 2021)
Kona course record: 8:26:16 (2018)
World record: 8:08:21 (Challenge Roth, 2023)